In our house, we eat more vegan or vegetarian dishes than we do dishes involving meat. We still enjoy our dishes with meat however, it's just a preference we've gained over the years. There are so many delicious vegan dishes out there that it was easy to make this list of 53 Vegan Instant Pot Recipes. There is everything from drinks and dessert to brunch and dinner included on this list. You'll not be disappointed with the choices. I know that I was definitely getting hungry as I added each recipe to the list.
DISCLAIMER: You'll notice some of these recipes list non-vegan ingredients in the recipes. Each recipe will include a vegan-friendly alternative in either the ingredients or notes section of the recipe card at the bottom of the post 🙂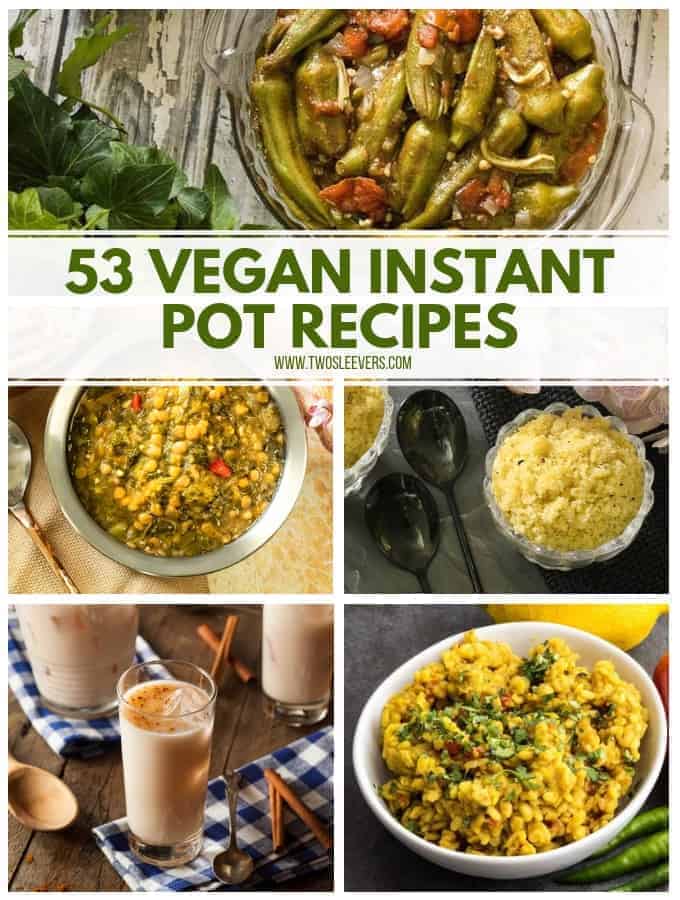 53 Vegan Instant Pot Recipes | The BEST Vegan Instant Pot Recipes
53 Vegan Instant Pot Recipes
If you're just looking for ideas for Meatless Monday or prefer meatless dishes, these vegan instant pot recipes are right up your alley. All of these recipes are unique and bursting with flavor. Whether you're looking for drinks, breakfast, dinner, or dessert, there's a plethora of options to choose from.
If you're new to vegan or just looking for inspiration, this list of 53 Vegan Instant Pot Recipes is the perfect list for you. Many people seem to think that eating vegan means that you'll get stuck with bland or gross dishes. This is far from the truth since all the vegan dishes included on this list are bursting with flavor. You'll definitely not notice you're missing meat, that's for sure. I have no doubt you'll enjoy these vegan dishes just as much as you have enjoyed other dishes involving meat.