This Spicy Cauliflower Soup is delicious and low-carb and perfect for any day of the week. If you're craving a spicy soup or the convenience of a simple Instant Pot recipe, you will love this one!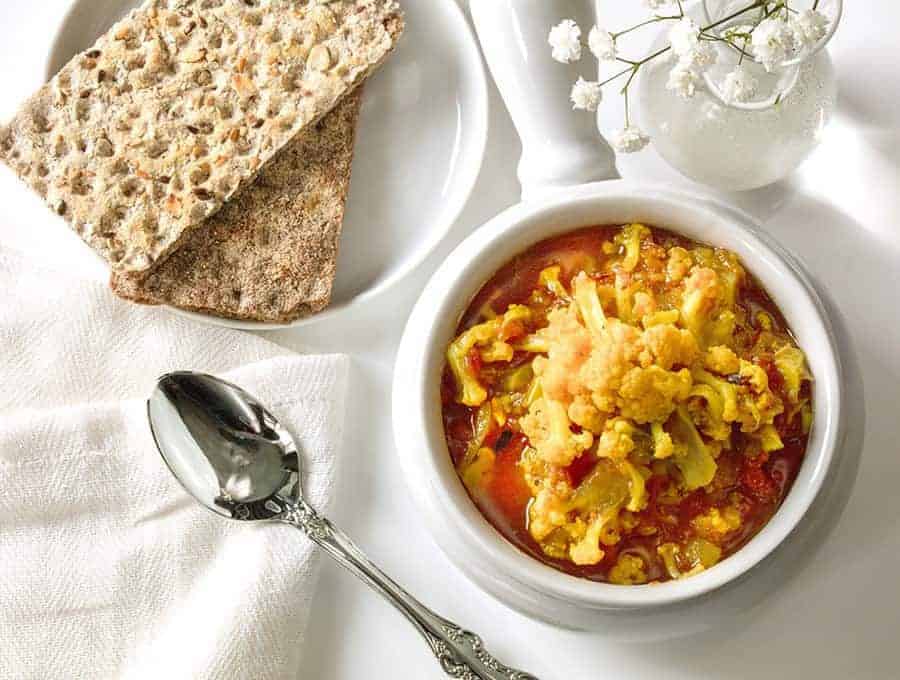 Jump to:
What Makes This Recipe Special
Spicy Cauliflower Soup is made in your Instant Pot or pressure cooker and comes together so quickly. It has tons of flavor and has a great texture too. I also like this recipe because it's basically dump-and-cook. I really like recipes that are simple and full of flavor and this soup definitely fits that description.
Why Is Cauliflower Soup Good For You?
Cauliflower is naturally low in carbohydrates and even lower in net carbs thanks to its high fiber content. Not only is it low in carbs, but it's also low in calories.
If you're living a low carb lifestyle, cauliflower soup is an excellent way to get a filling and flavorful meal without going over your macros for the day.
Ingredients You'll Need
Cauliflower- Keep the chunks of cauliflower relatively large. Around 3" pieces is best for this recipe to keep the texture of the cauliflower from becoming mushy when cooked under pressure.
Onion- Don't dice it too thin. Cut it into thick pieces about 2" wide.
Carrots, turnips, or potatoes- If you're wanting to keep this soup low carb, opt for turnips instead of potatoes. You will also want to cut these into thick pieces.
Canned Tomatoes- I prefer diced tomatoes for this recipe so you get a little in every bite. You can also use quartered or tomato halves.
Sambhar powder- a tasty blend of spices often found in Indian cuisine.
How Do You Make Instant Pot Cauliflower Soup?
Pour all ingredients into the inner liner of your Instant Pot and stir well.
Cook on LOW pressure for 3 minutes. Let the pot release pressure naturally for 10 minutes and then release all remaining pressure.
Open the pot, stir to mix and serve.
The most important thing to note here is that you are cooking this Cauliflower Soup under LOW PRESSURE. Many Instant Pot Soups call for cooking the ingredients under high pressure, but to ensure the cauliflower isn't overcooked, you'll want to hit the low pressure button for this recipe.
What Is Sambar Powder?
Sambar powder is a common spice used in Indian cooking. It's a mixture of spices like cumin, coriander, mustard and fenugreek, and more that are ground together into a fine powder. There are different blends for this, but they all have a similar flavor profile. A typical sambhar has lentils in it and you can find a Sambar recipe. But this is a quick way to get a delicious sambhar-like flavor without a lot of work.
What Can I Substitute For Sambar Powder?
The best tasting Sambar is made. If making spices intimidates you, it shouldn't! It's so simple to make your own, and you will be blown away by the difference in taste. This is my Sambar powder recipe, and I highly recommend trying it at least once.
Alternatively, if you don't have Sambar powder, and don't want to make it, you can likely find it at your local international food market, or on Amazon here.
What If I Don't Want It To Be Spicy?
Simple! When you make your sambar powder, just leave out the chilis! You'll still get all of the rich flavors from the spice blend without the heat.
Does The Instant Pot Make This Cauliflower Soup Mushy?
Nope. Instant Pot cauliflower recipes have a tendency to be overcooked, that's why I tested this one until it was perfect. I can't stand when cauliflower turns into a soft mush.
Cooking it using this recipe actually gives the cauliflower a really good texture. It's cooked all the way, but still maintains the texture of the cauliflower florets.
How Do You Thicken Cauliflower Soup?
This soup is meant to be a brothy soup, but if you're wanting to thicken it up a little, simply remove half of the cooked cauliflower from the Instant Pot liner and use an immersion blender to blend up half of the soup ingredients.
The cauliflower, tomatoes, and turnips (or potatoes and carrots if you're not keeping it low carb) will create a thick, rich soup base when blended.
Can I Freeze It?
Absolutely. It's common for me to make a big batch of this, and then freeze it in one-serving containers for when I want soup, but don't want to cook. It's so much better than canned soup!
Want More Cauliflower Recipes?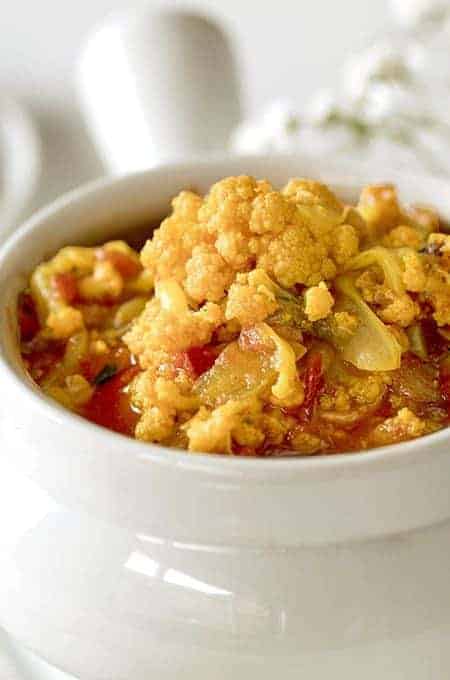 If you love this Cauliflower Soup as much as we do, make sure you share it with your friends on Facebook and Instagram! Don't forget to Pin it so you can make it again soon.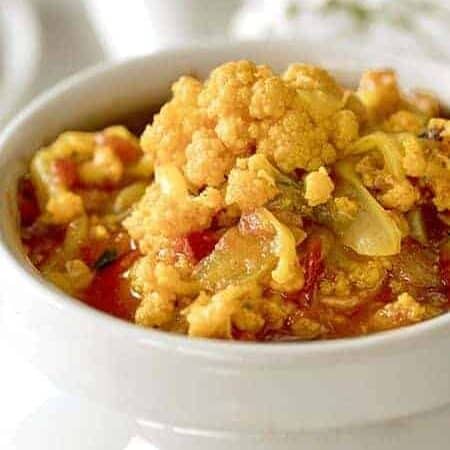 Click on highlighted ingredients or Equipment to see exactly what I use to make this recipe
Instructions
Pour all ingredients into the inner liner of your Instant Pot and stir well.

Cook on LOW pressure for 3 minutes. Let the pot sit undisturbed for 10 minutes and then release all remaining pressure.

Open the pot, stir to mix and serve.
This soup freezes well! Make a big batch and freeze the leftovers in freezer safe containers.
If you're afraid of the spice level, you can lessen it to taste, or omit it all together.
If you don't have sambar powder, you can use cayenne instead. Lessen the amount to 1/2 teaspoon if you do this.
Get support & connect with our community on Facebook!
Nutrition
Calories:
53
kcal
|
Carbohydrates:
11
g
|
Protein:
2
g
|
Fiber:
3
g
|
Sugar:
6
g
Tried this recipe?
Follow @twosleevers and Pin it!
Indian Instant Pot, Keto Instant Pot, Instant Pot Fast and Easy, Healthy Instant Pot & Vegetarian Instant Pot.