Low Carb Chicken Biryani is Low-Carb Indian Food at it's best. Cauliflower and ground chicken make up this spicy, delicious low carb recipe.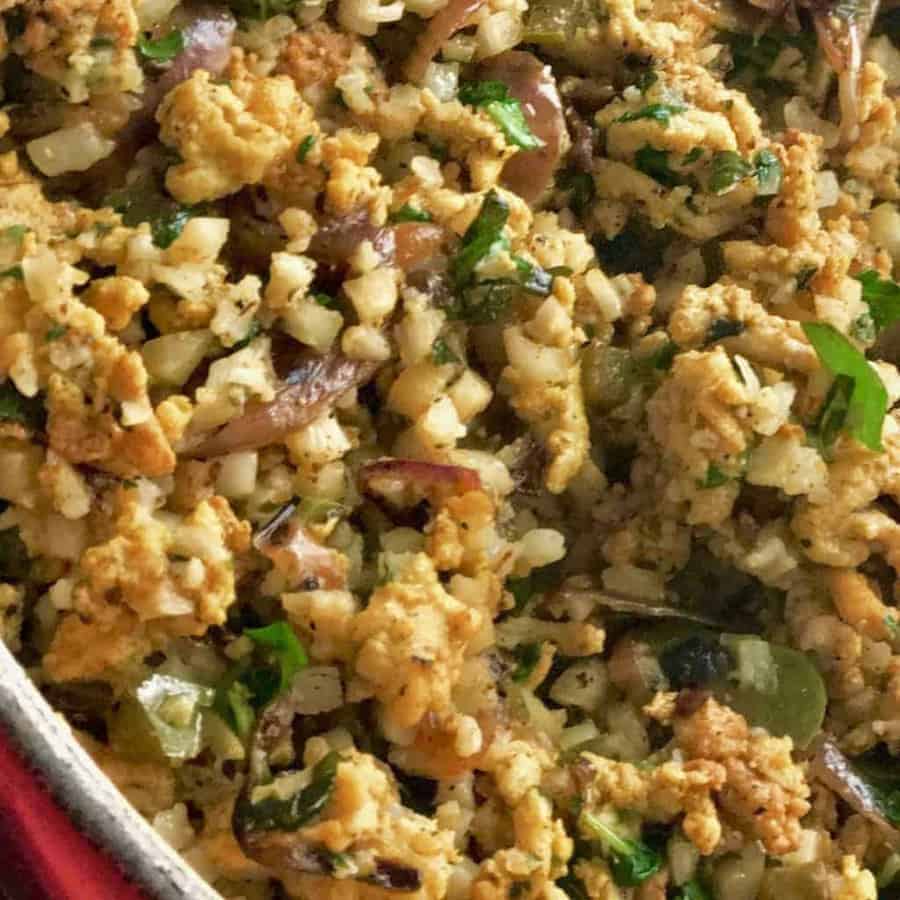 Low Carb Chicken Biryani
I feel like a genius for having created a low carb "biryani" today, that tastes as good as one with rice, but without the rice. I've been wanting to do this for a while, but today's scale reading provided the impetus.
I came back from India with about 6 pounds to lose. I know. I was only gone for a week. I was careful about portion control. But it was all carbs and I can't eat carbs without gaining no matter how little I eat. Good news is, I was expecting it so I'd already planned to cut out carbs once I got home.
If you're looking for other great Biryani recipes, check out my Pressure Cooker Chicken Biryani! Make an authentic tasting Biryani in your Instant Pot without dirtying every dish in the house!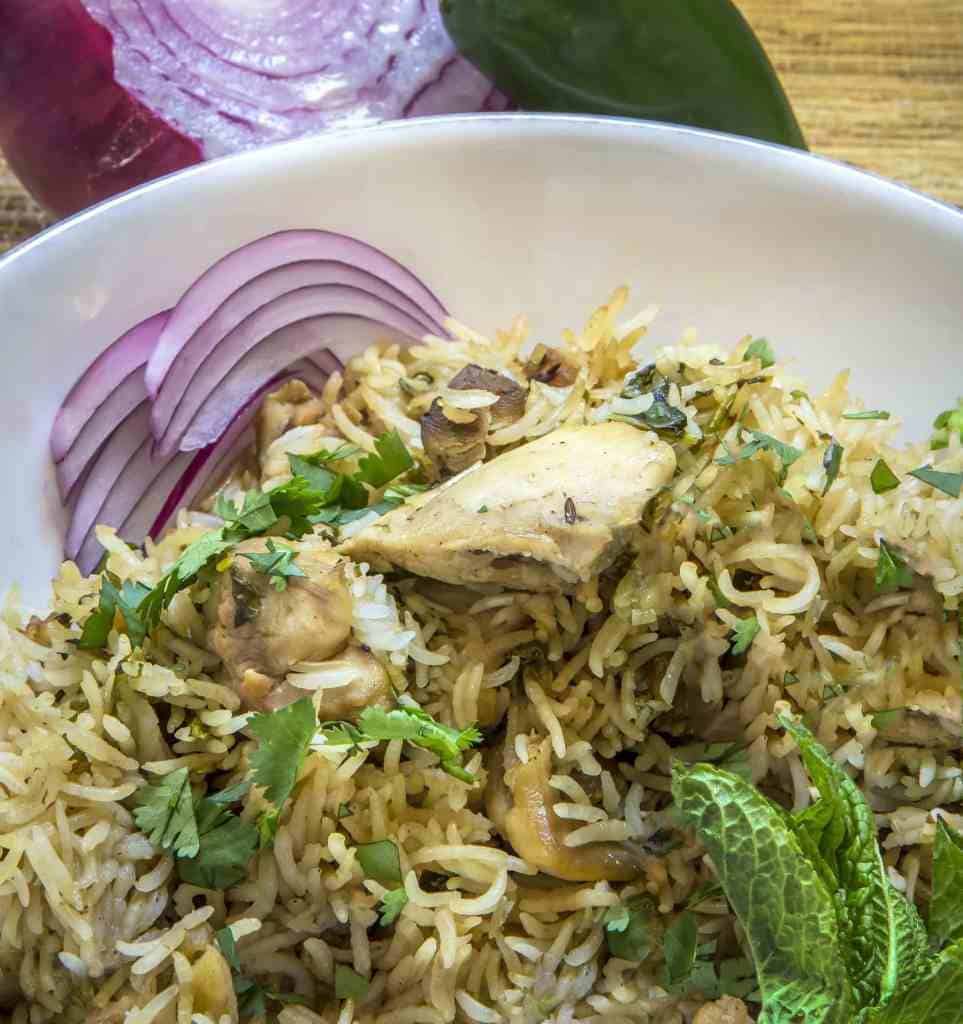 Another great Biryani dish is my Instant Pot Kacchi Lamb Dum Biryani. It gives you the authentic taste of lamb biryani with half the work and no packaged spices!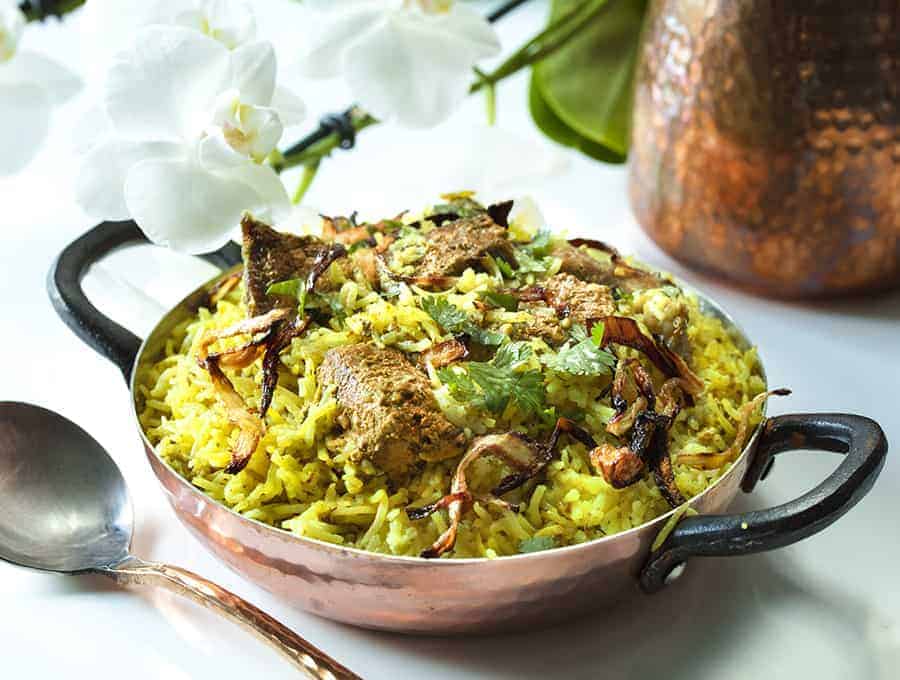 But, I can't eat rice all the time, so I'd had this idea percolating in the back of my head on how I'd make that biryani low carb. Several of you also asked for a lower-carb version, and this morning, I came up with this Low Carb Chicken Biryani. It tastes very good. It's not as good as biryani with rice, but for something that uses cauliflower instead of rice, I'm surprised at how well it hits the spot for biryani. Roger is very good at providing honest feedback on my cooking because he knows I'm a perfectionist, and I'd rather redo things than blog something less than perfect. He raved about this Low Carb Chicken Biryani, which makes me feel confident about it.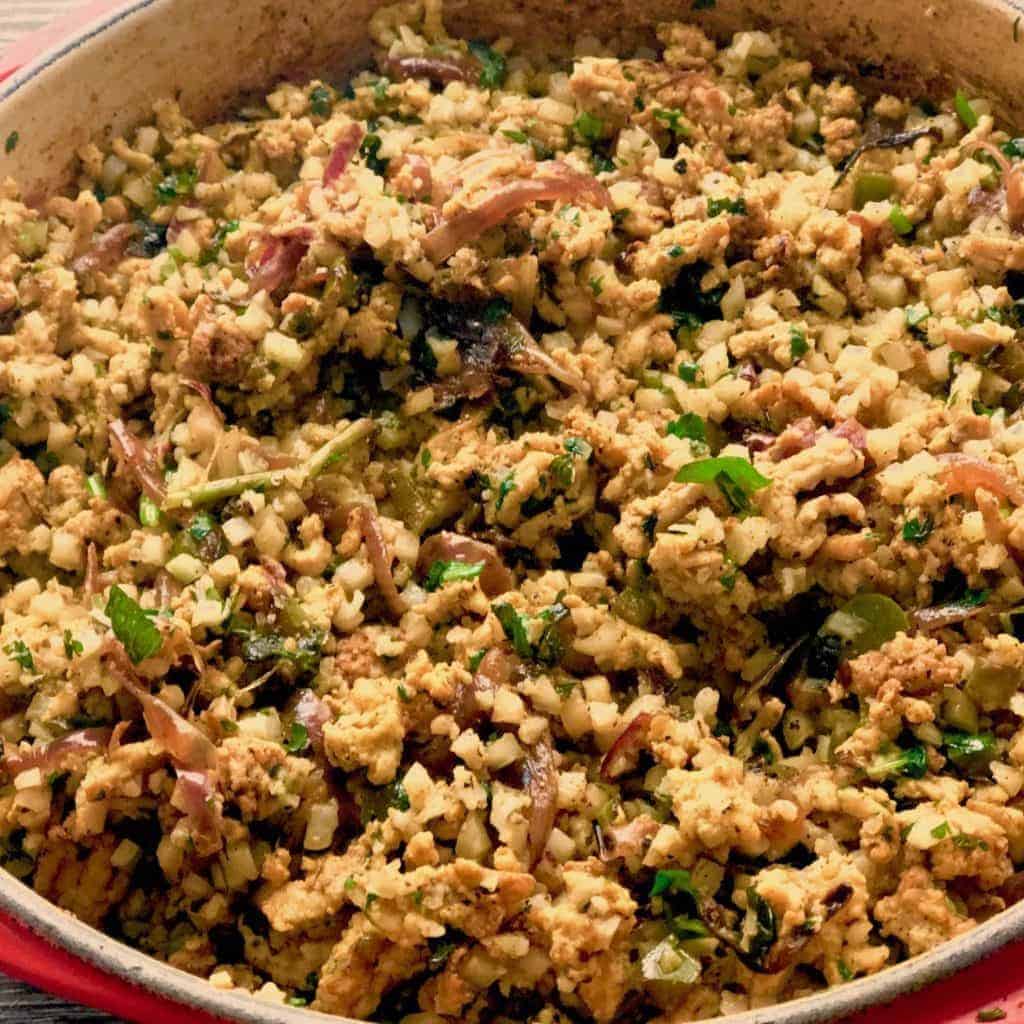 Even though the original is made in the Instant Pot, I made this on the stove top because I didn't want to overcook it in the Instant Pot. So here are the steps:
Cook ground chicken in your skillet and add spices, set aside
Brown vegetables
Add back chicken
Add riced cauliflower, mix and let steam for 5-8 minutes.
★ Did you make this recipe? Don't forget to give it a star rating below! Just click on the stars in the recipe card to rate.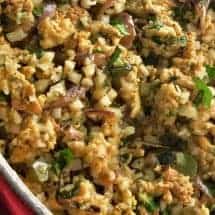 Low Carb Chicken "Biryani"
This Low Carb Chicken Biryani recipe is Low-Carb Indian Food at it's best. Cauliflower and ground chicken make up this spicy, delicious low carb recipe.
Keyword:
Easy Low Carb Chicken Biryani, Indian Food, Indian Recipes, International Recipes, Keto Chicken Biryani, Keto Indian Food, Keto Indian Recipes, Low Carb Biryani, Low Carb Chicken Biryani, Low Carb Indian Food, Low Carb Indian Recipes, TwoSleevers
Dietary Consideration:
Dairy-Free, Gluten-Free, High Fat, High Protein, Keto, Low Carb
Ingredients
Vegetables
1

teaspoon

ghee

1

red onion

sliced thin

1

jalapeño pepper

diced

1

teaspoon

ginger garlic paste

(or 1/2 teaspoons minced garlic, 1/2 teaspoons minced ginger)

1/2

cup

water

1/2

cup

cilantro

chopped

1/4

cup

mint leaves

chopped

1.5

cups

cauliflower

diced
Instructions
Heat a 10-inch deep pan or skillet and add ghee

Put in the ground chicken, break up clumps and cook until chicken is no longer raw. Once it releases water, add in all the spices and mix very well. Keep cooking until the water evaporates, and the spices are well-mixed in.

Remove this chicken into a bowl and set aside.

Heat 1 teaspoon of ghee and add the onions, cooking until they brown at the edges, about 10 minutes.

Turn on your exhaust fan, add the ginger garlic paste and the jalapeño, and cook for a minute or two.

Use 1/2 c of water to deglaze the pan, scraping up the bits of brown from the bottom.

Add in cooked chicken, chopped cilantro and mint, and the uncooked riced cauliflower.

Mix everything very well and cover with a lid.

Turn the stove on low and let all of it simmer slowly together for the flavors to meld, and the cauliflower to cook slightly. Your goal is to let the cauliflower cook a little without getting mushy.

Taste and add salt as needed.
Nutrition facts per serving
169kcal | Fat: 10g | Carbohydrates: 6g | Fiber: 1g | Protein: 14g
I am not a registered dietician or nutritionist. Nutritional information is provided a courtesy, and can vary depending on the exact ingredients you use.