Once you make pressure cooker Chicken Biryani, you will never go back to making it any other way. Easy, redolent with mint and spices and very easy, this will be the best biryani your Instant Pot has ever produced!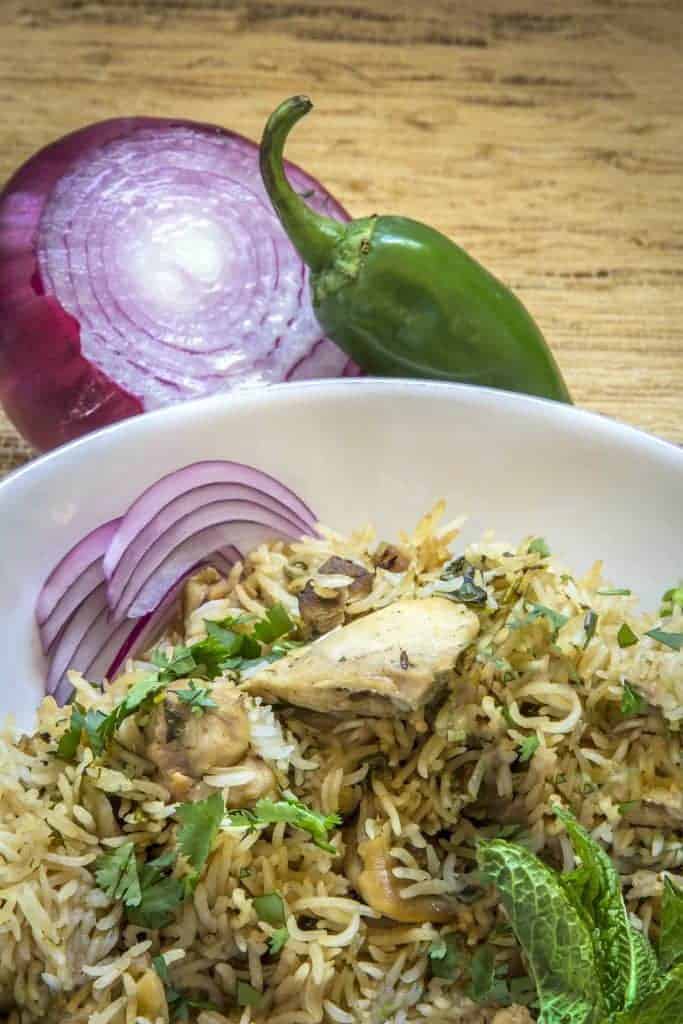 Jump to:
Why is this the best Pressure cooker Chicken Biryani?
Biryanis take forever, they involve multiple steps with confusing instructions that ask you to cook the rice 25%, 50%, and 75%. I'm a statistician and a cook, and I don't even know the difference between 50% and 75% cooked rice!
Biryani's they dirty every dish in the house--and then they get eaten within minutes.
But I figured out how to make an authentic-tasting pressure cooker chicken biryani in the Instant Pot--without dirtying every dish in the house.
So just so you know, If I'm ever on death row, I will ask for Biryani for my last meal, that's how much I love it.
Although, considering I'm a law-abiding citizen, if I'm ever on death row, I was framed, so please find me a really good lawyer.
This recipe is so good that it has become a favorite of my readers.
Tips for how to Make Instant Pot Chicken Biryani
What is Biryani?
Biryani is a popular Indian one-pot dish. It's generally made with rice and some kind of meat (like chicken, lamb etc) that is first cooked on the stove and then transitioned to the oven. It's usually filled with all kinds of wonderful spices like saffron and is flavorful and delicious. Sometimes it is spelled briyani especially in Africa but it's all the same delicious thing.
Traditionally there's a lot of preparation and work that goes into the dish, and it's often reserved for special holidays and celebrations because of that.
Differences between Biryani and Pilau
While there are many differences, there are a few things that stand out to me.
Are there Regional Differences in Biryani Recipes?
Yes. There are dozens and dozens of different types of Biryani. The flavors change by region, and each region has its own flair to make it their own.
Other Instant Pot Biryani Recipes
This Pressure Cooker Chicken biryani may not look that impressive, but let me tell you, it is so tasty, with such complex flavors, I doubt I'll be going out for chicken biryani any time soon.
I'd love to hear from you if you make this.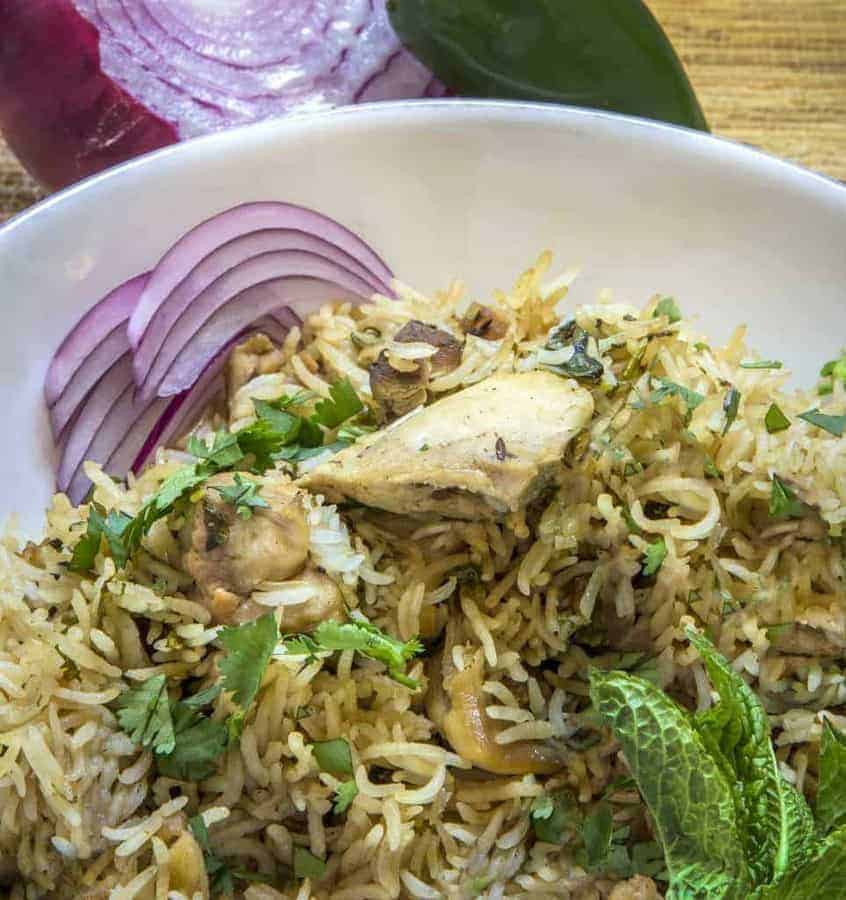 ★ Did you make this recipe? Don't forget to give it a star rating below! Just click on the stars in the recipe card to rate.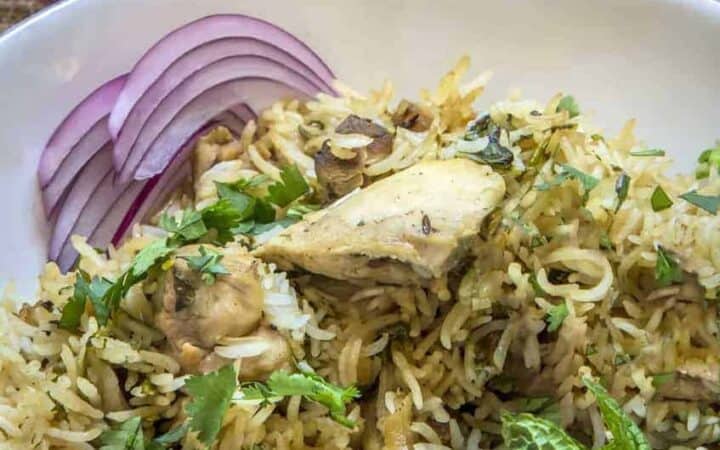 Click on highlighted ingredients or Equipment to see exactly what I use to make this recipe
Ingredients
Spices for tempering OR USE 2 TEASPOONS GARAM MASALA
Veggies
1

large

(

1

) Onion,

thinly sliced

2

inch

(

1

piece

) Minced Ginger,

thinly sliced

4

cloves

(

4

cloves

)

Garlic

,

crushed

2

(

2

) Jalapeño Peppers,

diced

1/2

cup

(

8

g

) Cilantro,

chopped

6-8

sprigs

(

6

sprigs

)

Chopped Mint

,

finely chopped
Instructions
Heat ghee in your Instant Pot and when it's hot, put in all the tempering spices. Once they start to sizzle, put in the thinly sliced onion and cook until it's well-browned and crisp at the edges.

Add in the ginger, garlic, jalapenos and cook for 2-3 minutes.

Put in the bite size chicken pieces and salt.

If you're using ready-made garam masala instead of whole spices, add it now and mix well.

Spread out the chicken and veggie mixture to cover the bottom of your Instant Pot.

Sprinkle the chopped cilantro and mint on top it.

Spread the rinsed, drained rice across everything. Do not stir.

Pour in the water, and gently push the rice down so it is covered by the water.

Cook on high pressure for 5 minutes, and let the pressure release naturally. for 10 minutes. Then, release all remainin pressure.

Open and inhale deeply! Enjoy the true-to-tradition aroma of this dish and then either mix it gently from the bottom, or serve by scooping up a layer from top to bottom so you've served chicken, herbs, and rice in every serving.
TIPS & TRICKS
Assemble ingredients. The easiest way to do this to get all your spices together, and chop all your veggies at once, keeping the piles separate.
Prepare Rice. Rinse and drain basmati rice before you start and chop the chicken as you're cooking the veggies.
Garam Masala. If you do not want all the individual whole spices, you can use ready-made garam masala or make your own homemade garam masala. Just add 1-2 teaspoons of Garam masala after you put in the chicken.
Ghee. Many of us will tell you, it's not a proper biryani if there's no ghee in it, so make your own homemade ghee, and taste the difference.
Get support & connect with our community on Facebook!
Nutrition
Calories:
264
kcal
|
Carbohydrates:
28
g
|
Protein:
17
g
|
Fat:
8
g
|
Fiber:
1
g
|
Sugar:
1
g
Tried this recipe?
Follow @twosleevers and Pin it!
Indian Instant Pot, Keto Instant Pot, Instant Pot Fast and Easy, Healthy Instant Pot & Vegetarian Instant Pot.