Even though this is not low-carb, keto, or anything in between, I still love this recipe for Basmati Rice Pilau. I know I need to stick to my diet, but I sometimes NEED to have some rice as a side with a dish. It is made in an Instant Pot though, so it matches some of my recipes.
Basmati Rice Pilau | Instant Pot Indian Basmati Rice Pilau
This is SO not low-carb it really has no business being on this blog. But I do eat 2-4 tablespoons of rice with a meal from time to time, and if I'm going to eat it, it better be good rice. Sometimes I just steam it in my rice cooker with just ghee and salt and that's yummy too, but if I want to do something a little more special, this is how I make it.
So I made this in the Instant Pot on Rice setting (which counted down 12 mins at low pressure) but I'm not 100% sold on it. To be honest I think my little cheapo $20 rice cooker does a better job. This one had a chewier texture when I was done. The one difference is that with the Instant Pot, I can sauté the onions and cook in the same container rather than dirtying two containers. I'd love any tips from anyone who has perfected basmati rice in the Instant Pot though.
HOW TO MAKE INSTANT POT BASMATI RICE PILAU
Also traditionally, we wouldn't use a muslin bag for the whole spices, but we are trained from a young age to eat around whole spices. Rather than risking you or a loved one biting directly into a peppercorn, I tried this with a muslin bag and it tasted just the same. When it comes to the spices I honestly sort of wing the proportions. Since they were in a bag, I smashed the bag with a heavy object a few times to release some of the flavors.
IMPORTANCE OF FRIED ONIONS
Frying those onions is very critical for this dish. They add a wonderful flavor to the rice, as well as providing it with a tinge of brown. You'll notice my rice isn't pure white when it's finished, and that's because of the browning of the onions. I've included a picture below so you know what the onions should look like when they're ready to have the rice and water added. Notice lots of lovely ghee in there, yum!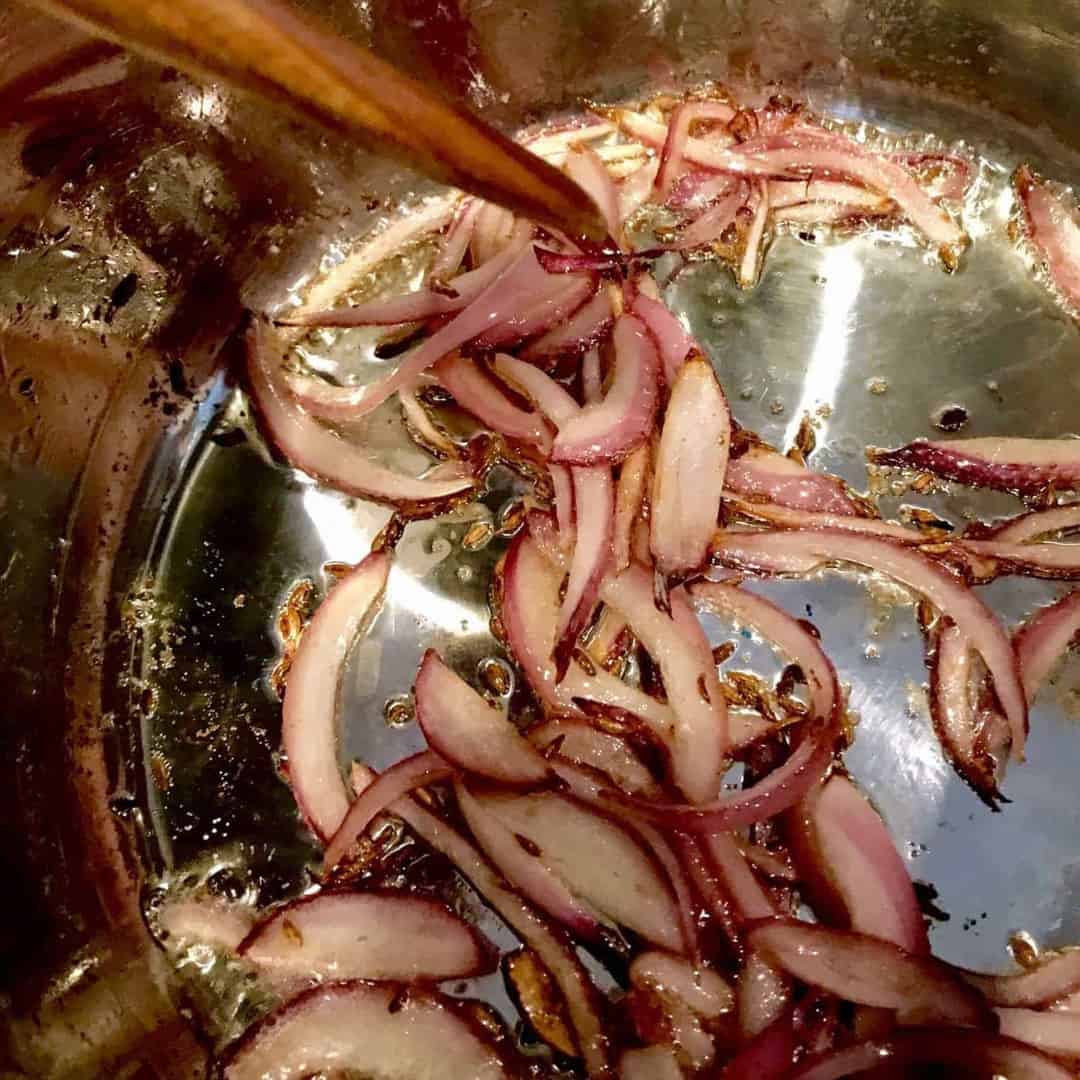 This rice is perfect under any of the curries I've posted on this blog, and 1/4 of a cup of this rice usually satisfies me.
Another great Indian rice dish is my Pressure Cooker Rice and Dal. It's a great Indian comfort food that's easy to make right in your Instant Pot!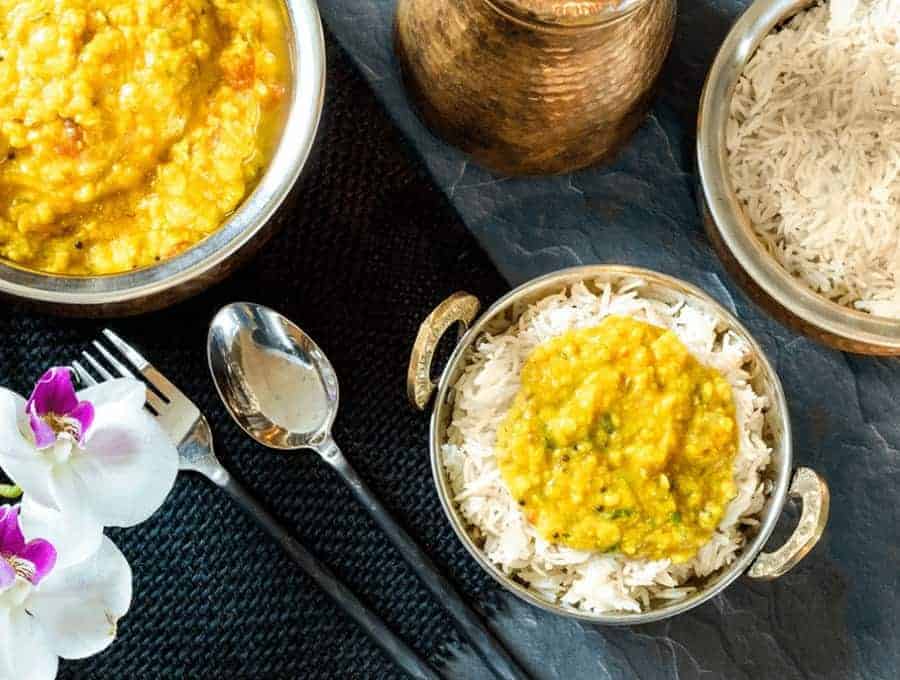 And if you're looking for a rice dish that's a little on the sweeter side, check out my Indian Kheer. It's a delicious Indian rice pudding that's the perfect dessert dish for your Instant Pot!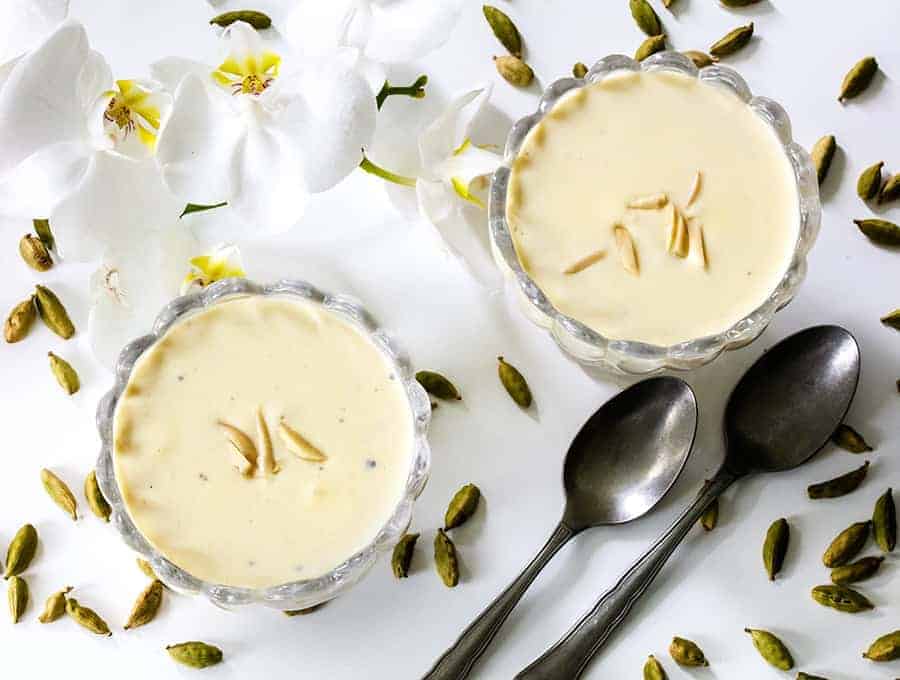 So if you're anything like me and just NEED some kind of rice as a side every now and then, do yourself a favor and make some of this delicious Basmati Rice Pilau. I mean, I've you've just got to have something carby, and that something is rice, make sure that it's good rice,. And believe me, this is most definitely good rice!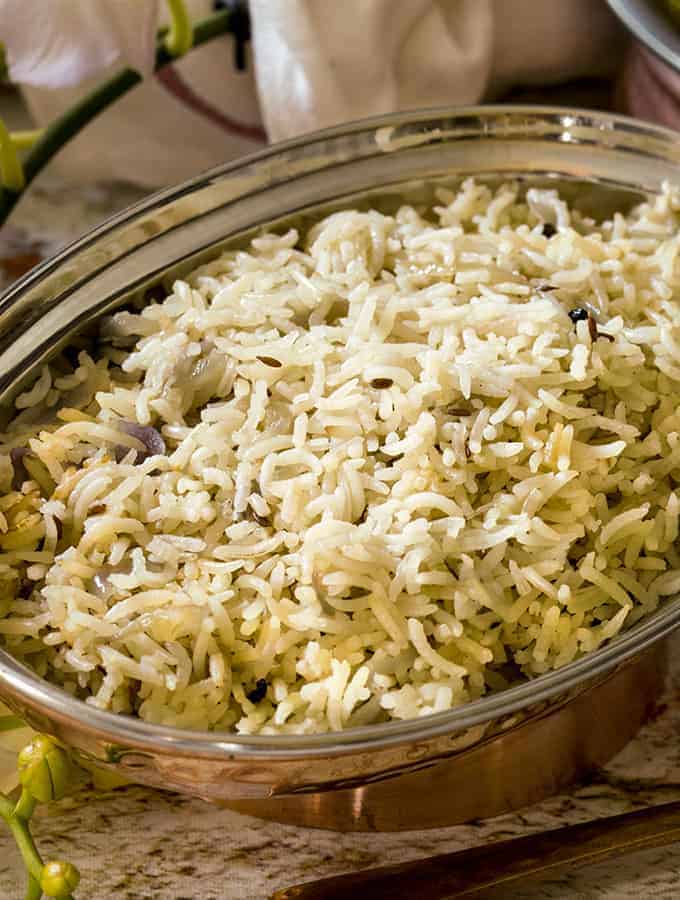 ★ Did you make this recipe? Don't forget to give it a star rating below! Just click on the stars in the recipe card to rate.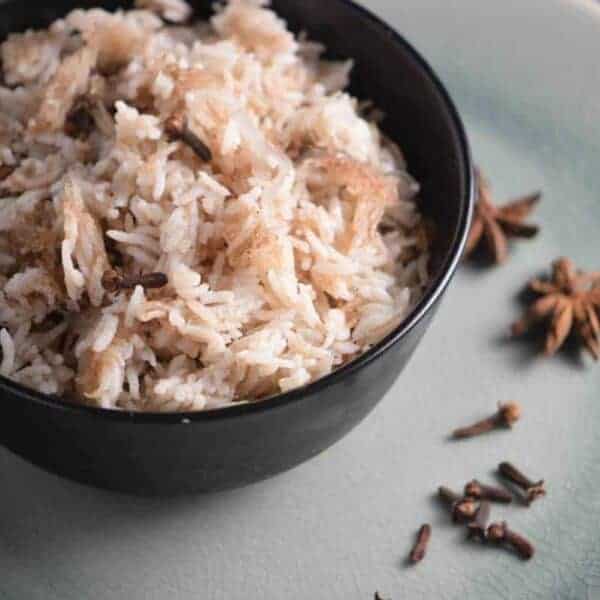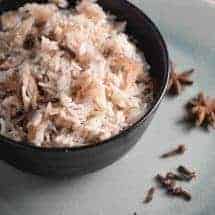 Indian Basmati Rice Pilau
This Basmati Rice Pilau is a great Indian rice side dish that's full of flavor! And thanks to your Instant Pot it's done in under 30 minutes!
Keyword:
Basmati Rice Pilau, Gluten Free Recipes, Indian Basmati Rice Pilau, Indian Pilau, Indian Rice Pilau, Instant Pot Rice Pilau, Pilau Rice, Pressure Cooker Rice Pilau, Soy Free Recipes, TwoSleevers, Vegetarian Recipes
Dietary Consideration:
Egg-Free, Gluten-Free, Grain-Free, Soy-Free, Vegetarian
Cooking Style:
Instant Pot/Pressure Cooker
Ease of Cooking:
Under 30 Mins
Recipe Type:
Pressure Cooker, RIce
Ingredients
Whole Spices (see picture to get a better sense of proportions, this is not an exact science here)
Instructions
Rinse your rice and let it sit while you get ready for it.

Put the whole spices (cardamom, peppercorns, cloves, and cinnamon) into a muslin bag or a spice infuser and crush slightly.

Heat your pot and when it's hot, add the ghee and let it melt.

When it's hot enough to shimmer, add the cumin seeds and let them splutter. It will sound like popcorn starting to pop.

Add the sliced onions and salt and cook until the edges are crisp. You want them cooked but not burned (see pic).

Add the rice and mix until each grain is coated with ghee.

Add water and set it for 6 minutes at High Pressure. If you're making this in a rice cooker, it's simple enough, just turn it on and walk away. If you're making this on the stove top, you want the water to come to a boil and as soon as it does, stir once, turn heat to low, set your timer for 20 minutes and DO NOT mess with it until it's done or you'll break the rice.

For basmati, it's very important to let it steam for 10 minutes AFTER it's done its cooking. I opened up the instant Pot and stirred it once, and then closed it back up and let it rest again. You could add defrosted green peas at this point if you like.

That's it. Your Pilau is ready to serve.
Nutrition facts per serving
138kcal | Fat: 2g | Saturated fat: 1g | Cholesterol: 6mg | Sodium: 392mg | Potassium: 35mg | Carbohydrates: 25g | Protein: 2g | Vitamin C: 0.2% | Calcium: 14% | Iron: 0.4%
I am not a registered dietician or nutritionist. Nutritional information is provided a courtesy, and can vary depending on the exact ingredients you use.