This Basmati Rice Pilau is a great Indian rice side dish that's full of flavor! Thanks to your Instant Pot it's done in under 30 minutes!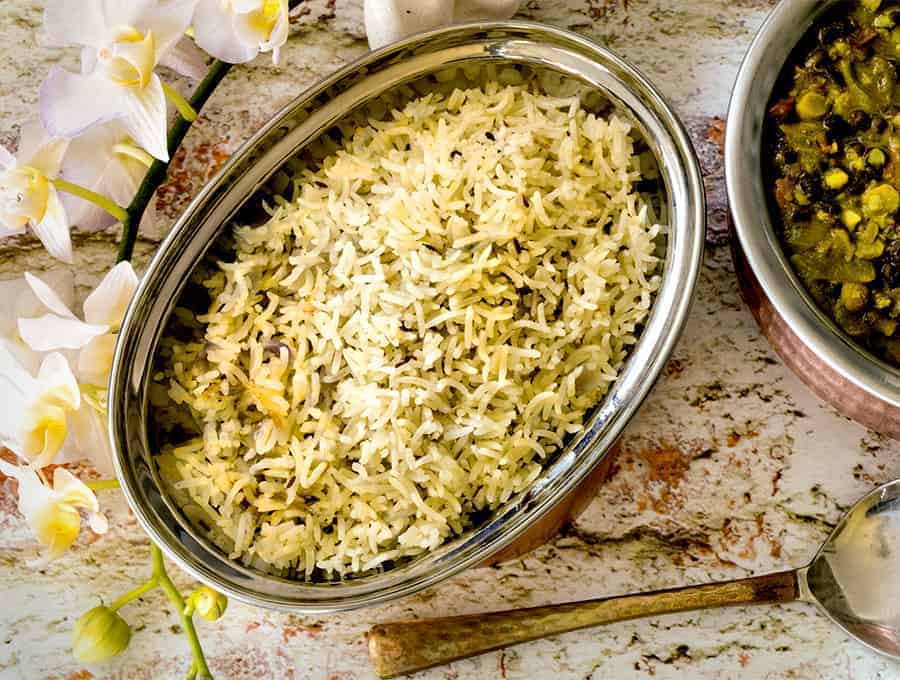 Jump to:
What Makes This Basmati Rice Pilau So Brilliant
Fast. Make perfectly seasoned rice in under 30 minutes with the help of your Instant Pot.
Easy. Saute the onions, add the spices, rice, and water, and cook under high pressure. That's it.
Authentic. The authentic spice combination will make you believe you're eating your favorite Indian takeout without even leaving your kitchen.
Indian Rice is a delicious Instant Pot weeknight dinner. Even though this is not low-carb, keto, or anything in between, I still love this recipe for Basmati Rice Pilau. As much as I love to eat low carb, sometimes NEED to have some rice as a side with the main course.
This is SO not low-carb. But I do eat a bit of rice with a meal from time to time, and if I'm going to eat it, it better be good rice. Sometimes I just steam it in my rice cooker with just ghee and salt and that's yummy too. If I want to do something a little more special, this is how I make it.
I made this in the Instant Pot on Rice setting (which counted down 12 mins at low pressure). This one had a chewier texture than when I made it in a rice cooker. The one advantage is that with the Instant Pot I can sauté the onions and cook in the same container rather than dirtying two containers.
How To Make It Using A Muslin Bag
Traditionally, I wouldn't use a muslin bag for the whole spices, but I was trained from a young age to eat around whole spices. Rather than risking yourself or a loved one biting directly into a peppercorn, I tried this with a muslin bag and it tasted just the same.
When it comes to the spices, I honestly sort of wing the proportions. Since they were in a bag, I smashed the bag with a heavy object, like the back of a knife, a few times to release some of the flavors.
I use cardamom pods, whole black peppercorns, whole cloves, and cinnamon chips. These are typical spices you will find in Indian cooking. Cardamom has a herbal and citrusy flavor. Whole peppercorns add an intensified peppery spice. Cloves add an Anise flavor while the cinnamon adds a warm profile.
How To Make Indian Rice
Rinse. Rinse Basmati rice and let it drain in a strainer. 
Bag Spices. Place all the spices in a muslin bag and crush slightly to release the flavor. 
Melt. Heat the Instant Pot and add Ghee and melt. 
Add Cumin Seeds. When the Ghee sputters, add the cumin seeds. They will pop like popcorn. 
Saute. Add the thinly sliced red onions and begin to saute. Let the edges slightly crisped for flavor and caramelization. 
Add Rice. Add the rinsed Basmati rice to the Instant Pot and stir to coat every grain with Ghee.
Cook. Add water and the bag of spices and let it cook for 6 minutes at High Pressure. 
NPR. Let it Steam for 10 minutes after it's done. 
Eat. Remove the bag of spices, and add green peas if desired. Eat!
The Importance Of The Fried Onions
Frying those onions is very critical for this dish. They add a wonderful flavor to the rice, as well as provide it with a tinge of brown.
You'll notice my rice isn't pure white when it's finished, and that's because of the browning of the onions. I've included a picture below so you know what the onions should look like when they're ready to have the rice and water added. Notice lots of lovely ghee in there, yum!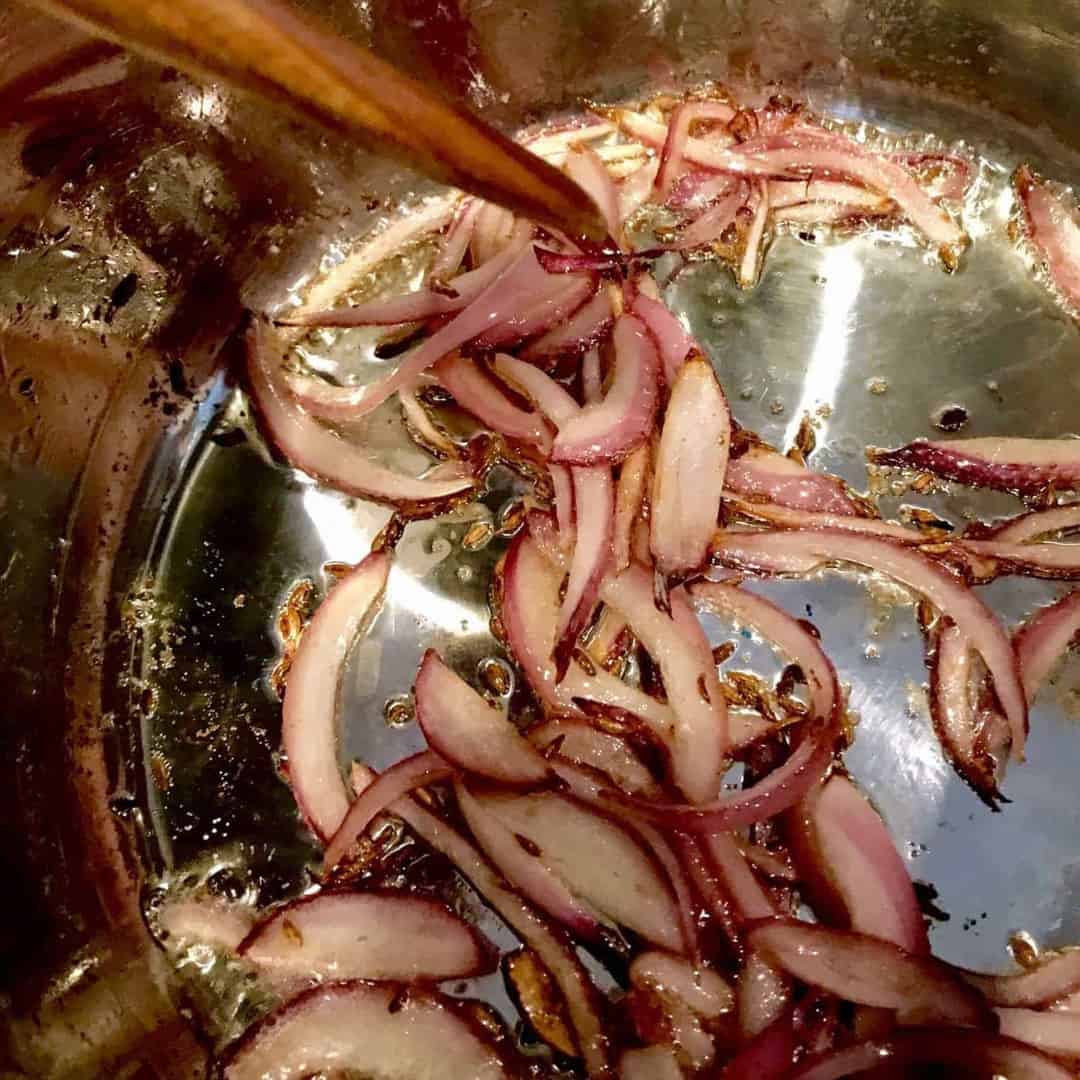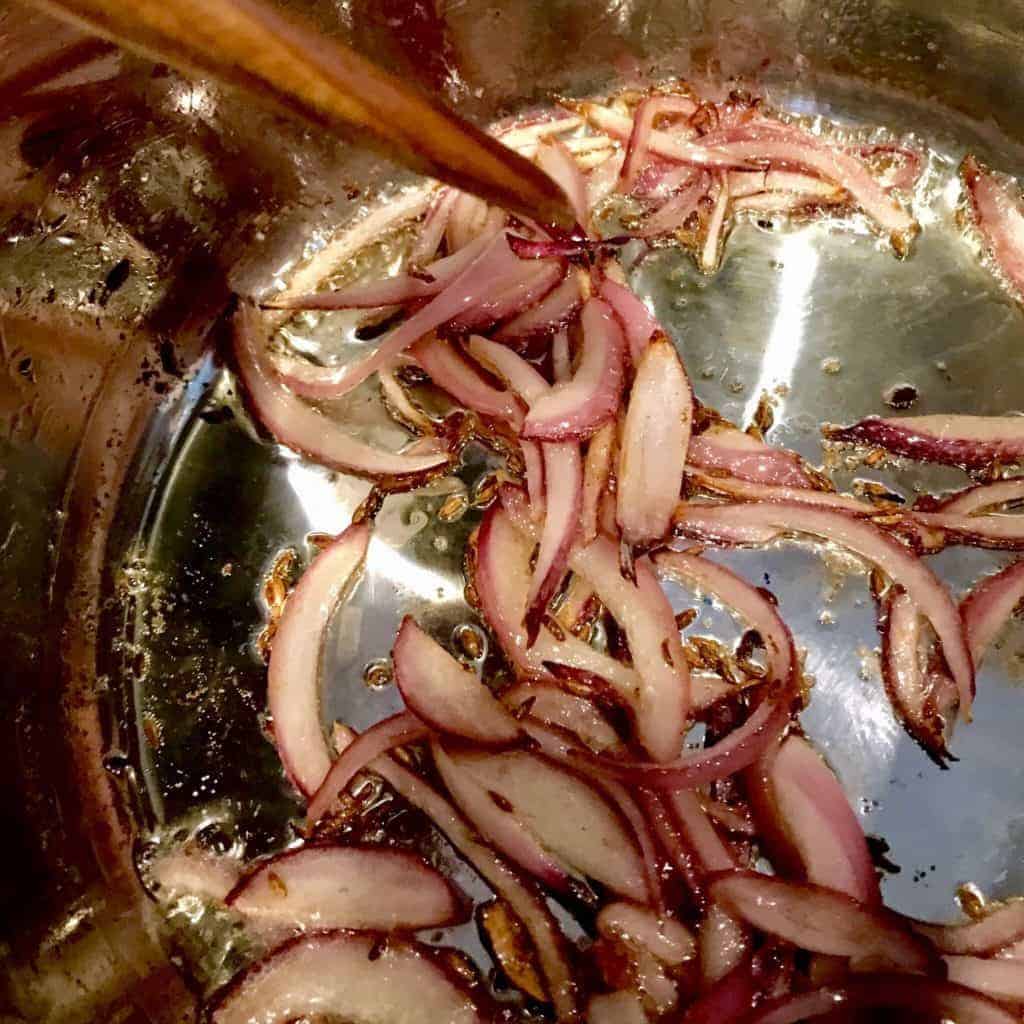 This rice is perfect under any of the curries I've posted on this blog, and 1/4 of a cup of this rice usually satisfies me.
Can I Make It In A Rice Cooker?
You can make this in a rice cooker. It's simple enough, just turn it on and walk away.
If you don't have any kitchen gadgets, make this Basmati Rice Pilau recipe on the stovetop. Let the water come to a boil, and as soon as it does, add the rice, stir once, turn the heat to low, set your timer for 20 minutes, and DO NOT mess with it until it's done (or you'll break the rice).
Tips And Tricks
Reduce the cinnamon. If you are sensitive to the cinnamon flavor, add fewer chips to get a hint of the aroma.
Make it with brown rice. If you want to make this with brown rice, add one cup of water. Set the Instant Pot to 22 minutes High Pressure, and 10 minutes Natural Pressure Release.
What To Serve With Indian Rice
This Basmati Rice Pilau is delicious served with just about any curry I've made a recipe for on the blog. Here are a few of my favorite things to enjoy with it:
How Long Does It Last?
For the best bite, I would suggest enjoying this Indian Rice within 3-4 days of preparing it if it is stored in an air-tight container in the refrigerator.
For fast reheating, place a few tablespoons of water in the plastic container with the rice and microwave for 3-4 minutes or until the rice is warm and steamed.
Want More Instant Pot Rice Recipes?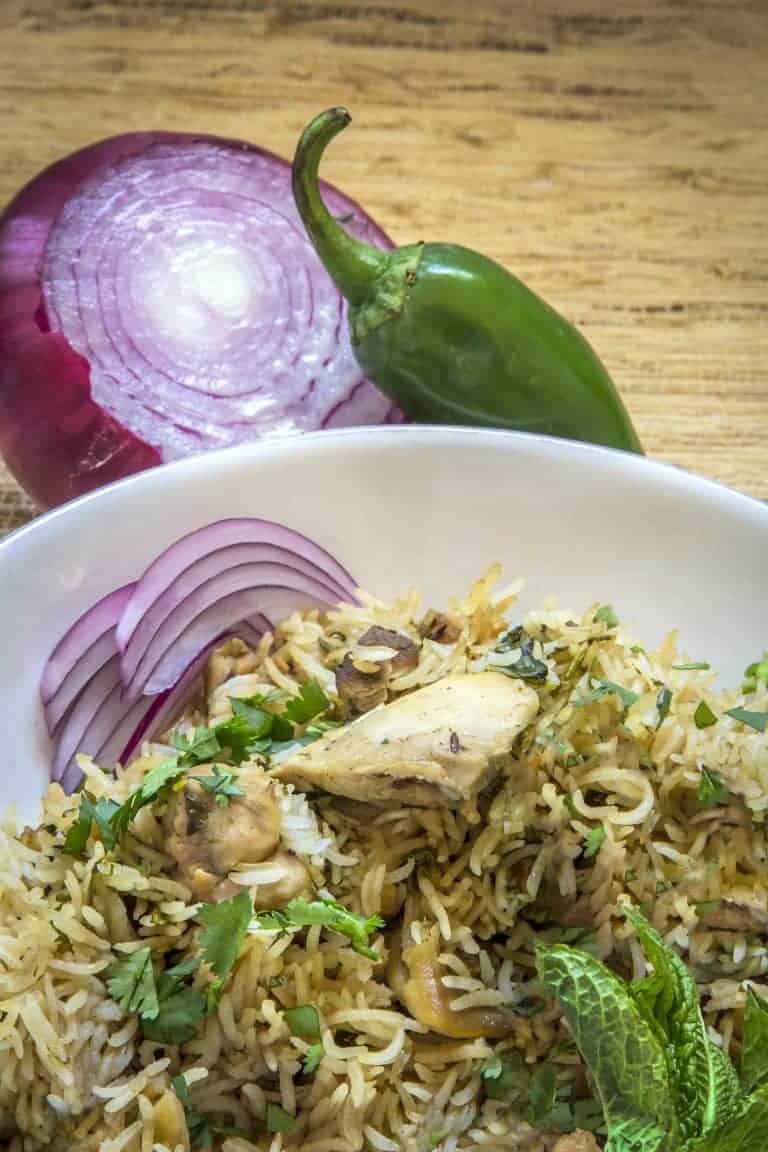 If you're looking for more delicious rice or grain recipes, check out my list of 49+ Instant Pot Rice and Grains Recipes!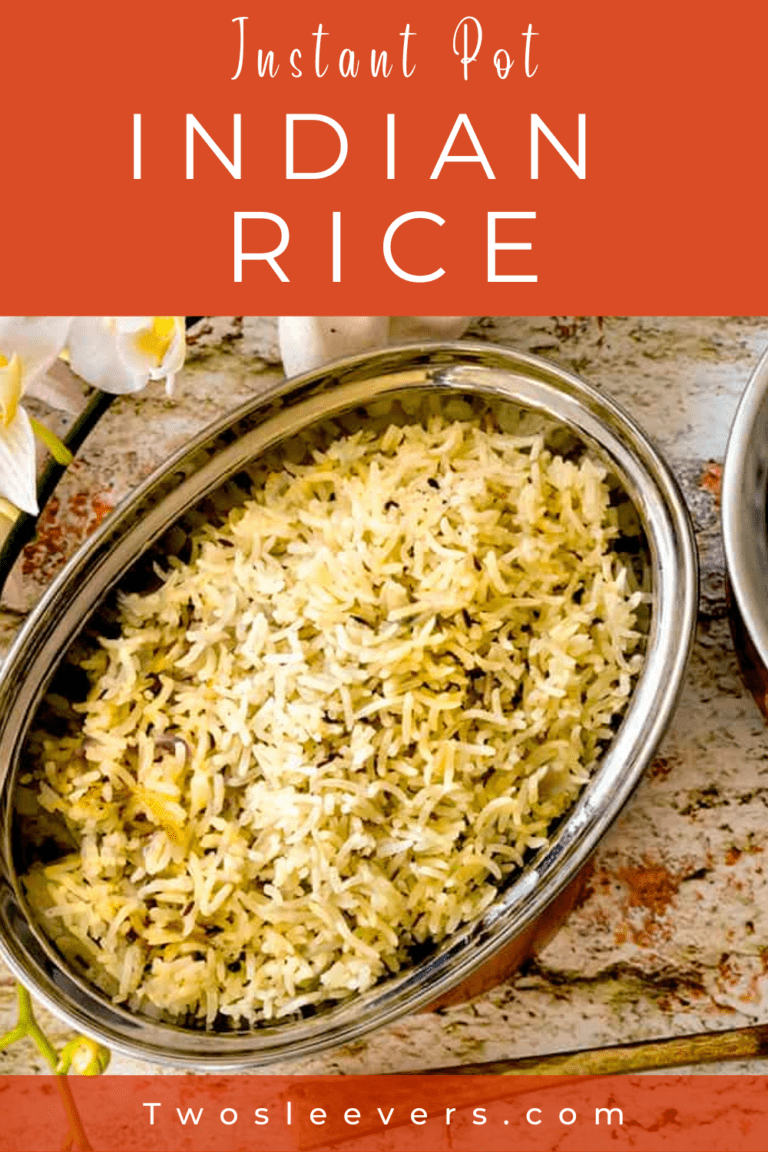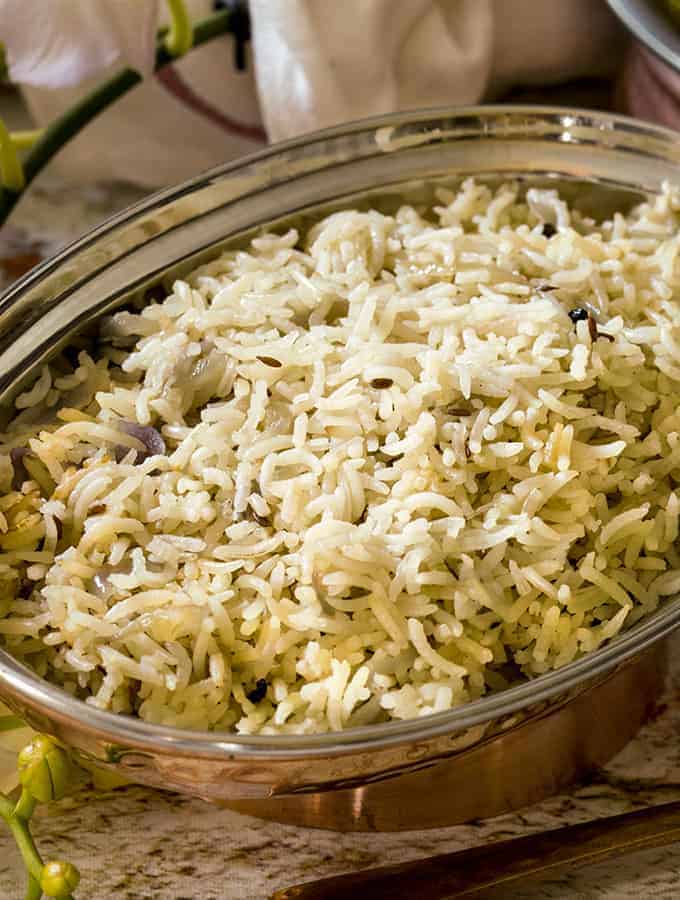 If you're anything like me and just NEED some kind of rice as a side every now and then, do yourself a favor and make some of this delicious Indian Rice. Make sure to share this recipe with your friends on Pinterest and Facebook so they can enjoy it as well!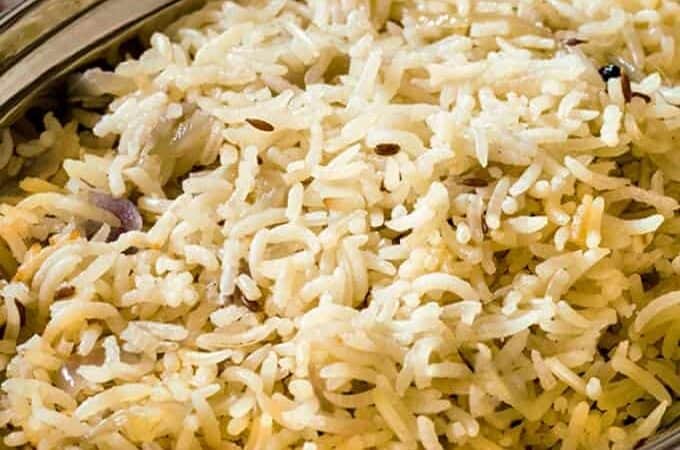 Click on highlighted ingredients or Equipment to see exactly what I use to make this recipe
Ingredients
Whole Spices (see picture to get a better sense of proportions, this is not an exact science here)
Instructions
Rinse your rice and let it sit while you get ready for it.

Put the whole spices (cardamom, peppercorns, cloves, and cinnamon) into a muslin bag or a spice infuser and crush slightly.

Heat your pot and when it's hot, add the ghee and let it melt.

When it's hot enough to shimmer, add the cumin seeds and let them splutter. It will sound like popcorn starting to pop. If you're NOT using a muslin bag for your spices, you will add all spices at this point.

Add the sliced onions and salt and cook until the edges are crisp. You want them cooked but not burned (see pic).

Add the rice and mix until each grain is coated with ghee.

Add water and bag of spices and set it for 6 minutes at High Pressure.

For basmati, it's very important to let it steam for 10 minutes AFTER it's done its cooking. I opened up the instant Pot and stirred it once, and then closed it back up and let it rest again. You could add defrosted green peas at this point if you like.

That's it. Your Pilau is ready to serve.
Making Basmati Rice:
If you're making this in a rice cooker, it's simple enough, just turn it on and walk away.
If you're making this on the stove top, you want the water to come to a boil and as soon as it does, stir once, turn heat to low, set your timer for 20 minutes and DO NOT mess with it until it's done or you'll break the rice.
If you want to make this with brown rice, add one cup of water. Set the Instant Pot to 22 minutes High Pressure, and 10 minutes Natural Pressure Release. 
Get support & connect with our community on Facebook!
Nutrition
Calories:
138
kcal
|
Carbohydrates:
25
g
|
Protein:
2
g
|
Fat:
2
g
Tried this recipe?
Follow @twosleevers and Pin it!