I love finding Keto and low-carb desserts I can eat without guilt. Often I've tried recipes only to make them and have them be dry, crumbly, or not taste like a dessert at all. This Cream Cheese Pound Cake is Heaven. It's so soft and creamy and is delicious regardless of whether or not you're doing Keto.
I guarantee if you brought this to a get-together, or served it to people and didn't tell them it was Keto or low-carb, they would never know. It's that good.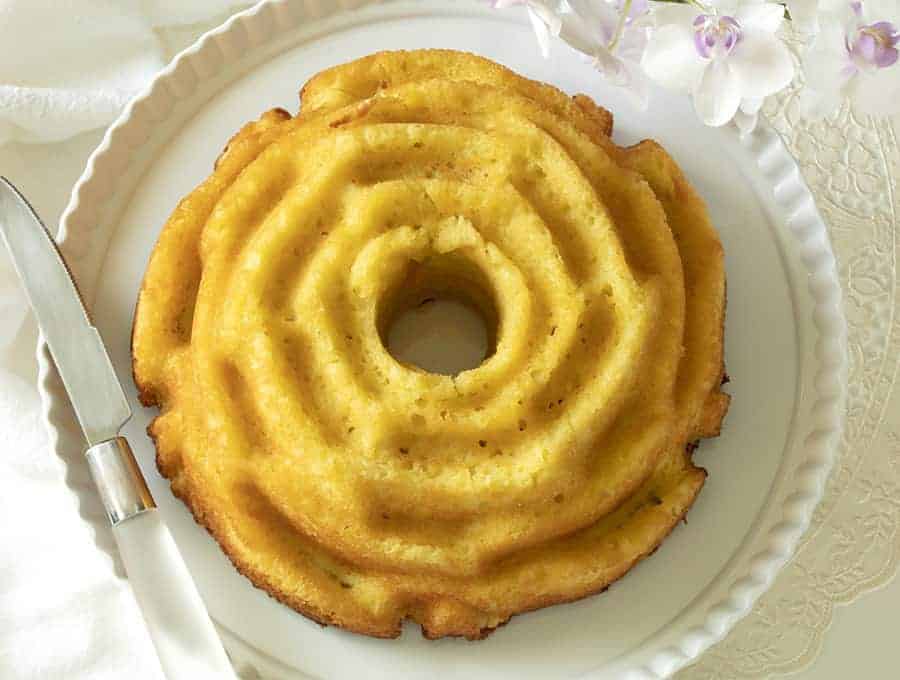 Cream Cheese Pound Cake | Low Carb Pound Cake
I love, love, love pound cake. I mean, let's be honest, I love ALL cake, but pound cake holds a special place in my heart and tummy.
Buttery, dense, sweet, creamy, and just….luscious.
I really wanted a low carb pound cake but for some reason, I was intimidated by turning this into a Cream Cheese Pound Cake recipe.
Then I had to do it for my Keto Fat Bombs, Sweets, and Treats cookbook anyway and I thought, well, really, how hard could this be?
The answer?
Actually not that hard at all.
But wait, first let's talk about this cookbook!
100+ recipes that are low carb, and just delicious. If you haven't ordered it yet, go check it out! Here's the link to the best keto desserts cookbook you will ever find.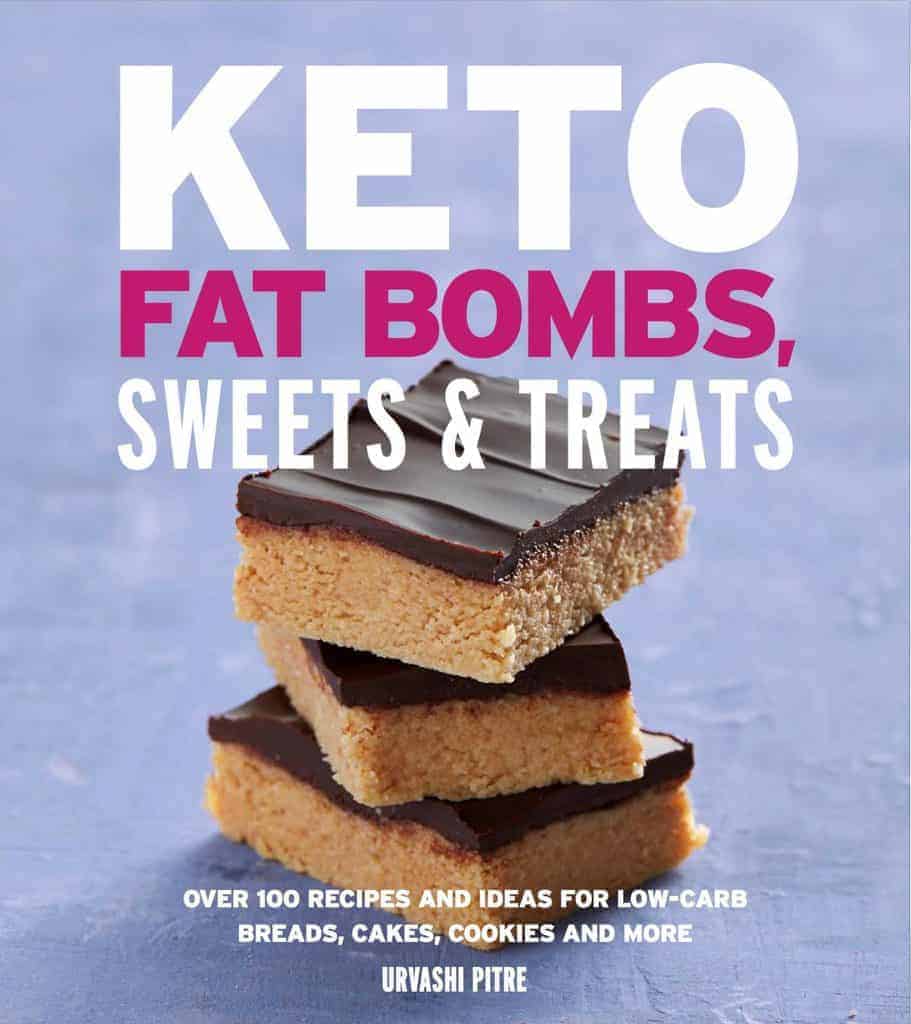 Can I freeze this Cream Cheese Pound Cake?
Why yes, yes you can. This low carb pound cake is so dense (in a good way!) and buttery tasting, that it actually freezes extremely well. I'd suggest you cut up slices and freeze individual slices of this Cream Cheese Pound Cake so you can have a) portion control but b) near-instant gratification when you just MUST have a piece of keto cake.
I mean honestly, this will be the best Cream Cheese Pound Cake you've ever had. If it's not, send it to me, and I will gladly eat it!
CAN I SUB COCONUT FLOUR FOR THE ALMOND FLOUR?
No. These two are not interchangeable. I always have people ask me this for recipes, so I'm answering the question before you even have a chance to ask. If you only have coconut flour, get almond flour too because it makes so many amazing recipes and I use it often.
VARIATIONS
This recipe makes 8 very generous servings. You can make it in a loaf pan, but you may need two loaf pans. You can use any leftovers for strawberry or raspberry shortcake with lots of whipped cream.
If you want some pizzazz added to the recipe, you can also vary flavors by using lemon extract and 1 tablespoon of lemon rind for lemon pound cake, add some cinnamon and nutmeg for spice cake, and the list goes on. Think of this Cream Cheese Pound Cake recipe as not just a pound cake, but also as a base cake recipe you can change to suit your needs. It can be quite versatile.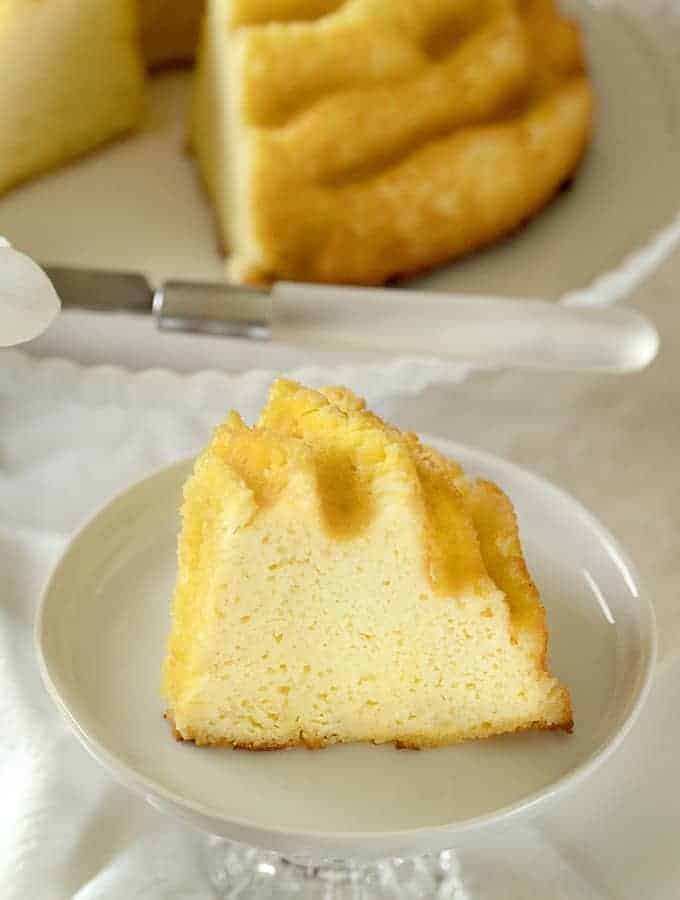 ★

Did you make this recipe? Don't forget to give it a star rating below! Just click on the stars in the recipe card to rate.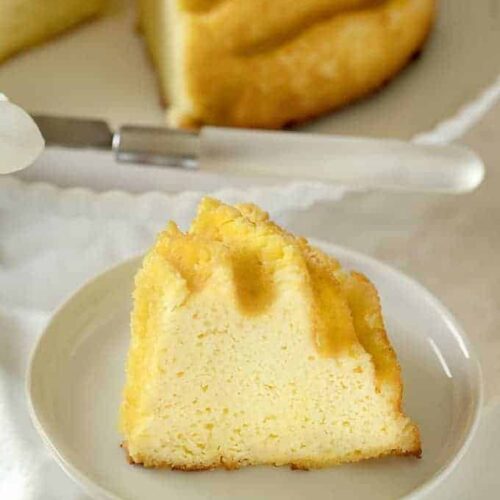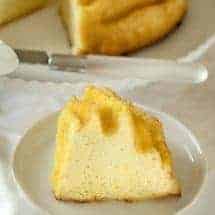 Cream Cheese Pound Cake
This Cream Cheese Pound Cake is deceptively low carb and oh so delicious! Pound cake so good your non-Keto friends will never know the difference!
Keyword:
keto cake recipe, keto desserts, keto pound cake, low carb cake recipe, low carb pound cake, low sugar pound cake
Dietary Consideration:
Gluten-Free, Grain-Free, High Fat, High Protein, Keto, Low Carb, Low Sugar, Paleo, Soy-Free
Ease of Cooking:
Pour and Cook
Recipe Type:
Desserts, Fat Bombs, Keto Low Carb
Instructions
Preheat oven to 350 degrees. Grease a 6-cup bundt pan and set aside. In a large stand-up mixer bowl using the paddle attachment on the mixer, beat together the butter, cream cheese and Swerve until light and fluffy and well incorporated.

Add the almond extract and mix well.


Add the eggs and sour cream and mix well.


Add all the dry ingredients until well combined. Beat the mixture until it is light and fluffy.


Pour the batter into the greased bundt pan. Bake for 40 minutes until a toothpick inserted to the bottom of it comes clean.

Recipe Notes
Please be sure to a) beat the heck out of the batter and b) Use a SIX cup bundt pan, not the huge, 10-12 cup pans that are standard.
Nutrition facts per serving
304kcal | Fat: 27g | Saturated fat: 8g | Carbohydrates: 7g | Fiber: 2g | Sugar: 1g | Protein: 9g
I am not a registered dietician or nutritionist. Nutritional information is provided a courtesy, and can vary depending on the exact ingredients you use.
Don't forget to check out my Keto Desserts Cookbook!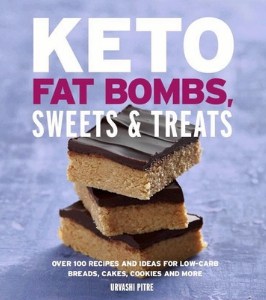 Featuring recipes for many classic, high-carb favorites that have been reworked to be "fat bombs," which help keep your macros in balance, as well as prevent you from craving all the things you usually can't eat when you're trying to lose weight. Many of the more than 100 recipes require no more than 10 to 15 minutes of prep time, and they taste as delicious and indulgent as they sound—how about Chocolate Peanut Butter Pops, Mocha Cheesecake, or Almond Butter Bombs?