If you're keto and are missing Big Macs, have I got the perfect Big Mac Salad and Big Mac Sauce recipe for you! Super easy and let me tell you–it tastes EXACTLY like a Big Mac. Except, of course, this low carb hamburger salad is actually good for you. Homemade Keto Fast food is an excellent choice, if you ask me.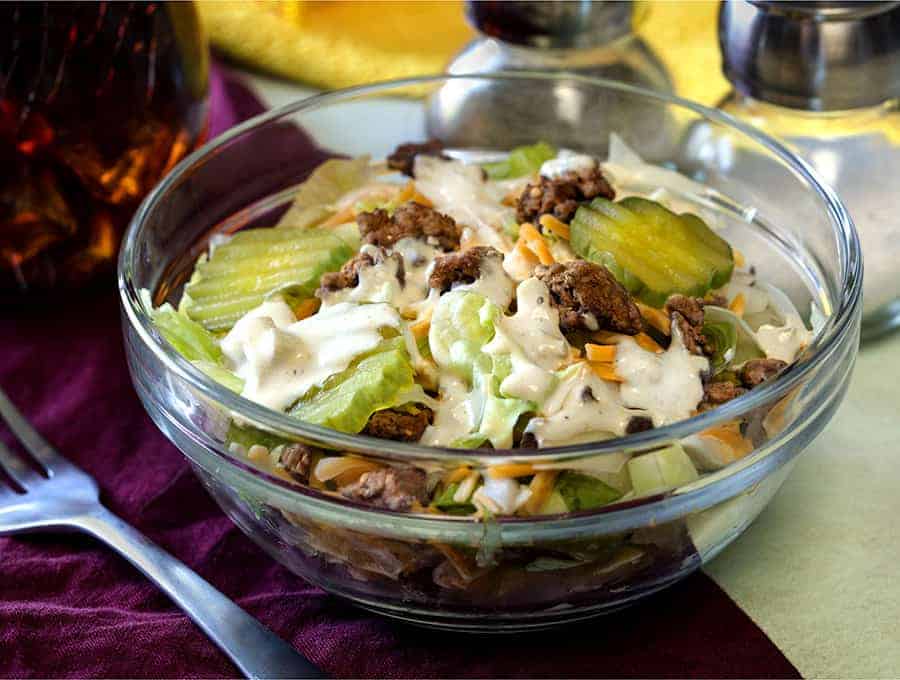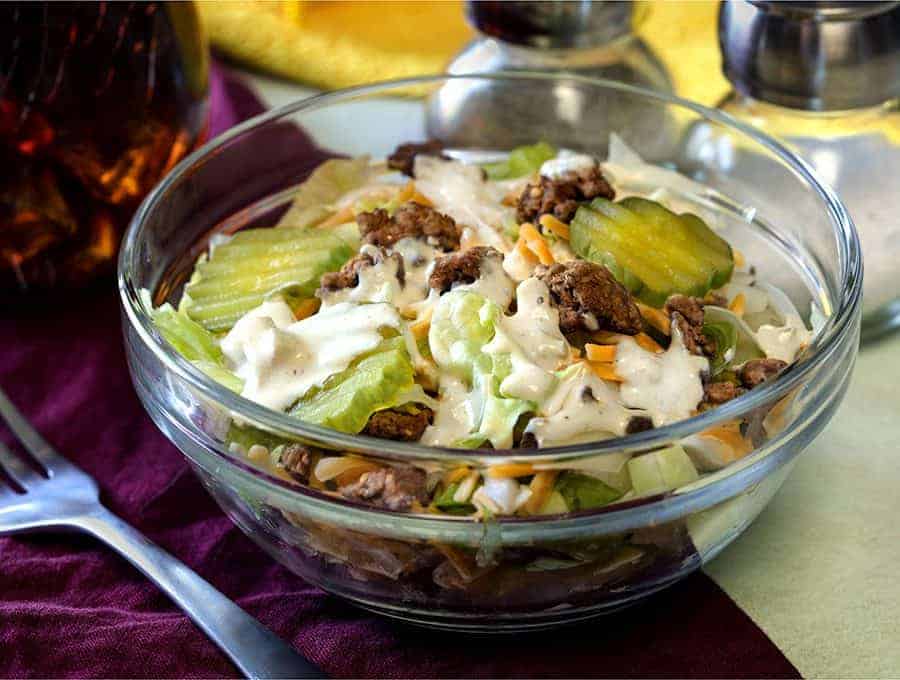 What is in a Big Mac Sauce?
Well, now. Isn't that a huge secret?

Full disclosure–I used to have McDonalds (r) as a client. But they did not give me their secret recipe 🙂
So I have no real idea what's in the McDonald's Sauce Recipe. But I can tell you that whatever it is I cobbled together tastes EXACTLY like McDonald's secret sauce!
Is Big Mac Sauce the Same as Thousand Island Dressing?
I know a lot of people wonder if McDonald's Big Mac Sauce is exactly like Thousand Island Dressing.
Based on my experiment, I don't think it is. This keto Big Mac Sauce has far fewer ingredients than Thousand Island, which is good. Less is better as far as I'm concerned.
What does this low carb hamburger salad taste like?
So I had to hack it. I made it, but it's been so long since I've had a big Mac that I asked my friend Jennifer to taste test it.
I suspect, based on her comments, that she is a little addicted to this low carb hamburger salad.
I mean, what's not to love? Not only does it taste just like a Big Mac, but it's homemade, low carb, keto–and best of all, the various componenents can be made ahead of time.
Anytime you can have homemade food that's essentially like Keto Fast food – I'm voting for that.
Can I freeze this Big Mac Salad?
Nope, you can't. That lettuce would just absolutely die if you did that. You CAN, however, make up the meat and the dressing ahead of time.
The dressing will keep for a week in your refrigerator if you cover it well.
Looking for more delicious salad recipes? Check out my Indian Raw Vegetable Salad! It's a simple, nutritious and delicious salad that is super easy to make.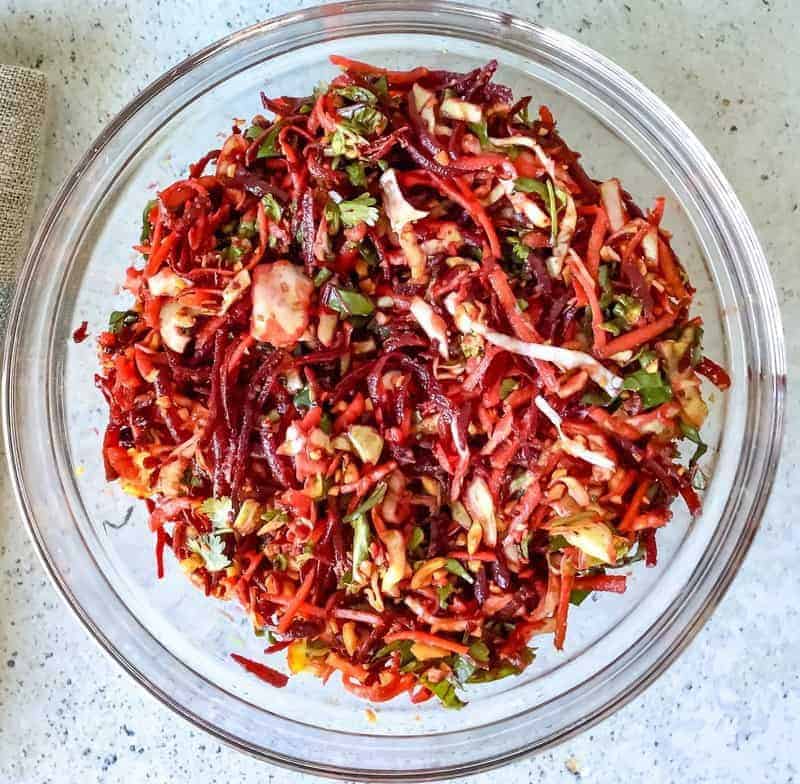 And if you're looking for another fantastic burger recipe, check out my Beef Bulgogi Burgers! It's a delicious burger with a Korean barbecue twist!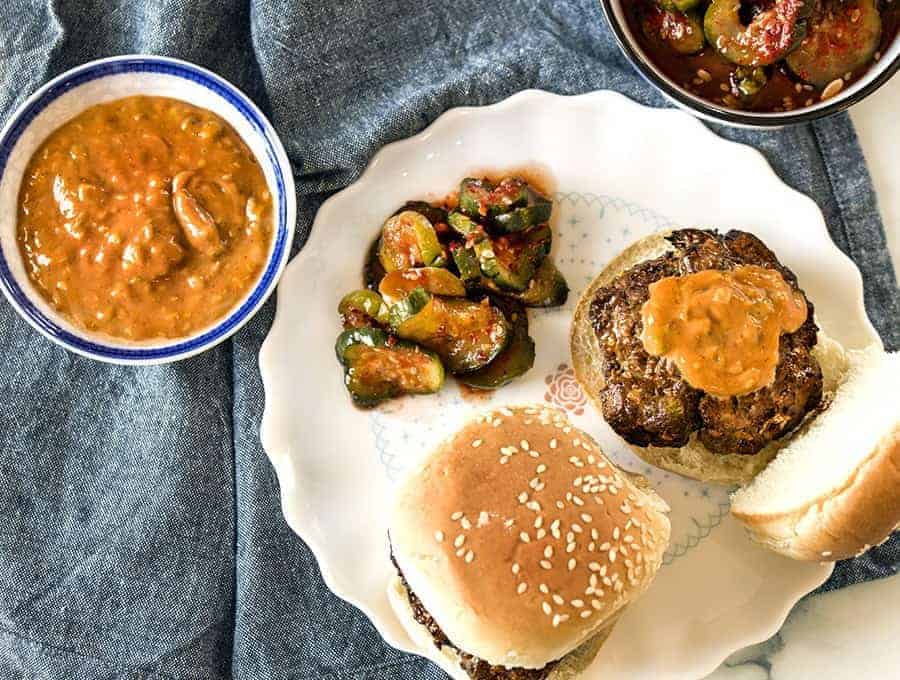 Mason Jar Big Mac Salad
I ate this salad straight from the fridge. You would think cold ground beef wouldn't taste that good, right?
It was actually MOST EXCELLENT. So one thing you could do is turn this low carb Big Mac Salad into a Mason Jar Salad and take it for lunch.
The attached video shows you how to do this. But basically layer in exactly this order:

Lettuce
Cheese
Ground Beef
Onions
Pickles
Big Mac Sauce Dressing
Then, when you're ready for your Keto Big Mac, either shake up that jar well, or just tip everything into a bowl and enjoy.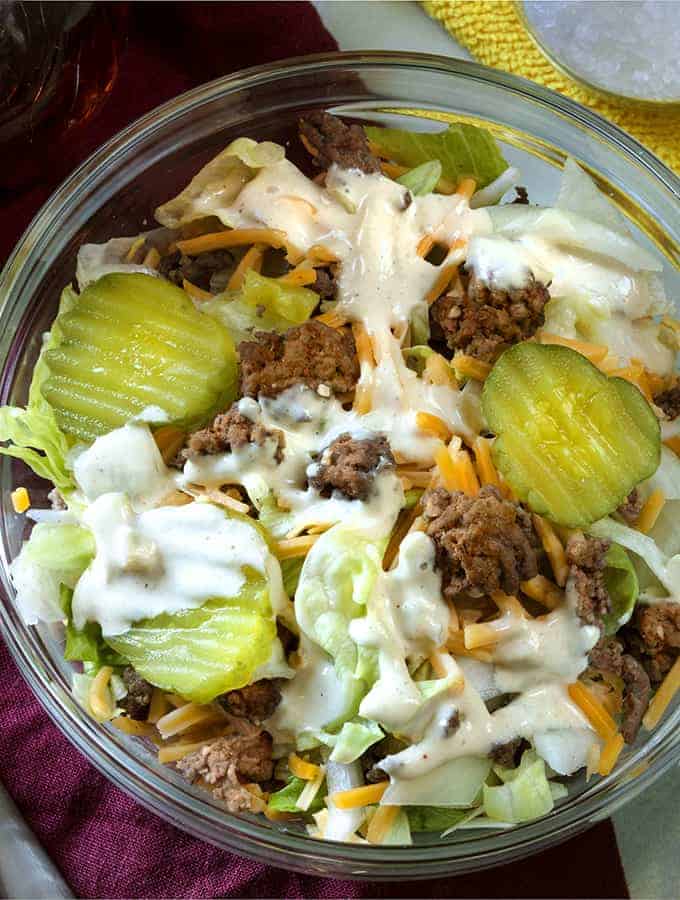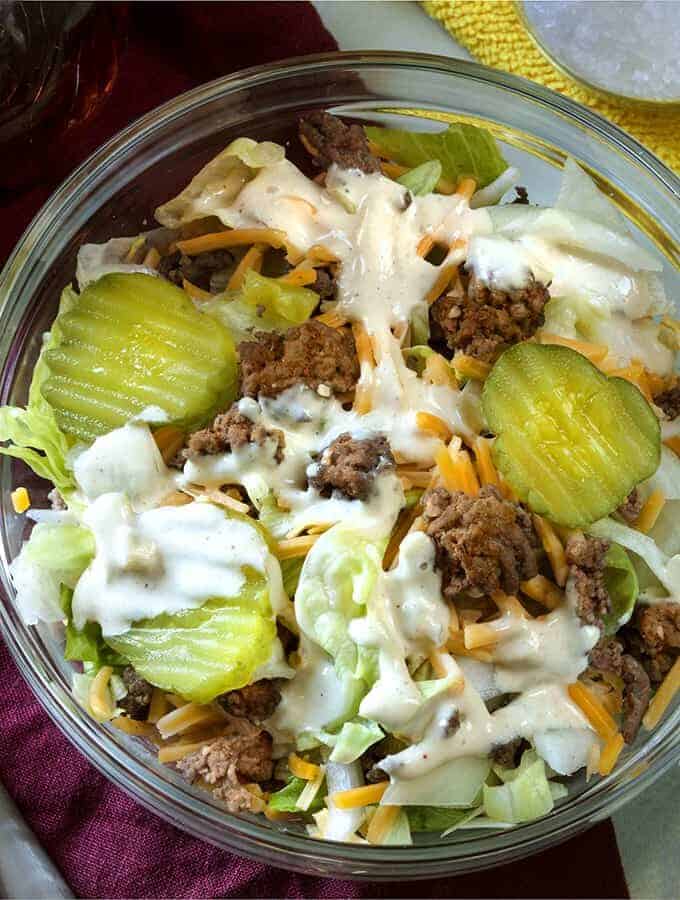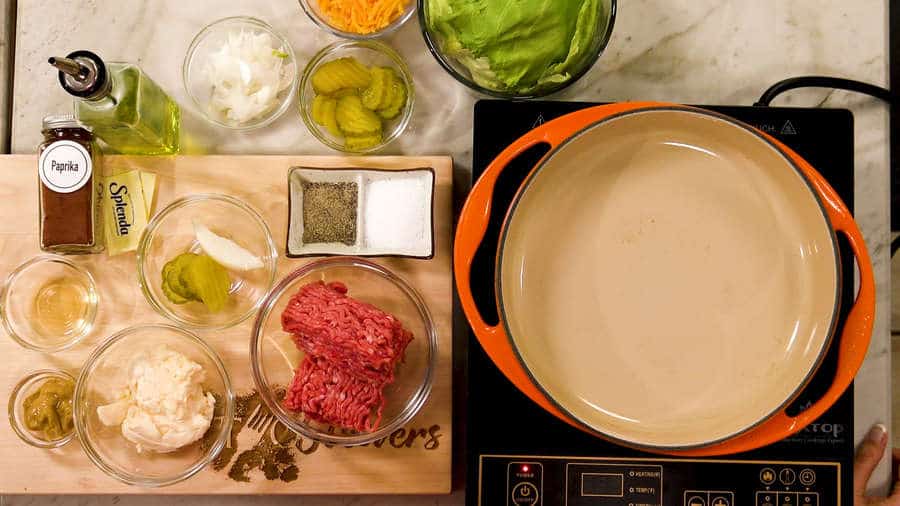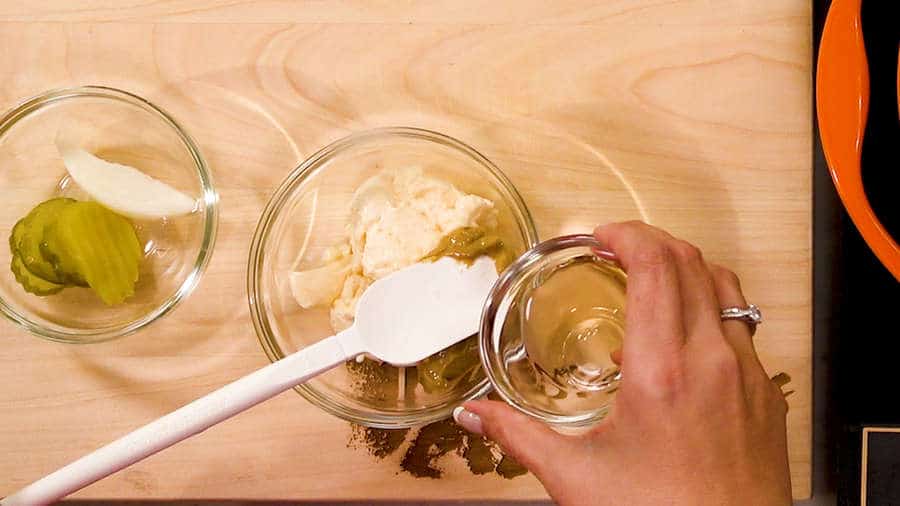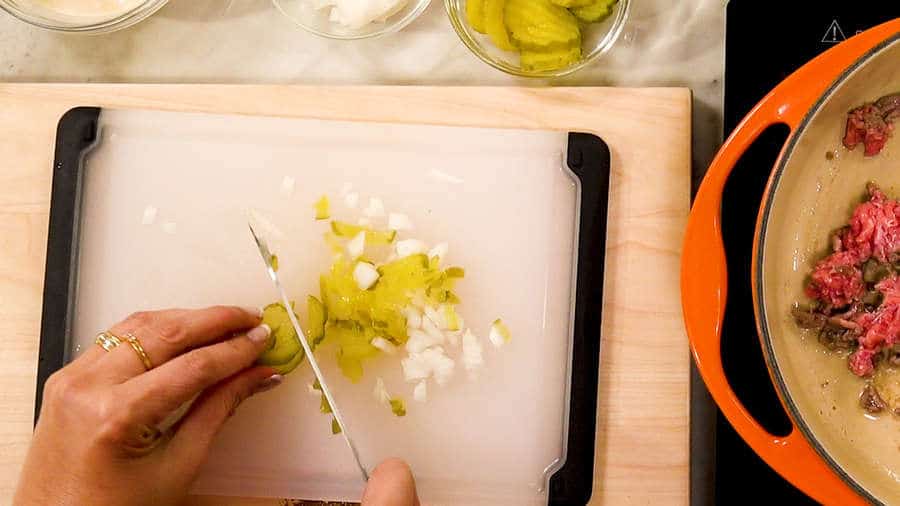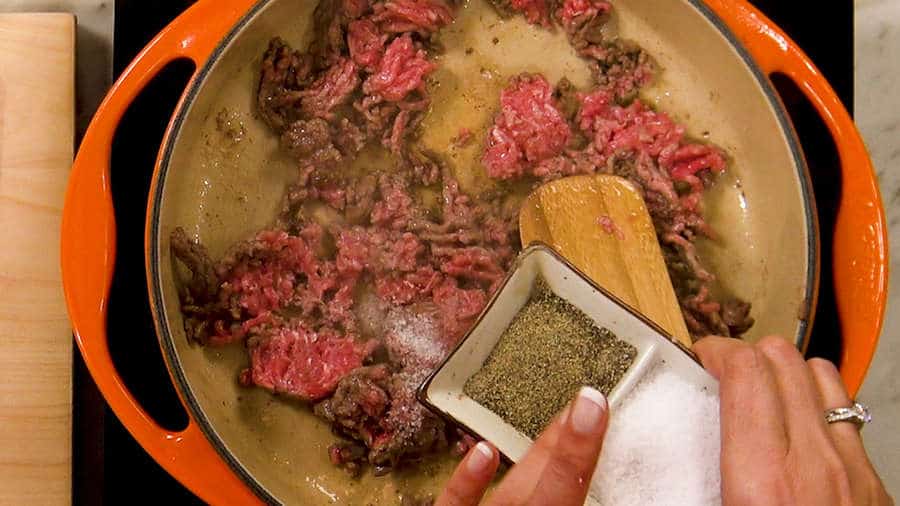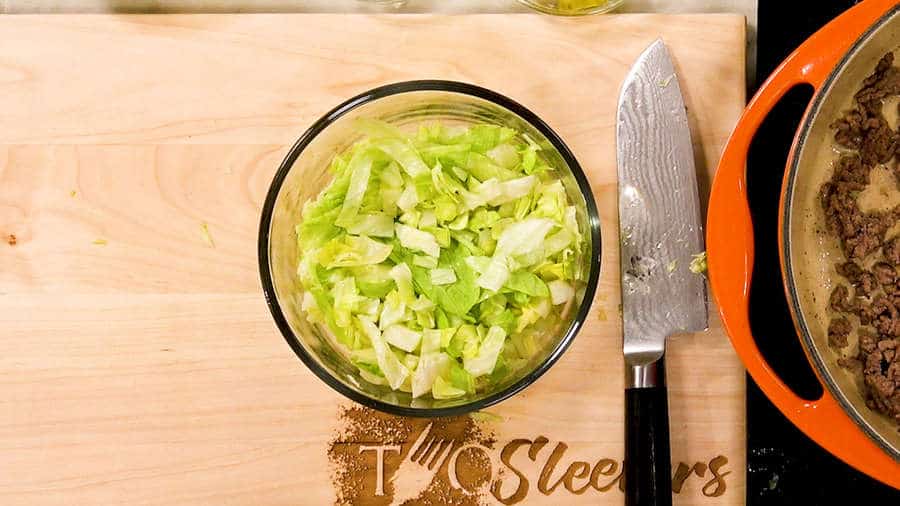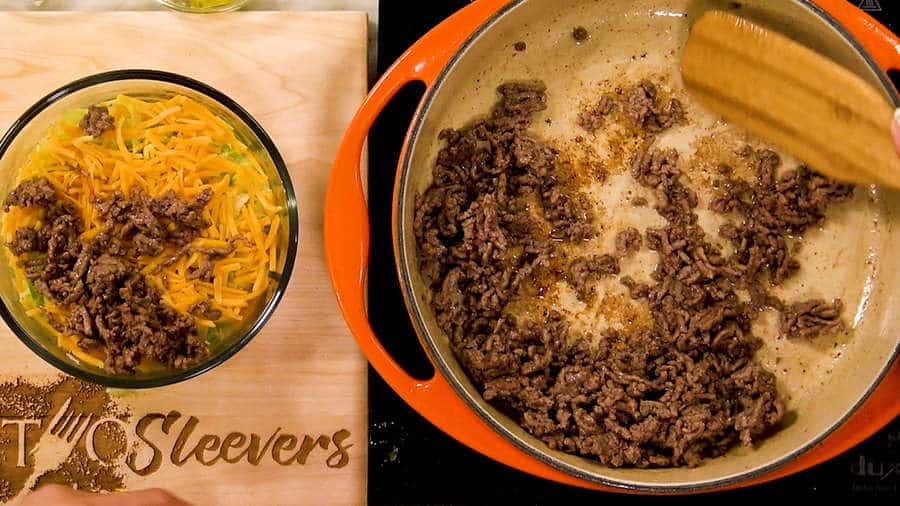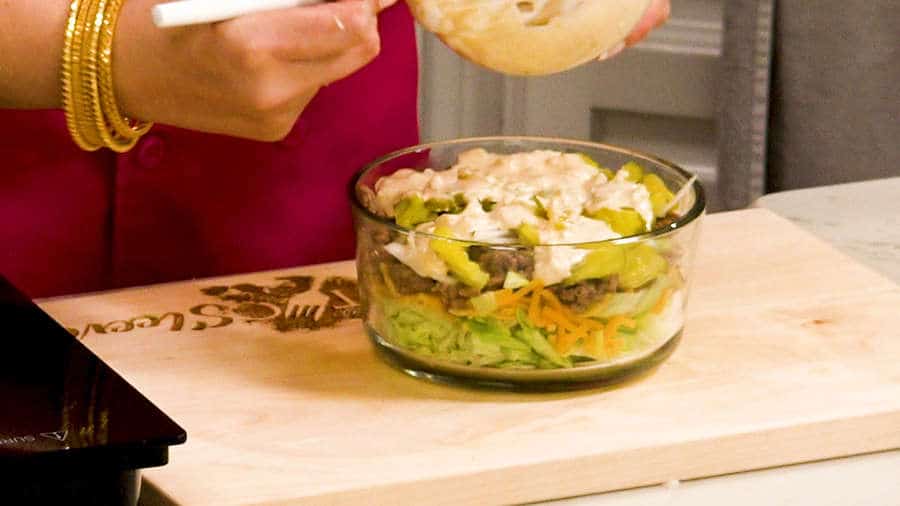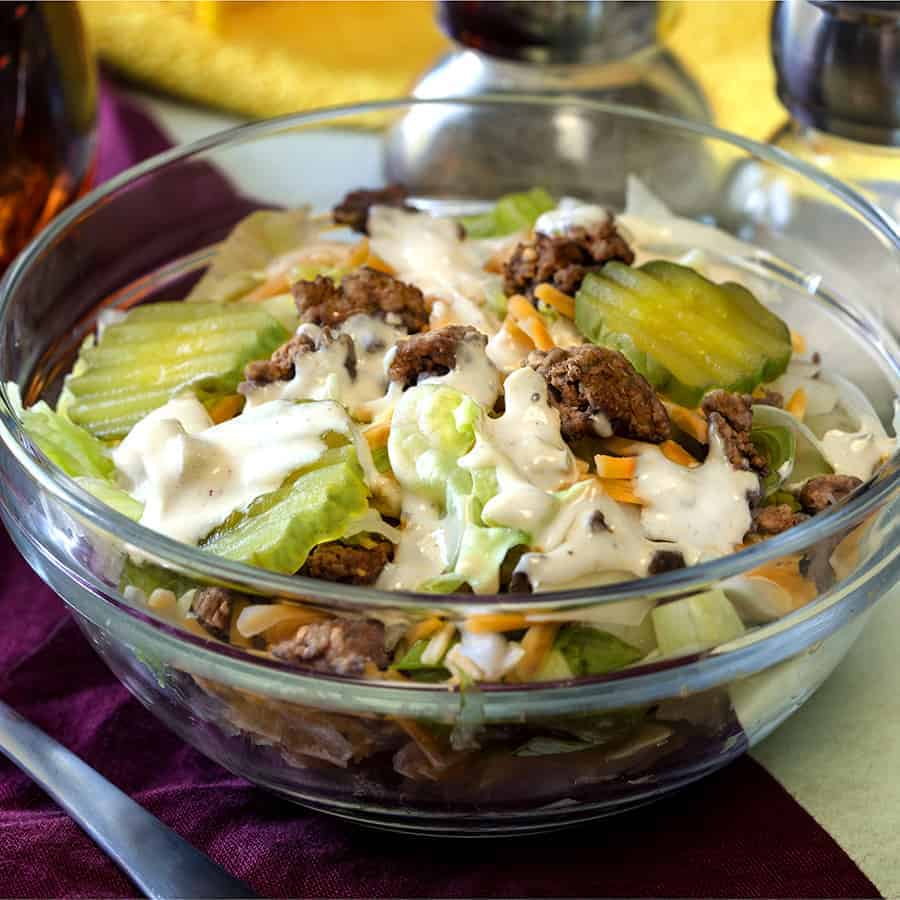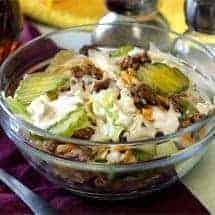 Keto Big Mac Salad | Low Carb Hamburger Salad
I kid you not, this tastes JUST like a Big Mac, except it's low carb and you know exactly what went into it.
Course:
Main Course, Salad
Keyword:
big mac sauce, big mac sauce recipe, low carb hamburger salad, mc, mcdonalds signature sauce reicpe
Dietary Consideration:
Gluten-Free, Grain-Free, High Fat, High Protein, Keto, Low Carb, Low Sugar, Nut-Free, Soy-Free
Ease of Cooking:
Pour and Cook, Under 30 Mins
Recipe Type:
Beef, Keto Low Carb, Salads, Spices & Sauces
Ingredients
Salad
1

lb

ground beef

1

tsp

Salt

1

tsp

Black pepper

4

cups

chopped iceberg lettuce

½

cup

sliced onions

cut in half

1

cup

shredded Cheddar cheese

1/4

cup

diced hamburger pickles
Instructions
Make the dressing. Mix mayo, diced pickles, mustard, vinegar, onion, paprika and Swerve. Set aside while you get the other ingredients together. Set aside while you get the other ingredients together.

Heat a 10-inch sauté pan over medium heat. Add the ground beef, smash it to break up the clumps, and cook until it's almost cooked through. Add salt and pepper and finish cooking it all the way.

While the ground beef is browning, chop lettuce. Slice onions and then cut into half. Roughly chop pickles..

When you are ready to serve the salad, mix the lettuce, onions, pickles, and cheese. Put into four bowls. Add in ¼ of the ground beef mixture into each bowl. Drizzle with dressing and serve immediately.
Recipe Notes
The sauce will keep for at least a week in the fridge so make double. Great for dipping grilled chicken as well.
Nutrition facts per serving
625kcal | Fat: 52g | Saturated fat: 15g | Carbohydrates: 5g | Fiber: 1g | Sugar: 3g | Protein: 31g
I am not a registered dietician or nutritionist. Nutritional information is provided a courtesy, and can vary depending on the exact ingredients you use.