Keto Diet Plan Week 2! Thinking of getting started on Keto? Totally confused by where to start? This is only for those who want to try Keto which is only some of us who visit this blog. Please don't feel like you have to follow or comment if you don't I'm just trying to help people who want to do it. I am not a medical, or health care professional so you definitely want to consult what my sons call "a real doctor, not a Ph.D. like my Mom".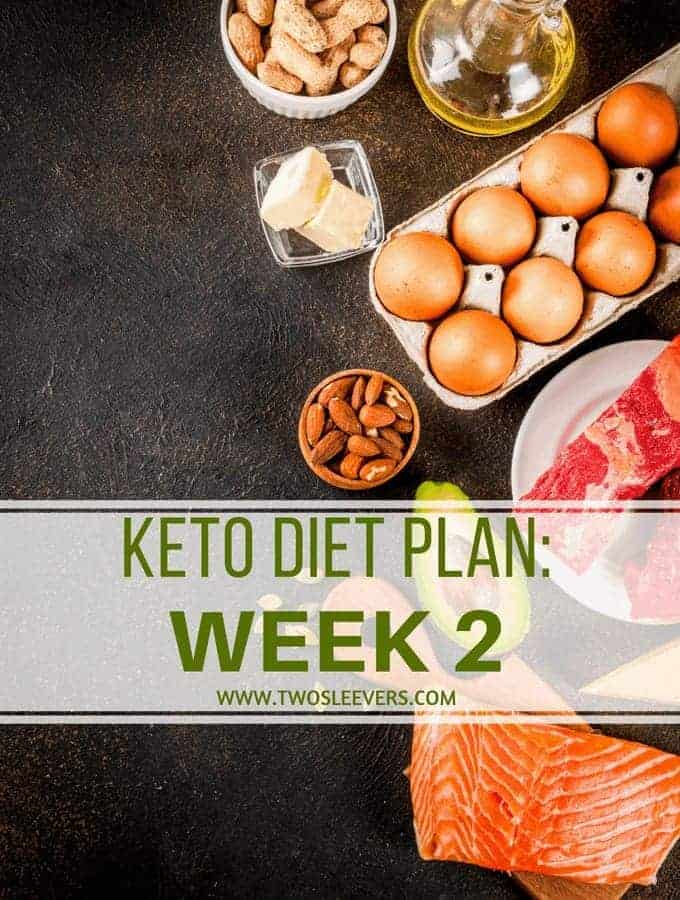 Keto Diet Plan Week 2
This is a short series on how to ease into Keto. Some of us want to jump into Keto cold turkey. Others might want to ease in. For those of you who are thinking of getting started on Keto:
Check out my How to start a Keto diet post here for weekly keto meal plan outlines, for information on how to calculate macros, and other great keto tips.
You should already have given up grains, legumes/beans and pasta/rice/potatoes. For the Keto Diet Plan Week 2 you have three goals:
Reduce fruit to once a day if you haven't already.
Go at least 4 hours between meals. Do not eat snacks in between. So you could eat at 8 am, noon, 4 pm, and 8 pm as an example. You need to keep insulin down. Eating causes insulin release. Insulin release = no fat burning. If you get super hungry, first drink water or sugar-free beverage of choice. If that doesn't work, eat a fat bomb.
Drink at least 64 oz of liquid daily this week. Use it to hydrate, to fill your stomach in between meals and to create a habit. Water really does help with fat loss.
That's it for the Keto Diet Plan Week 2! Enjoy your meat, veggies, nuts, cheese, cream, bacon, avocados, and other yummies as before.
You may also want to check out my Keto Instant Pot Cookbook–the only Keto Cookbook authorized by Instant Pot. This cookbook is full of delicious recipes that even your non-keto Family will love.