Tips for Keto Diet Plan | Week 1! Thinking of getting started on Keto? Totally confused by where to start? Here's a simple Keto Diet Week 1 plan.
For those of you who would like to give Keto a try and don't know where to start, I've put together a simple plan to help you kick off the first week.
My goal here is to boil it down and make the ketogenic diet easy and less intimidating in order to get you started.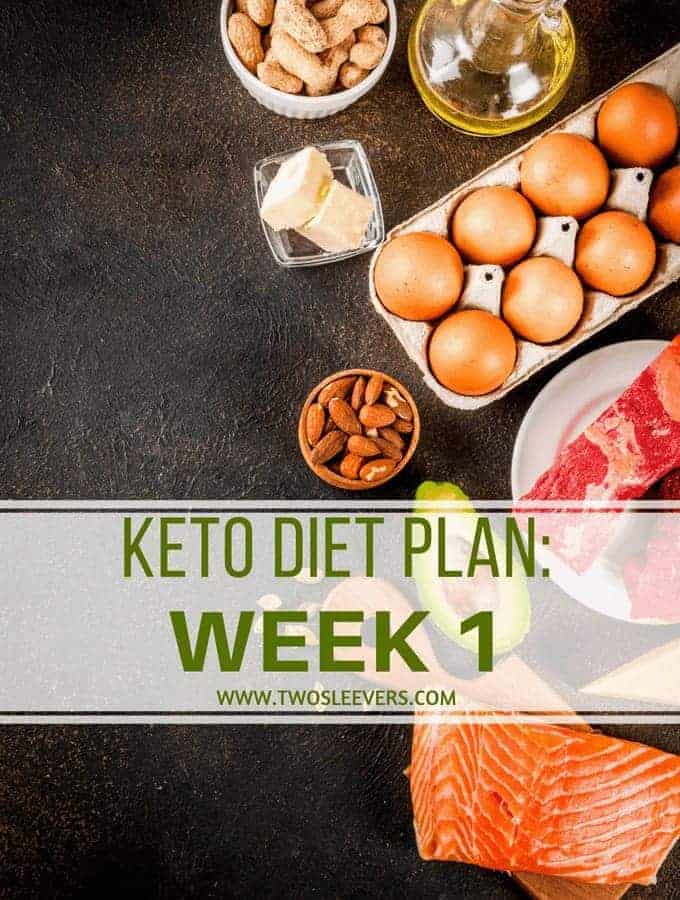 Jump to:
First, a disclaimer. I am not a medical, or health care professional so you definitely want to consult what my sons call "a real doctor, not a Ph.D. like my Mom".
What exactly is a ketogenic diet?
First, let's take a minute to review the key principles of keto so you understand the why of what you're doing.
The ketogenic (keto) diet is based on a metabolic process called "ketosis," which happens when your body does not have enough glucose for energy, so it burns fat instead.
During ketosis, chemical molecules called "ketones" are produced in the liver when fat is burned, and they are sent into your bloodstream to be used as fuel for the brain, muscles, and tissues. The keto diet deliberately reduces carbohydrate intake to encourage the body to burn fat instead.
Ideal Macros for a Ketogenic Diet
The keto diet is a low-carb, moderate-protein, and high-fat plan, which usually breaks down into the following daily percentages:
60 to 75% of calories from fat
15 to 30% of calories from protein
5 to 10% of calories from carbs
Every meal does not have to be in balance, but the proportions should be close to these at the end of the day. These macros will become important later in the diet, but don't worry about them for week 1.
Let me repeat this. Do NOT WORRY about macros during your first week. It can become overwhelming really quickly. This plan is tried and tested amongst hundreds of people in my Facebook Keto Group and if you follow it, I assure you it will work for you as well.
If you must calculate macros, here is my free keto macro calculator for you to use
If you're considering the keto diet, I'm sure you've heard by now that you have to cut out carbohydrates from your diet. This is true-ish.
You will have to cut out high glycemic foods like bread, pasta, and rice, but believe it or not, because there are so many great substitutions you won't miss these starchy foods. And by substituting these foods with fats, you won't get hungry.
You will be able (and encouraged) to eat lots of non-starchy veggies like cauliflower, broccoli, and green leafy vegetables. Your proteins will be moderate, with only 15 to 30% of your total intake coming from healthy proteins like chicken, beef, fish or tofu. Fats will make up the rest of your daily intake. These should come good fats like nuts or nut butters, olive oil, avocados, and cheese. Here are some of the low carb fruits, vegetables, and nuts you can eat on keto.
For week 1 of keto, I recommend keeping it very simple in order to get your body used to running without an influx of carbs. So for this week don't worry about calories, portion sizes or whether you're in ketosis. This week is just about training you to avoid starches and sugars and training your body to run off fat rather than sugar.
Keto Diet Plan: Week 1
Three rules for a Keto Diet Plan | Week 1:
Here are 3 simple steps to kickstart your Keto journey in week 1:
Cut out potatoes, pasta, bread, rice, grains, beans, and sugar and don't eat too many fruits.

Start looking for hidden sugars in many of the things we eat like jellies, pasta sauce, salad dressing, peanut butter, etc.
If you would like to eat fruit, try to stick to low glycemic varieties like berries.

Eat whatever you want for meats, eggs, vegetables, cheese, nuts, avocados, and fats.
Eat meat, nuts, and cheese for snacks. Cheese sticks wrapped in turkey or ham, salami or pepperoni, nuts, and avocados are all great items to keep on hand. Eat as much as you need of these to stave off hunger.
Tips & Tricks for Staying on A Ketogenic Diet
My last bit of advice for week 1 is, do not get discouraged. Remember you are breaking a life-long habit of carbohydrate addiction, and it could get uncomfortable as your body reacts both physically and mentally.
You might feel sluggish, but keep in mind that means it's working — your body is transferring from using one form of fuel to another, and you will begin to see results soon.
If you need some moral support, we have a great FB family support page here
Many people report ending this week feeling energetic and even starting to see some weight loss. If you're not one of them, hang in there, it will come soon.
Free Resources for How to Follow A Ketogenic Diet
You may also want to check out my Keto Instant Pot Cookbook--the only Keto Cookbook authorized by Instant Pot. This cookbook is full of delicious recipes that even your non-keto family will love.
THAT IS IT for week one! Keto can be very simple. People complicate it for some reason but as you know I'm a fan of stupid simple.
Free Keto Week 1 Meal Plan
So many of you asked for a starting keto meal plan, that I just created one for you to start off with.
This Starting Keto Plan is very simple. Here are some rules for you to create fabulous low carb menus, without cooking all the time.
Cook on weekends.
Cook dinner each night.
Eat leftovers for lunch
Don't be afraid to eat keto desserts for breakfast! Of course, you can always do eggs and bacon, nuts, yogurt etc. for breakfast. But there's nothing wrong with eating an almond scone for dessert as well as breakfast.
How to Keto
How to Keto Week 1 Plan
Follow this very simple weekly plan that eases you gradually into ketosis. 
What do you eat during the first week of Keto?
Meat, vegetables, cheese, nuts, and other dairy products are a great way to get started. Limit fruits to 2x day.
How long does it take to start losing weight on keto?
The first week is mainly water loss. But the more you have to lose, the faster you will lose. If you only have a little to lose, it may take a few weeks to start seeing real weight loss.
How long does it take for the body to go into ketosis?
It depends on how strict you are. If you restrict carbs to below 20 grams, it typically takes 2-3 days to go into ketosis. It may however, take a week or two to get fat-adapted.
Don't forget to check out my Keto Desserts Cookbook!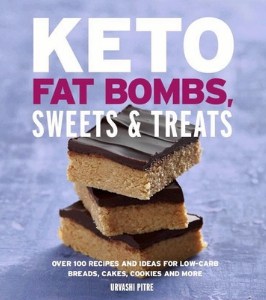 Featuring recipes for many classic, high-carb favorites that have been reworked to be "fat bombs," which help keep your macros in balance, as well as prevent you from craving all the things you usually can't eat when you're trying to lose weight.
Many of the more than 100 recipes require no more than 10 to 15 minutes of prep time, and they taste as delicious and indulgent as they sound–how about Chocolate Peanut Butter Pops, Mocha Cheesecake, or Almond Butter Bombs?