Congratulations. If you're reading this, you're ready for Keto Diet Plan Week 3. Wondering how to start Keto? Totally confused by where to start? It's easy to get overwhelmed. These posts break down how to start on Keto in an easy way. This is week 3 of keto tips.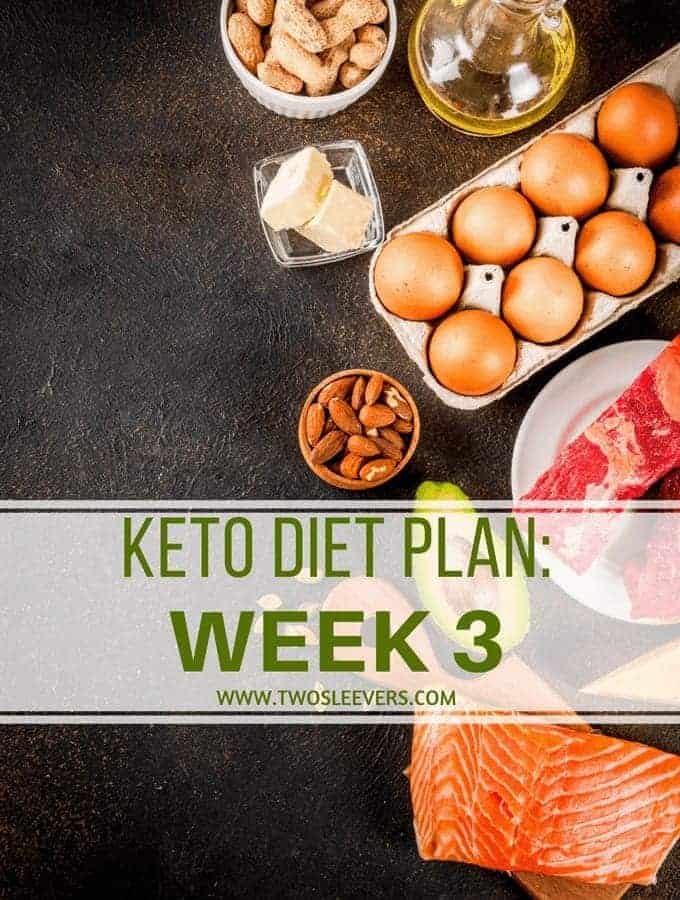 First, a disclaimer. I am not a medical, or health care professional so you definitely want to consult what my sons call "a real doctor, not a Ph.D. like my Mom".
Keto Diet Plan Week 3
This is a short series on how to start keto. Some of us want to jump into Keto cold turkey. Others might want to ease in. For those of you who are wondering how to start keto:
Congratulations. You made it through 2 weeks of the keto diet. Depending on how aggressive you've been, your body should have switched over, or be switching over, to burning fat rather than carbs. At this point, you might even consider testing your ketones with ketone strips to see if you're in ketosis yet. If you're not, continue to decrease your carbs this week and you should get into ketosis soon.
If by chance you haven't started a keto diet or have just started thinking about keto read my Keto Diet Plan Week 1 post first. When you're done with week 1, you can move on to the Week 2 plan to see just how easy it is to get started.
There are only four basic rules for week 3 of keto and most of them build on what you've already been doing. By now you should already have completely given up all grains, legumes/beans, and pasta/rice/potatoes. Additionally:
Fruit. You should have already cut down to no more than 1 piece of fruit a day. Cut out all fruit this week. You will eventually be able to have berries in small portions, but for now, cut out all fruit until your body is comfortably burning fat instead of carbs and sugar.
Increase fasting. You should already be fasting 4 hours between meals. Now, go at least 12 hours between dinner and breakfast, or breakfast and lunch.


Do not eat snacks in between because eating causes insulin release. Insulin release = no fat burning. If you get super hungry, first drink water or your sugar-free beverage of choice. If that doesn't work, eat a fat bomb. My book is a great resource for fat bombs: Keto Fat Bombs Sweets & Treats

Going longer between meals will control your insulin and begin to prepare you for intermittent fasting if you choose to incorporate that into your keto diet in the future.


Drink more. You should already be drinking 64 oz of liquids a day. Keep it up. If you get sick of water you can incorporate other options such as sparkling water or club soda, green or black tea, coffee, or bone broth. While beverages such as Diet Coke (or diet soda in general) are technically keto-compliant, several recent studies have suggested these artificially sweetened drinks may trick the body into craving the calories and carbs it believes it's getting from the diet soda. When your body realizes it isn't, you may make up for it by overeating. If you need to drink diet soda just do so in moderation and monitor if it seems to make you crave sweets.
Start writing down your food intake. Find a food tracker you like and start keeping track of your carbs. Some options are MyFitnessPal, Cronometer, and Lose It. At this point, you will only track your carbs but eventually, you will track all of your macros. You might try a few different food trackers until you find one you really like and is easy to use.
How you might be feeling this week
By week 3 the keto flu symptoms should have abated. Hopefully the gradual deletion of carbs and sugar have minimized these. You're probably starting to feel like you can handle this.
You're not having to track your food like mad because you are becoming more comfortable with what you can and can't have and you might start looking for substitutions for your favorite foods.
Many people report that they have begun losing weight by week 3, but if you haven't don't get discouraged; it will come soon. By week 3 many people are able to think more clearly, sleep more deeply and report having more energy.
Again, if you're not there yet, don't despair, just know that's coming soon.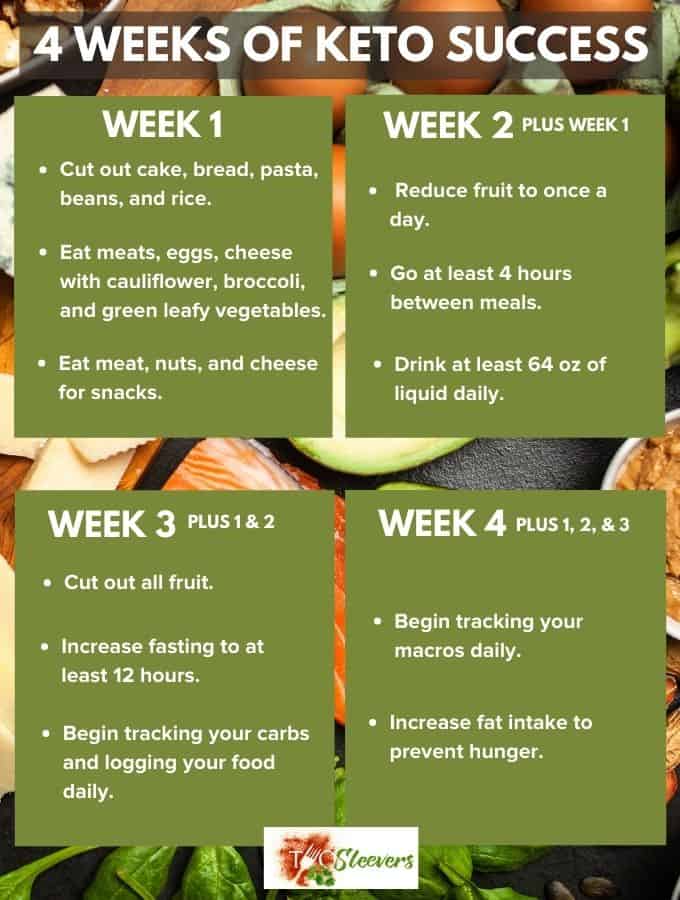 Keto Resources you need:
Grab one of the BEST Keto Snacks On Amazon for those cravings you just can't ignore.
I've written two Keto cookbooks now that will take the guessing out of cooking while on Keto. Even non-Keto people love these recipes! Get Easy Keto in 30 Minutes and Keto Fat Bombs Sweets & Treats.
I've put together a TON of my favorite Keto recipes into lists like Vegetarian, Soups, Holidays, Instant Pot, and more to make finding GOOD recipes easy for you.
That's it for the Keto Diet Plan Week 3. Enjoy your meat, veggies, nuts, cheese, cream, bacon, avocados, and other yummies as before.
Recipes you will enjoy on Week 3:
Don't forget to check out my other Keto cookbooks.
Keto Instant Pot, Keto Fat Bombs, Sweets, & Treats, and Easy keto in 30 minutes.