Here's a simple Instant Pot Halva recipe that will let you make this classic Indian Halva without having to stand, stir, control spatters or wonder if it's done. Whether you call it Halva, sheera, sheero, or kesari, you will agree this simple farina dessert is delicious and when made in a pressure cooker, quite easy.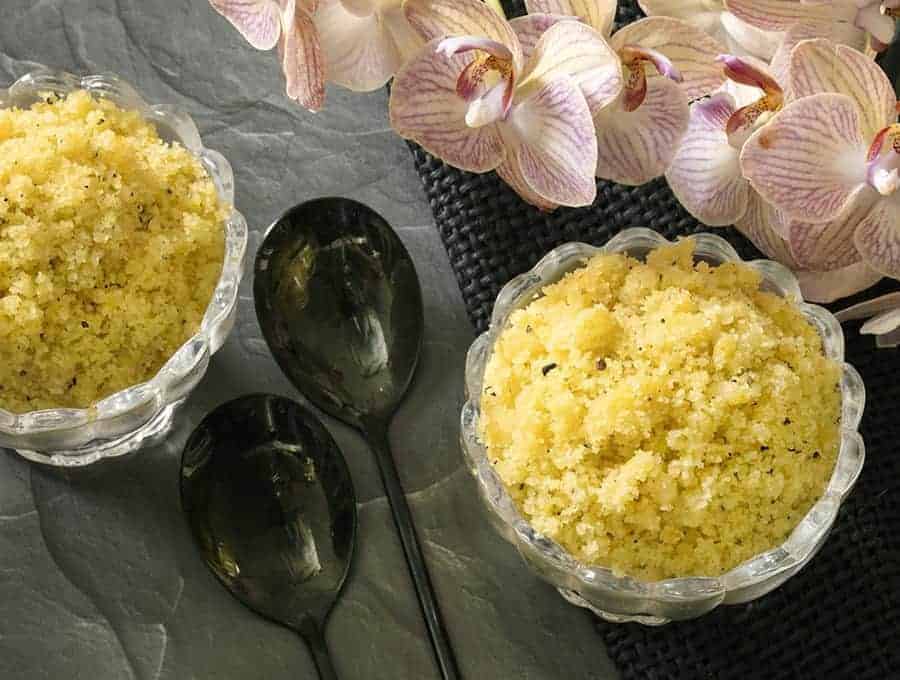 How To Make Halva
Okay, it's actually not that difficult to make stovetop halva--IF.
IF you've ever watched it being made, IF you've had a family member show you how, IF you've eaten vast quantities of it in your life so you know how to tell when it's done and of course IF you have time to stand and stir and control the adding of water so you don't get splattered and burn yourself.
But if you'd rather be doing something else, or if you just don't want to mess with watching it closely, this Instant Pot Halva Recipe will be your friend.
What Is Halva
Note that this is an Indian Halva recipe. Quite different from Turkish halva, or a Mediterranean Halva or a Levant version of it. This one is made with cream of wheat or farina. If you want to know the difference between farina and semolina, check out my post on the Eggless Farina Cake recipe here.
How Is Sooji Halva Traditionally Made?
Traditionally, this recipe is made stovetop. First, you roast the sooji or farina. Then you add to it a sugar syrup you've prepared, along with lots of ghee and cardamom. Then you cover it and let it cook until done just so.
We're not making it that way. We're not going to roast the sooji for starters. This is the part that takes forever. It does make a slight difference to the taste but really, it's not a huge difference and I'm okay skipping it.
We are also not making a sugar syrup and we are definitely not pouring the hot sugar syrup into hot sooji and watching it splatter all over our stove top and ourselves.
Where Can I Buy Farina?
This is going to be a lot simpler than you think. Either go to the Indian Grocery store and look for sooji. Or go to any grocery store and get some Cream of wheat.
Yup. Cream of wheat = Farina = Sooji.
If you're at an Indian grocer, look for Roasted Sooj.
Tips And Tricks For Making This Halva Recipe
Tip 1: Use Pot In Pot Cooking
So I thought about this and decided to treat the sooji just as I would rice or any other grain. And I decided to make it Pot-in-pot so I could make a dry finished dish. If you've been struggling with getting perfect rice in your Instant Pot, I have a free download and a video that explains the best way to make perfect Instant pot rice.
If you're not sure about Pot-In-Pot Cooking, watch this PIP video and you will understand not only what it is, but when and why to use it.
So in this Instant Pot Halva recipe, we are going to combine everything in the right proportions, cook it pot-in-pot, remove it and eat it.
No really. It will be that simple.
Tip 2: Grind Up Your Saffron
The other little hack I used for this was to grind saffron threads rather than soak them in milk, wait for them to soften, and dirty yet another dish to make it. I use this same trick to make Persian Joojeh kababs.
What you do is grind up some saffron with a little sugar in a mortar and pestle. Not only does this make the saffron easier to dissolve, but it also stretches that expensive saffron a bit.
So to recap, we are making this Halva recipe by mixing up sooji, sugar, water, cardamom, and saffron. And then we are cooking it pot-in-pot for ease and to ensure the right consistency.
Want More Authentic Indian Recipes?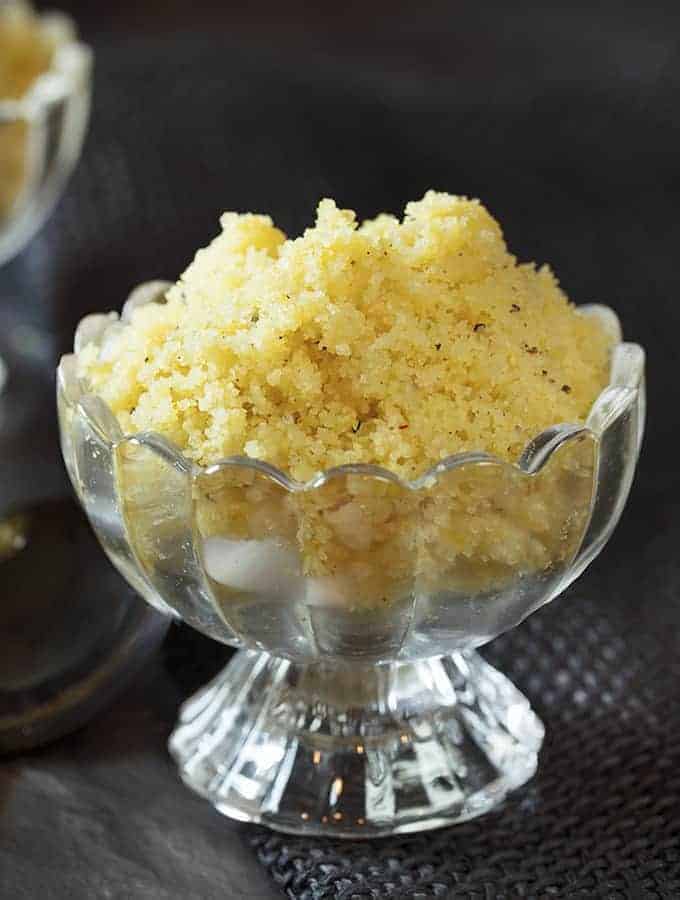 If you love this Instant Pot Halva recipe as much as we do, make sure you share it with your friends on Facebook and Pinterest so they can make it too!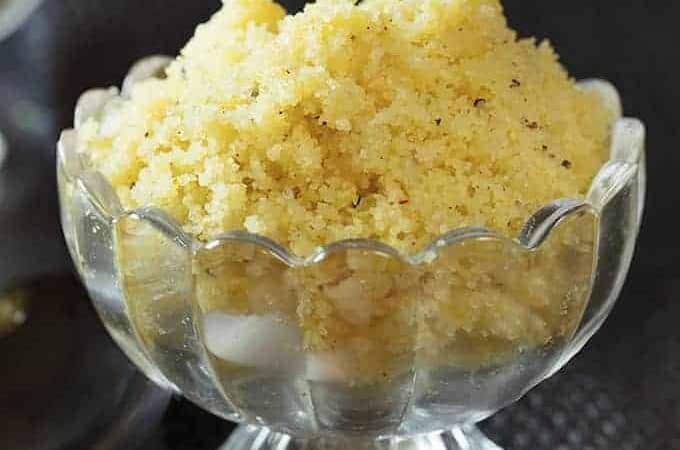 Click on highlighted ingredients or Equipment to see exactly what I use to make this recipe
Instructions
Grease a 6-inch x 4-inch pan and set aside.

In a small bowl, mix together farina, sugar, cardamom and the saffron-sugar mixture.

Add water and ghee and mix well.

Pour the mixture into the greased pan and cover with a silicone lid or foil.

Pour 1.5 cups of water in the inner liner of the Instant Pot. Place a high steamer rack on top of this. Place the cover pan on the rack.

Set the Instant pot to cook on high pressure for 5 minutes. At the end of the cook time, let the pot sit undisturbed for 5 minutes and then release all remaining pressure.

Using silicone mitts, remove the inner pot. Use a fork or spoon to fluff up the halva and stir it around really well. You're doing this to spread the cardamom and saffron throughout the halva. As you stir, you will see the grains start to separate, and the halva takes on a yellow-orange tinge from the saffron.

Once the halva has been broken up and the spices are mixed in, the halva is ready to serve.
Note: You may want to add additional ghee at the end because, really, one can never have too much delicious ghee. But start here and see what you think first. Here's a homemade ghee recipe for you. 
Get support & connect with our community on Facebook!
Nutrition
Calories:
226
kcal
|
Carbohydrates:
28
g
|
Protein:
2
g
|
Fat:
11
g
|
Fiber:
1
g
|
Sugar:
12
g
Tried this recipe?
Follow @twosleevers and Pin it!
Indian Instant Pot, Keto Instant Pot, Instant Pot Fast and Easy, Healthy Instant Pot & Vegetarian Instant Pot.