This is the best Chicken Tikka Masala recipe you will find. Make an authentic Tikka Masala recipe, with very little work, in your electric pressure cooker. This is going to be the BEST, most authentic tikka masala recipe you've ever had, but it will be done in less than half the time you normally spend.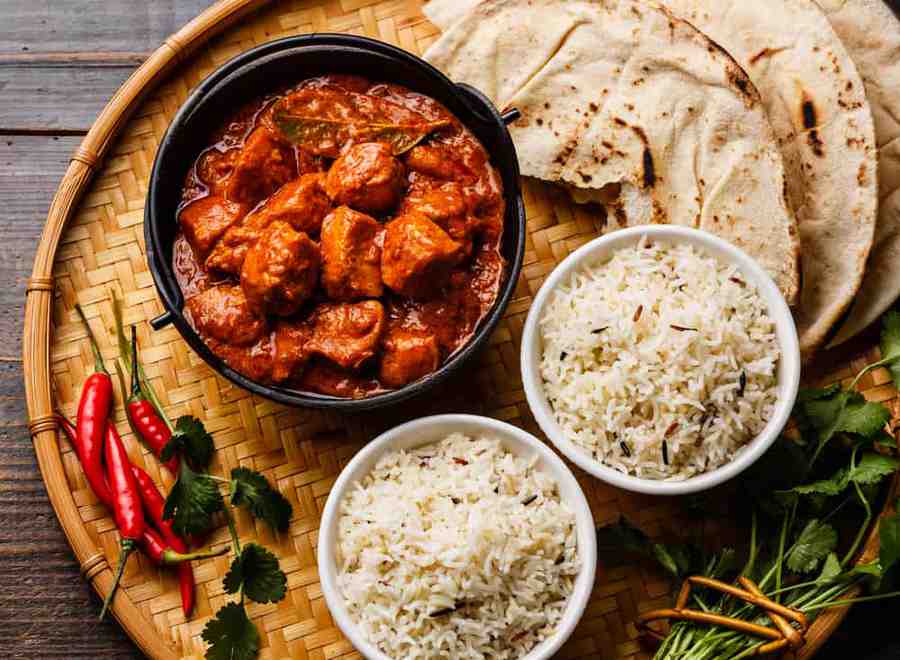 PRESSURE COOKER CHICKEN TIKKA MASALA
First the name. Why Double Up? Two reasons: 1. Twice the sauce you need and 2. The marinade and the sauce take the same spices, but you put twice as many spices in the sauce and in the marinade.
If you weren't in a hurry, you'd make the sauce below, you'd make the Chicken Tikka Bites properly, and then you'd mix the two. But let's face it, I'm almost always in a hurry, and if you're trying to feed your family after work, I suspect you might be too.
So I figured I'd try it as one step. It's not as good as making it separately, but I ate it a little too quickly to care.
HOW TO MAKE INSTANT POT CHICKEN TIKKA MASALA
What I did was, I marinated the chicken, I put in all the ingredients for the sauce in the pot, and I cooked everything together. Once the chicken was cooked, I took it out and reverse-seared it, which is just a fancy way of saying I browned the cooked chicken. You could easily skip the browning bit and just enjoy it as it is.
Okay, I know you're going to think I've lost my mind. A carrot?? In the sauce??
Yes. A carrot. In the sauce.
Why, you ask me?
To add body. If I made it without it, I'll hear a lot comments about how it didn't feel like the restaurant version of chicken tikka masala.
But I didn't want to fill it with junk, so I thought of what would enhance the taste and thicken the sauce at the same time.
So I added a carrot.
You won't taste it, but you'll feel it in the thickness of the curry.
WHY DO YOU HAVE LIQUID SMOKE IN YOUR PRESSURE COOKER CHICKEN TIKKA MASALA? HOW IS THAT POSSIBLY AUTHENTIC?
So, what's up with the Liquid smoke? Is that a traditional Indian ingredient?
Not in the slightest actually. In fact, I have a funny story about this.
When I was about 14, a friend of the family told me about liquid smoke, which he had seen on his travels to the United States.
He was quite the prankster so I was sure this was a huge joke. I mean, come on! Liquid smoke??
He said if I was that sure, then I would surely be willing to bet with him. The loser was supposed to push a peanut around the room….with their nose.
I was so sure he was making this up! But I really didn't want to be going around the room pushing a peanut with my nose with my butt inelegantly up in the air.
I was so conflicted because of course, I wanted him to be the peanut pusher.
Finally, the looming, potential indignity of it made me turn his bet down. Boy am I glad I didn't take that bet! Because he did, in fact, show up with a bottle of liquid smoke, and I was well-educated on liquid smoke now.
Looking for other great instant pot Indian recipes? Check out my Chicken Korma recipe! This recipe is so easy that you can make it on a weeknight, start to finish, in just one hour!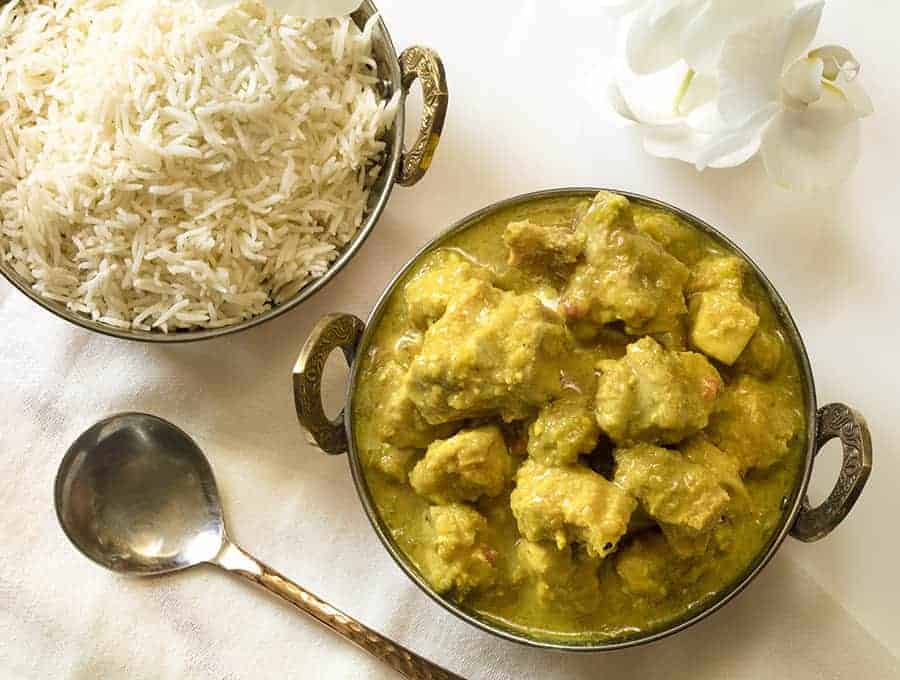 And if you're looking for a great Indian dessert, check out my Instant Pot Halva recipe. Make this delicious Indian Halva without having to stand over the stove constantly stirring!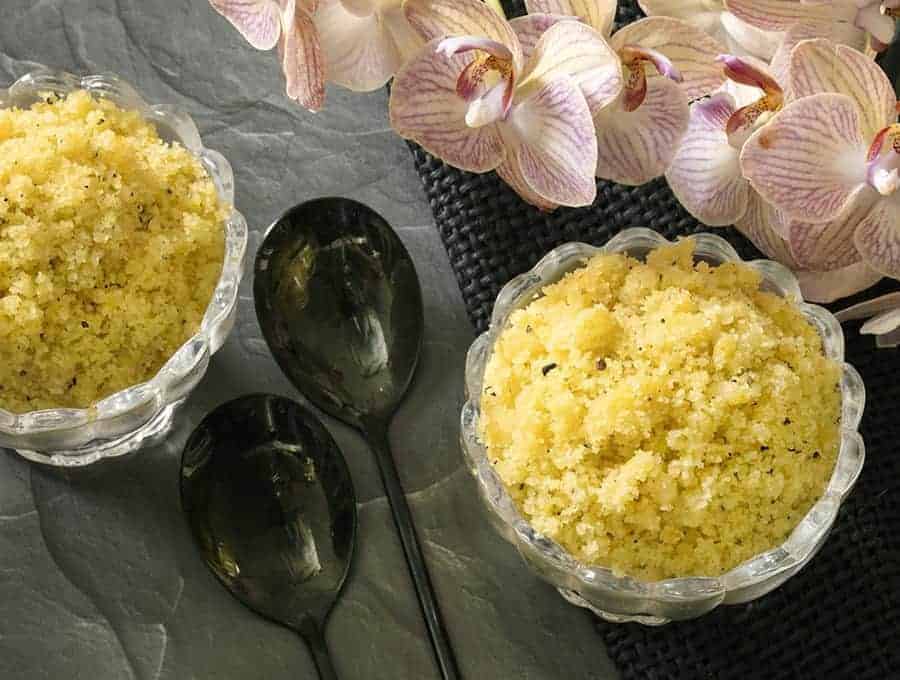 HOW TO REPLICATE A DHUNGAR WITH LIQUID SMOKE
While liquid smoke is not at all traditional, we do have a technique called Dhungar.
To make a dhungar, you take a piece of lighted charcoal. This hot charcoal is set in a small dish. That dish is placed within the larger pot containing a dal, or a curry of some sort.
You then put a lid on the top to allow the charcoal smoke to permeate the dish.
And there you have a dhungar.
I often use either Liquid smoke or smoked paprika to replicate that flavor.
Which is why you will see that this Instant Pot Chicken Tikka Masala has some unusual ingredients in it, but like I said, tastes very authentic.
The steps for this Indian Chicken Tikka Masala Recipe are:
Marinate the chicken with yogurt and spices
Add the sauce ingredients to the Instant Pot
Cook it all together, puré the sauce with an immersion blender, brown the chicken (or not)
Take out half the sauce for later. Put chicken into rest.
Eat over rice or with naan, or over cauliflower rice.
I know it looks like a long list of ingredients. But guess what? The spices for the chicken and for the sauce are almost the same.
What's more, the marinade has half of each spice as the sauce. Hence the name double up.
See? I had a point when I named it. So it should go fast.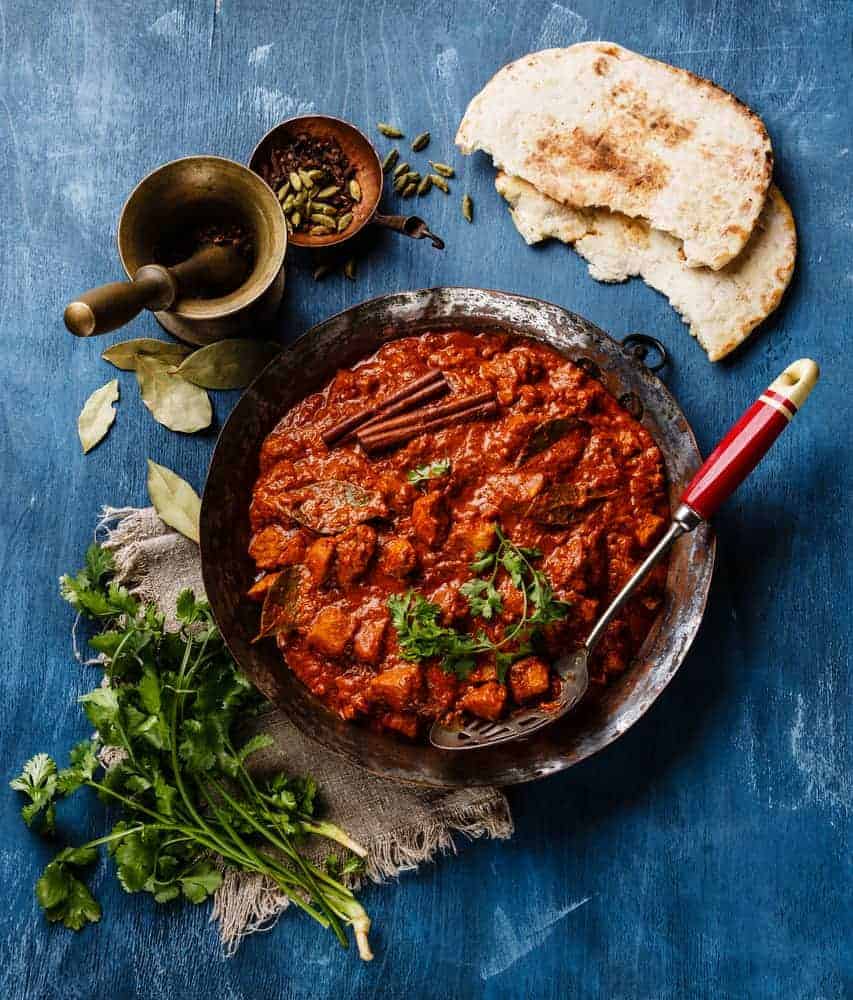 ★ Did you make this recipe? Don't forget to give it a star rating below! Just click on the stars in the recipe card to rate. Tag me with #TrustUrvashi if you post and I will share your post!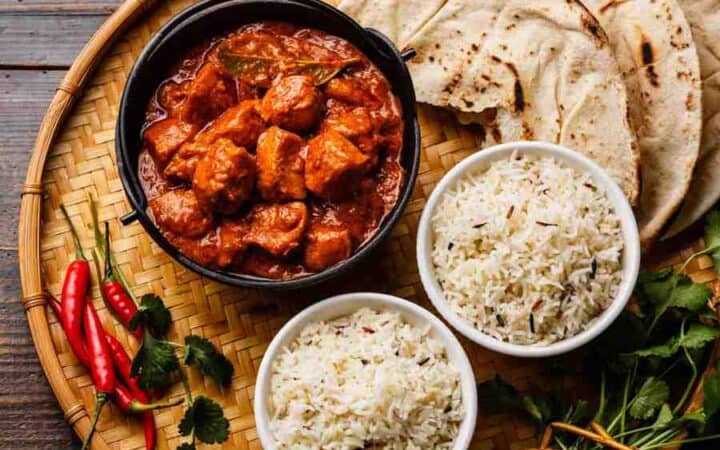 Ingredients
Instructions
Marinate the chicken with the ingredients specified making sure to beat and blend the yogurt well so it doesn't separate later. Let is rest for 1-2 hours if possible.

Place sauce ingredients into the Instant Pot. Place the chicken with the yogurt on top of the sauce ingredients.

Cook at High Pressure for 10 minutes and release pressure quickly.

Remove chicken and either set aside, broil, or put in your air fryer to brown, as you choose.

Add 1/2 cup of half and half, cream, or coconut milk and stir well.

Remove half the sauce and freeze for later.

Put chicken back into the remaining sauce, mix in the garam masala, garnish with cilantro and serve.
Notes
The spices for marinating and for the sauce are almost the same. The marinade takes half the spice the sauce does.
To be efficient, put the sauce ingredients in the Instant Pot, and the raw chicken in a bowl. As you add turmeric to the marinade, add twice that amount of turmeric to the onion and tomato sauce as well.
Please note that a few readers who used 8 quart Instant Pots had the BURN message with a single batch of this, but not a double batch. The same readers were able to make this without the BURN message.
If you have an 8 quart, either double this recipe or use 1/2 to 1/4 cup of water to add to the chicken and vegetables.
Nutrition
Calories:
167
kcal
|
Carbohydrates:
10
g
|
Protein:
18
g
|
Fat:
6
g
|
Saturated Fat:
2
g
|
Cholesterol:
79
mg
|
Sodium:
969
mg
|
Potassium:
465
mg
|
Fiber:
2
g
|
Sugar:
3
g
|
Vitamin A:
2260
IU
|
Vitamin C:
10.3
mg
|
Calcium:
86
mg
|
Iron:
2.1
mg
​