Air fryer scallops are easy and delicious to make. Combine tomatoes, basil, cream, spinach and scallops, and within a few minutes, you have an elegant dish that can make an ordinary dinner seem very special. Once you make air fryer scallops you may decide this is the only way to make them.
Cooking seafood in an Air Fryer makes it super easy to make, and it keeps your whole house from smelling like seafood. This delectable Tomato Basil Scallops recipe is a no-brainer for a delicious Air Fryer seafood recipe.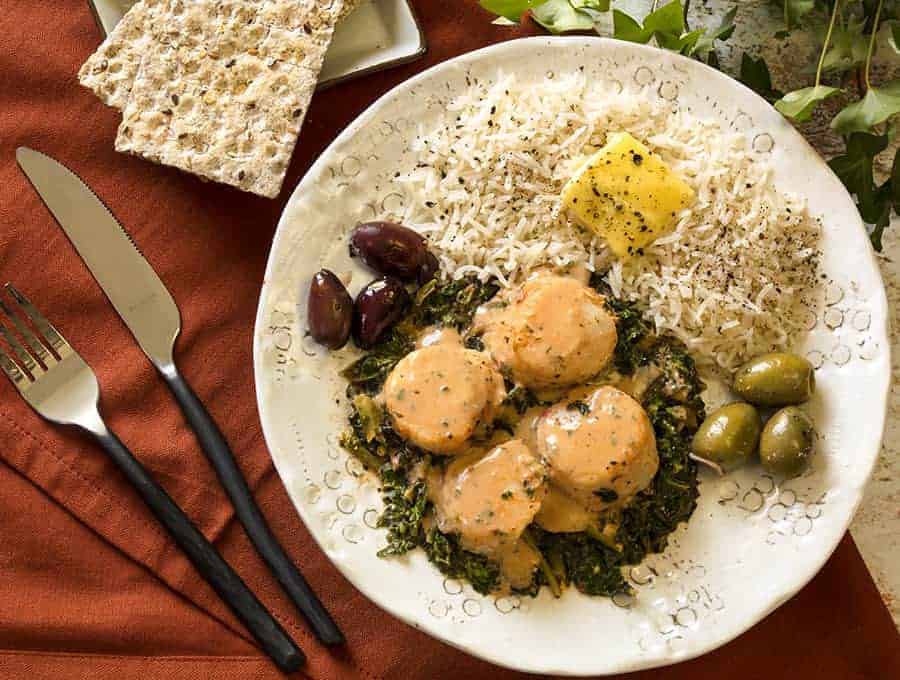 Tomato Basil Scallops |Air Fryer Scallops
I love scallops. But somehow they seem to be an iffy thing to order, even at the best restaurants. Part of my frustration is that they're often a little raw in the center and I am not a fan of rare scallops.
One of the other frustrations I have is that they tend to have grit in them sometimes which just astounds me. You think that most restaurants would take care of this issue but they often don't. Once I taste that grit once, I'm pretty much done with my scallops dish.
And of course, let's not get started with how expensive it is to get them when you go out. They're not exactly cheap when you make them at home, but I buy large bags of frozen scallops and then I tend to take out whatever I need for a meal and within a few minutes, I have a tasty scallop dish at home.
How to make Air Fryer Scallops
I decided to try making scallops in the air fryer. This can be tricky because they don't have a lot of fat in them, and as a rule, air fryers do best with meats that are inherently fatty. You can, of course, make these in butter, and maybe one day I will, but the day I made these tomato basil scallops, I wanted a full dinner ready quickly and I wanted to learn how to make air fryer scallops. So when I made this, I added some spinach to the recipe.
The spinach helps give it body and provides a nice protein and vegetable dish at the same time.
One important note is to use frozen spinach just so that it will fit easily in the air fryer. You can use fresh spinach but I suspect it will need some additional water, and perhaps additional time to cook up. You will have to experiment since I haven't tried making these air fryer scallops with fresh spinach. I'd rather you used some other frozen leafy green if you don't have spinach, such as kale or swiss chard.
I also had a lot of basil from the garden that needed using up, so I decided to make Tomato Basil Scallops, and while I was at it, figure out how to make air fryer scallops at the same time.
In this recipe, the rich sauce cooks alongside the scallops. This keeps them from drying out, but it also gives you a very flavorful, low carb sauce that you can serve along with the scallops. One of the things I love about this dish is how quick and easy it is. Prep for the dish is super easy and quick. Then you just pop the Tomato Basil Scallops in the Air Fryer and let it do all the cooking work for you.
This is a great recipe for when you're short on time, but you want to deliver a dish that looks like you've been slaving over the stove for the last hour. Tomato Basil Scallops are keto, low-carb, high-protein, and oh-so-yummy.
I can see using this tomato basil sauce for cooking shrimp or even bite-size pieces of chicken in the air fryer, but I also think this is a great base recipe for making air fryer scallops, that you can doctor up with whatever spices you like.
WANT TO TRY ANOTHER QUICK, EASY AND DELICIOUS AIR FRYER SEAFOOD RECIPE? TRY MY AIR FRIED SALT AND PEPPER SHRIMP!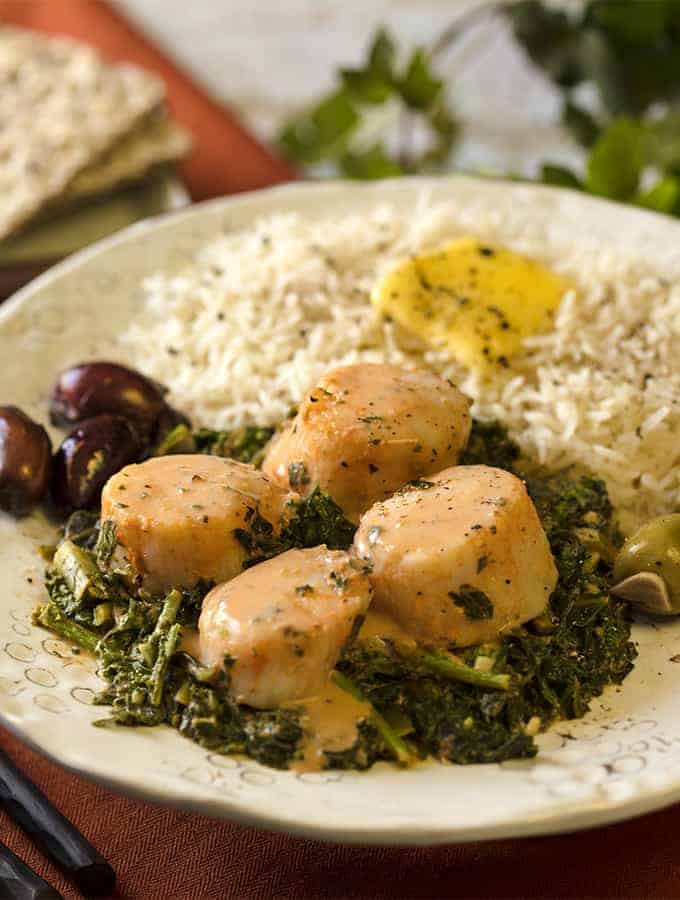 ★ Did you make this recipe? Don't forget to give it a star rating below! Just click on the stars in the recipe card to rate. Don't forget to pin this recipe for later!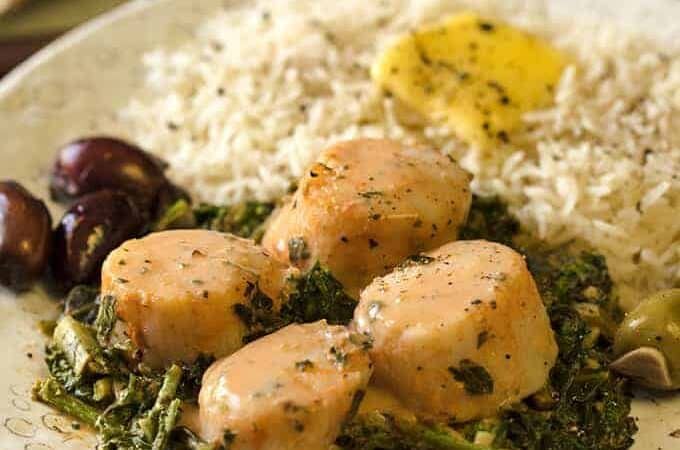 Click on highlighted ingredients or Equipment to see exactly what I use to make this recipe
Instructions
Spray a 7-inch heatproof pan, and place the spinach in an even layer at the bottom.


Spray both sides of the scallops with vegetable oil, sprinkle a little more salt and pepper on them, and place scallops in the pan on top of the spinach.


In a small bowl, mix together the cream, tomato paste, basil, garlic, salt and pepper and pour over the spinach and scallops.


Set the airfryer to 350F for 10 minutes until the scallops are cooked through to an internal temperature of 135F and the sauce is hot and bubbling. Serve immediately.

Get support & connect with our community on Facebook!
Nutrition
Calories:
359
kcal
|
Carbohydrates:
6
g
|
Protein:
9
g
|
Fat:
33
g
|
Sugar:
1
g
Tried this recipe?
Follow @twosleevers and Pin it!