This 30-minute Easy Indian Curry Recipe made in the Instant Pot is so easy, yet so authentic. You can use this basic curry sauce to make chicken curry, beef curry, or pork curry.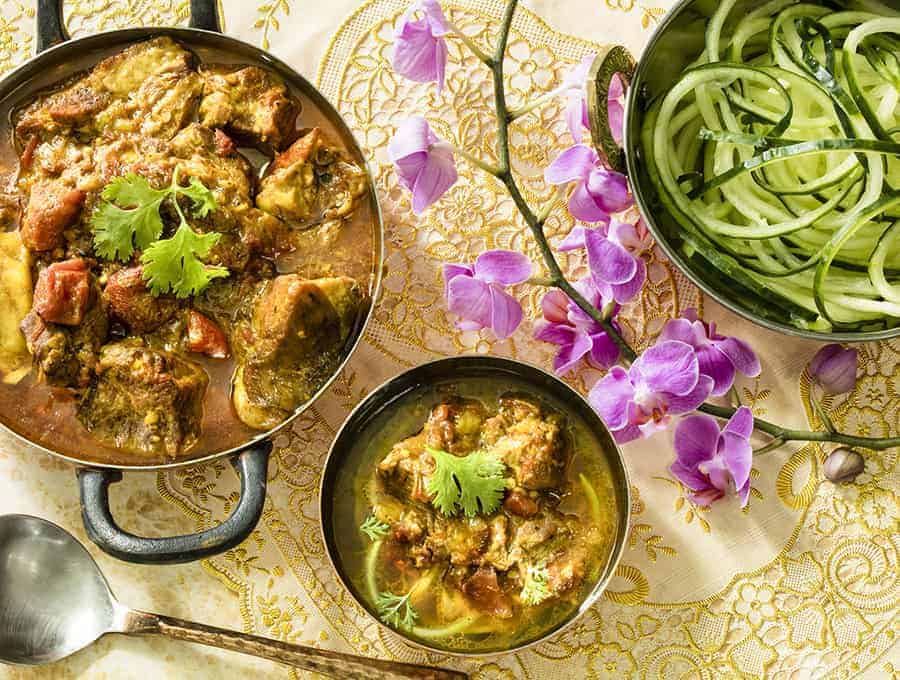 Jump to:
This Easy Indian Curry Recipe is straightforward and no-frills, great recipe. It's a great starting place if you're trying Indian cooking for the first time and it's full of rich, Indian flavors!
And like many recipes found here at TwoSleevers, it's pleasantly low carb and keto-friendly too!
What Is Curry?
Indian curry is, at it's most basic, ANY dish that is cooked using water. No seriously.
We are as likely to call a bhindi masala recipe a curry, as we are to call chicken korma a curry. We do this to confuse people, and I think it's working!
But when most Westerners think of curry, they seem to be thinking of a plain, basic meat curry like chicken curry, or beef curry.
Does Curry include Curry Powder?
We don't typically use curry powder, as is common outside of India. We make our own spice and sauce blends, and each family, each region, and each dish can have its own variations.
So I will often use my own garam masala, or Punjabi garam masala mix, or Maharashtrian Goda Masala rather than use a store-bought curry powder.
But many Indian curries use a base mix of browned onions, garlic, ginger, and tomatoes, to which spices are added. I do the same thing when I make this Onion Tomato Masala.
Most Popular Indian Curries
Here are the different types that most people outside of India are familiar with. This is not to say these are the only ones available, but here are the most commonly eaten curries outside of India.
Indian Curry Variations
There are lots of different variations on an Indian curry, and my easy Indian Curry recipe is a great starting place for various curry dishes. This recipe will show you how to make a basic masala, which is a mix of onions, tomatoes, ginger, and garlic, and then cook a meat with it.
I used pork, but of course, you can use whatever you have lying around or whatever you are in the mood for.
Now if you just want to make and store that onion tomato masala--which by the way, I HIGHLY recommend doing--then you will want to follow this much-simplified recipe here for Onion tomato masala. But in this curry recipe, I'm doing it all in one step.
Place your meat of choice in the Instant Pot along with the onions, tomatoes, ginger and garlic.
Add half of the Garam Masala (click the link for an in-depth description of what Garam Masala is).
Put in the remaining spices.
Cook for 15 minutes at high pressure in your Instant Pot.
You will need to allow 10 additional minutes for pressure release time.
Add the last teaspoon of Garam Masala and stir well.
That's it! How easy was that?! Now you know how to make curry.
Does using the Instant Pot really save time for this curry recipe?
As you can probably guess, I've opted to use my Instant Pot to cook this recipe. The Instant Pot just makes it so simple and quick, which are the two things everyone wants in a recipe.
And nothing infuses food with flavor better than a pressure cooker. Try it for yourself and see!
If you make a beef or chicken curry recipe, you can have dinner ready in 25 minutes! Allow 15 minutes for cook time, and 10 minutes of pressure release time.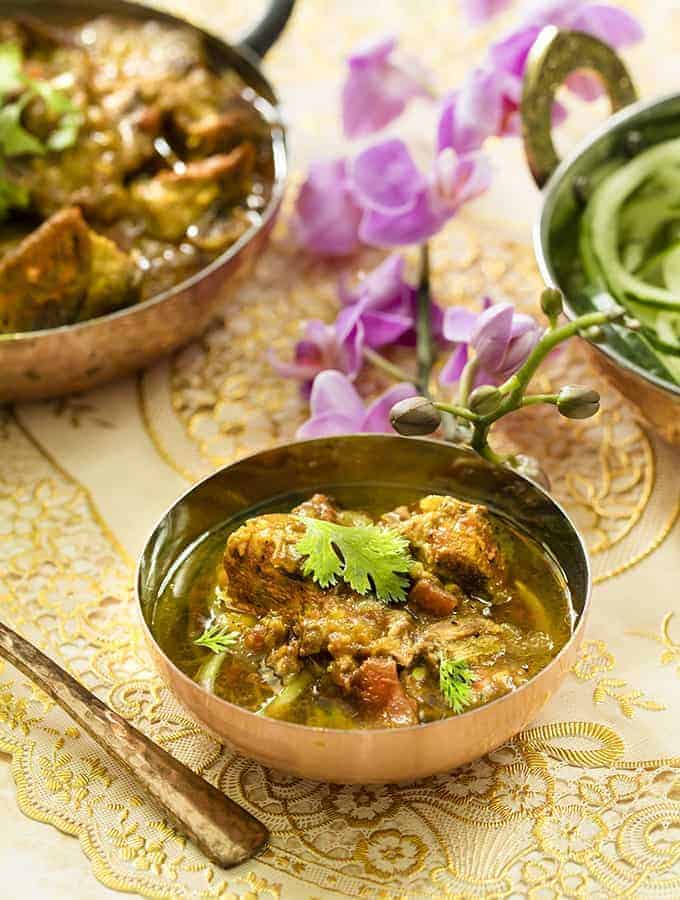 What can I serve with this Curry Chicken Recipe?
Are you looking to make a full-on Indian meal? My Sheet Pan Bhindi Masala Indian Okra is a great Indian side dish and is keto-friendly as well! You can bake it in the oven as you make the Curry recipe without dirtying too many dishes!
I also love to serve cold salads with a curry. Here are a few to consider:
You're sure to love this Easy Indian Curry Recipe whether it's your first time enjoying curry or you're a curry enthusiast. Make sure to share this recipe with your friends on Pinterest and Facebook so they can enjoy it as well!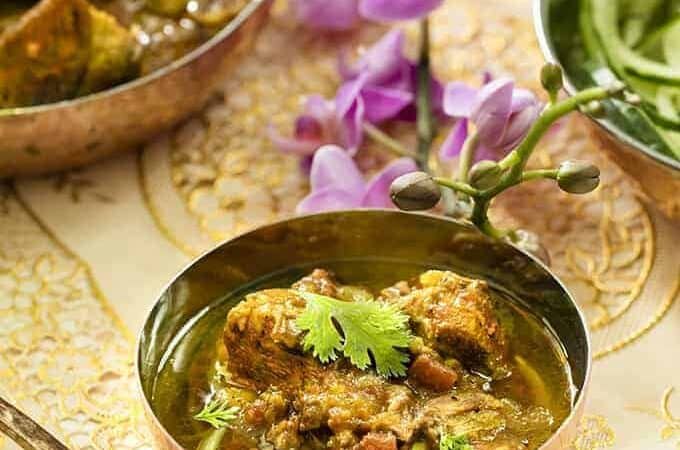 Click on highlighted ingredients or Equipment to see exactly what I use to make this recipe
Instructions
Add chicken, pork, or chickpeas along with onions, tomatoes, ginger, garlic, 1 teaspoon of the garam masala, salt, turmeric, and cayenne in the inner liner of your Instant pot or pressure cooker.  

Cook for 15 minutes at high pressure. At the end of the cooking time, allow the pot to rest undisturbed for 10 minutes and then release any remaining pressure.


Add the remaining teaspoon of garam masala and stir well.

Cook Times for Proteins:
Chicken: 10 mins
Stew Beef: 10-15 minutes
Soaked chickpeas (uncooked): 30 minutes
Get support & connect with our community on Facebook!
Nutrition
Calories:
155
kcal
|
Carbohydrates:
11
g
|
Protein:
15
g
|
Fat:
5
g
|
Fiber:
2
g
|
Sugar:
5
g
Tried this recipe?
Follow @twosleevers and Pin it!
Want To Try More Indian Cuisine?
This post was originally published on October 15, 2018, at 11:59 AM.