Use your Instant Pot to make amazing Indian Beef Curry! It's tender and delicious and makes an awesome meal.
Indian Beef Curry
It's been a while since I cooked because I've just been so danged busy. This weekend, I decided to place an embargo on all work and just do nothing except laze about and pamper myself. So I took myself off to the Korean spa to get a scrub and then decided I would cook something.
I didn't grow up with something called curry powder so when people say they don't like "Curry" it's very confusing to me. This is a proper curry–but it doesn't use store-bought curry powder.
If you read much on my site, you'll find out that this is something I will talk about often. Curry paste is much more popular and tastes so much better. EITHER WAY, this recipe uses neither curry paste or curry powder. But it's still very Indian, and still very much a curry. Just #trustUrvashi and try this recipe!
Don't forget to make your own Garam Masala spice mix to get the best flavor from this Indian Beef Curry! Get the recipe I use HERE.
EQUIPMENT YOU MAY NEED TO MAKE THIS INSTANT POT PRESSURE COOKER INDIAN BEEF CURRY: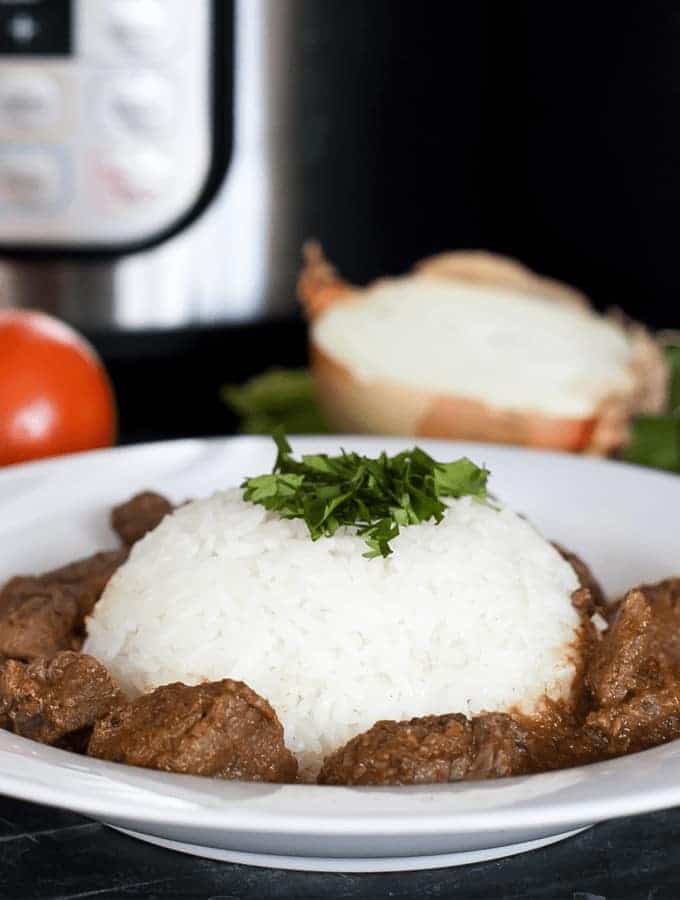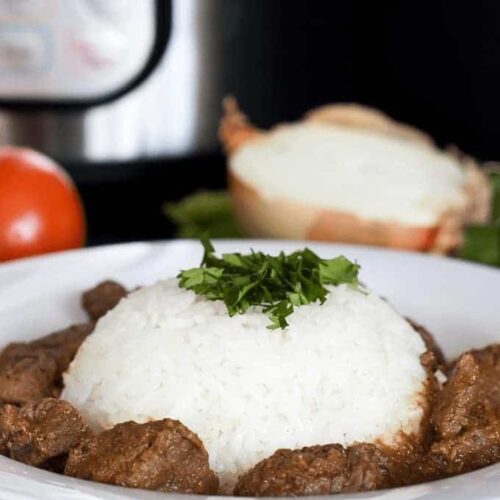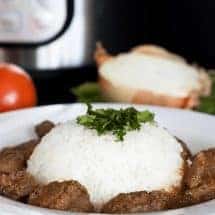 Instant Pot Beef Curry
Easy recipe that relies on store-bought curry powder and garam masala
Dietary Consideration:
Dairy-Free, Egg-Free, Gluten-Free, High Protein, Keto, Low Carb
Cooking Style:
Instant Pot/Pressure Cooker
Ease of Cooking:
Pour and Cook, Under 30 Mins
Recipe Type:
Beef, Keto Low Carb, Pressure Cooker
Instructions
Place onion, tomatoes, garlic, and cilantro in a blender jar. Put the tomatoes at the bottom so that they will liquefy first and you won't have to add water.

Puree until all the vegetables have turned to a smooth mush.

Add the various spice powders in and whirl it around a bit more.

Place the beef into a Instant Pot and pour the veggies on top.

Cook under pressure for 20-30minutes depending on the type of beef you've used. Confession: I used beef chuck short ribs because I wanted to be able to give my doggie the bones. Okay great idea, messy execution. The bones came right off the meat, but then I had to fish them out of the gravy with tongs, then I had to cut off the cartilage, oy veh! Get boneless meat, or prepare for a bit of a mess.

Okay that's it! Serve over rice or cauli-rice if you're watching carbs. Amazing, authentic tasting curry with no slaving over a hot stove to brown the onions and tomatoes and what not. Yummy!
Nutrition facts per serving
231kcal | Fat: 8g | Saturated fat: 3g | Cholesterol: 88mg | Sodium: 45mg | Potassium: 396mg | Carbohydrates: 4g | Fiber: 1g | Sugar: 1g | Protein: 31g | Vitamin A: 500% | Vitamin C: 7.9% | Calcium: 22% | Iron: 3.1%
I am not a registered dietician or nutritionist. Nutritional information is provided a courtesy, and can vary depending on the exact ingredients you use.