Here's an easy South Indian style chicken curry that uses coconut milk and tamarind for a tangy, creamy flavor that is just divine. It's a pour and cook recipe for a pressure cooker chicken curry that comes together in just minutes--leaving you more time to eat this!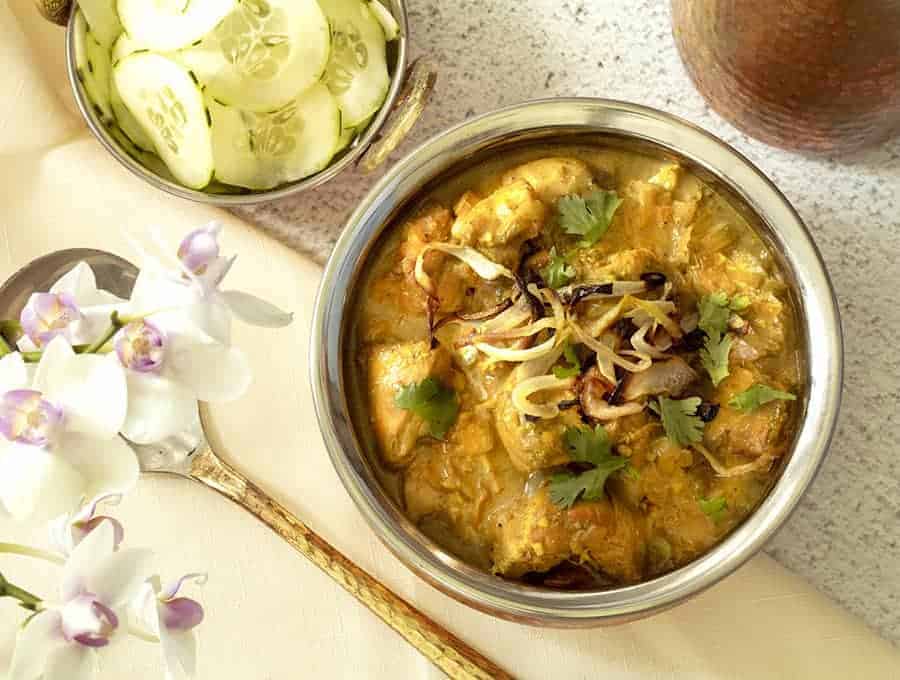 Indian Chicken Curry | Coconut Tamarind Chicken Curry
So here's my pet peeve about people who say they don't like curry. Curry to most Indians including me is just something that has been cooked with water. Saying you don't like chicken curry is like saying I don't like any kinda chicken that has been cooked with water.
See? It's absurd. You guys stop saying that 🙂
Now it's perfectly legitimate to say you don't like the taste of most prepacked curry powders you have tried. But as you know, I almost never use pre-made curry powders. So you can make a lovely pressure cooker chicken curry by using whatever spices you prefer.
This particular pressure cooker chicken curry is a south Indian rendition of chicken curry. The combination of coconut milk and tamarind is very distinctively South Indian. I don't have a fancy name for this South Indian Chicken Curry--it's just...well, south Indian style chicken curry 😀
Luckily for all of us, I can cook better than I can create names for recipes.
Making the Spice Mix for South Indian Chicken Curry
Now if you've ever watched my video on cooking with spices, you know how important it is to use freshly ground spices. I also have a handy little PDF you can download that tells you more about cooking with Indian spices, and how, having whole spices opens up a whole world of flavors for you.
So when I tell you to grind this spice mix right before you cook, take my word for this. The difference between freshly ground spices and stale, pre-ground spices is night and day. It's the difference between a flavorful meal and a meal with sawdust that tastes vaguely like the spice it USED to be, months ago.
Using Coconut Milk in Pressure Cooking
After years of trying to cook with coconut milk in a pressure cooker, here's what I have learned.
Pressure cooking certainly infuses the coconut milk flavor into your food. Unfortunately, it also separates the milk and you often end up with a...forgive me for these unappetizing words..but a greasy slick on top of the dish you made.
So what I have learned to do, is one of two things. If you're wondering how to cook with coconut milk in a pressure cooker, try one of these two tricks.
Use half the coconut milk to cook, and add the other half after cooking. In this case, you will need to stir the bejeebers out of it after it's cooked, to re-homogenize the milk again.
Use coconut milk for finishing and do not pressure cook it at all.
For this South Indian style Chicken Curry, I chose to add the coconut milk to cook, and then finished it with fresh coconut milk to thicken, and that worked out extremely well.
I need MORE Chicken Curry Recipes Please!
If you're looking for curries from other cultures, here are a few you can try.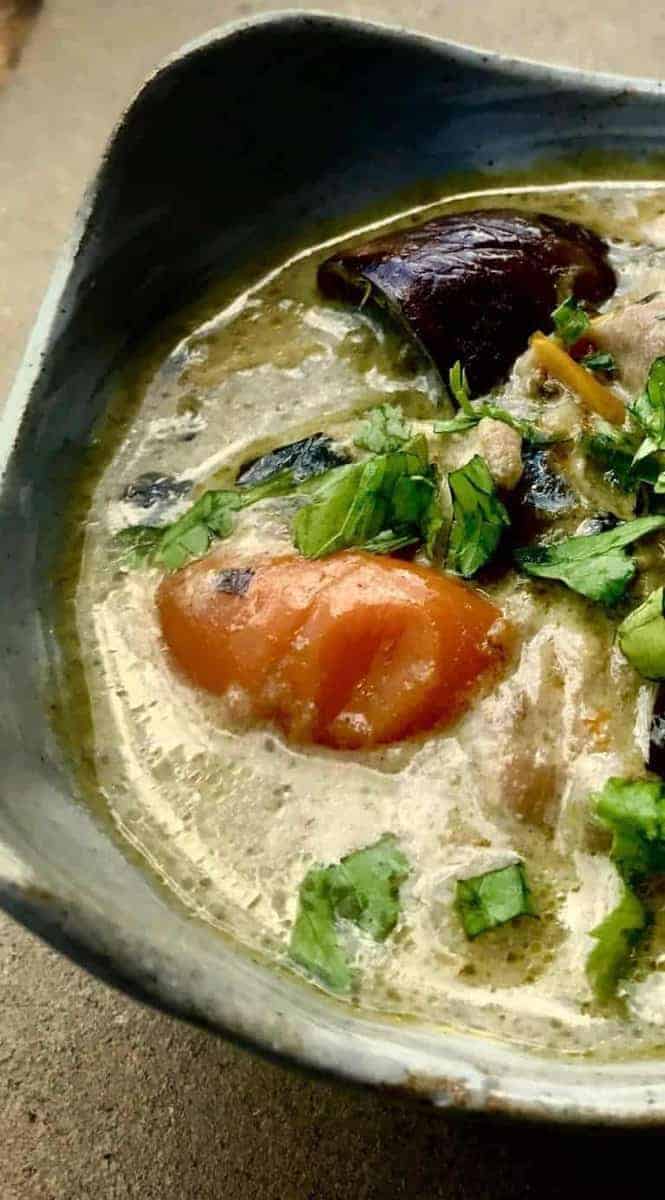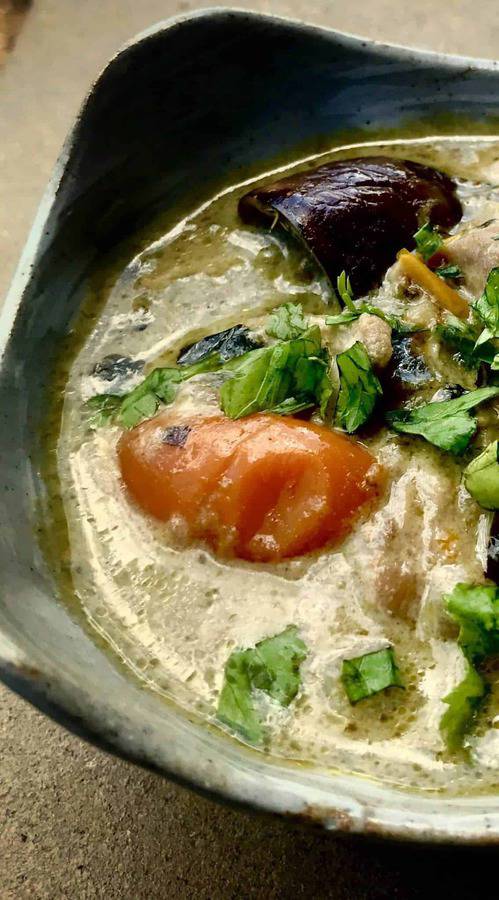 For starters, there's a Thai green Curry chicken recipe that is well-loved by all who have made it.
Prefer a Japanese Chicken Curry Instead? Give this Instant Pot Curry recipe a shot!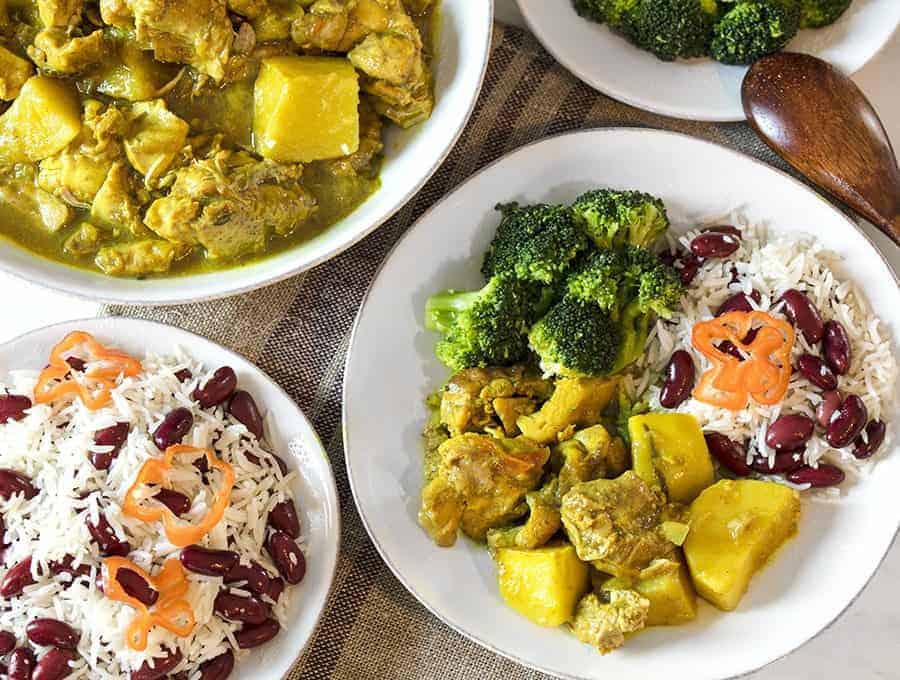 No? Prefer a Jamaican Chicken Curry instead? you can make this and serve it with Jamaican Peas and Rice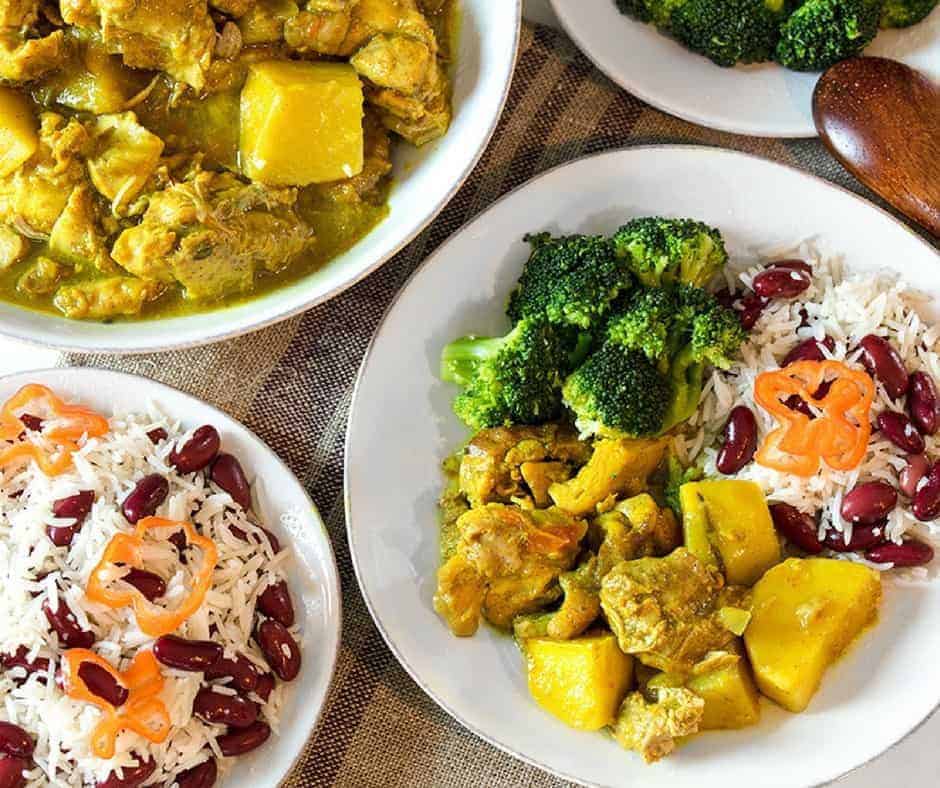 You can even learn how to make a full Indian meal fast with this video!
Want more amazing Indian Instant Pot recipes?
Find 74 more Indian Instant Pot recipes like this one that are tried and tested - and did I mention delicious?! Click here to go to the post so you can Pin it on Pinterest for later!
ANYHOO! Back to this Pressure Cooker South Indian Curry Recipe. Look at the recipe below, make it, and tell me what you think of it.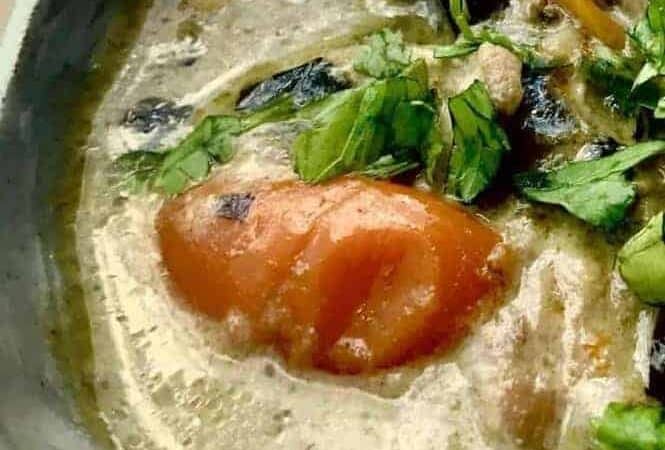 Click on highlighted ingredients or Equipment to see exactly what I use to make this recipe
Instructions
Make the spice mix: grind together cumin, coriander, fenugreek, and peppercorns and set this spice mix aside.

Make the curry: Place chicken, onions, ginger, garlic, tamarind paste, 1 cup coconut milk, salt, turmeric, cayenne, and water into the inner liner of your Instant Pot or Pressure Cooker.


Add the spice mix and stir well.


Cook for 6 minutes at high pressure. At the end of the cooking time, allow the pot to rest undisturbed for 10 minutes and then release any remaining pressure.


Add in the coconut milk and stir well.


Garnish with cilantro and serve with rice or naan.

Most of the carbs in this recipe come from the onions. If you want to cut carbs even more, reduce the onions to 3/4 cup - 1 cup.
Get support & connect with our community on Facebook!
Nutrition
Calories:
360
kcal
|
Carbohydrates:
13
g
|
Protein:
25
g
|
Fat:
24
g
|
Fiber:
2
g
|
Sugar:
4
g
Tried this recipe?
Follow @twosleevers and Pin it!