What is curry? Is curry the same as curry powder? A breakdown of different types of curries along with the best curry recipes for your pressure cooker, from all across the world.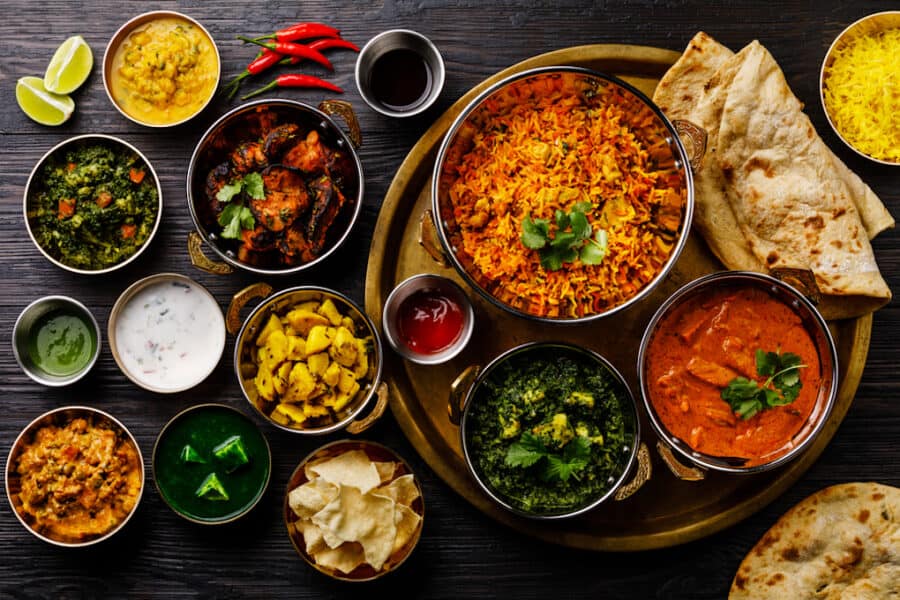 What Is Curry?
The word curry or Kari just makes sauce or gravy. So ANYTHING cooked with water, resulting in meat, vegetables, or beans covered in sauce could be regarded as a curry! Are you surprised?

I'm not making this up. Technically, anything from my 75+ Instant Pot Indian recipes can be classified as a curry. But let's not stop there.
That beef stew you make all the time? Curry. Your favorite pot roast recipe? Curry. Carne Guisada? Curry.
So it's very much a category of cooked dishes, not one cooked dish. This is why you need to stop saying, I don't like curry. Because what you're saying is, I don't like anything cooked in water, with a sauce.
What is Curry Powder?
Curry Powder is a mix of spices, and that's just the issue—you don't know what spices others are using. Many premixed blends rely on turmeric, ground coriander, ground cumin, ground ginger, and black pepper.
But when I make any of my curries, such as butter chicken for example, or rogan josh or kheema, I'm using many more spices and aromatics than just that handful. That's probably why they taste better than what you've been making with just curry powder.
Most Indians do not use what is known as curry powder in the United States or in the United Kingdom. We make our own blends, like my garam masala, the spice mix I use for the Tamarind chicken, or what's used in the Fennel chicken.
If you check my Basic Indian curry recipe, guess what's missing? Well, nothing actually, but you'll notice, no curry powder.
So, do you need curry powder? Well, if you are going to make Jamaican Curry or even this Vietnamese curry, you might want it.
But for Indian curries, I don't use it.
What's In Curry? Different Types Of Curries
While it is possible that the word kari or curry originated in India (kari is Tamil for sauce or gravy), it has since become the province of many different South Asian countries.
Curries have also morphed over time. Once the Spanish and Portuguese started trading with India, they brought red chili peppers. Before that, Indian Curries relied largely on black pepper for heat. This is still quite common in many South Indian curries.
What's in a curry will vary by the cook, and by the country. Just a few examples below--and I am guilty of gross over-simplification and generalization in this list but hopefully, it's still helpful for you.
Ceylon or Sri Lankan Curries often toast spices, and then add a mixture of coconut and lime for a creamy and tart flavor
Curry Puffs whether Jamaican, African, Singaporean, or Indian often use meat that has been cooked dry in a curry-like base, warming spices and aromatics, and then baked in puff pastries. The flaky pastry combined with the well-spiced meat is very addictive!
Indian Curries

North Indian Curries usually have a mix of onion, ginger, garlic, and tomatoes, as their base along with spices, meats, and vegetables

Rajasthani Curries, the most popular of which is laal mas (literally, red meat) are spicy, and use a lot of Kashmiri Red Chilis for both flavor as well as color. In contrast, a safed maas (white meat) is a lot like my Safed Chicken Korma recipe.

Kashmiri curries often have cinnamon, nuts, raisins, and lots of Kashmiri chilis

South Indian curries often have coconut milk, black pepper, and a variety of other spices.
Jamaican curries use a specific curry powder that's is heavy on the turmeric, and tastes quite different from Indian Curries.

They often contain vinegar and Worcestershire sauce for a tangy sour taste. Scotch bonnet or habaneros are often included for heat.

Japanese curries often use curry paste blocks, and kare raisu (curry rice) is a very popular dish.
Malaysian curries like my rendang result in a dry curry with all of the water from the coconut milk evaporated, leaving tender meat coated with a deliciously thick, spicy, sweet, and tangy paste. SO good!
South African or Durban Curry, often includes potatoes and may be served as Bunny Chow, by emptying out a loaf of bread, and filling the bread bowl with the curry.
Thai Curries may have coconut milk, galangal, lemongrass, and magrut lime leaves. They usually do not contain cumin and coriander, like many Indian curries. But lest we over-generalize let me point out that there are many different types of Thai Curries, including the examples below:
Vietnamese curry like this bo kho recipe, have a lovely combination of garam masala as well as things like star anise
What Does Curry Taste Like?
This is a lot like asking, what does soup taste like? It depends on the country, the cook, the type of curry, and the ingredients you use.
But I think it's fair to say that most of them taste complex, because they do have so many different aromatics and spices in them.
Is Curry Spicy?
They can range from creamy like this Thai green curry, to spicy like the Vindaloo, to a creamy spicy deliciousness like butter chicken.
Not all curry is spicy, and if you are making homemade curry of course, you can vary all spice levels, not just heat, to your preference. This is the main reason why I urge people to make homemade curries—so you can adjust the flavors and heat to your preference.
So, before you say "I don't like curry", remind yourself that it is akin to saying I don't like anything cooked with water.
Maybe, you just haven't had the right curry for YOU yet. This list of the best instant pot curries will fix that for you!
So to help you in your culinary journey, I've created a list of the best curries for your pressure cooker. Be sure to pin this, and share it with your friends.
Why Instant Pot Curry?
So, that's a good question! Why not make it the old fashioned way, on a stovetop? Here's why I like using my pressure cooker for curries.
Because it's Faster. You can skip many browning steps in pressure cooker curries, since the pressure cooker creates a Maillard reaction without pre-browning.
Most importantly, better flavor. Pressure cooking allows you to infuse flavor as nothing else can. All the juices and flavors, as well as the aromatic compounds from meats, spices, and vegetables, are contained in the Instant pot during cooking.
Tender meat. Tender, braised meat is a hallmark of pressure cooking--and also a sign of a great curry recipe.
The Best Instant Pot Curry Recipes
Love Curry? You'll love how quick and easy it is to make in your Instant Pot! With no time at all, you'll have your favorite comfort food on the table with little effort at all!
Want more amazing Indian Instant Pot recipes?
Find 74 more Indian Instant Pot recipes like this one that are tried and tested - and did I mention delicious?! Click here to go to the post so you can Pin it on Pinterest for later!
Indian Instant Pot, Keto Instant Pot, Instant Pot Fast and Easy, Healthy Instant Pot & Vegetarian Instant Pot.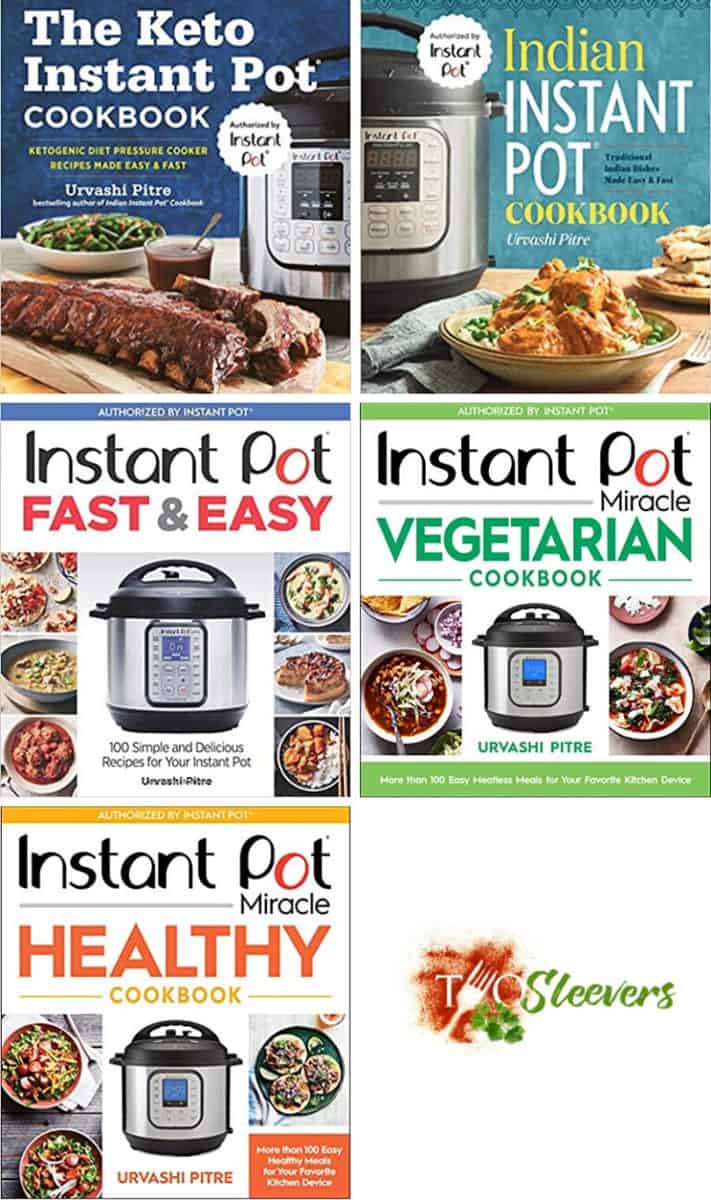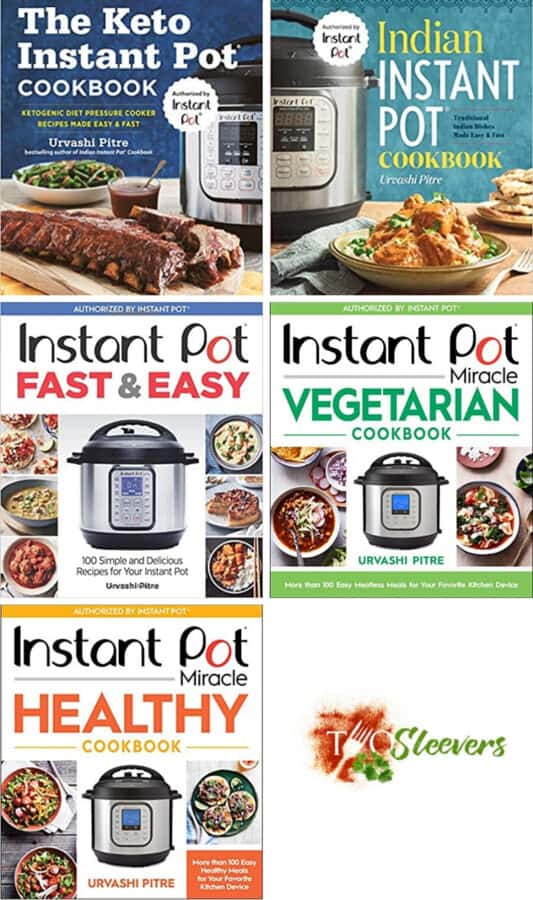 Originally Published July 11, 2019