Fennel and chicken is a very popular combination in many South Indian Dishes, and this Air Fryer Fennel Chicken recipe is a great, fast, and healthy dinner that you're sure to love!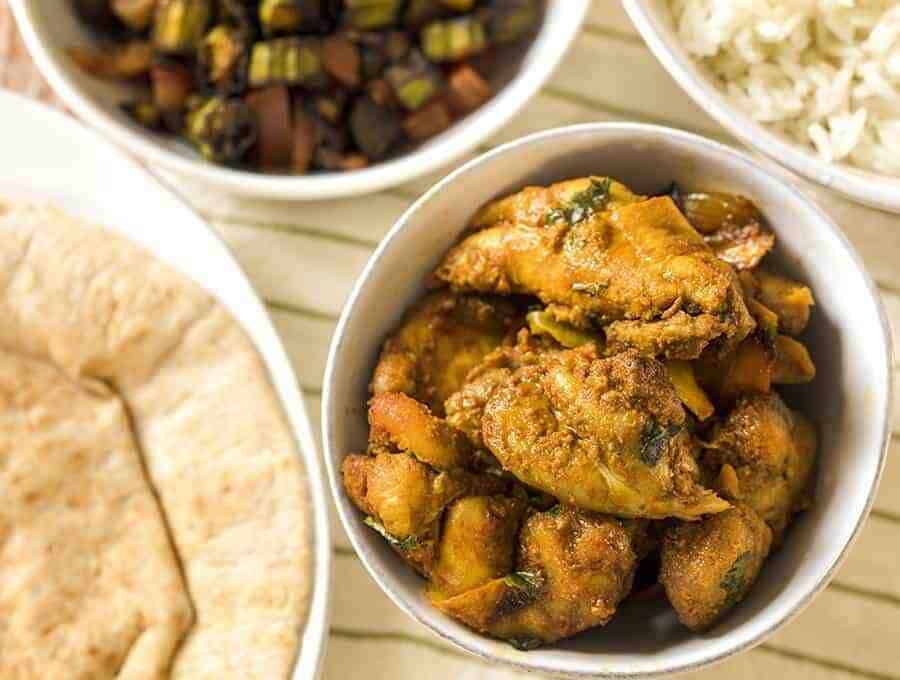 What Makes This Air Fryer Fennel Chicken Recipe So Good
Somedays I have a recipe idea in mind and then I go into the kitchen to create it. Somedays I stand in the kitchen quite lost, until I come up with something that sounds good.
Other days I have a TASTE I'm trying to create. This Air Fryer Fennel Chicken was one of those.
I love fennel seeds. It's not a very commonly used spice in the U.S., and when we do, we use fresh fennel. But fennel seeds form an important part of many dishes including my Masala Chai Recipe.
The fennel in this dish really elevates it to something different. I know many of you will write to me to ask what to substitute for Fennel--but I honestly don't know.
I mean, this is Fennel chicken. If you subbed something else, then it wouldn't be Fennel Chicken now, would it?
So I'd suggest you get some Fennel Seeds and make this Air Fryer Spicy Fennel Chicken right away!
Watch A Video On How To Make Air Fryer Fennel Chicken
How To Make Air Fryer Fennel Chicken
I know some of you like process pictures and others don't so I will try to keep this section short but relevant and hopefully, helpful. Follow these steps to make this air fryer recipe: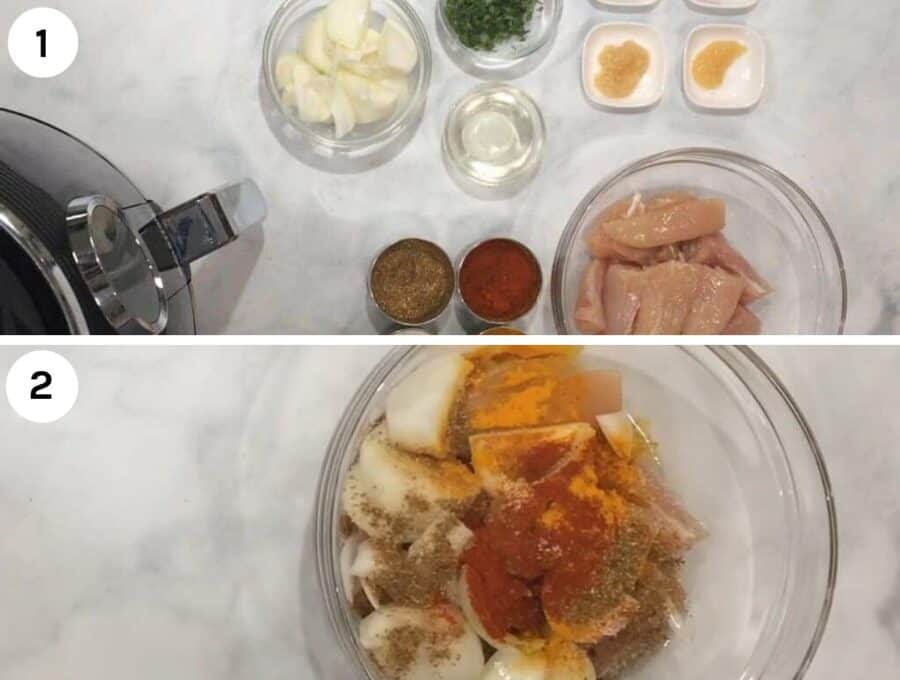 1. Get all your ingredients together. It's really chicken, onions, and a bunch of delicious spices.
2. Since this is a simple, pour and cook recipe, you're going to mix everything but the cilantro in here. So Chicken, onion, ginger, garlic, ground fennel seeds, smoked paprika, turmeric, cayenne, garam masala, and salt.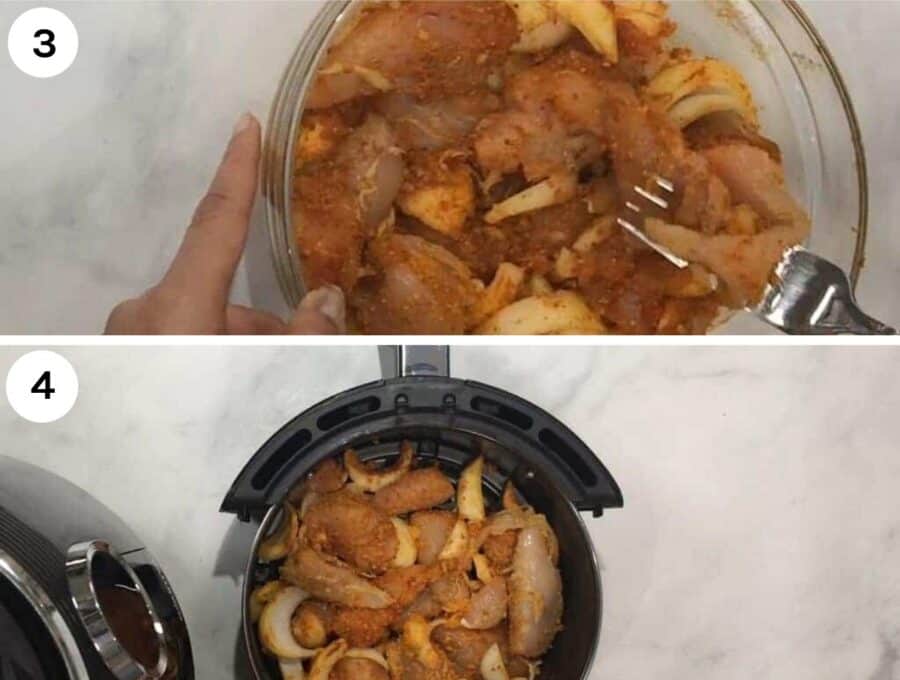 3. You need to pierce the chicken with a fork to get all the spicy goodness to penetrate the chicken. Now, let it marinade. There's nothing acidic in this marinade that will cook the chicken, so anything from 30 minutes to 24+ hours is probably just fine, as long as you keep it refrigerated.
4. Okay, see how it looks in that air fryer basket? There is definitely some overlap in the chicken, but it's not like it's all piled higgledy piggeldy on top of each other. So you want to get as close to a single layer as possible, but don't sweat it.
That chicken will shrink as it cooks anyway so it's not going to be a huge issue.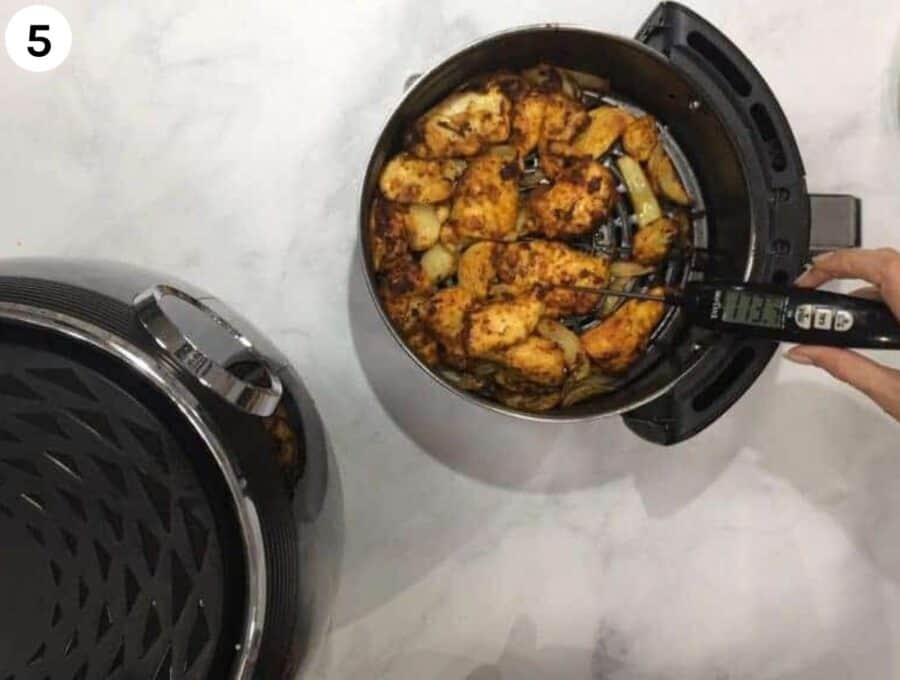 5. You really want a good thermometer to check the temperature because, with so much spice, sight alone won't tell you if your chicken is cooked. Also, see what I said earlier about the chicken shrinking as it cooked?
6. Now you can add the cilantro and the lemon juice, and you will be good to go!
What Is Fennel?
If you're not familiar with Fennel, it is a vegetable that is part of the parsley family. The base of the plant is bulb, it has stalks similar to celery and it has feather-like leaves at the top. It's quite high in vitamin C and it is often used in Indian cooking.
The entirety of the plant is edible, including the leaves, bulbs, seeds, and even the pollen. In this particular recipe, we use the seeds.
What Do Fennel Seeds Taste Like?
Fennel seeds have a very aromatic flavor. They are sweet and have a subtle licorice-like flavor. The flavor is fairly comparable to anise.
Other Air Fryer Chicken Recipes You May Enjoy!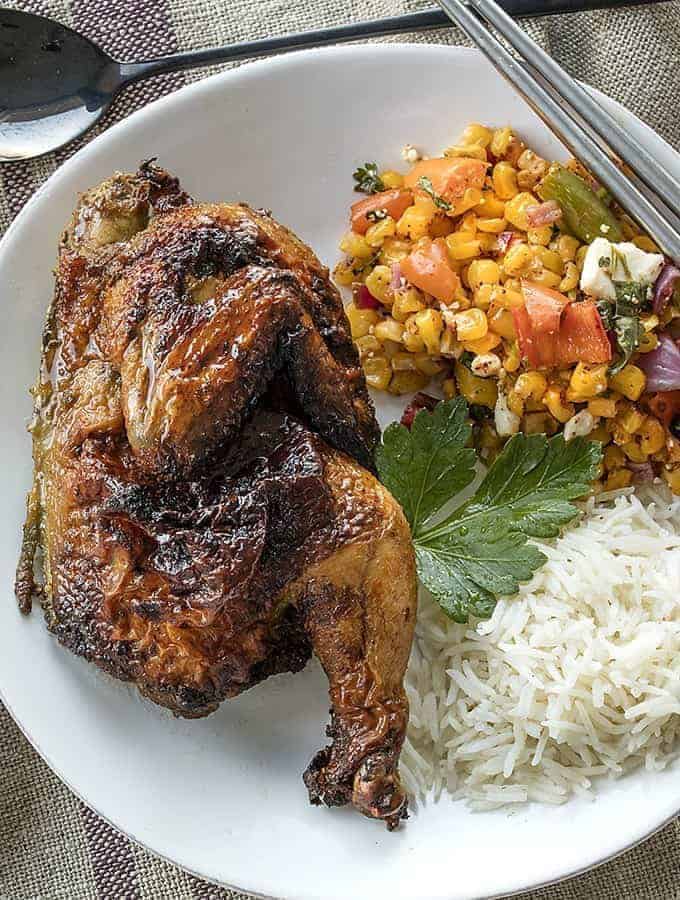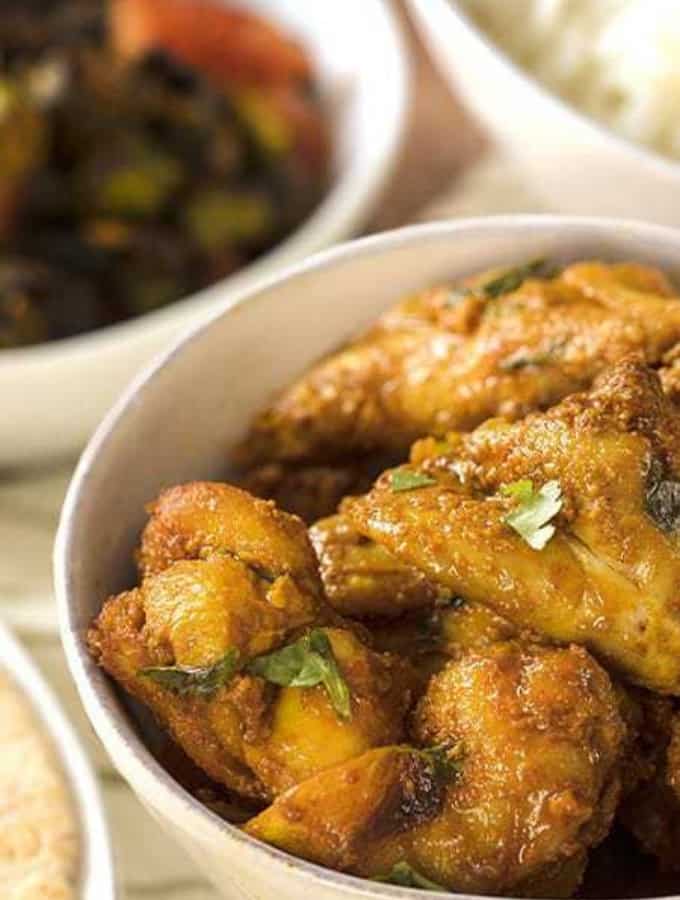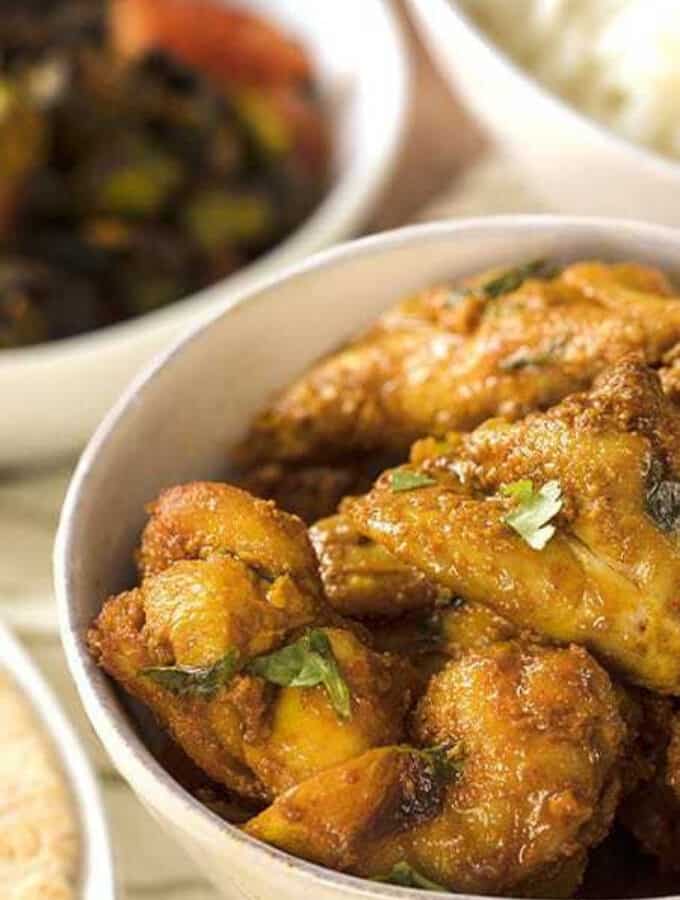 If you love this air fryer Fennel Chicken recipe as much as we do, make sure you share it with your friends on Facebook and Pinterest so they can try it too!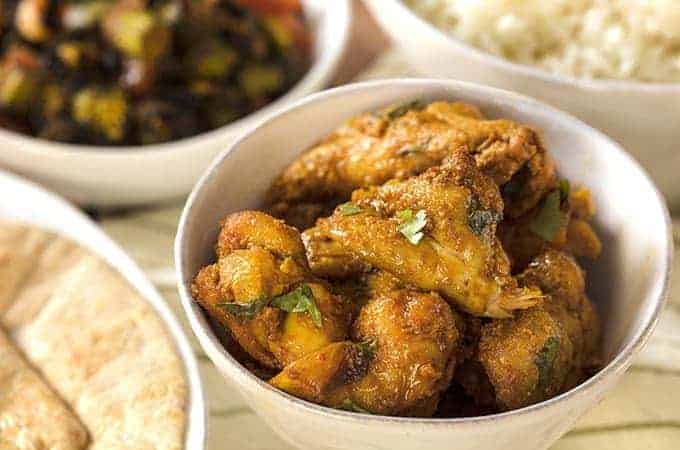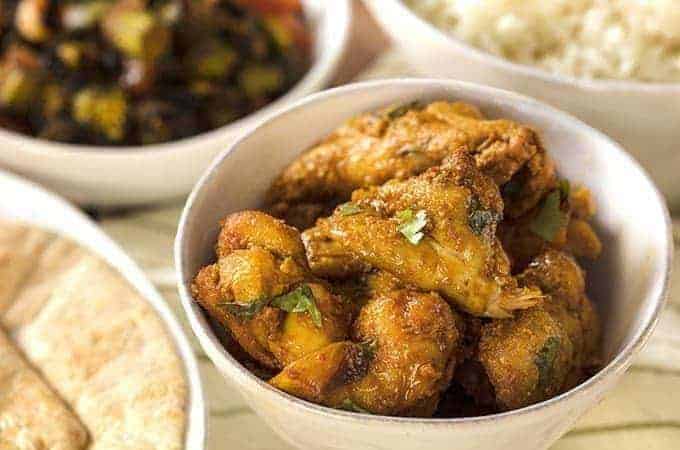 Click on highlighted ingredients or Equipment to see exactly what I use to make this recipe
Instructions
Make the Chicken Fry: Using a fork, pierce the chicken well all over to allow the marinade to penetrate.

In a large bowl, mix together all ingredients and allow the chicken to marinate for at least 30 minutes, or up to 24 hours.

Place chicken and vegetables into the air fryer basket. Spray the chicken and onion with some vegetable oil.

Set your air fryer to 360F for 15 minutes. Half way through, remove the basket, spray the chicken with more vegetable oil, and shake it about.

At the end of the cook time, use a meat thermometer, ensure your chicken has reached an internal temperature of 165F.

Remove the chicken and vegetables to a serving tray.

Sprinkle with fresh lemon juice and cilantro and serve.
Get support & connect with our community on Facebook!
Nutrition
Calories:
305
kcal
|
Carbohydrates:
6
g
|
Protein:
19
g
|
Fat:
23
g
|
Fiber:
2
g
|
Sugar:
2
g
Tried this recipe?
Follow @twosleevers and Pin it!
Originally Published February 27, 2018