Are you looking for the quickest and easiest way to make Zucchini? Air Fryer Zucchini is a fast and delicious way to make this garden favorite perfect every time!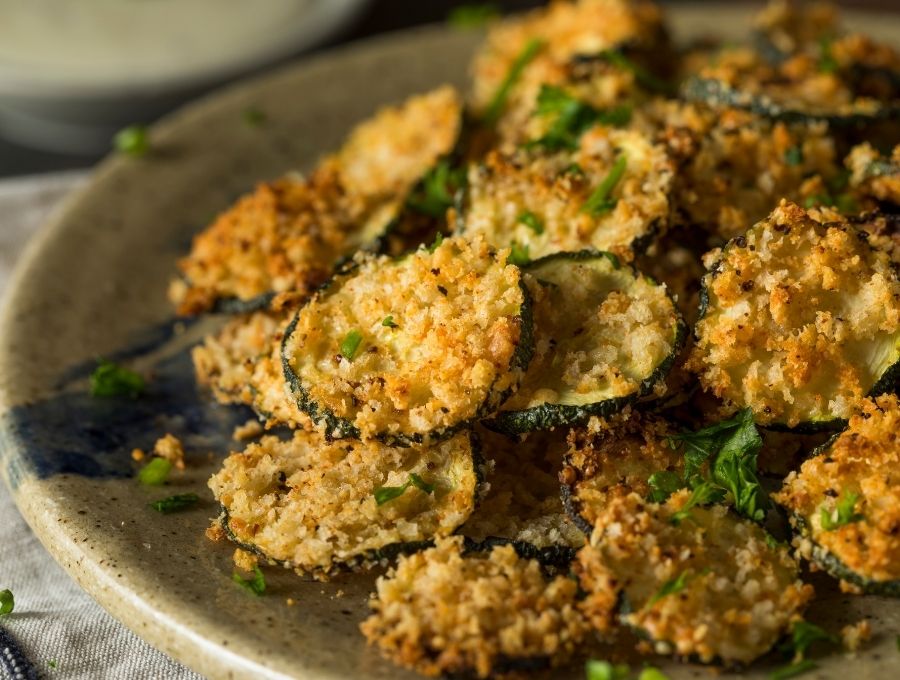 Jump to:
Why You're Going To Love Making Zucchini In Your Air Fryer
Can You Use An Air Fryer On Keto?
Not only CAN you use an air fryer on Keto, but it might also just become your new go-to kitchen appliance for your new lifestyle choice!
Air fryers are a great way to cook some of your favorite comfort meals without adding a ton of unnecessary calories from deep frying or cooking in high-calorie oils.
What You Need To Make Air Fryer Zucchini
An Air Fryer. I used my Instant Vortex air fryer for this recipe, but you can use any other air fryer to get the same results.
Zucchini. You can't make air fryer zucchini without it, right?
Mixing Bowls. Grab a few for your egg wash and your batter.
Ingredients You'll Need
What's better than a low carb side dish that takes five ingredients or less to make? Let me tell you, almost nothing.
Here's what you'll need to make the most delicious Air Fryer Zucchini Chips:
Zucchini
Egg
Flour (All Purpose or Almond, depending on your dietary choices)
Salt
Pepper
Pork Rinds (if you want a little extra crunch, add some pork rinds crushed in a food processor to your almond flour)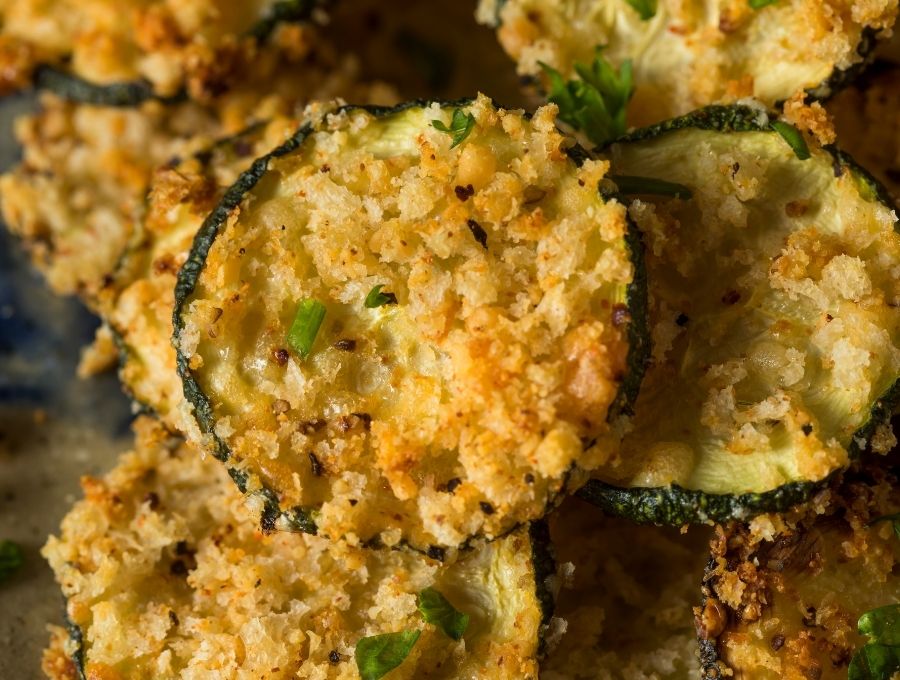 How To Make Air Fryer Zucchini
Quickly peel your zucchini. Leaving some (or all) of the skin is also fine. This only increases the amount of fiber you're getting from your veggies.
Cut your zucchini into 1/8 to 1/4 inch medallions.
Quickly dip your medallions into the egg wash.
Dredge your zucchini slices into the flour mixture.
Place in a springform pan, or any other pan that fits comfortably in your air fryer.
Spray liberally with a glass oil sprayer or aerosol oil spray
Cook at 350F for 12 minutes, flipping halfway through the cooking cycle.
How To Make Zucchini So It Doesn't Get Mushy
Zucchini is just like any other veggie, it is full of liquid. If you're wanting to make sure your zucchini doesn't get mushy, make sure you dab it with a paper towel.
If you don't remove any extra moisture, it will absorb all of the flour from your batter and keep your air fryer zucchini from getting crispy.
Tips and Tricks
If you don't feel like peeling your zucchini or need the extra fiber in your diet, feel free to leave all of the peel on. Just make sure you wash thoroughly before cooking.
Dab the zucchini with a paper towel or dishcloth to remove any excess water before dipping in the egg wash.
Use almond flour instead of all purpose flour to keep this a low carb side dish.
Add your favorite spices to make this a perfect match for your main course.
Can You Air Fry Frozen Veggies?
You absolutely can. Actually, the air fryer is one of the best ways to cook frozen veggies!
Frozen veggies are fantastic made in the air fryer because you can cook them through without overcooking them.
Anything from root vegetables like sweet potatoes to delicate vegetables like frozen brussels sprouts and frozen cauliflower are delicious when made in your air fryer.
What Can You Cook In An Air Fryer?
The better question may be what CAN'T you cook in your air fryer! The reason the air fryer is one of the most popular small kitchen appliances is because of how versatile it is.
Here are a few things that are my favorites made in the air fryer: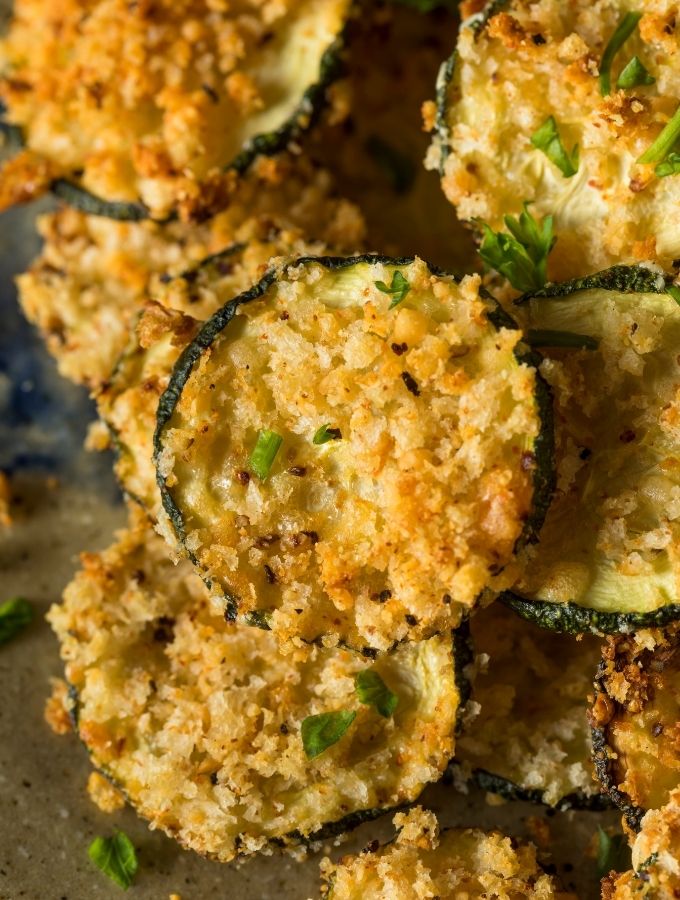 If you love this Air Fryer Zucchini recipe as much as we do, make sure you share it with your friends on Facebook and Pinterest so they can try it too!
And don't forget to check out my air fryer cookbooks! Every day easy air fryer, and Air Fryer Revolution.