This Instant Pot Enchilada Sauce is a quick recipe that tastes far better than canned enchilada sauce! It's gluten-free, vegan, and best of all, it's really easy to make in your Instant Pot or pressure cooker.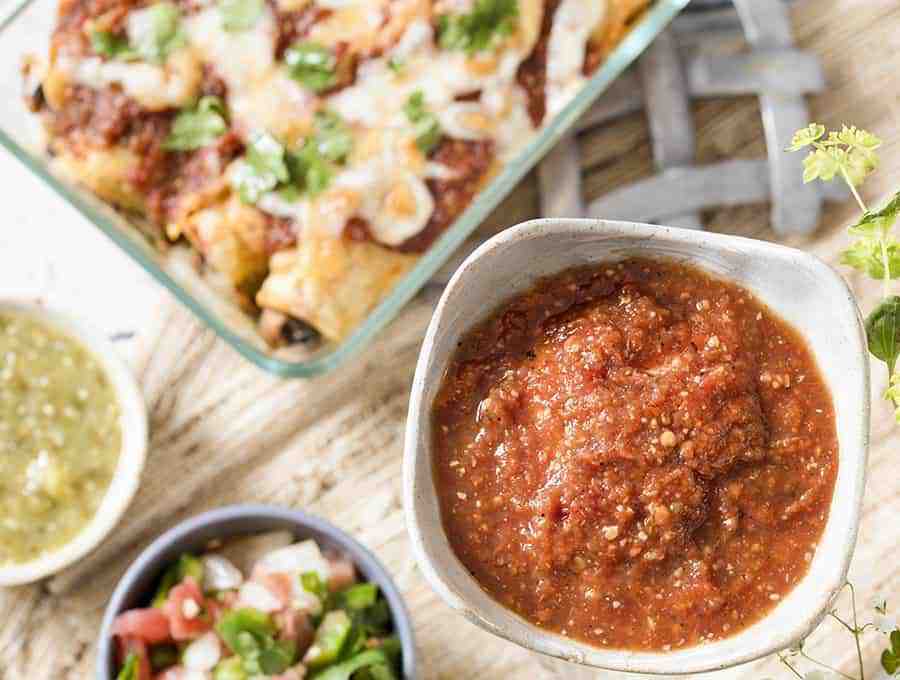 I've tried canned enchilada sauces and I'm not that impressed with them. They're okay, not great. They tend to be a little thin and lack flavor.
Since an Instant Pot allows me to make sauces quickly, yet have them taste like they cooked all day, I figured it was time to give an enchilada sauce a whirl in the Instant Pot, and I'm really glad I did. After you make this Instant Pot Enchilada Sauce once, you won't ever want to buy canned again.
How to Make Instant Pot Enchilada Sauce
Throw everything in the pot, putting tomatoes in last to prevent them from scorching
Cook at HP for 10, NPR
Blend using an immersion blender, and you're done.
This Instant Pot Enchilada Sauce is a definitely a dump and run recipe. Throw all ingredients in the Instant Pot, blend once done and freeze some. Once all done, it made about 3.5 to 4 cups of sauce for me.
How spicy is this sauce?
It definitely had a kick of spice with the proportions below, so reduce the chili powder and the chipotle chile if you need to. I think it will be good this way because, by the time you've cooked it with tortillas, meat, cheese, etc., you don't want the sauce to be completely washed out. But try it with less and you can always add more.
Why use fire-roasted tomatoes?
They have a slightly smoky flavor that I love and look at the little flecks of black in the sauce below. That's from those canned tomatoes. Very easy to get a little smoky flavor by using those. But if you can't find it, just use regular tomatoes for this Instant Pot Enchilada Sauce. There's enough flavor in the rest of the sauce to compensate.
What recipes can I use this Instant Pot Enchilada Sauce in?
I use about two cups to make my chicken enchilada casserole and you can always use it instead of the jarred sauce in this Lazy Person Chicken Enchilada recipe too.
Can you freeze this sauce?
Yes! Tomato-based sauces tend to freeze very well. This Instant Pot Enchilada Sauce is no exception and works great from frozen. In fact, I usually make a big batch of this, use what I need, and freeze the rest.
Why do I have to put the tomatoes in last?
Putting the tomatoes in last reduces your chances of getting a burn notice on your Instant Pot when making this sauce. It's also important not to mix the ingredients after putting the tomatoes in, or you could get a burn notice then too.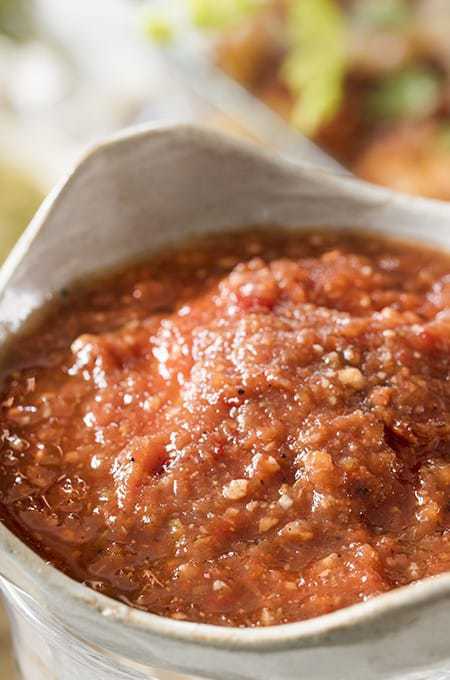 Other Recipes to Try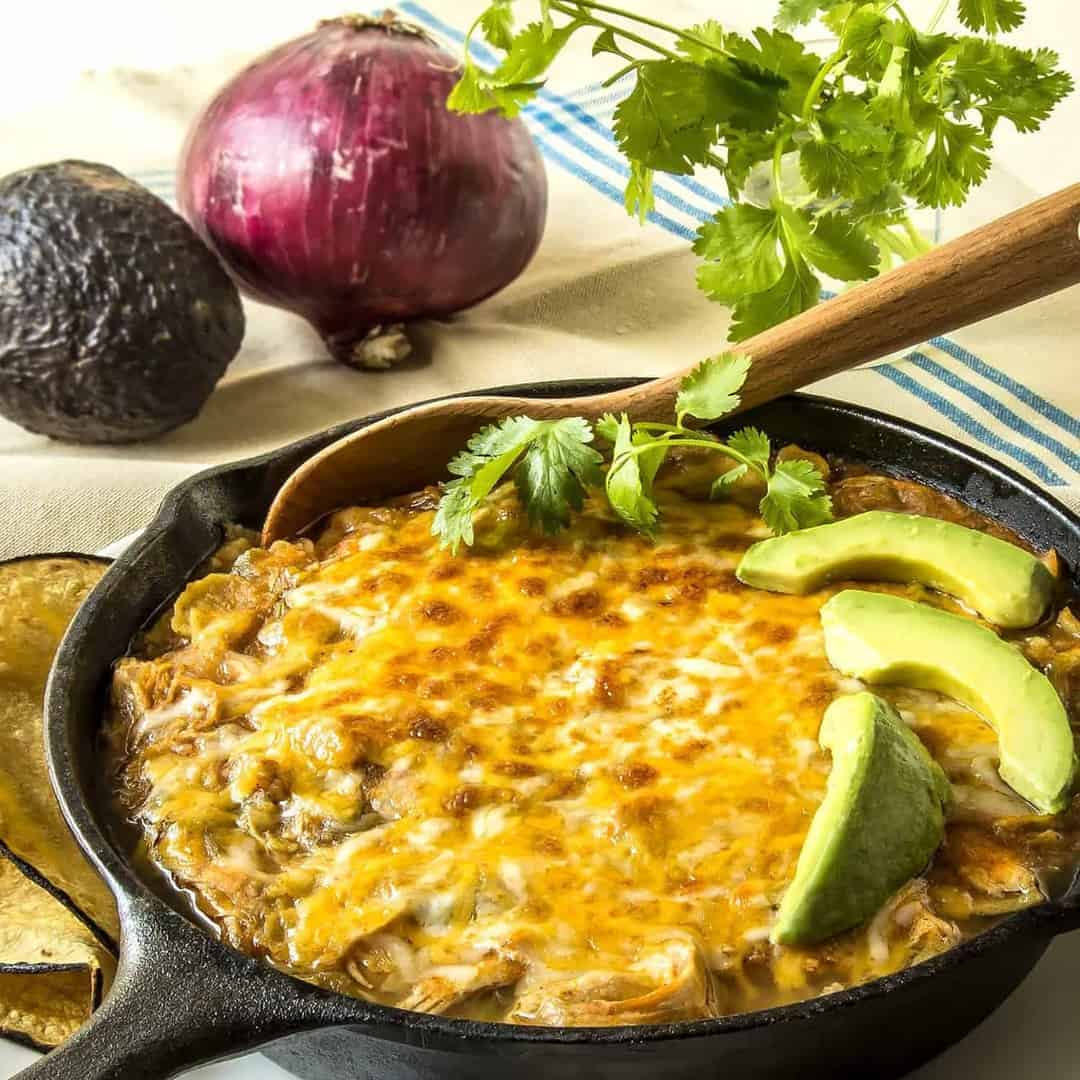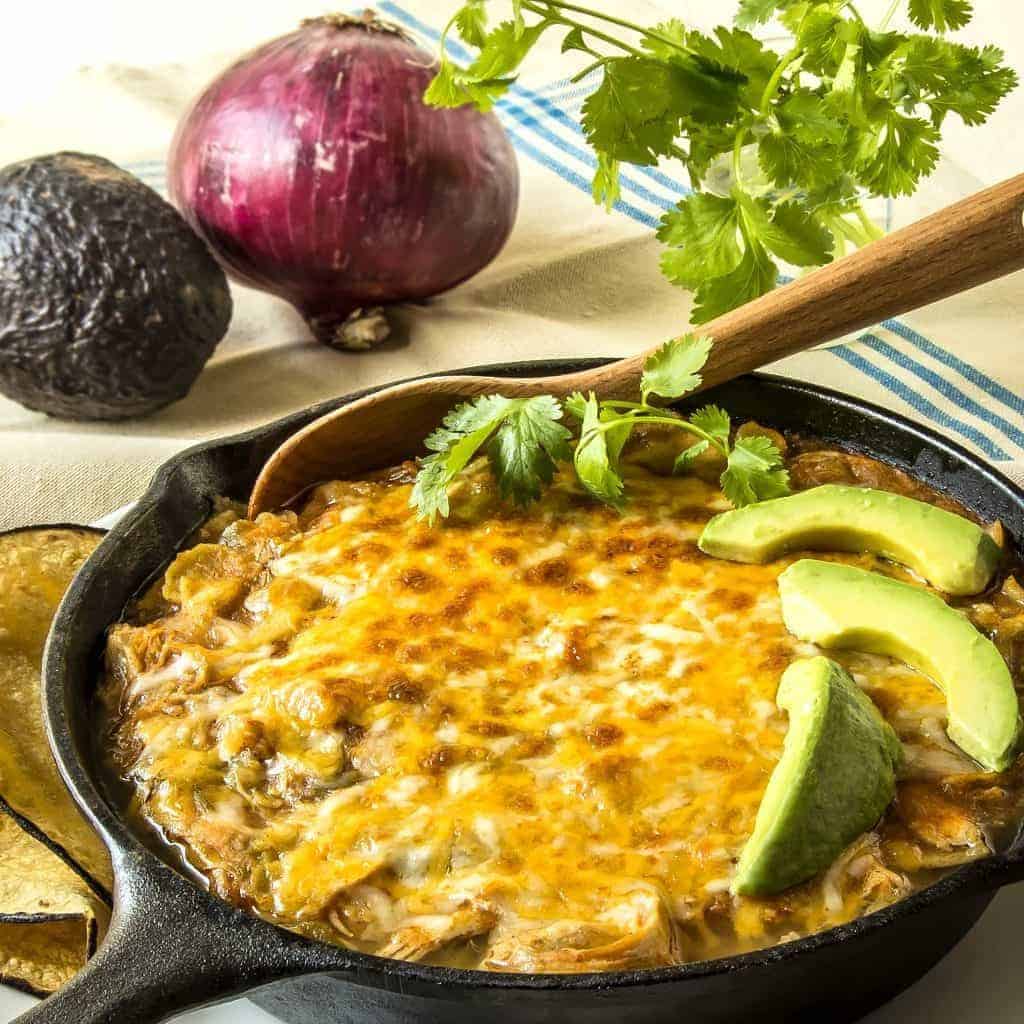 If you love this Instant Pot Enchilada Sauce as much as we do, make sure you share it with your friends on Facebook and Instagram! Don't forget to Pin it so you can make it again soon!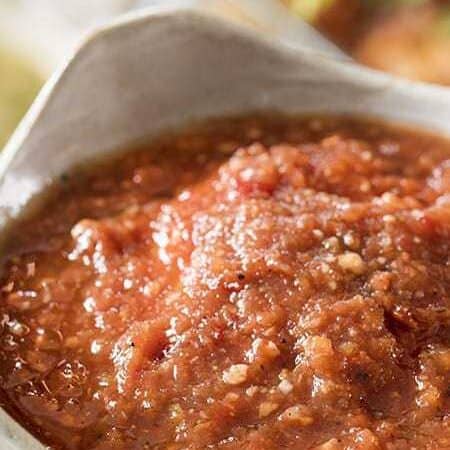 Click on highlighted ingredients or Equipment to see exactly what I use to make this recipe
Instructions
Put all ingredients into the Instant Pot, except the tomatoes and stir well.

Pour the tomatoes on top and do not mix. This is to prevent any chance of them burning and sticking to the bottom.

Cook on High Pressure for 10 minutes, allowing it to release pressure naturally.

Using an immersion blender,

purée the sauce carefully. You may have to tilt your liner to blend all of it. If you don't have an immersion blender, wait for the sauce to cool a little, and use your blender. Be sure to remove the little inside piece on the blender lid to allow steam to escape.

Use half the sauce right away and freeze the rest. You'll probably need about 1 cup of this sauce for 6-8 enchiladas.
This sauce is freezer-friendly! Make one batch and freeze the rest.
This stores in the fridge for up to a week. 
If you can't find fire-roasted tomatoes, you can use regular canned tomatoes.
Get support & connect with our community on Facebook!
Nutrition
Calories:
79
kcal
|
Carbohydrates:
16
g
|
Protein:
3
g
|
Fat:
1
g
|
Fiber:
3
g
|
Sugar:
7
g
Tried this recipe?
Follow @twosleevers and Pin it!