It's so easy to make Air Fryer Cornish Game Hens! This recipe features the beautiful flavorings of Thai Gai Yang and will be a recipe you'll want to make over and over again.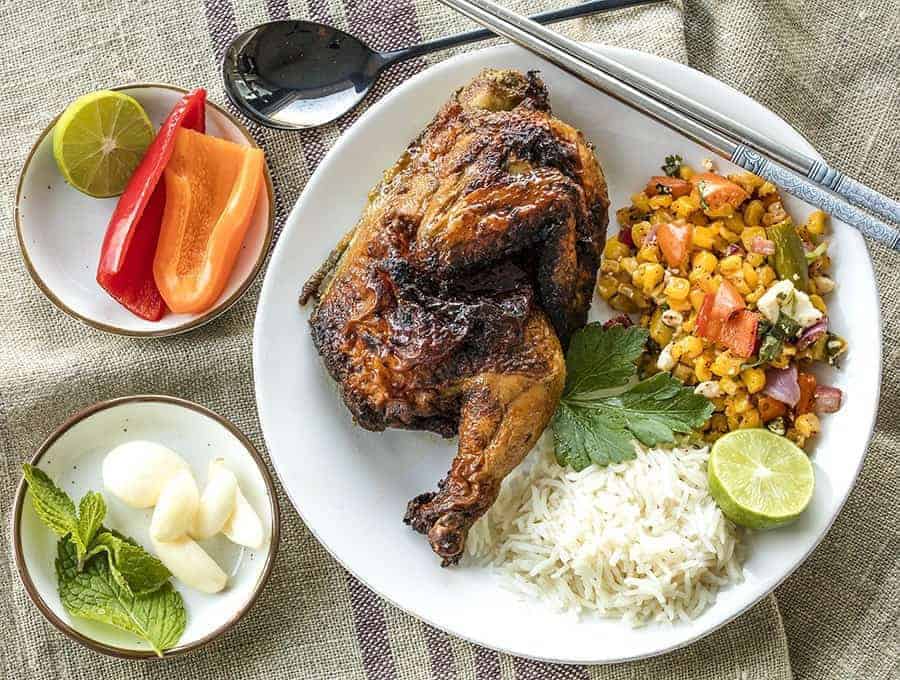 Jump to:
Air Fryer Cornish Game Hens
Cooking game hens can be tricky when you do them in the oven. They dry out quickly if you're not careful. Making Air Fryer Cornish Game Hens is an absolute breeze and they turn out great. They have a great crispy outside and a juicy, tender inside.
How To Make Air Fryer Cornish Hen
Cut in half longways. This makes sure they don't have to cook as long, and that they're crispy and delicious on all sides.
Use cilantro roots. The foodie me knows that's where most of the flavor lies. Use every bit of your cilantro stalks for this recipe for sure.
Add lemongrass paste. If your grocery store doesn't carry this paste, just chop, crush and mash some fragrant, fresh lemongrass and add that to the marinade.
How Do You Know When Cornish Hens Are Done?
As with all poultry, you'll want to make sure the chicken is cooked with a meat thermometer to an internal temperature to 165 degrees Fahrenheit. If you don't have access to a meat thermometer, ensure the juices run clear when you cut into the meat.
Can I Cook A Frozen Cornish Hen?
Technically, yes. However, I wouldn't recommend it. Since I suggest splitting the air fryer cornish game hens in half before cooking, this makes it more difficult. And kind of dangerous.
If you choose to do this, make sure you're following the cooking guidelines I suggested above.
Grilled Chicken Thighs
The marinade I made for this Cornish Hen Air Fryer recipe is so delicious you'll want to use it in more than one way. Another way I discovered it was delicious to enjoy is Thai BBQ. This is done by grilling chicken thighs.
Thai chicken is utterly delicious and has some of the most interesting flavor combinations I've had the privilege of tasting. When you add the smoky flavors from a barbeque grill, it is irresistible.
Thai Street Food
The flavors of this Thai grilled chicken marinade remind me of my Culinary tour of Thailand. One thing I noticed is that the best Thai food is:
Maybe my fondness of the Thai street food was due to the fact that I got the chance to eat CONSTANTLY. It felt like I was always snacking.
I didn't feel too guilty about it at the time, though. Everything I ate was fresh food. Lots of fruits and veggies. And contrary to what you may think, it was all utterly safe to eat.
If you want to enjoy some of my favorite street food recipes, give my Beef Satay or Frankie recipes.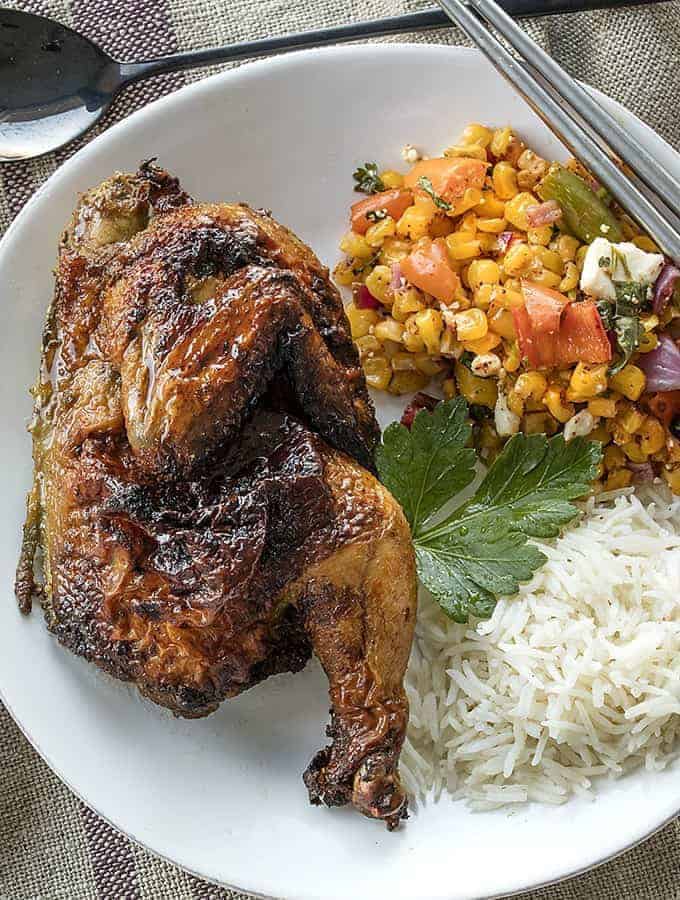 Equipment You May Need To Make This Air Fryer Cornish Game Hen Recipe:
Use my marinade to cook your Air Fryer Cornish Game Hens or Thai Grilled Chicken Thighs to make an easy and delicious weeknight meal. If you love it, make sure you share on Facebook for your friends or on Pinterest to make again later.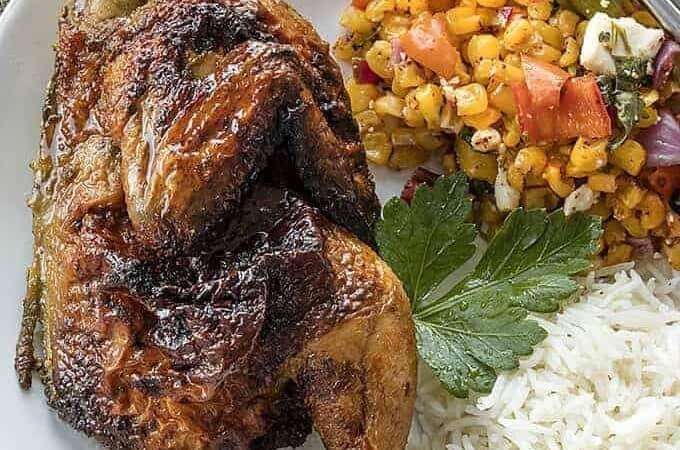 Click on highlighted ingredients or Equipment to see exactly what I use to make this recipe
Instructions
Place the four halves of the Cornish game hens into a large bowl.

In a blender jar, add the cilantro, fish sauce, garlic, sugar, lemon grass paste, pepper, coriander, salt and turmeric, and process until smooth. Pour the mixture over the chicken and mix very well.

Allow the chicken to marinate for at least 30 minutes or up to 24 hours in the refrigerator.

Place the game hen halves into the basket of the air fryer in a single layer. Set the air fryer to 400ºF for 20 minutes.

Test with a meat thermometer to ensure the chicken has reached an internal temperature of 150ºF before serving.
Get support & connect with our community on Facebook!
Nutrition
Calories:
222
kcal
|
Carbohydrates:
4
g
|
Protein:
14
g
|
Fat:
9
g
Tried this recipe?
Follow @twosleevers and Pin it!
And don't forget to check out my air fryer cookbooks! Every day easy air fryer, and Air Fryer Revolution.