I get excited when I have a delicious recipe to share with everyone that involves a lot of spices. If you check out my video on how to correctly use spices, you will be amazed in the difference in flavor in your dishes. These air fryer chicken legs are perfect to get some practice in on using spices.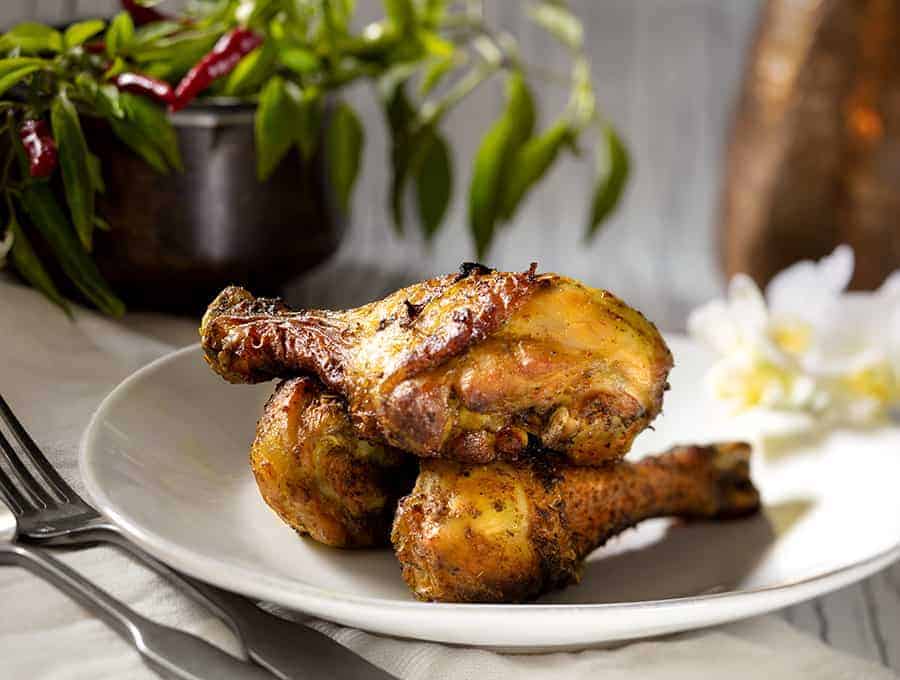 Why You'll Love These Air Fryer Chicken Legs
Fast. Made in less than 30 minutes.
Easy. Use your air fryer to make the easiest chicken legs ever.
Low Carb. Only 2 carbs per serving.
Delicious. This is absolutely packed with spices that your whole family will love.
The flavors of these Brazilian air fryer chicken legs will prove to you how much of a difference a great spice will make on a dish. If you try just making chicken with salt and pepper. it will pass for a decent meal.
However, if you whip up the right spices, you will make a chicken dish like this one that will blow you away with flavor with each bite.
What Do I Use To Season Air Fryer Chicken Legs?
Tempero baiano is a seasoning blend from Bahia, where it is used to add zest to savory dishes such as seafood, vegetables, soups, beans, stews, and sharp greens such as mustards or collards. It's basically used as an all-purpose seasoning.
Brazil has been blessed with such cultural diversity over the years, and Brazilian cuoisome reflects this diversity.
The cuisine varies greatly by region, reflecting the country's mix of native and immigrant populations.
Through the years Brazilian cuisine has been influenced by African and European (especially Portuguese) settlers.
The words themselves, Tempero Baino, mean Bahian seasoning.
Like many such seasonings, Tempero Bainano has evolved across regions and homes, and now there are probably many different ways to make it.
This recipe contains my version of it, which I hope you enjoy! If you like the flavors, use it with other meats and see what else you can spice up with it.
How Long Do Drumsticks Take In The Air Fryer?
This Brazillian air fryer drumstick recipe comes together in a snap. You can have delicious, juicy chicken in only 25 minutes!
You're going to be so happy when you make this recipe! Your whole kitchen is going to smell fantastic, everyone is going to think you're a great chef (which, let's face it, you are when you make food like this). Only you will know how easy it was to make this dish. The spice blend is a great one to use for all sorts of grilled meats and vegetables if desired.
These Brazilian Chicken Drumsticks will be a hit dinner for you just like they were for me. This is exactly why I'm sharing this recipe with you.
Looking to try some more delicious Brazilian cuisine?
Check out my delicious Instant Pot Brazilian Sopa de Palmito recipe. It uses just a few simple ingredients to make a creamy, tangy soup in minutes!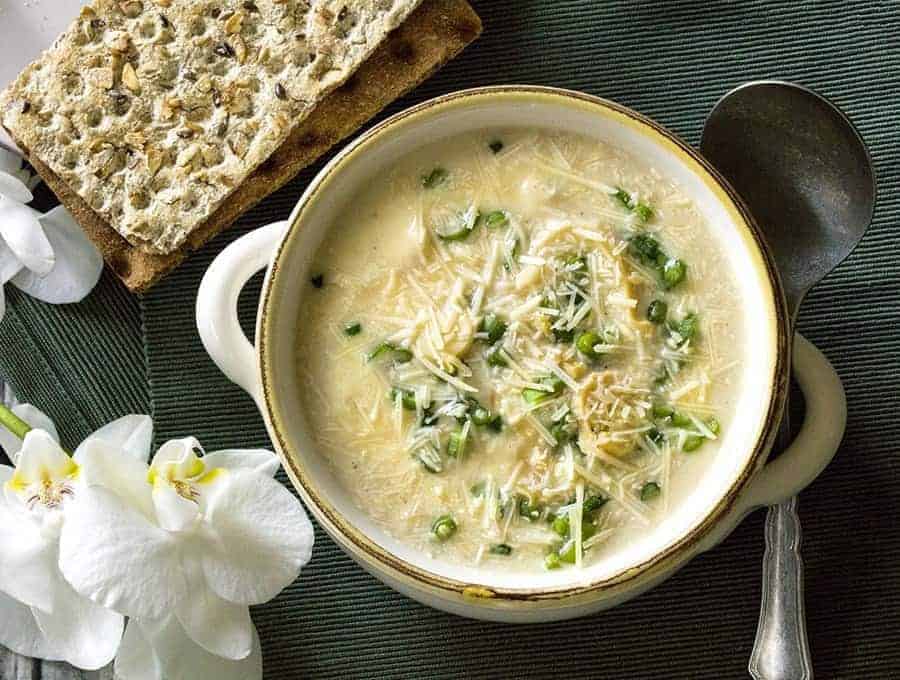 If you're looking for a great Brazilian dessert to follow up these recipes, check out my Brazilian Grilled Pineapple recipe. This simple 4 ingredient recipe is absolutely mind blowing!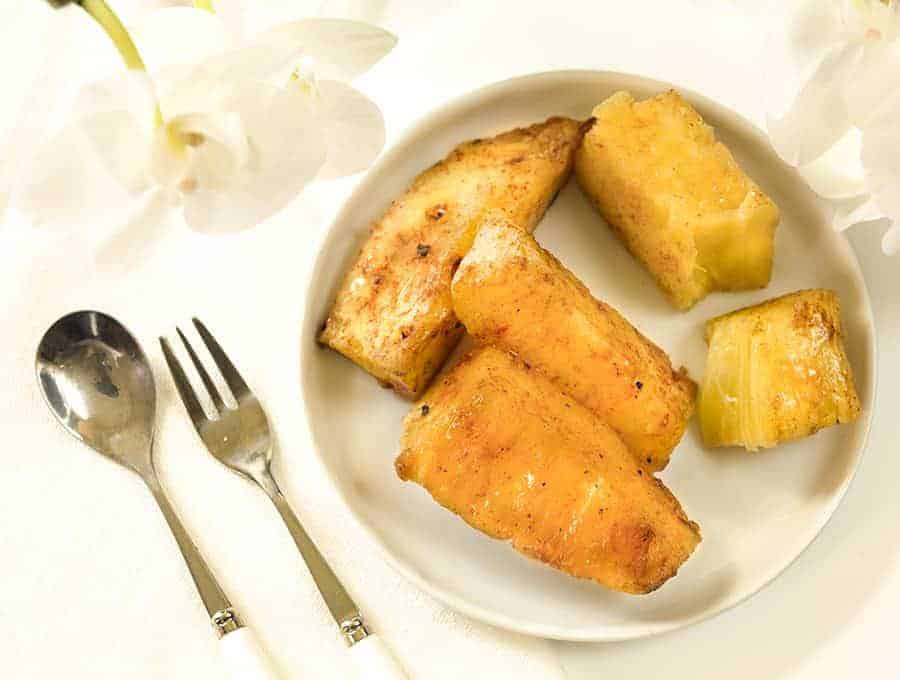 If you're looking for more great chicken recipes, check out my Keto Chicken Tenders. They're so good and so easy to make in your air fryer.
This air fryer Bacon Wrapped Stuffed Chicken Breast recipe is the trifecta of low carb culinary perfection: chicken, bacon and a delightful cheesy spinach filling!
Another fantastic air fryer chicken recipe is my Air Fryer Huli Huli Chicken. It's a sweet and slightly spicy chicken dish with a tropical flair!
What To Serve Air Fryer Chicken Legs With
If you're looking for a great side dish to pair with this, check out my Barley Pilaf With Mushrooms!
Well to be honest though, I don't see this Brazilian Chicken as keto food, it's just a delicious recipe that just so happens to be nice and healthy and bursting with flavor at the same time.
This means your whole family will likely enjoy this air fryer Brazilian chicken, so you won't have to make something different for everyone.
Want More Chicken Recipes?
If you love this air fryer chicken legs recipe as much as I do, make sure you share it with your friends on Facebook and Pinterest so they can try them too.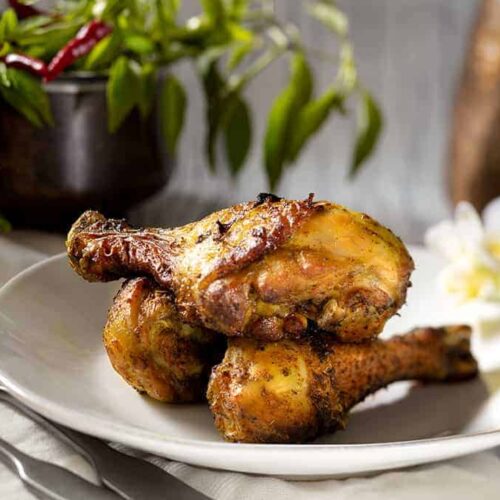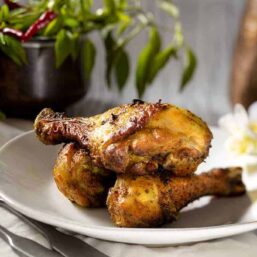 Brazilian Chicken
Impress your friends and family with this delicious Brazilian Chicken recipe! Only you will know how easy this air fryer chicken dish is!
Equipment
PHILLIPS AIR FRYER

COFFEE GRINDER KITCHENAID

Meat Thermometer

Measuring Cups

Measuring Spoons
Ingredients
1

teaspoon

cumin seeds

1

teaspoon

Dried Oregano

1

teaspoon

Dried Parsley

1

teaspoon

Turmeric

1

teaspoon

Kosher Salt

1/2

teaspoon

Coriander Seeds

1/2

teaspoon

Whole Black Peppercorns

1/2

teaspoon

Cayenne Pepper

1/4

cup

lime juice

2

tablespoons

Oil

1.5

pounds

chicken drumsticks
Instructions
In a clean coffee grinder, blend together the cumin, oregano, parsley, turmeric, kosher salt, coriander seeds, peppercorns and cayenne pepper.


In a medium bowl, combine the ground spices with the lime juice and oil. Add the chicken drumsticks and turn them, coating well with the marinade. Allow the chicken o marinade for 30 minutes or up to 24 hours in the refrigerator.


When you are ready to cook, place the chicken legs into the air fryer basket, skin side up.


Set your air fryer to 390F for 20-25 minutes for meaty chicken legs. Halfway through, flip the chicken legs over.


Use a meat thermometer to ensure that the chicken has reached an internal temperature of 165F. Remove and serve with plenty of napkins.

Originally Published January 29, 2019
And don't forget to check out my air fryer cookbooks! Every day easy air fryer, and Air Fryer Revolution.