No need to miss your beans and greens with this low carb Southern Style Collard Greens with Ham recipe! This simple dump and cook recipe for your Instant Pot or Pressure Cooker makes a tasty side dish in under 30 minutes.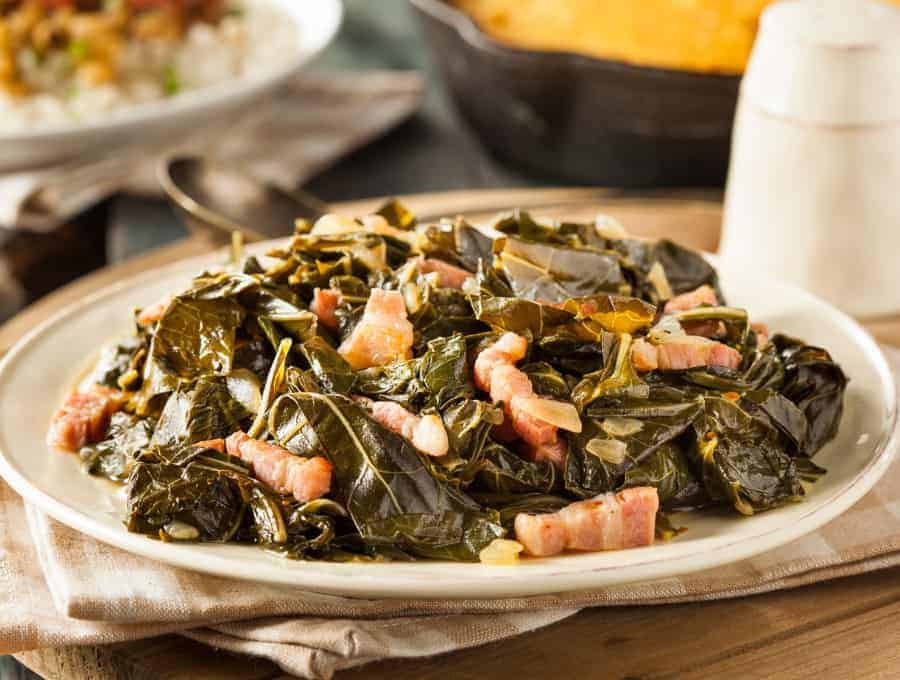 Southern Style Collard Greens with Ham | Pressure Cooker Recipe
GREENS ARE GREAT ON A LOW CARB DIET
Greens are delicious and perfect for a low-carb diet. Not only are they low-carb, but they're high in fiber. When you give up grains for a low-carb diet, your body needs the fiber and nutrition you can get from those greens, so it's a win win.
ADVANTAGES OF THE POT LIKKER OR POT LIQUOR FROM SOUTHERN STYLE COLLARD GREENS
Potlikker, or Pot Liquor is the liquid that's left in the pot from boiling dark greens, such as collards. This liquid contains many of the nutrients of the greens, and is an essential part of the meal.
Pressure cooking saves all this precious liquid so it can be used after cooking. Some of the vitamins from the greens, like Vitamin C, are water soluble, meaning when you boil it, it sucks all the nutrients from the greens and puts them in the cooking water.
Make sure you don't throw away the best part of the dish, which is the pot liquor, or potlikker. Use it for drinking, or pour it over whatever you're having.
Adding fat to the ham and greens dish also helps you metabolize the vitamins and nutrients as well. This is why it's a common practice to add something fatty like ham, or bacon, to greens. Ham or bacon also takes the flavor of the greens to a whole new level too!
If you're not low carbing, you might also like to try this Southern Style Beans and Greens recipe that uses black-eyed peas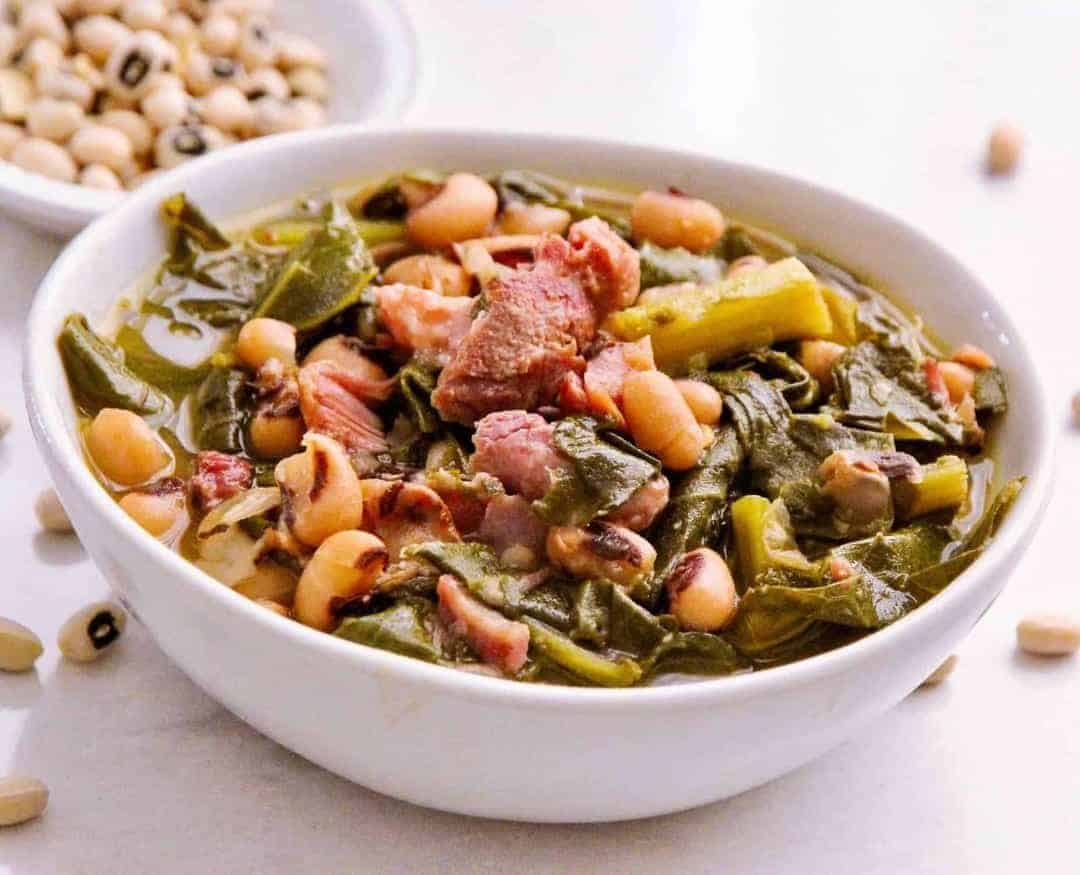 And if you're looking for a deliciously low carb drink to wash it all down with, check out my Instant Pot Iced Tea recipe! Once you make iced tea in your pressure cooker or instant pot, you'll never make it the old-fashioned way again.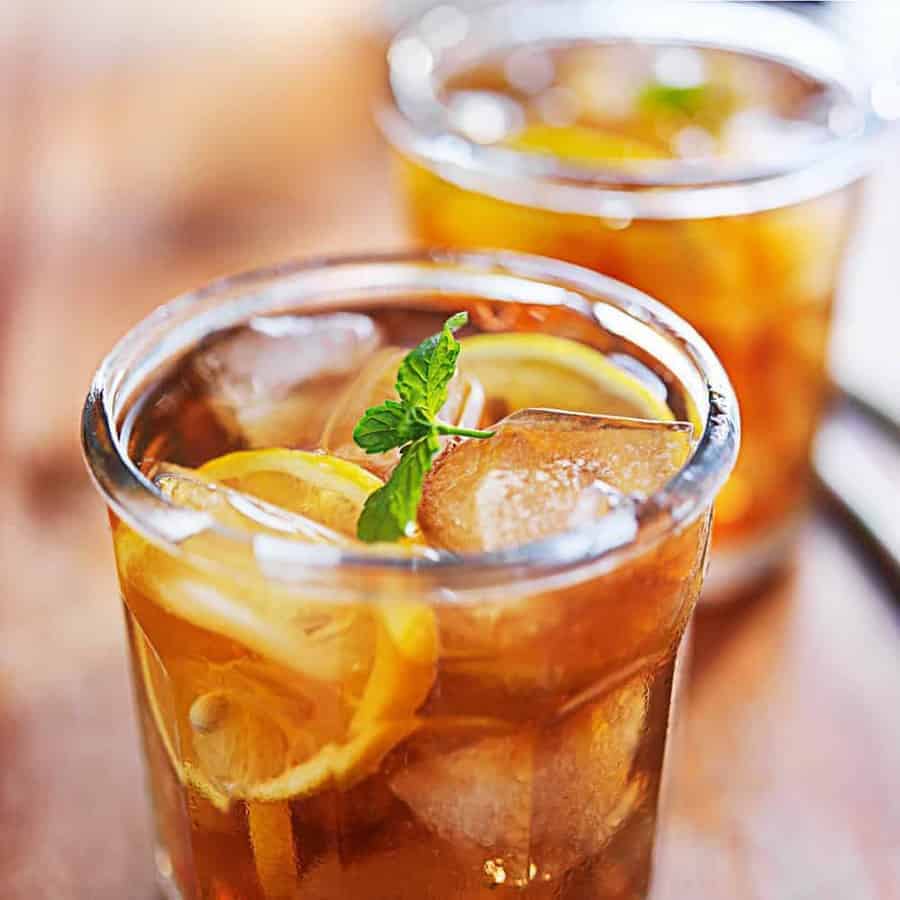 WHAT IS A GOOD SUBSTITUTE FOR COLLARD GREENS?
You can always substitute kale, or turnip greens if you can't stand collard greens. Basically, anything dark green and leafy will work in the ham and greens in the place of the collard greens if you need to replace them.

? Did you make this recipe? Don't forget to give it a star rating below! Just click on the stars in the recipe card to rate.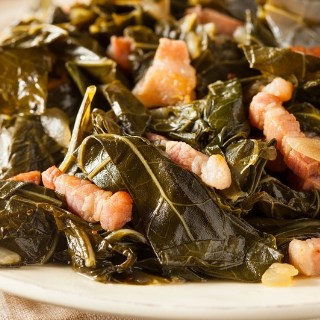 Click on highlighted ingredients or Equipment to see exactly what I use to make this recipe
Instructions
Place all ingredients except finishing ingredients into the inner liner of your pressure cooker. You want to set those aside so you can get a fresh zing of flavor after the greens have pressure cooked.

Cook at high pressure for 4 minutes. Allow it to release pressure naturally for 5 minutes and the release all remaining pressure slowly.

Add apple cider vinegar, liquid smoke and hot sauce and taste. Season to adjust.
POPULAR VARIATIONS ON LOW CARB SOUTHERN STYLE HAM AND GREENS:
Meats: smoked turkey wings, ham hocks, andouille sausage, bacon
Greens: Collard greens, turnip greens, mustard greens, kale, or mixed greens of whatever you have lying around
Vegetables: add tomatoes
Get support & connect with our community on Facebook!
Nutrition
Calories:
55
kcal
|
Carbohydrates:
9
g
|
Protein:
4
g
|
Fiber:
3
g
|
Sugar:
1
g
Tried this recipe?
Follow @twosleevers and Pin it!