Make this Khichadi Rice and Lentils recipe in your Instant Pot to create the ultimate Indian comfort food! This recipe is super tasty and vegetarian and vegan friendly!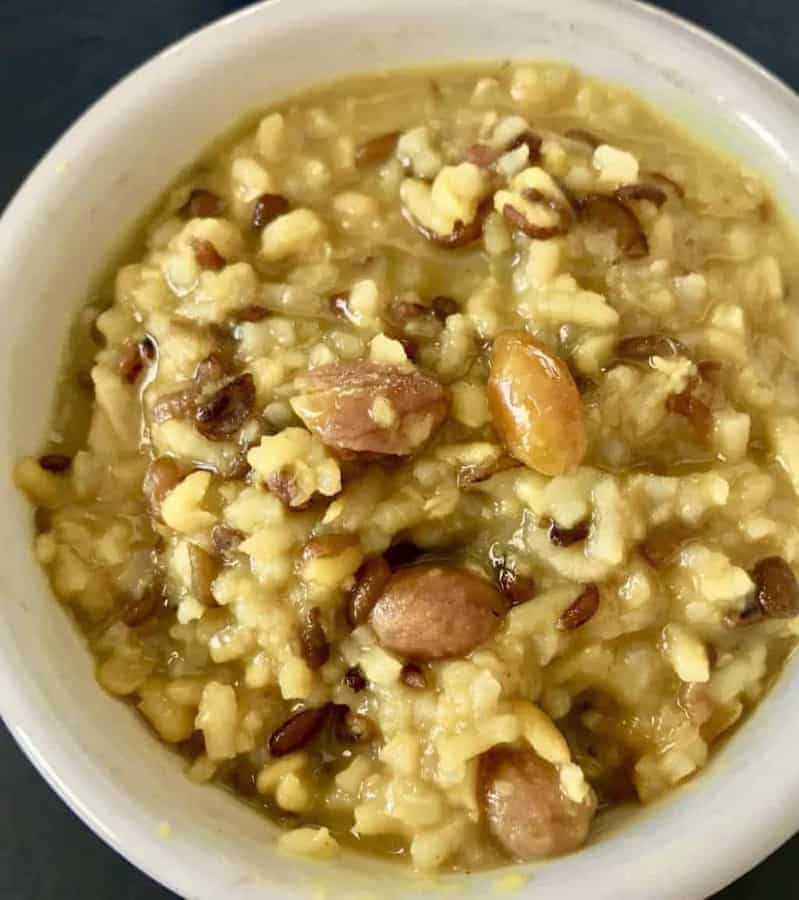 Khichadi Rice and Lentils
I'm sick today so made myself a little comfort food. This Khichadi Rice and Lentils is the Indian equivalent of grilled cheese and tomato soup? It's rice and dal, cooked together in an Instant Pot until mushy, flavored with ghee, cumin seeds, turmeric, and salt. Every little baby grows up eating this, and it's supposed to be really easy on your stomach. I love peanuts in my version.
To make this, you'll need some kind of daal. You want something like moong dal, or masoor dal or something that is split, not whole dal. Don't use chana dal which won't cook fast enough. The combination of rice and dal makes this a complete, vegetarian protein source. Here are some examples of daal that will work (all except the one at the top right, the little brown ones, because see how that's an entire bean, not split like the others? That's not what you want. You want split beans like the others)
LOOKING FOR MORE DELICIOUS VEGETARIAN AND VEGAN RECIPES? CHECK OUT MY VEGAN SOOKHI URAD DAL RECIPE!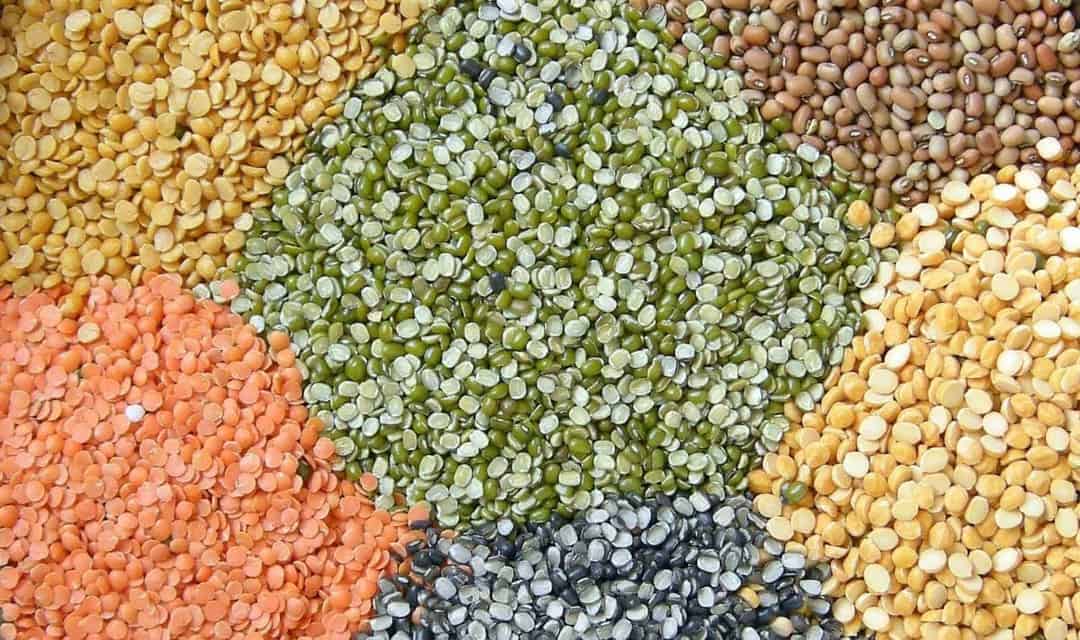 For additional nerd points, I can tell you that the dish/word Kedgeree is an anglicized version of the Indian khichadi. So now you know.
You want this to be mushy, but not soupy. Here's how I made this.
★ Did you make this recipe? Don't forget to give it a star rating below! Just click on the stars in the recipe card to rate.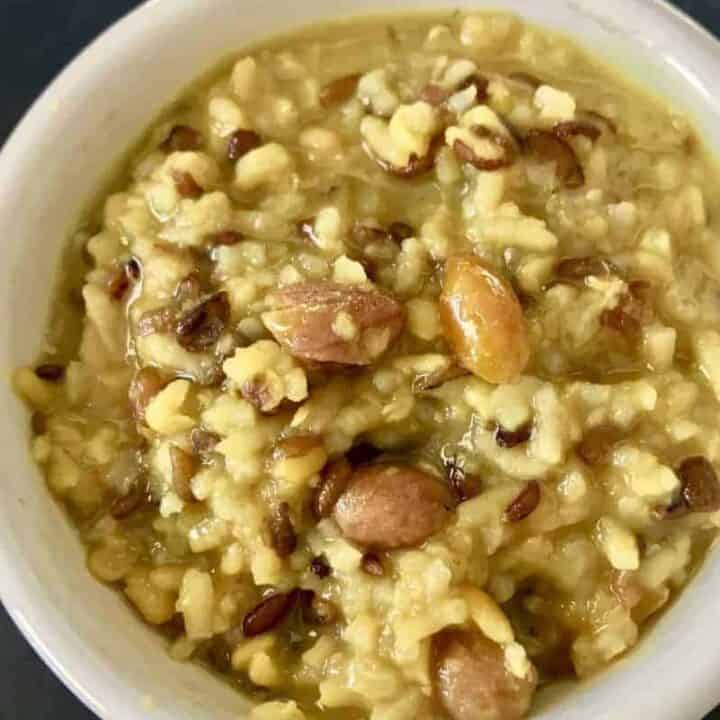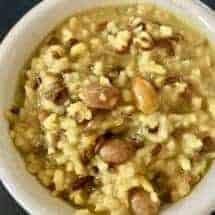 Instant Pot Khichadi Rice and Lentils
Make this Khichadi Rice and Lentils recipe in your Instant Pot to create the ultimate Indian comfort food! It's simple, gluten free and vegan!
Course:
Main Course, Rice, Side Dish
Dietary Consideration:
Dairy-Free, Gluten-Free, Vegan, Vegetarian
Cooking Style:
Instant Pot/Pressure Cooker
Ease of Cooking:
Pour and Cook, Under 30 Mins
Ingredients
1

tablespoon

Ghee

1

teaspoon

cumin seeds

1/2

teaspoons

Turmeric

1/4

cup

spanish red or other roasted peanuts

3/4

cup

short grain rice

(such as jasmine or sona masoori)

1/4

cup

moong dal or whatever kind of split dal you have or a mix of them

1 3/4

cup

water

(one and three quarters, not 13 cups of water)

1

teaspoon

Salt
Instructions
Mix the rice and dal and rinse well

Turn your Instant Pot on Sauté and high heat, and when it's hot, add ghee

Once the ghee melts and starts to shimmer, add the cumin seeds into the oil and wait for them to start sputtering like popcorn

Add in the turmeric and let it sizzle so it doesn't taste raw

Quickly add in peanuts and stir around and then add the rice and dal

Stir until all of it is coated with the ghee

Pour in water, add salt, and set your Instant Pot on high for 10 minutes

Allow NPR and open carefully. You may meed to add a 1/4 c of water at this point if the rice has absorbed all of it.

Stir everything together and serve with additional ghee or a little yogurt on the side.
Nutrition facts per serving
133kcal | Fat: 4g | Saturated fat: 1g | Cholesterol: 4mg | Sodium: 296mg | Potassium: 133mg | Carbohydrates: 19g | Fiber: 2g | Protein: 4g | Vitamin A: 5% | Vitamin C: 0.3% | Calcium: 17% | Iron: 1.6%
I am not a registered dietician or nutritionist. Nutritional information is provided a courtesy, and can vary depending on the exact ingredients you use.