Want to learn how to make Ghee authentically and easily in 20 minutes on your stovetop? Yes, please! A simple, fool-proof recipe for ghee is precisely what you need, no matter how smart you are.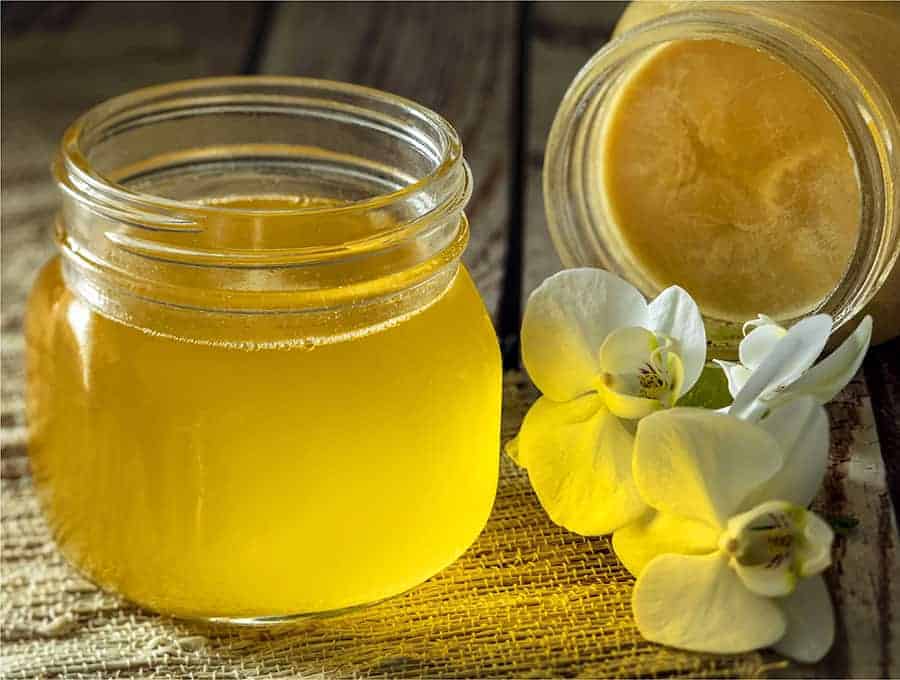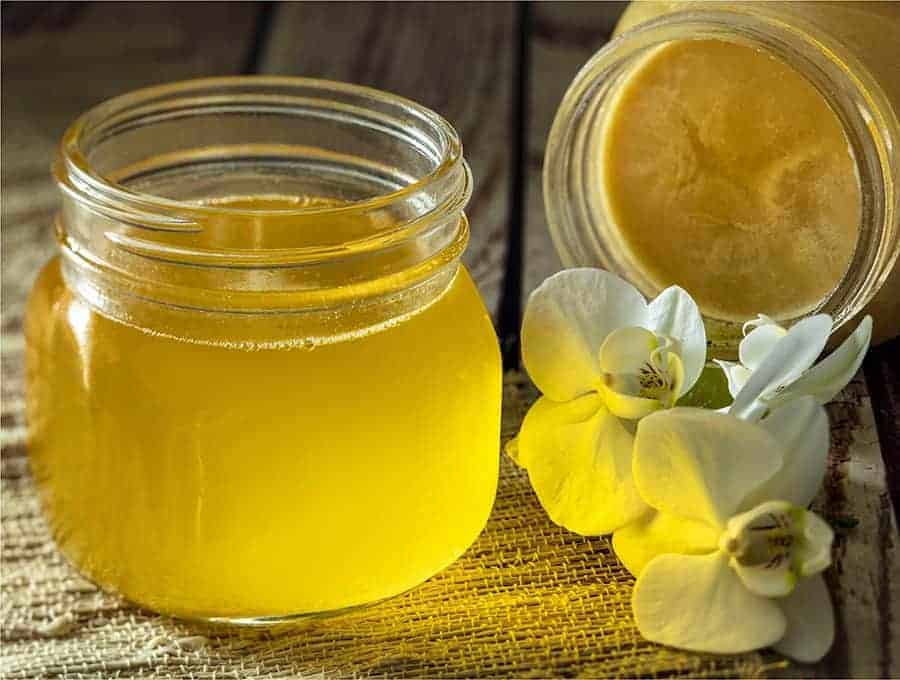 I'm tired of overpaying for ghee when it's so easy to make at home so I decided to take the time to make Homemade Ghee.
If you're going keto, there's nothing better than butter in all its various forms for satiety as well as flavor.
What is Ghee And Why Is It Healthy?
Ghee is butter that is clarified to the point where it's just pure fat. All the milk solids and all the water has been removed from the erstwhile butter.
Not only does this make the ghee taste different, but it is also the best way to preserve ghee.
Ghee was used as long as 5000 years ago. In Hindu culture, it's used as food, but also for ritual offerings during prayers.
It's also used as a common ingredient in Indian cooking.
Made from cow's milk butter, it's often considered sacred in a country where cows themselves are held as sacred.
Ghee in India is often made with cultured butter. Yogurt is added to milk cream which is allowed to ferment overnight. The cultured cream is then churned, resulting in butter, and what is referred to as butter milk--although it's nothing like the buttermilk you might get in Western Countries.
This homemade butter is then used for daily consumption, and as it gets a little stale, it is turned into ghee.
It is, however, perfectly acceptable to use regular, unsalted butter that is widely available instead.
Ghee also has a high smoke point. This makes it easier to cook with than a lot of other oils or melted butter.
What Is The Difference Between Butter & Ghee?
There are two main differences, both of which are interrelated.
For clarified butter, you let the butter come to a boil, and you cook for about a minute or two. You then skim off the milk solids, and you let the mixture settle.
The fat and water separate, you skim off the white milk solids from the top, and voila! Bring on the lobster for that clarified butter!
If you keep cooking this a little bit longer, you will have brown butter--yet another delicious concoction.
If you want to make ghee, you want to let the butter come to a boil--and then cook it on medium heat for a good 15 minutes or so after that.
This allows the ghee to develop a nuttier taste. It also causes the milk solids to settle to the bottom and caramelize.
While both delicious, ghee tastes nuttier and tends to be browner. It also lasts longer than clarified butter.
Benefits of Ghee
There are so many benefits to cooking with ghee. Besides reminding me of the comforts of home, here are a few:
Great to help hit fat macros on a Keto diet.
Delicious, nutty flavor.
Higher smoke point than a lot of oils.
Since all of the milk protein has been removed from ghee, those with lactose or milk protein allergies often find they are safely able to include ghee in their diet.
Pure ghee offers something for everyone. Vegetarian, whole-30, paleo, keto, seafood diet, or even a "See-food" diet--ghee is good for everyone!
Equipment Needed To Make Homemade Ghee
Here is what I use to make my ghee
Ingredients You'll Need
Butter. That's it. All you need is 4 sticks of unsalted butter, a pan, and some patience to make this delicious ghee recipe.
How To Make Ghee
1. Put four sticks of regular butter into a heavy-bottomed pan and heat. Some people prefer high-quality butter such as organic butter or Kerrygold butter (made from grass-fed cows), but it's not necessary to make perfect ghee.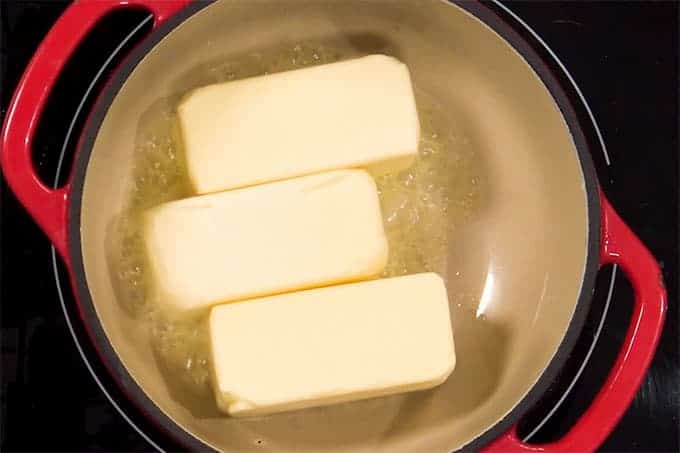 2. Once the butter starts to boil, turn down the heat a little. No need to cook on high heat.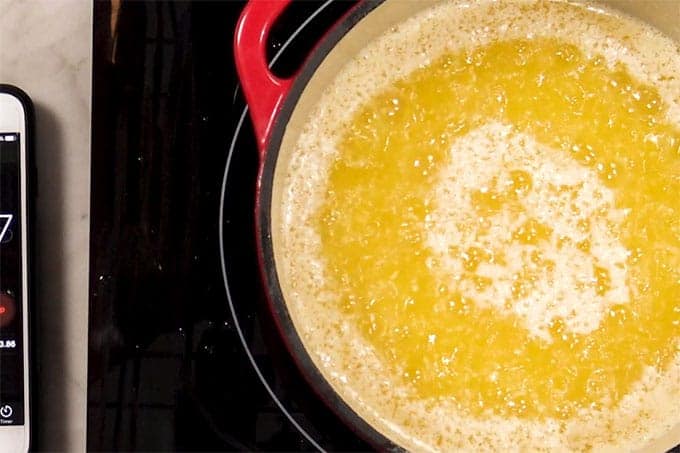 3. LEAVE IT ALONE! Don't be messing with it and stirring it etc. Just let it be for 10-15 minutes until the browned milk solids settle to the bottom and brown slightly. See the photo below for the color you are after.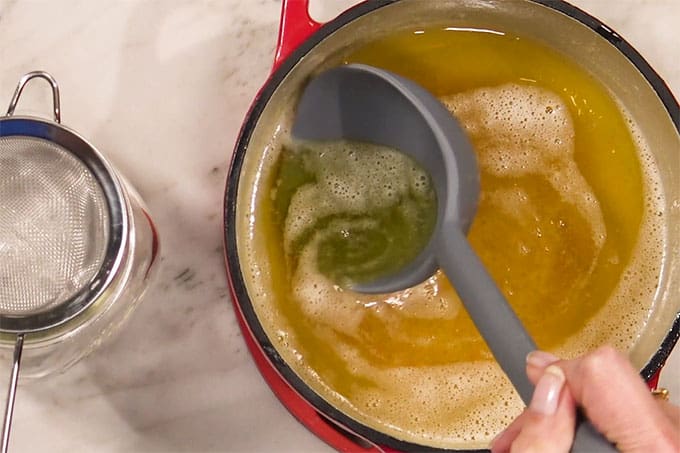 4. Let it cool a little, strain through a fine-mesh strainer or a clean piece of cheesecloth into small glass jars, and let cool. Be sure to rinse the cheesecloth in hot water right away and then wash it as soon as possible. You do not want the residual milk solids to sour in the cheesecloth.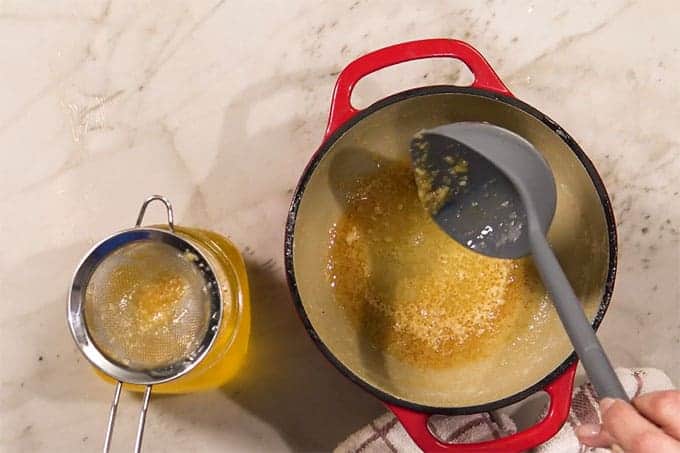 Click the following link if you want a video on how to make your own Ghee.
How Do I Know when the Ghee is ready?
Really, the hardest thing to figure out when making homemade ghee is when it's done. So I took a picture to show you.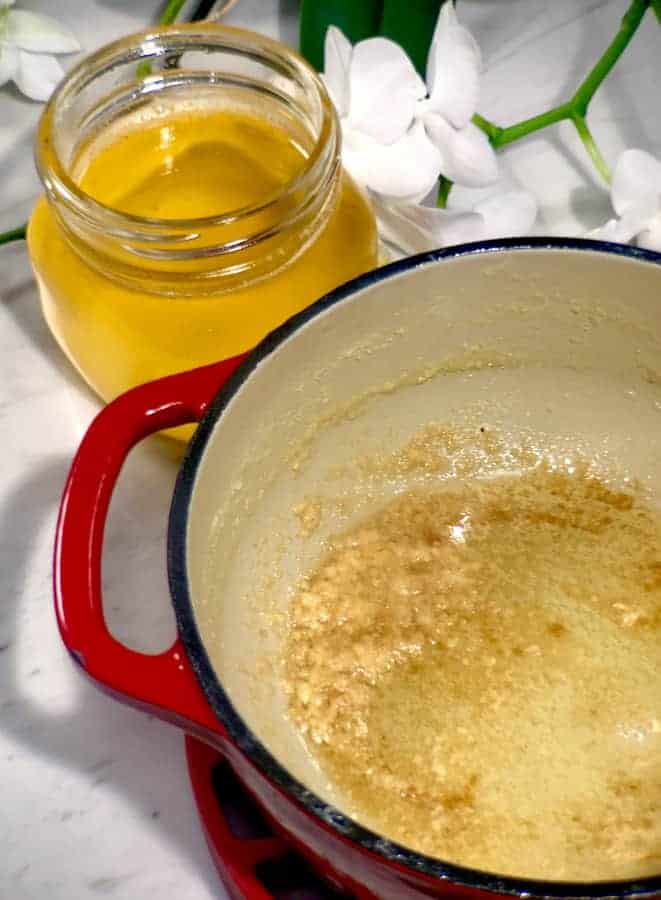 What you want is for the milk solids to start turning brown and settling into the bottom of the pan.
If you give up before this stage you are either a) a quitter or b) trying to make clarified butter, not ghee. Anything much darker and you've burned your ghee a little. It's pretty forgiving though.
For that authentic, slightly nutty taste, you need this color for the milk solids.
This is great to do when you're messing about in the kitchen with other stuff. Let it simmer in the background while you do your regular chores.
If you try this homemade ghee recipe, I'd love to know how it turned out.
How To Make Instant Pot Ghee
Can you make ghee in the Instant pot? Yes But.
Yes. It would be possible to make this ghee recipe in your Instant Pot.
But. Why?
There's literally NO advantage to doing it in the Instant Pot. You'd use the Sauté setting. Just like you would on the stovetop.
You can't use a lid. You can't cook it under pressure since you want the water to evaporate and the milk solids to separate.
So basically you're using sauté--and now you have a large inner pot to clean.
WHY?
Instead of using your Instant Pot, use a small 1.5 to 2-quart pot on your stove top or induction burner, and you will be all set. 
How To Make Slow Cooker Ghee
Another method that isn't optimal to produce the results you want as fast as you want. Ghee requires a steady boil to cause the milk solids to separate and fall to the bottom of the pan.
Having said that, it is POSSIBLE to make slow cooker ghee if you want a less hands-on method. Here's how you do it:
Add. Place butter in your Crockpot
Set. Adjust your Crockpot to high for 2-4 hours or low for 4-6 hours. Do not cover!
Cook. Watch your butter magically turn into ghee in the slow cooker.
Babysit. You will need to look for the perfectly browned milk solids at the bottom.
Strain. Use a cheesecloth to remove the milk solids from your ghee.
Store. Store in at room temperature in a safe container of your choice or in the refrigerator for longer-lasting ghee.
Do I Use Salted Or Unsalted Butter To Make Ghee?
I prefer to use unsalted butter for my desi ghee. I've tried it with salted butter and it didn't produce the flavors I wanted. I also tend to buy good quality butter--but not the best quality.
You're going to be cooking this butter down, and you'll be changing the taste considerably anyway. So grass-fed butter is totally optional.
So I often use Costco's unsalted Kirkland butter making ghee, but you use whatever you can get.
How Long Does Ghee Last?
You can store it outside at room temperature for 3-4 months, and in the refrigerator in an airtight container for up to a year.
Does Ghee Need To Be Refrigerated?
You do not need to refrigerate ghee. Being shelf-stable, ghee can be stored in a clean mason jar container at room temperature by your stovetop or in a cabinet.
Two things to note.
Always use a clean spoon to scoop out your ghee.
Never allow water or other liquids to get into that jar.
Just following these rules will allow you to keep your ghee pure and clean.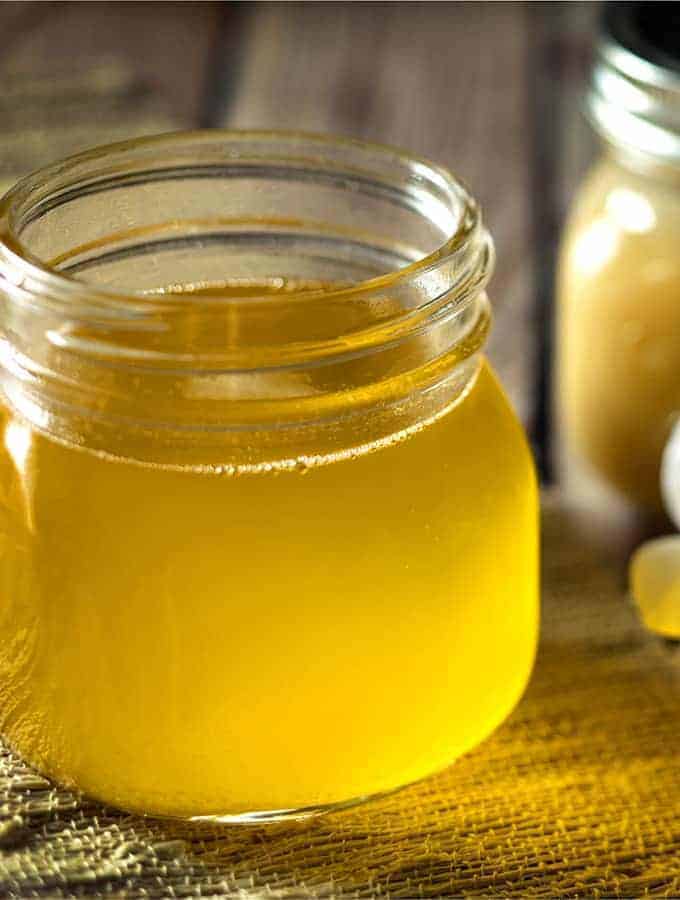 What If My Ghee Is Dark?
Ghee is incredibly forgiving and incredibly delicious. Even if it's a bit darker, it is probably still usable. Taste it. If it doesn't taste bitter? Use up that liquid gold!
What Is The Correct Texture For Ghee
My ghee turned grainy and solid. What did I do wrong?
Absolutely nothing wrong. Ghee is like coconut oil. It is semi-solid at room temperature, and solid in cold rooms. This is normal. Just enjoy the fruits of your ghee-making labor and don't worry so much.

How To Use Ghee
Wondering how to use ghee? Absolutely HOWEVER YOU WANT!
Initially, you can use it as called for in recipes.
Over time though, as you become more familiar with how it tastes, you might realize you prefer it on your popcorn rather than butter. Or you might like it with toast.
Use it however you want. There are no ghee rules, nor, as far as I know, any ghee police that will come after you.
I use it to cook veggies or meats, in rice, over everything (except maybe bacon). I wish I could say there was a complicated recipe for this but it's really very simple.
For me, there's nothing better than ghee on top of my pressure cooker dal and rice recipe.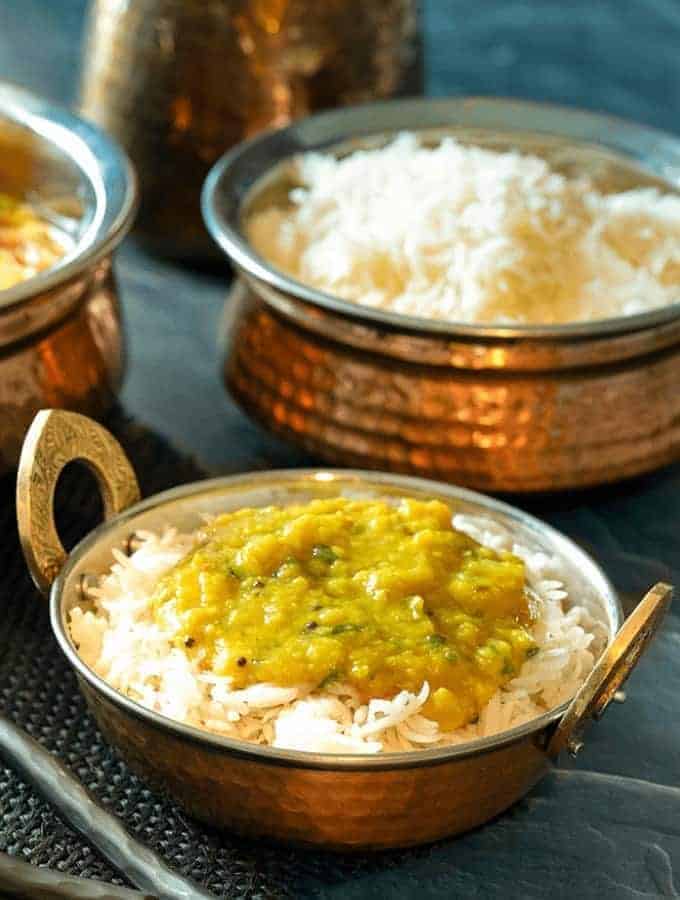 It is also very important for Indian desserts, such as Pakistani Zarda recipe.
And during Ramadan, ghee, with its satiety factor during fasts, is very important in Haleem recipes.
More Tasty Indian Dishes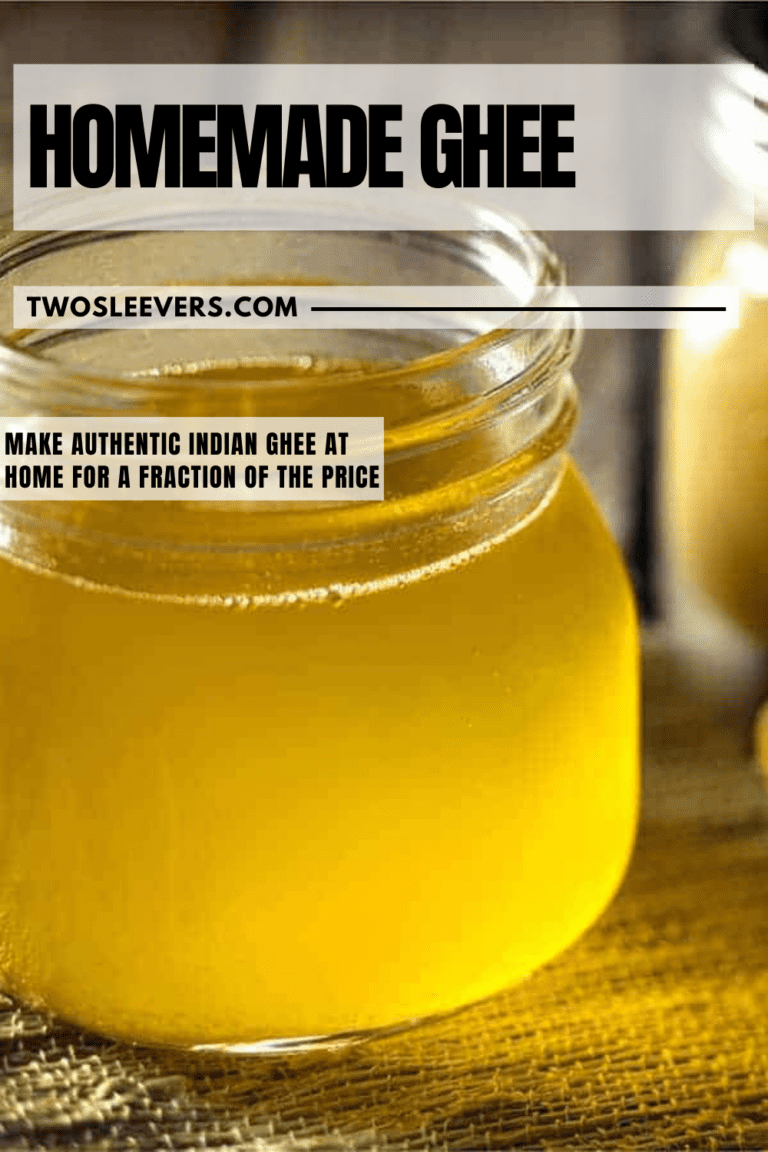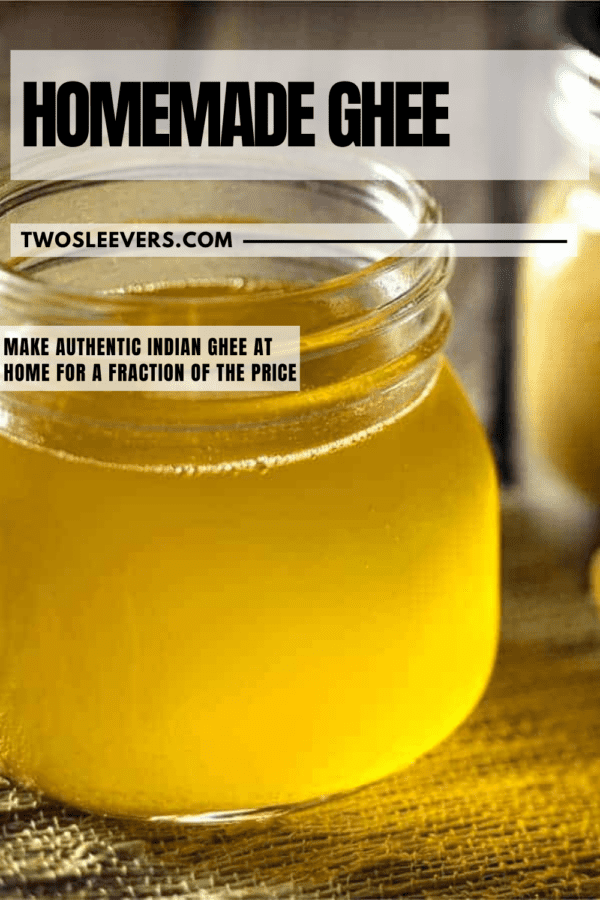 If you enjoy this Ghee recipe as much as we do, make sure you share it on Facebook and Instagram with your friends so they can try it too. Don't forget to Pin it so you can make it again soon!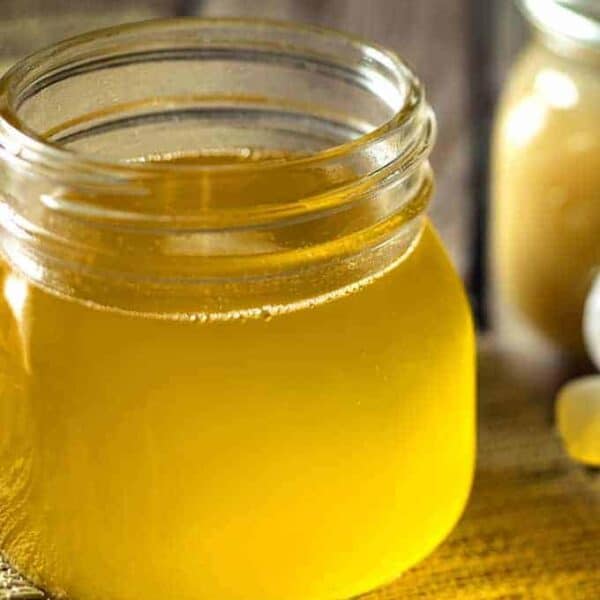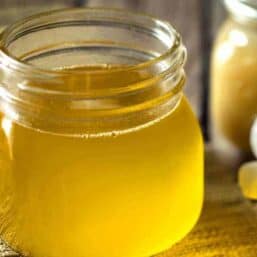 Ghee Recipe | Simple 20 Minute Homemade Ghee
Homemade Ghee made in 20 minutes on your stovetop? Yes please! Simple, idiot-proof recipe for ghee is exactly what you need, no matter how smart you are.
Equipment
LODGE 1.5 QUART

STRAINER

heatproof jar

LADLE
Ingredients
16

ounces

Unsalted Butter

(4 sticks)
Instructions
Place the pan on high heat and add the sticks of butter. Allow the butter to come to a boil.

Turn the heat down to where the butter is gently simmering and bubbling. Cook for another 10-15 minutes undisturbed.

Slowly you will see that the milk solids, rather than floating on the top of the pan, have started to sink to the bottom of the pan. The sound of the bubbling ghee will start to change. The bubbles on top get larger, and the sound is akin to popcorn popping

Once the milk solids have settled to the bottom and lightly browned, your ghee is ready.

Gather a strainer, a ladle, and heatproof jar. Slowly pour the ghee through the strainer into the jar. I prefer to use the ladle to do this with, to reduce the risk of spillage as well as to not suddenly add a bunch of hot fat to a glass jar.

Okay! You're done! See?? Wasn't that EASY?
Originally Published March 2019
Want More Low Carb Recipes?
Don't forget to check out my other Keto cookbooks.
Keto Instant Pot, Keto Fat Bombs, Sweets, & Treats, and Easy keto in 30 minutes.