Homemade Ghee made in 20 minutes on your stovetop? Yes please! Simple, idiot-proof recipe for ghee is exactly what you need, no matter how smart you are.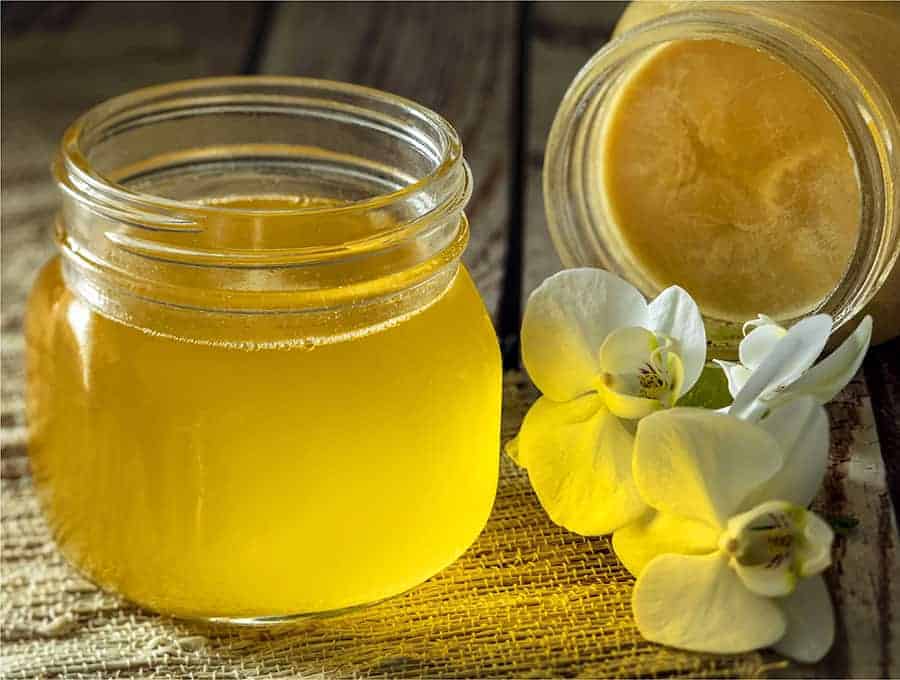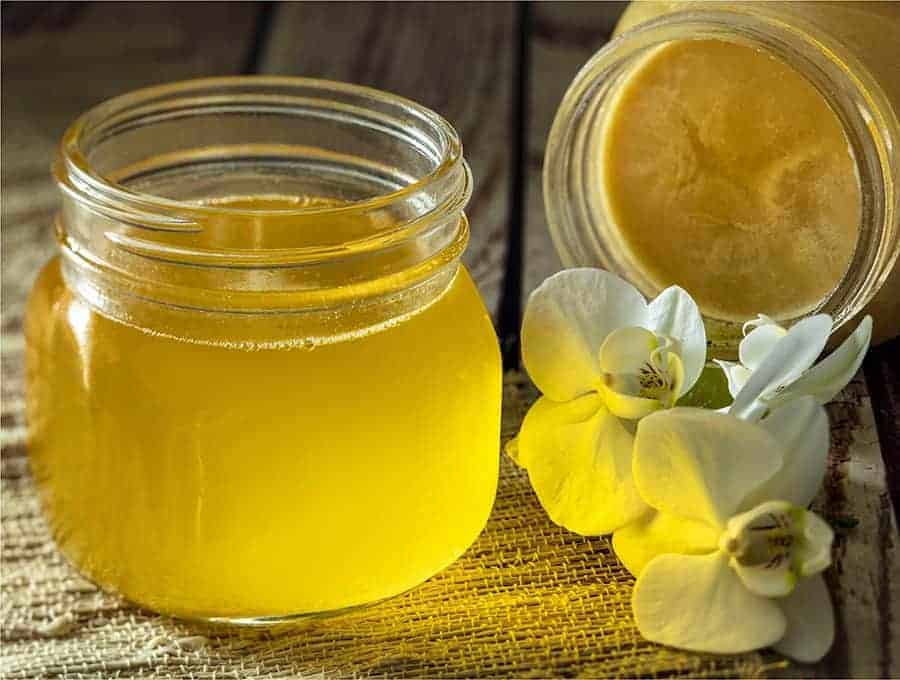 I'm tired of overpaying for ghee when it's so easy to make at home so I decided to take the time to make Homemade Ghee.
If you're going keto, there's nothing better than butter in all its various forms for satiety as well as flavor.
I use it to cook veggies or meats, in rice, over everything (except maybe bacon). I wish I could say there was a complicated recipe for this but it's really very simple.
I first published this homemade ghee recipe post on March 3, 2017, but decided it was time to update it.
HOW TO MAKE GHEE AT HOME
1. Put four sticks of butter into a heavy-bottomed pan and heat.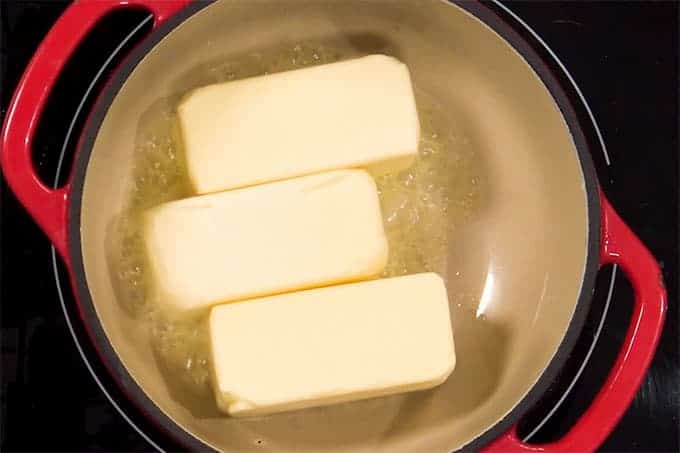 2. Once the butter starts to boil, turn down the heat a little.
3. LEAVE IT ALONE! Don't be messing with it and stirring it etc. Just let it be for 10-15 minute until the milk solids settle to the bottom and brown slightly.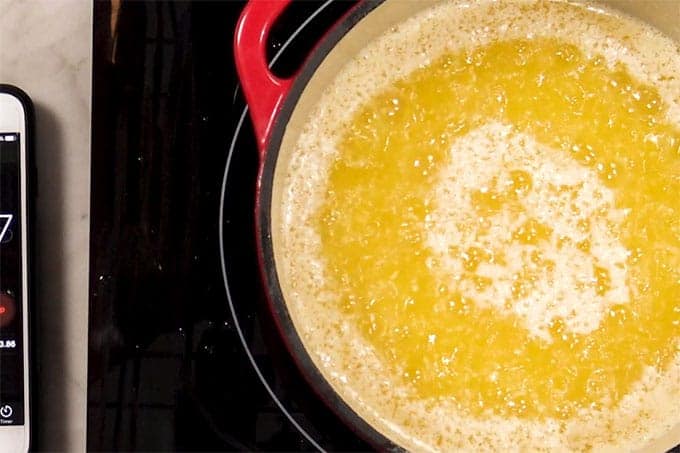 4. Let it cool a little, strain through a fine-mesh strainer into your jar and you're done.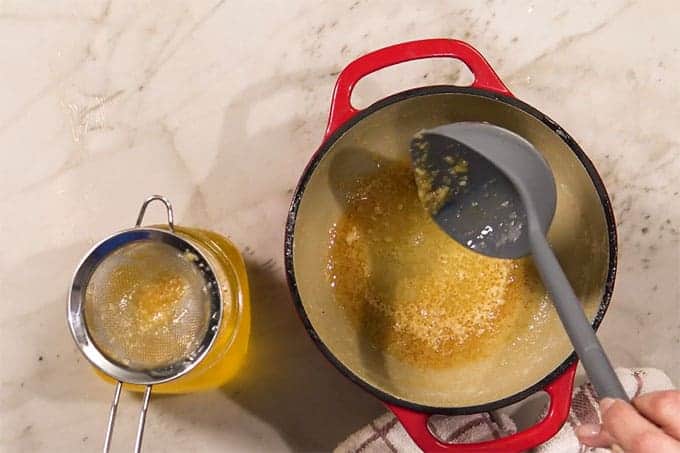 HOW DO I KNOW WHEN THE GHEE IS DONE?
Really, the hardest thing is knowing when it's done. So I took a picture to show you.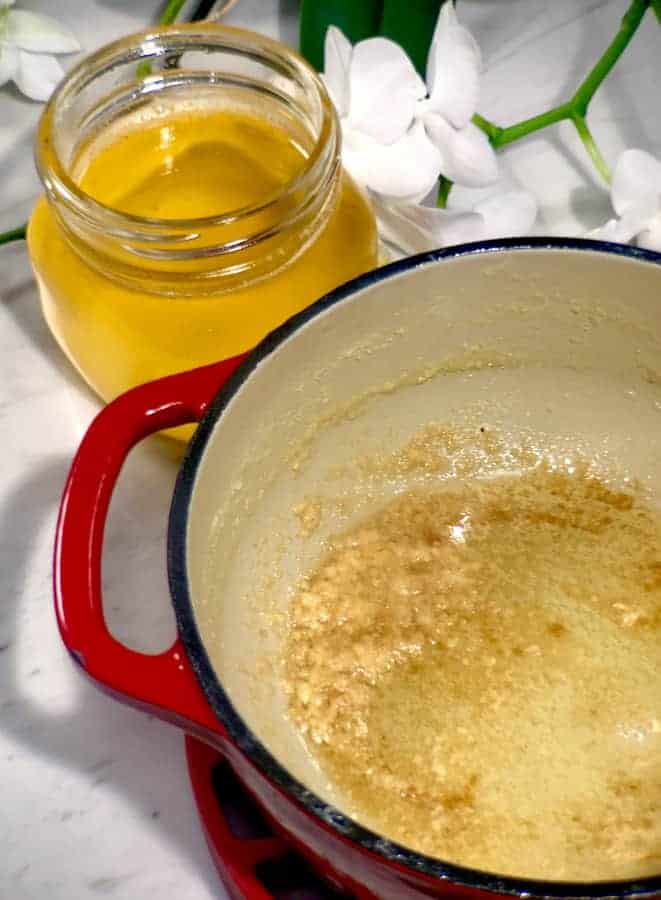 What you want is for the milk solids to start turning brown and settling into the bottom of the pan.
If you give up before this stage you are either a) a quitter or b) trying to make clarified butter, not ghee. Anything much darker and you've burned your ghee a little. It's pretty forgiving though.
For that authentic, slightly nutty taste, you need this color for the milk solids.
This is great to do when you're messing about in the kitchen with other stuff. Just let it simmer in the background while you go about your regular chores.
If you try this homemade ghee recipe, I'd love to know how it turned out.
So I will soon have a video showing you how to make your own ghee. But let's answer a few questions in the meantime.
WHAT IS GHEE?
Ghee is butter that is clarified to the point where it's just pure fat. All the milk solids and all the water has been removed from the erstwhile butter.
Not only does this make the ghee taste different, but it is also the best way to preserve ghee.
Ghee was used as long as 5000 years ago. In Hindu culture, it's used as a food, but also for ritual offerings during prayers.
Made from cow's milk butter, it's often considered sacred in a country where cows themselves are held as sacred.
SALTED OR UNSALTED BUTTER? DOES IT MATTER?
I prefer to use unsalted butter for my ghee. I also tend to buy good quality butter–but not the best quality. You're going to be cooking this butter down, and you'll be changing the taste considerably anyway.
So I often use Costco's unsalted Kirkland butter, but you use whatever you can get.
WHAT'S THE DIFFERENCE BETWEEN GHEE AND CLARIFIED BUTTER?
There are two main differences, both of which are inter-related.
For clarified butter, you let the butter come to a boil, and you cook for about a minute or two. You then skim off the milk solids, and you let the mixture settle.
The fat and water separate, you skim off the white milk solids from the top, and voila! Bring on the lobster for that clarified butter!
In contrast, for ghee, you want to let the butter come to a boil–and then you cook it for a good 15 minutes or so after that.
This allows the ghee to develop a nuttier taste. It also causes the milk solids to settle to the bottom and caramelize.
While they're both delicious, ghee tastes nuttier and tends to be browner. It also lasts longer than clarified butter.
HOW DO YOU STORE GHEE AND FOR HOW LONG?
Ghee can be stored in a clean jar by your stove top or in a cabinet. You do not need to refrigerate it.
Two things to note.
Always use a clean spoon to scoop out your ghee.
Never allow water or other liquids to get into that jar.
Just following these rules will allow you to keep your ghee pure and clean.
You can store it outside for 3-4 months, and in the refrigerator for up to a year.
WHEN DO I USE GHEE?
Absolutely WHENEVER YOU WANT!
Initially, you can use it as called for in recipes.
Over time though, as you become more familiar with how it tastes, you might realize you prefer it on your popcorn rather than butter. Or you might like it with toast.
Use it however you want. There are no ghee rules, nor, as far as I know, any ghee police that will come after you.
For me, there's nothing better than ghee on top of my pressure cooker dal and rice recipe.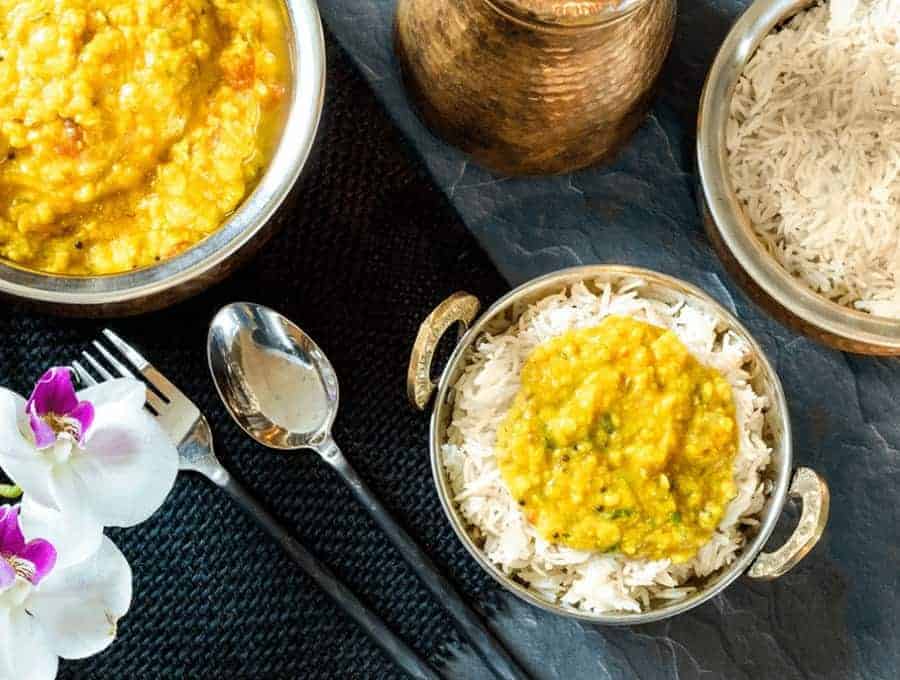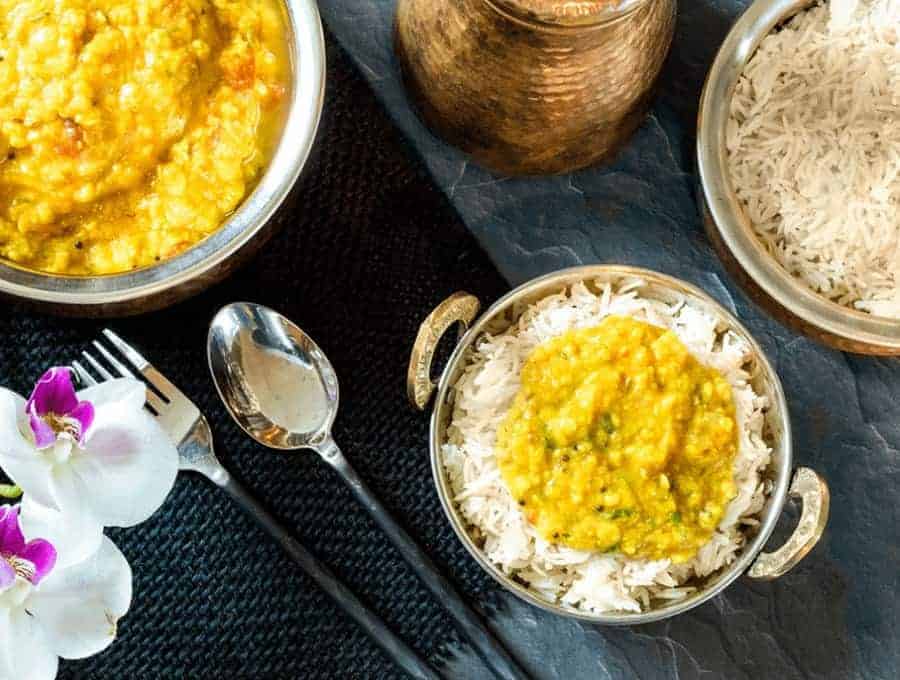 It is also very important for Indian desserts, such as this Pakistani Zarda recipe.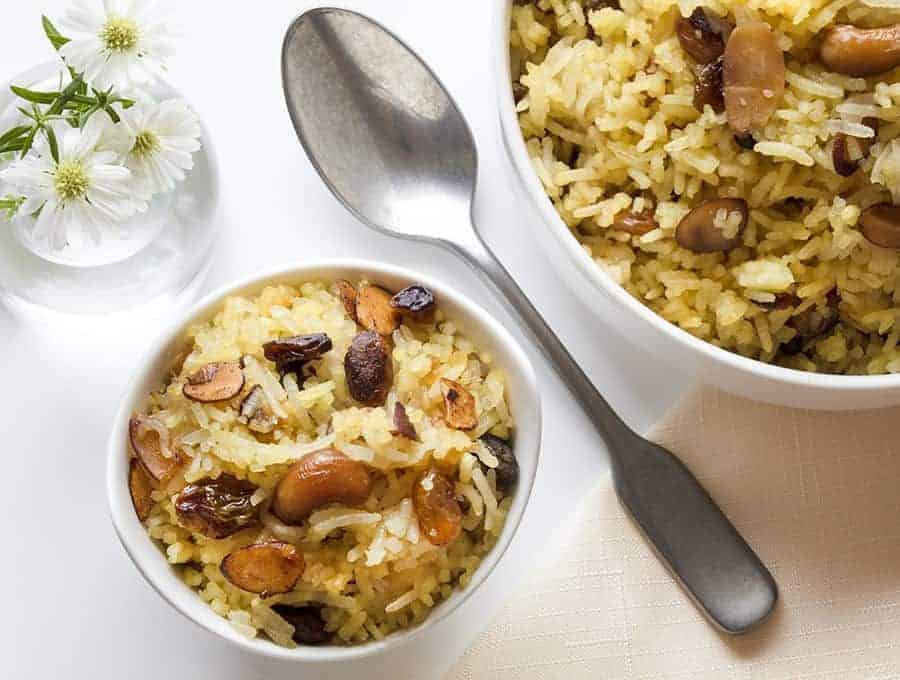 And during Ramadan, ghee, with its satiety factor during fasts, is very important in Haleem recipes.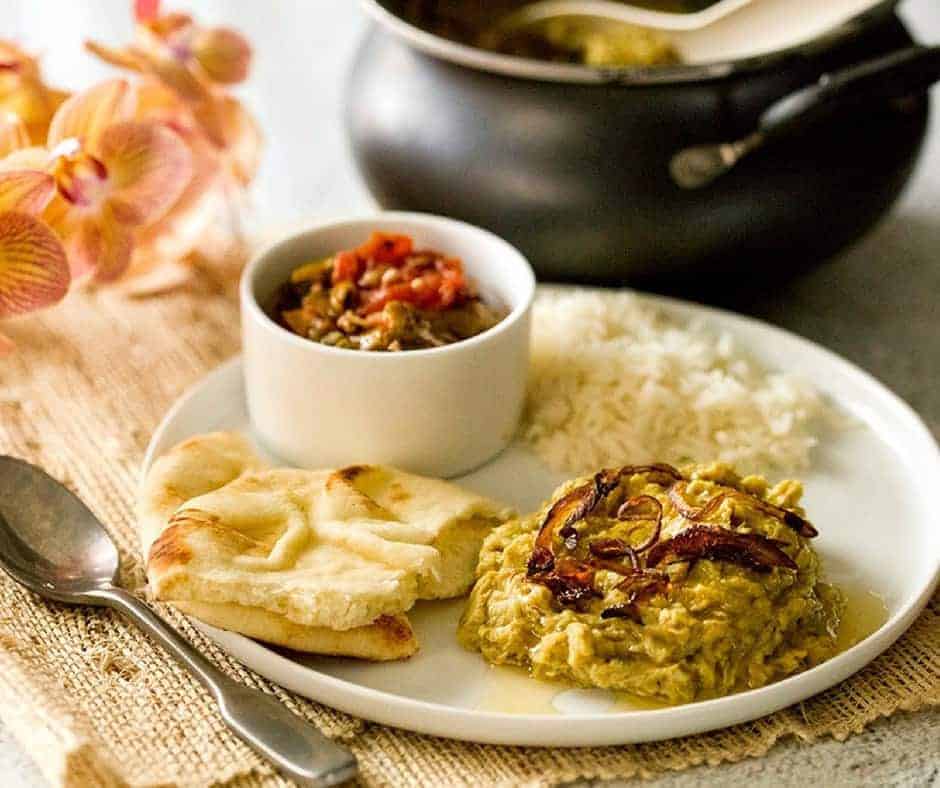 CAN I MAKE GHEE IN MY INSTANT POT?
Yes. But.
Why?
There's literally NO advantage to doing it in the Instant Pot. You'd use the Sauté setting.
You can't use a lid. You can't cook it under pressure since you want the water to evaporate.
So basically you're using sauté–and now you have a large pot to clean.
WHY?
Just use a small 1.5 to 2-quart pot, and you will be all set.
EQUIPMENT YOU MAY NEED TO MAKE YOUR GHEE
Here is what I use to make my ghee
This ghee offers something for everyone. Vegetarian, whole-30, paleo, keto, vegetarian, seafood diet or hey, even a See-food diet–ghee is good for everyone!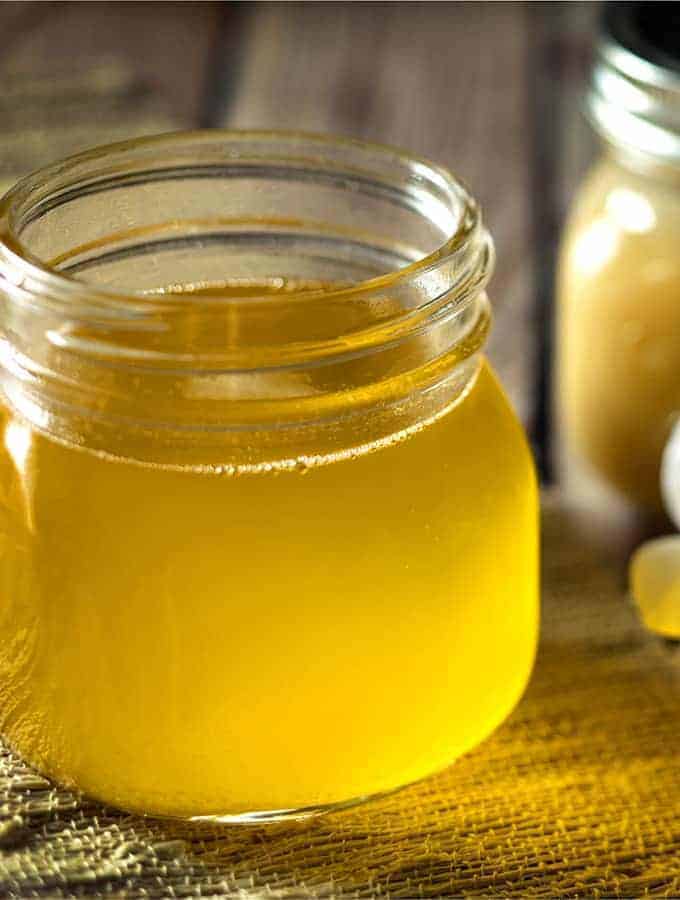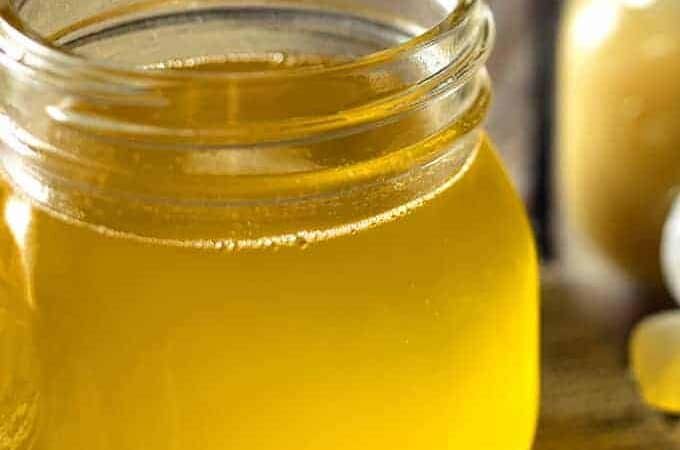 Click on highlighted ingredients or Equipment to see exactly what I use to make this recipe
Instructions
Place the pan on high heat and add the sticks of butter. Allow the butter to come to a boil.

Turn the heat down to where the butter is gently simmering and bubbling. Cook for another 10-15 minutes undisturbed.

Slowly you will see that the milk solids, rather than floating on the top of the pan, have started to sink to the bottom of the pan. The sound of the bubbling ghee will start to change. The bubbles on top get larger, and the sound is akin to popcorn popping

Once the milk solids have settled to the bottom and lightly browned, your ghee is ready.

Gather a strainer, a ladle, and heatproof jar. Slowly pour the ghee through the strainer into the jar. I prefer to use the ladle to do this with, to reduce the risk of spillage as well as to not suddenly add a bunch of hot fat to a glass jar.

Okay! You're done! See?? Wasn't that EASY?
Get support & connect with our community on Facebook!
Nutrition
Serving:
2
teaspoons
|
Calories:
135
kcal
|
Fat:
15
g
|
Saturated Fat:
9
g
|
Sodium:
2
mg
|
Potassium:
4
mg
Tried this recipe?
Follow @twosleevers and Pin it!