Perfect Punjabi-style Aloo Gobi from your pressure cooker or Instant Pot. Make this classic Indian vegan restaurant dish at home in minutes, without a lot of fuss.
INSTANT POT ALOO GOBI | PRESSURE COOKER INDIAN POTATOES AND CAULIFLOWER
Short Hindi Lesson folks. Aloo = potatoes, Gobi = Cauliflower. Now you know.
Aloo gobi is a pretty standard dish at most Indian Restaurants, but it's actually quite a staple for home cooking as well. I wanted to make this in an Instant Pot so that I didn't have to stand and babysit it.
The problem is that you need the potatoes and cauliflower to cook within the same time. My first attempt was tasty but a complete textural disaster.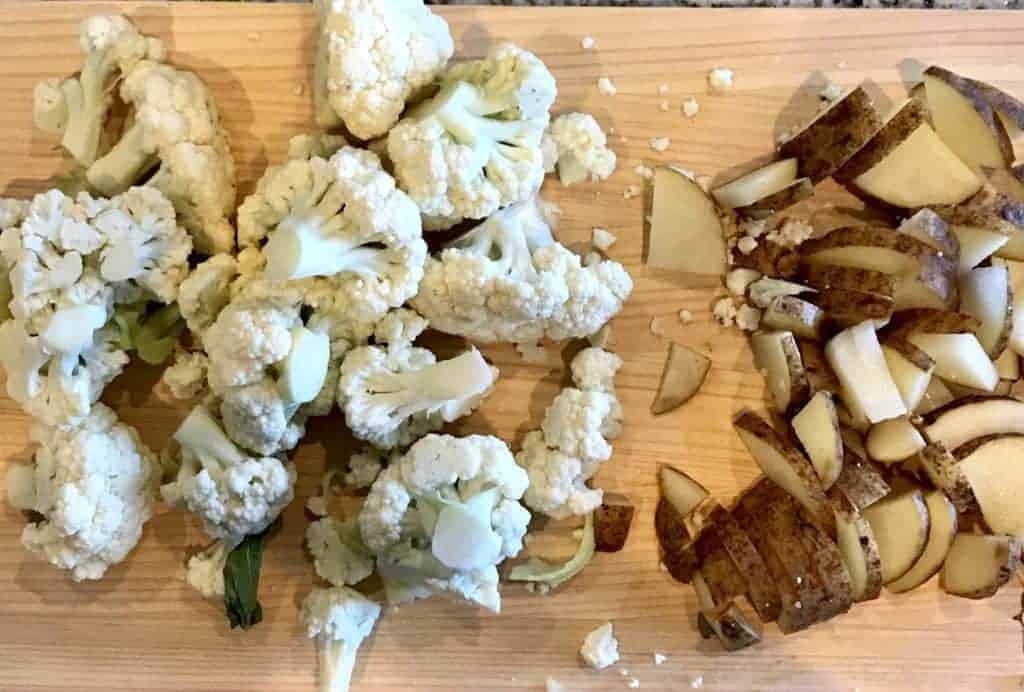 So this time, I did the obvious thing: cut the potatoes into thin slices so that they'd cook as quickly as the cauliflower did, but I also sautéed them in the pot a little longer, not only to pre-cook them but to also get some of the dark fond into the final product.
If you prefer firmer cauliflower, I'd leave the cauliflower into even larger pieces since it does tend to cook very quickly.
USING CAULIFLOWER STALKS IN YOUR ALOO GOBI | WHAT IS DANTHAL?
In the picture below, you see some green things and I'm sure you're wondering what that those are. Well, in India, the stalks around the cauliflower are considered yummy eating, and are called danthal.
Sometimes at the bazaar, you can get just danthal and my mom used to love those. They're actually full of flavor.
So what you do is you take the outer stalks off, strip them of their leaves, and then cut them up into pieces.
Since they're a little tougher than the cauliflower, I put them in to cook with the potatoes.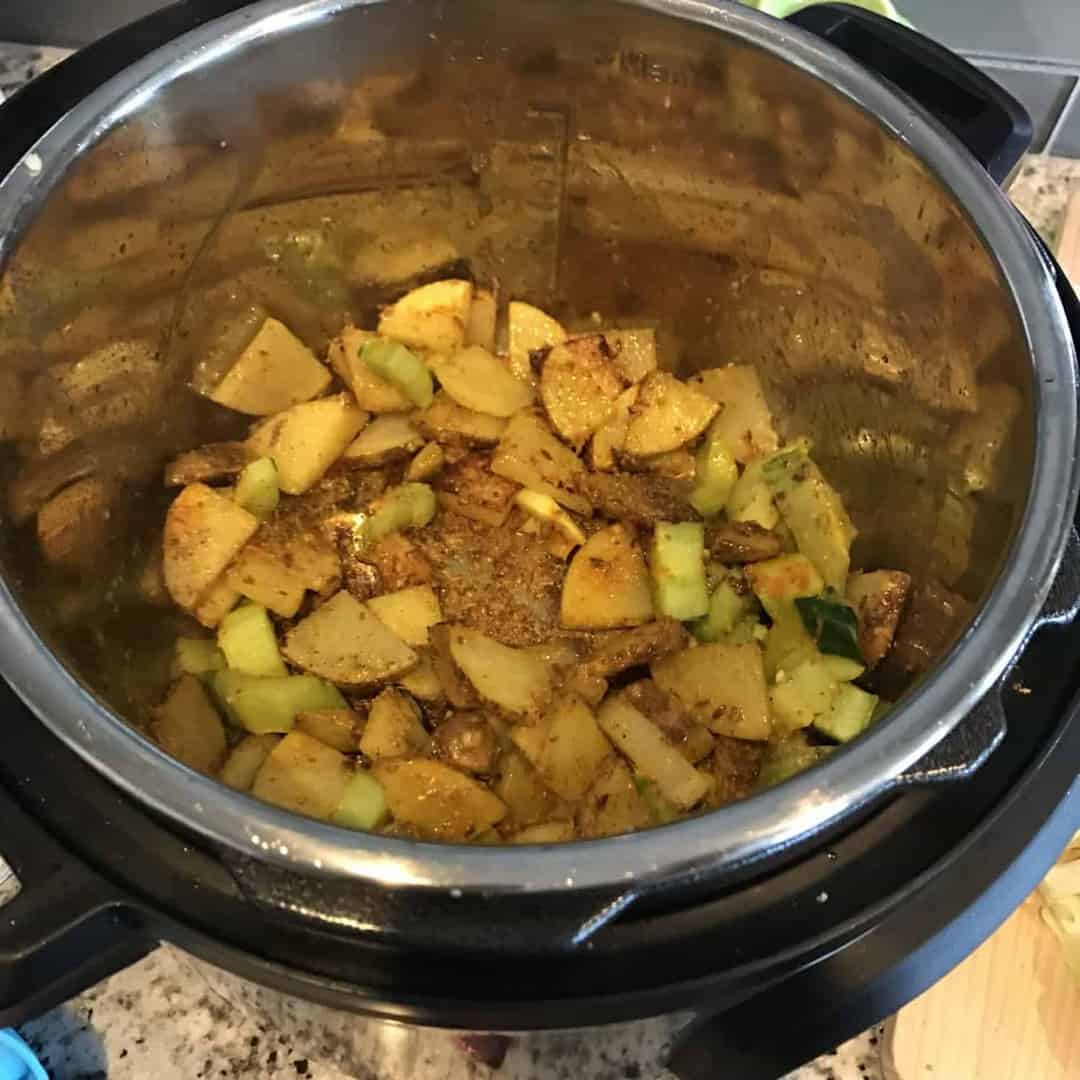 USE THE LOW PRESSURE SETTING ON THE INSTANT POT
I cooked this on low pressure which not all Instant Pots have. If yours doesn't have a low pressure setting, try setting it for 0 mins pressure and doing a quick pressure release.
If you're low-carbing, leave out the potatoes and just have the cauliflower. Still very tasty.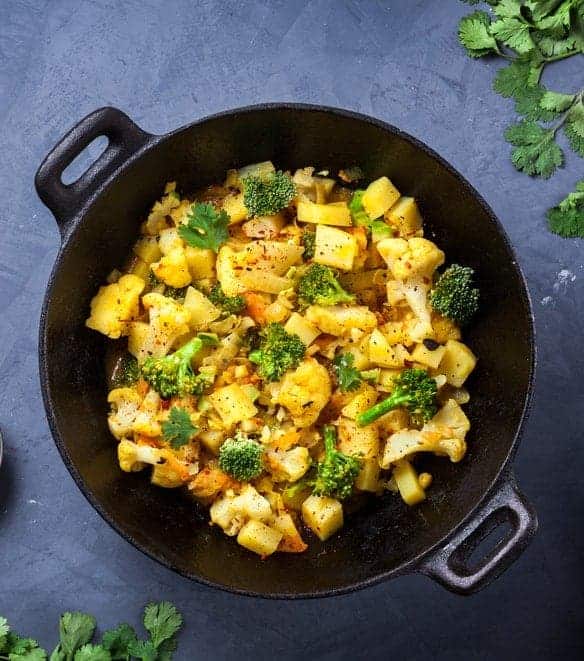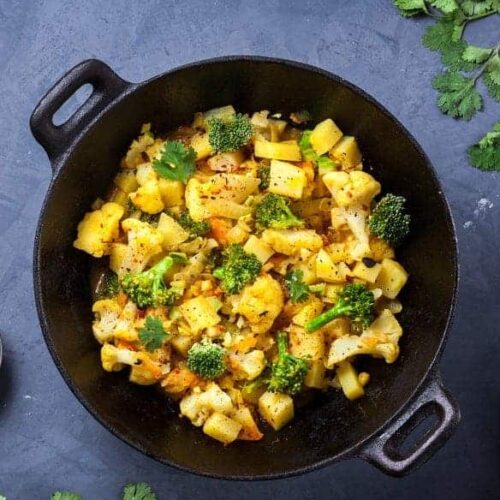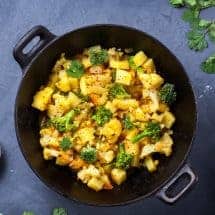 Aloo Gobi Potatoes and Cauliflower
Perfect Punjabi-style Aloo Gobi from your pressure cooker or Instant Pot. Make this classic Indian vegan restaurant dish at home in minutes, without a lot of fuss.
Dietary Consideration:
Dairy-Free, Egg-Free, Gluten-Free, Low Sugar, Nut-Free, Soy-Free, Vegan, Vegetarian
Cooking Style:
Instant Pot/Pressure Cooker
Ease of Cooking:
Under 30 Mins
Recipe Type:
Vegetable Side Dishes
Instructions
Heat the Instant Pot and when it's hot, add the oil, and when the oil shimmers, add the cumin seeds. They'll splutter like popcorn.

Once this happens, add in the potatoes and sauté. You want the potatoes to brown and crisp a little, and you want good, brown fond at the bottom to flavor the final dish.

At this point, add the spices and sauté briefly.

Then add in the tomatoes and the water and scrape up all the lovely fond at the bottom. Make sure you get all the brown bits scraped off since if you don't, you will see the BURN message. If all the water evaporates as you do this, add in another 1/4 cup of water.

Add in the cauliflower and set your Instant Pot to Low Pressure for 2 minutes.

Quick release the pressure and garnish with chopped cilantro, if needed.

If you have an 8 quart, you may need to double the recipe so as to not ge the BURN message.
Recipe Notes
For a low carb version, omit potatoes and double up on the caulilflower. In this case, you can just place all ingredients into the pressure cooker at the same time and cook as directed--no need to brown the potatoes (what potatoes? 🙂 ) 
Nutrition facts per serving
84kcal | Fat: 2g | Sodium: 416mg | Potassium: 523mg | Carbohydrates: 12g | Fiber: 3g | Sugar: 1g | Protein: 3g | Vitamin A: 140% | Vitamin C: 41.8% | Calcium: 39% | Iron: 2.9%
I am not a registered dietician or nutritionist. Nutritional information is provided a courtesy, and can vary depending on the exact ingredients you use.