I wanted to try my luck with creating a cauliflower recipe, and I ended up creating a Baked Cauliflower with Cheese. This ooey, gooey, low-carb cauliflower dish will have you begging for more!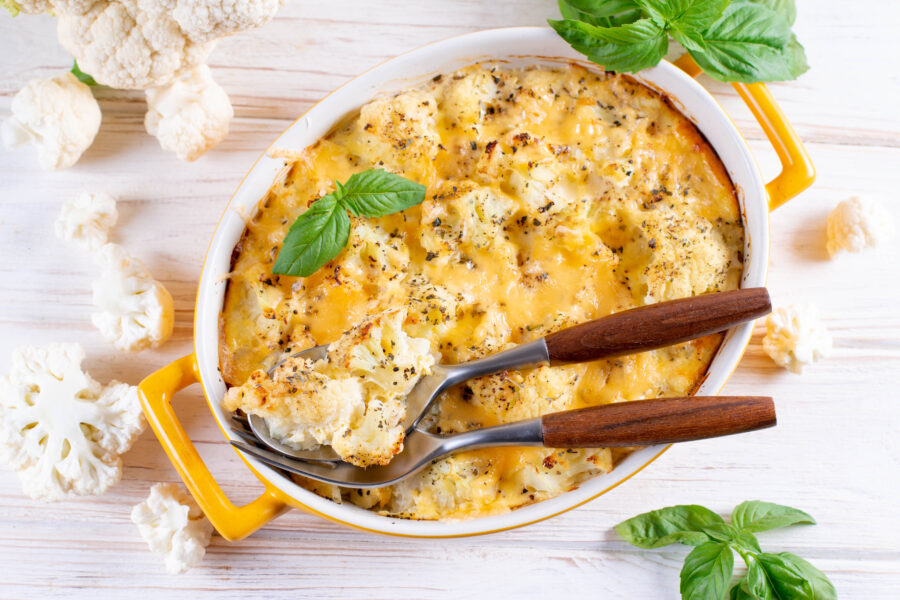 Jump to:
Why You'll Love This Recipe
Ingredients You'll Need
Do You Have To Use Riced Cauliflower?
Absolutely not! I prefer it if you're wanting that feels more like loaded baked potatoes or creamy macaroni and cheese. However, if you're a veggie lover or are short on time, using cauliflower florets is just as tasty.
How To Make Riced Cauliflower Casserole
I miss cheesy, ooey-gooey things, filled with soft, comforting pasta. I've been seeing all these wonderful cauliflower recipes about and so many of them have been picked up, modified, posted, etc. that I'm not even sure to whom I should be giving credit for this recipe because I've read so many of them. But I sort of winged the proportions as I always do, and this is what I ended up with.
But first, a note about ricing cauliflower. I've seen lots of recipes for "cauliflower rice". I miss my rice so I thought I'd try this. Well, it ain't rice, but it will do in a pinch.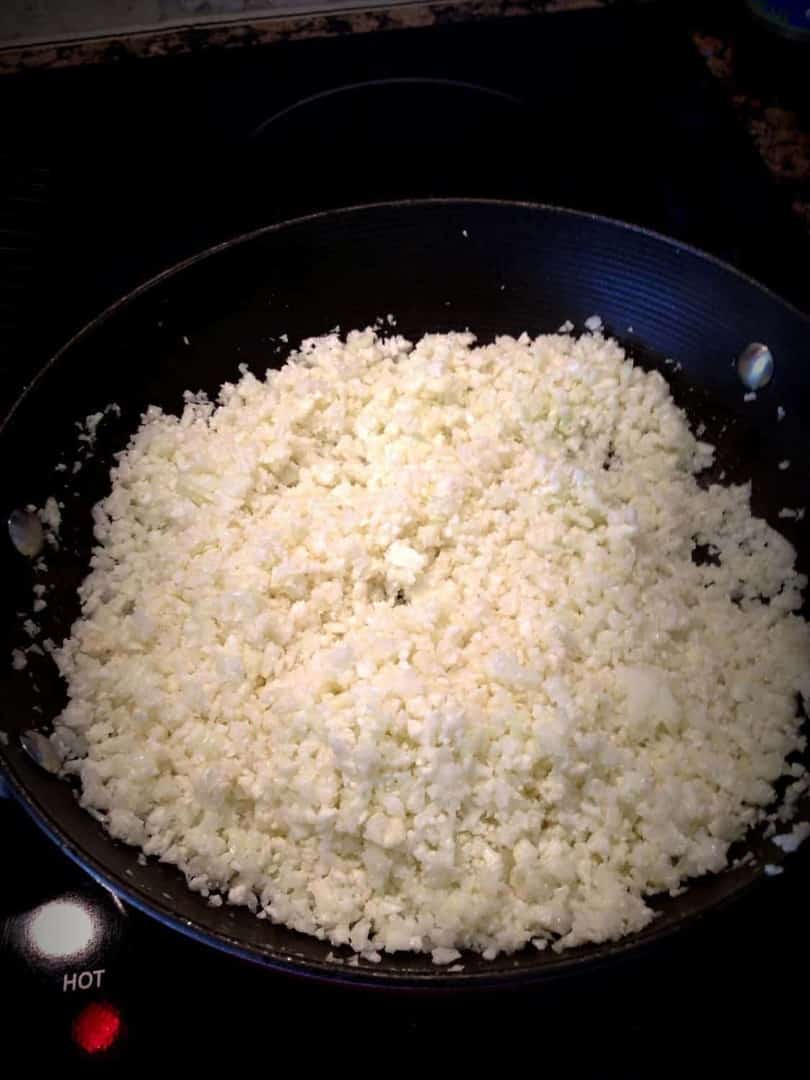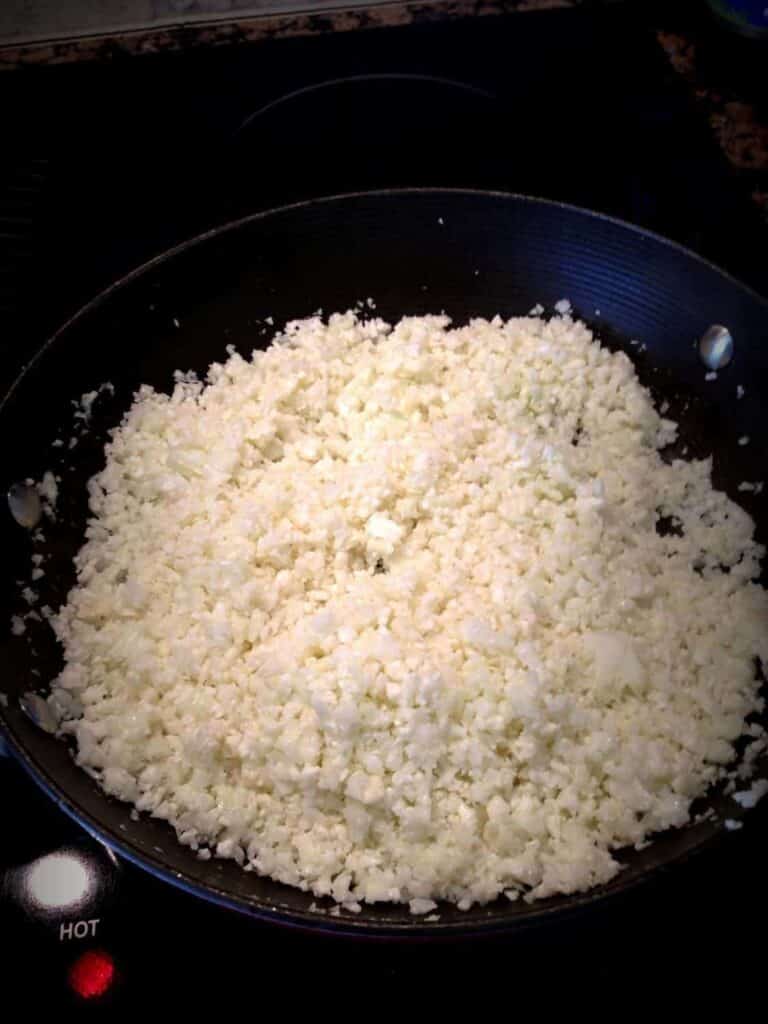 So here's the best way to rice the cauliflower for the cauliflower casserole. First, Put the florets in a blender with plenty of water, and pulse it a few times until the cauliflower is all chopped up. Then get a large strainer, and pour the mixture through it and drain thoroughly, and voila! You're left with even and small riced bits of cauliflower.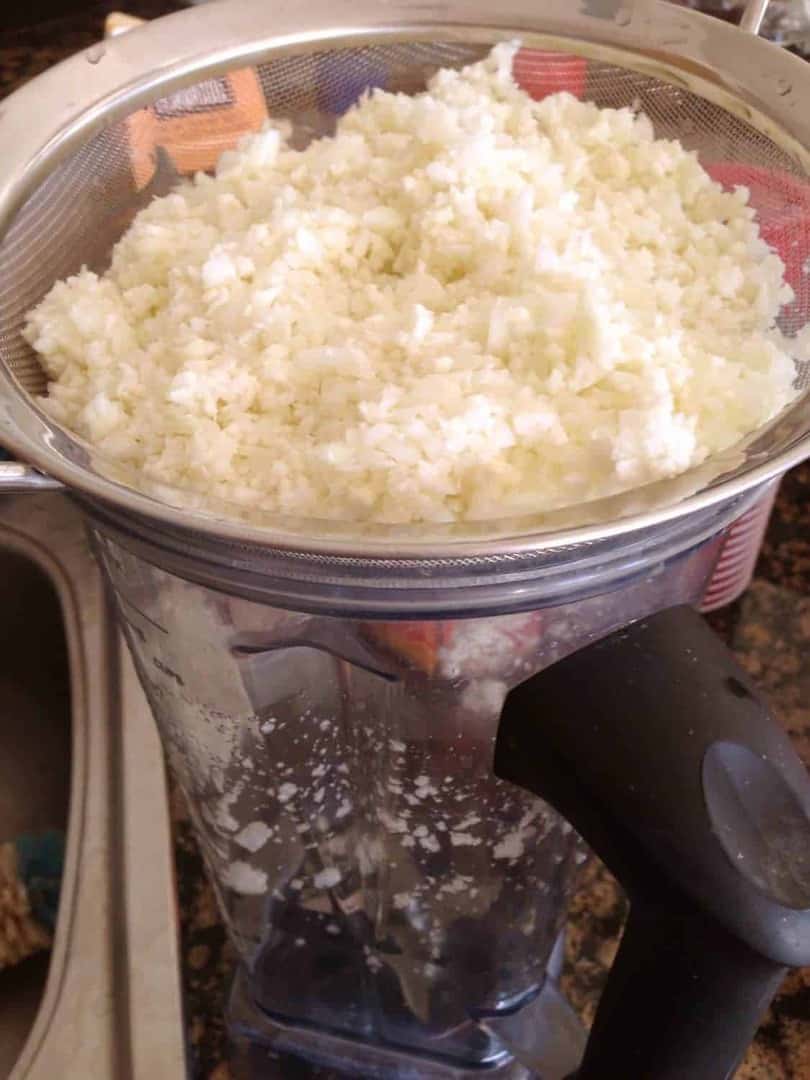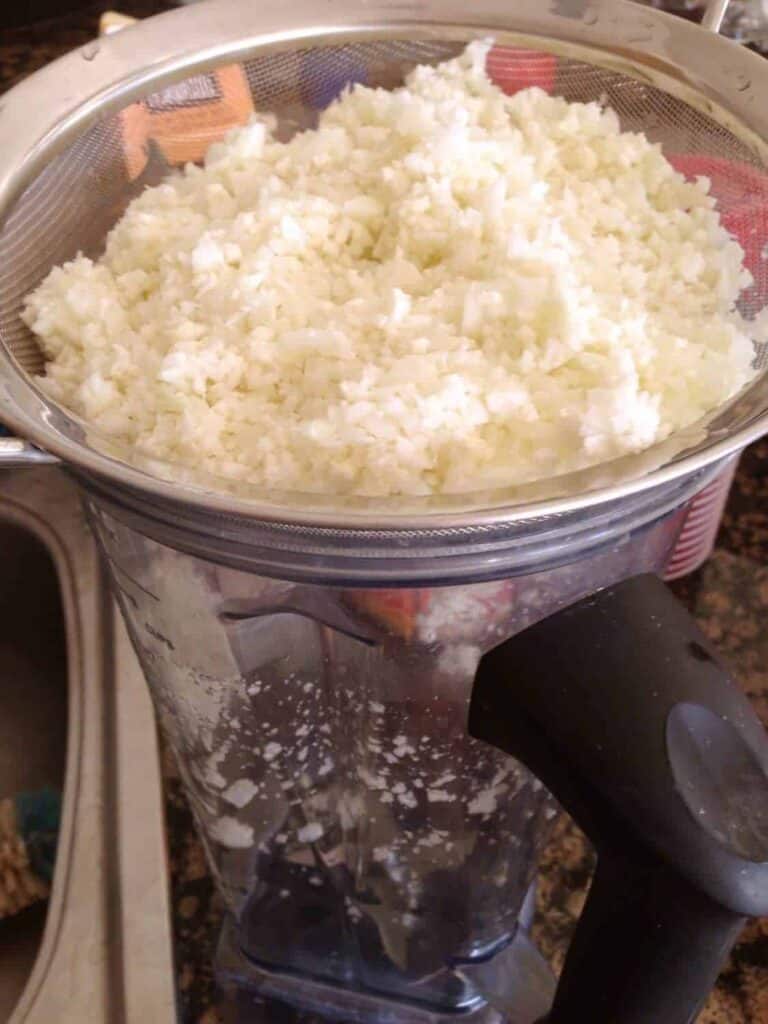 For this low carb side dish, I used a half head of cauliflower. I made Roasted Cauliflower with the other half. First I went ahead and cooked all of it in a pan with some ghee, salt, pepper, and water. Then I removed 1.5 cups to make this recipe and mixed the leftover with cilantro and lime juice to get a "rice" out of it like the picture below.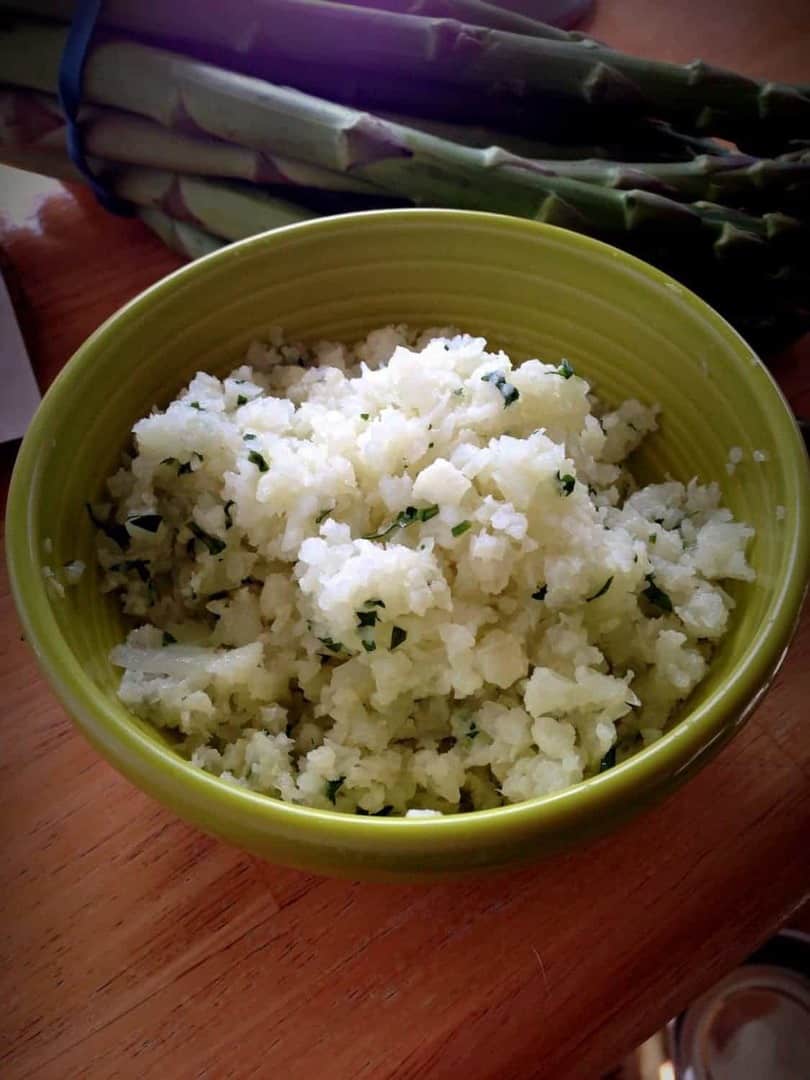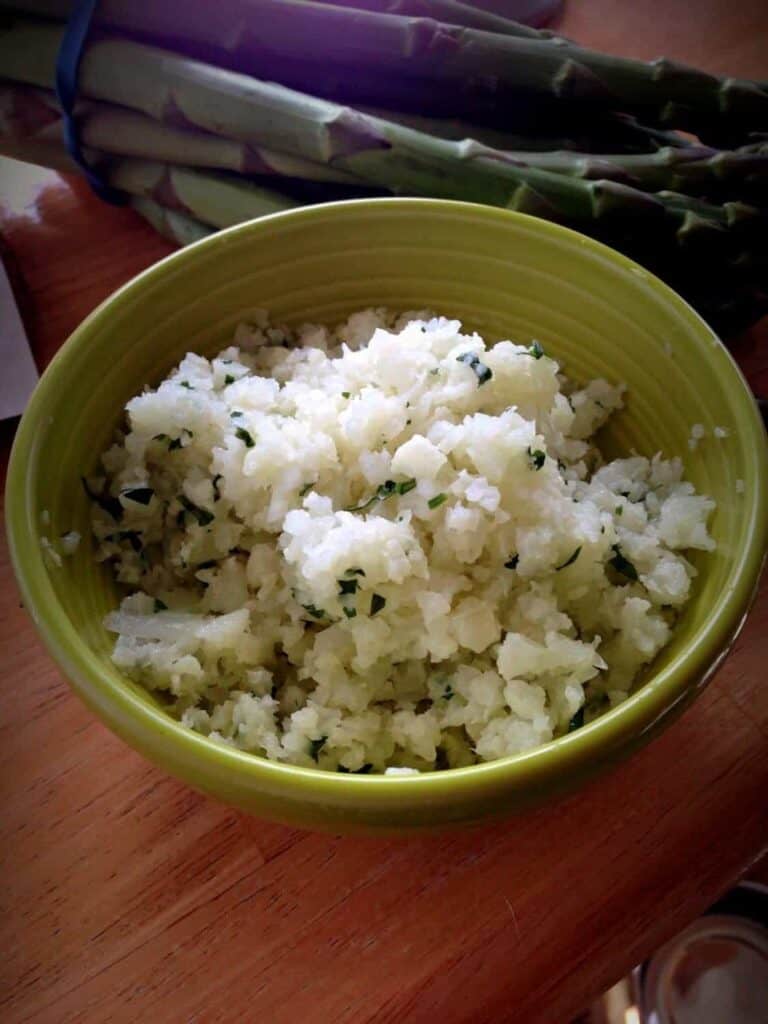 It's a keto-friendly recipe because of the high-fat content. It's also very kid-friendly but you do have to eat it hot. Tasted cold it's meh, but when it's hot and cheesy, it's quite wonderful.
How Long Does It Last?
For best results, try to enjoy this cauliflower casserole within 3-4 days of baking it. It will stay safe to eat for up to 5 days, but the texture of the cauliflower will begin to change and the flavor will become more pungent the longer it stays in the refrigerator.
What To Serve It With
Honestly, next to everything is tasty with this low carb dish. The flavor is mild, but tasty and the texture can double as pasta or rice if you're eating low carb.
Here are some of my favorite things to pair this cheesy cauliflower with:
More Low Carb Side Dishes
If you're living a low carb lifestyle and want a little more variety in your dinner routine, try some of my other popular low carb recipes: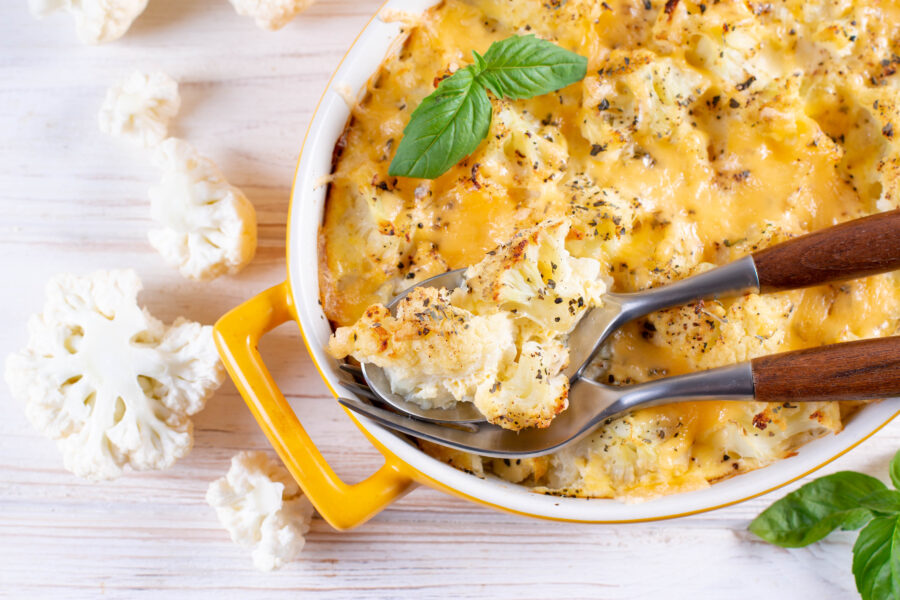 If you love this Baked Cauliflower recipe as much as we do, make sure you share it with your friends on Facebook and Instagram. Don't forget to Pin it so you can make it again soon!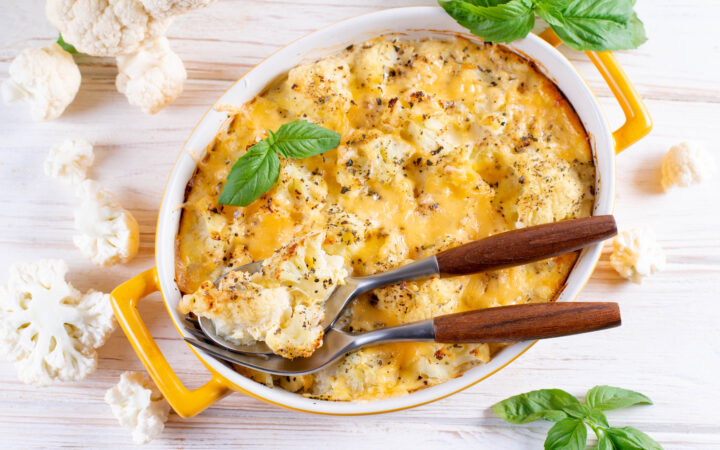 Click on highlighted ingredients or Equipment to see exactly what I use to make this recipe
Instructions
Cook riced cauliflower along with the ghee, salt and pepper and scant 1/3 cup water until the cauliflower is soft.

Pour the cooked cauliflower into a small glass pan and mix in all the other ingredients except 2 tablespoons of grated cheese.

Use this to top off the casserole.

Bake in a 350 oven for 25 mins until the cheese is melted and the sides have browned.
The best way to rice cauliflower is to break it up into florets and put into a blender with plenty of water. Pulse it a few times until the cauliflower is uniformly riced, being careful not to overdo this. The goal isn't to get a cauliflower smoothie here.
Get support & connect with our community on Facebook!
Nutrition
Calories:
82
kcal
|
Carbohydrates:
2
g
|
Protein:
2
g
|
Fat:
7
g
Tried this recipe?
Follow @twosleevers and Pin it!
Don't forget to check out my other Keto cookbooks.
Keto Instant Pot, Keto Fat Bombs, Sweets, & Treats, and Easy keto in 30 minutes.