Love the taste of brussels sprouts but hate heating up your kitchen to get a tasty side dish? Try these Air Fryer Brussel Sprouts for a tasty low-carb dish to accompany your favorite protein!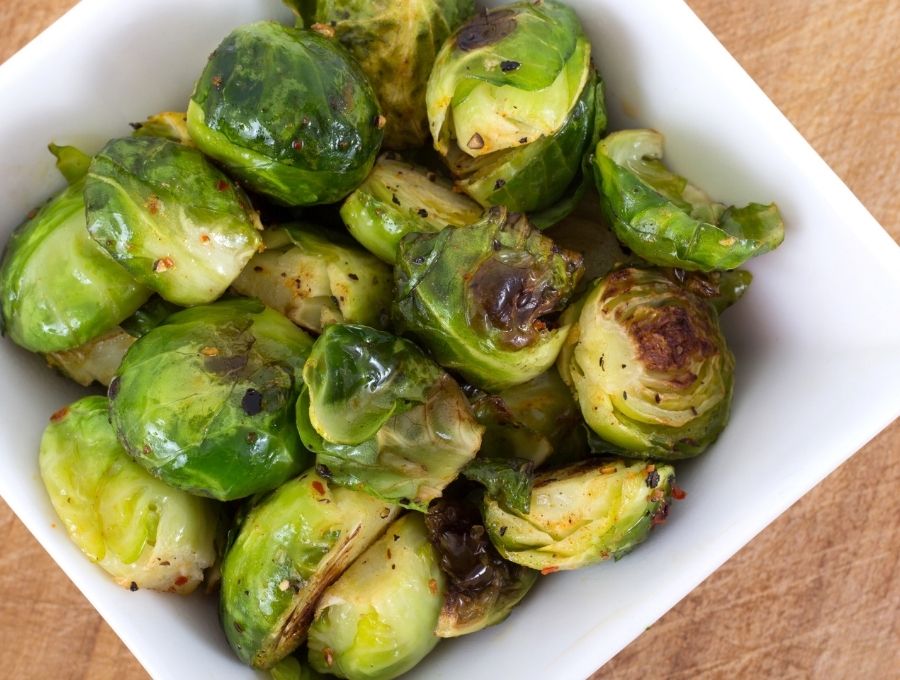 Jump to:
Unless you've been living under a rock, you know how popular Brussels Sprouts are for a low carb lifestyle! Not only are they great for increasing your fiber intake and keeping carbs low, they're also incredibly delicious and easy to make!
For a quick alternative to heating up your oven and dirtying a baking sheet, fire up your air fryer for a weeknight side dish in a flash!
Why Air Fryer Brussel Sprouts Are A Great Alternative to Roasting
Fast. Ready in under 30 minutes from start to finish.
Easy. Wash your veggies, toss them in oil and pop in your air fryer.
Versaitle. Add other veggies, proteins, or seasonings to fit your desired flavor profile.
Is It Brussel Sprouts or Brussels Sprouts?
The more popular way to say it is brussel, as it rolls off of the tongue a little easier.
However, that's not the correct way to say or spell it. This tasty little veggie is technically called a Brussels Sprout.
What You Need To Make Air Fryer Brussels Sprouts
The beauty of this low carb side dish is how easy it is to make how few ingredients you need to make a tasty addition to any meal.
Here's what you'll need for the perfect Keto accompaniment:
An air fryer (obviously).
An oil sprayer or a mixing bowl to toss your veggies in
Brussels Sprouts
Seasoning to taste
Do You Need To Soak Brussel Sprouts Before Cooking?
Do you HAVE to? Absolutely not. They're just as tasty without trimming or soaking. However, if you want them to cook quickly, trimming the stems and letting them soak for 20-30 minutes before you roast them in your air fryer is great to speed up the process.
If you want the cooking times I've listed below to work, I would suggest soaking them before cooking.
Do You Have To Preheat An Air Fryer?
If you are familiar with Twosleevers recipes, you know that we're a sucker for efficient cooking! Why preheat your air fryer when you can just toss in your dish and let it cook?
The cooking time for these Air Fryer Brussel Sprouts doesn't include time to preheat your air fryer because -- who has time for that?!
How To Make Air Fryer Brussel Sprouts
Wash your Brussels Sprouts thoroughly
Toss them in desired seasoning and little bit of oil or butter
Place them in your air fryer basket or tray
Cook for 15 minutes at 375F
Sprinkle with finishing salt and enjoy!
What Do You Eat With Brussels Sprouts?
Maybe the more appropriate question is what CAN'T you eat with Brussels Sprouts? They're so versatile and they fit with so many different lifestyles. You can make them low carb. You can enjoy them as a Vegetarian or Vegan dish. They're great for gluten-free or dairy-free diets.
Here are a few of my favorite things that pair extremely well with Air Fryer Brussel Sprouts:
How Do You Make Brussel Sprouts Less Gassy?
The secret to keeping brussels sprouts from being stinky is to make sure you don't overcook them.
The strong smell many people associate with cabbage and brussels sprouts is due to hydrogen sulfide. The good news is that you can only smell that rotten eggs smell if the sprouts have been overcooked.
Have more questions about cooking all varieties of cabbage?
Check out my article on How To Cook Cabbage for some tips, tricks, and even some amazing cabbage recipes!
How Long Do They Last?
For the best air fryer brussels sprouts, it's best to eat them when they're freshly made. With life being hectic, I know that's not always an option.
If you can't eat these straight out of the air fryer, it's best to enjoy them within a day or two after roasting for the best taste and texture.
More Low Carb Recipes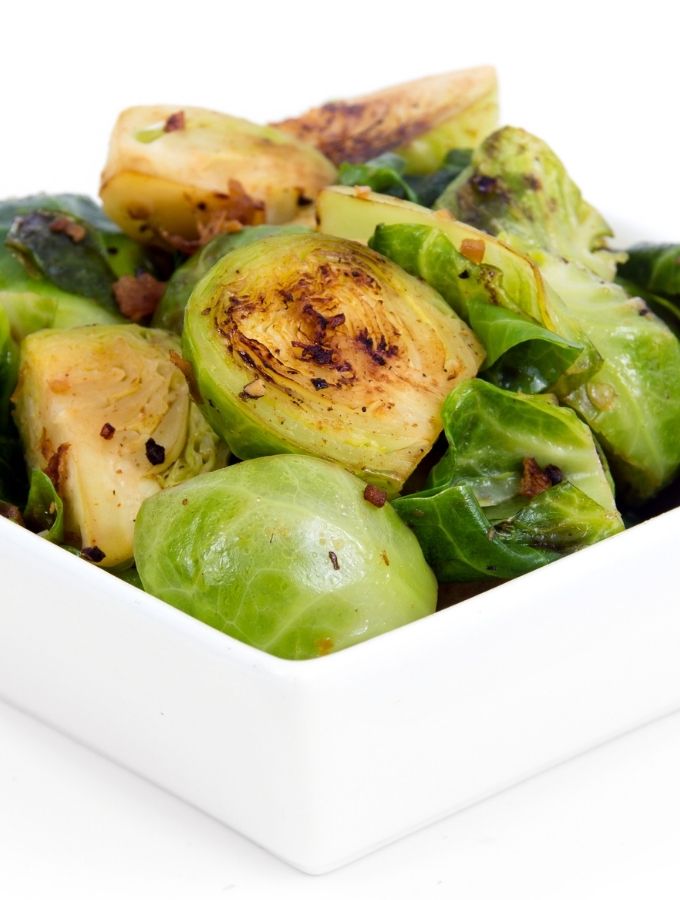 If you love these Air Fryer Brussel Sprouts as much as we do make sure you share this with your friends on Facebook or Pinterest so they can try them too!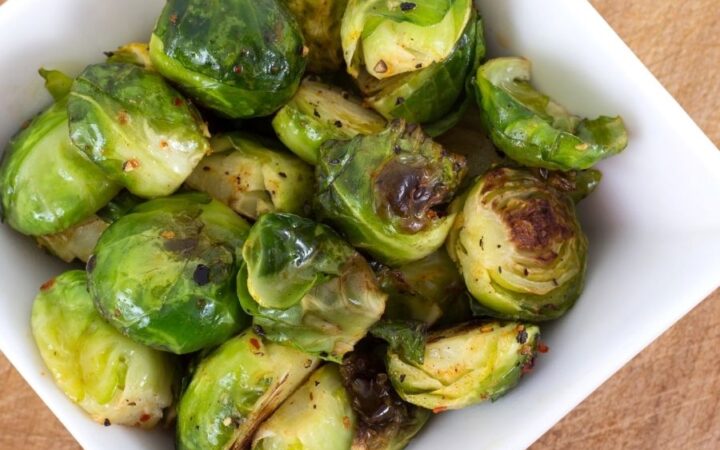 Click on highlighted ingredients or Equipment to see exactly what I use to make this recipe
Instructions
Wash your Brussels Sprouts thoroughly

Toss them in desired spices and little bit of oil or butter

Place them in your air fryer basket or tray

Cook for 15 minutes at 375F

Sprinkle with finishing salt and enjoy!
Get support & connect with our community on Facebook!
Nutrition
Calories:
113
kcal
|
Carbohydrates:
11
g
|
Protein:
4
g
|
Fat:
7
g
|
Fiber:
4
g
|
Sugar:
3
g
Tried this recipe?
Follow @twosleevers and Pin it!
Don't forget to check out my other Keto cookbooks.
Keto Instant Pot, Keto Fat Bombs, Sweets, & Treats, and Easy keto in 30 minutes.