If you think cabbages are only for coleslaw, I want to share how to cook easy cabbage recipes you'll enjoy. Whether fried, braised, boiled, stir-fried, or raw, there are so many ways to enjoy cabbage. Once you learn how to cook cabbage perfectly, a quick meal will never be far from hand.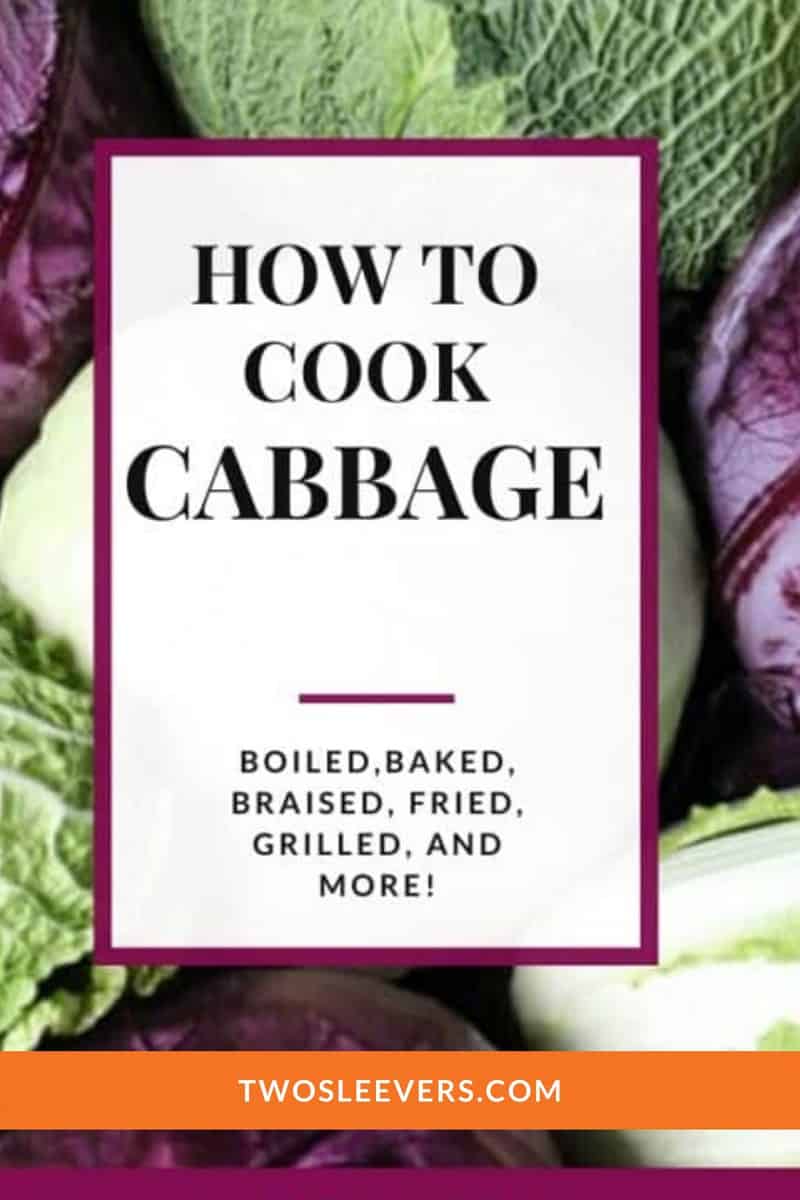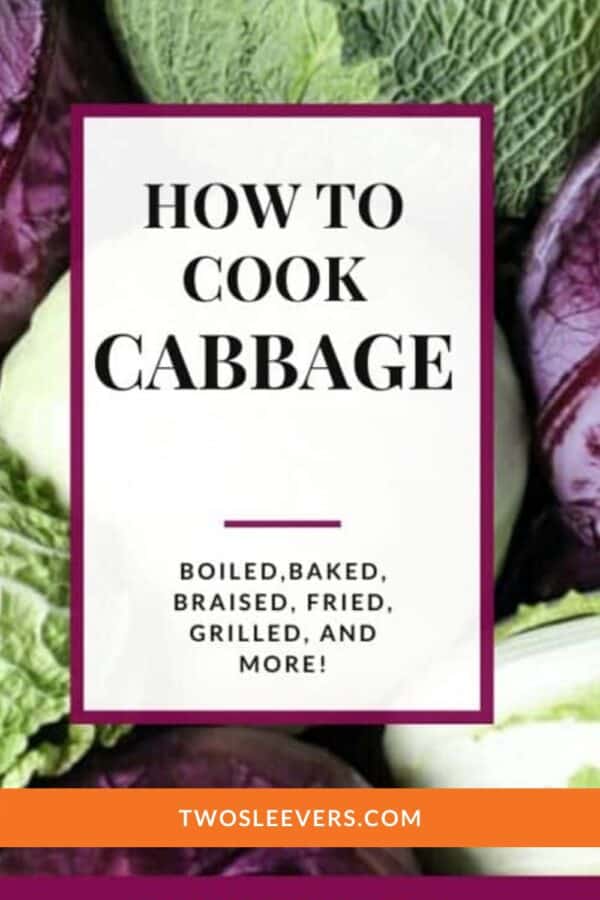 Of Cabbages and Kings
I don't know how many kings ate cabbage (or queens for that matter) but I do know that for the price of an inexpensive cabbage, it is indeed possible to eat like royalty.
And yes I did just bake in an O. Henry reference, (bake in, har har sorry!) who used to be one of my favorite authors when I was 10. Yes, I was weird and read books meant for adults for a very young age.
So let's talk how different types of cabbages. We use that term as though it referred to one vegetable, but in fact, cabbages are part of the brassica family that includes Brussel sprouts, cauliflower, broccoli and even kale. Here are some common varieties.
While there are hundreds of varieties of cabbage in the world, here are the five most common varieties that are widely available in American grocery stores. (Leave me a comment to tell me which cabbage varieties are common in your country!)
Different Varieties of Cabbage
Green cabbage. The most commonly found variety, a good green cabbage is smooth, heavy, with tightly packed leaves, and no splits or cracks in it. It looks a lot like iceberg lettuce but is much heavier. The slightly peppery leaves hold up well to cooking.
Red Cabbage. Also known as Purple cabbage, these have colorful shiny firm leaves. Red cabbage is most often braised but can also be eaten raw in salads.
Savoy Cabbage. These are the dark green and white cabbages with crinkled, veiny leaves. Savory cabbage tends to be a little sweeter than the others, and is most often stir-fried. The leaves are more pliable than other cabbage leaves, making them perfect for dishes such as cabbage rolls.
Napa Cabbage. Lighter green, frilly, loosely packed leaves make this a perfect cabbage for eating raw or using in quick stir-fries. This is also sometimes referred to as Chinese cabbage.
Bok choy. Without a doubt my favorite variety of cabbage, it is also referred to as bok choy, bai cai or pak choi , or pokchoy. All these are words that mean delicious! You can get full grown bok choy or baby bok choy. These are the least "cabbage tasting" of the cabbages listed above, but have a wonderful sweet and tender flavor that makes them perfect for stir-fries or quick braises in soups.
I know Brussels Sprouts look like little baby cabbages, but Brussels sprouts are not cabbages--they're just in the same Brassica family I spoke of earlier.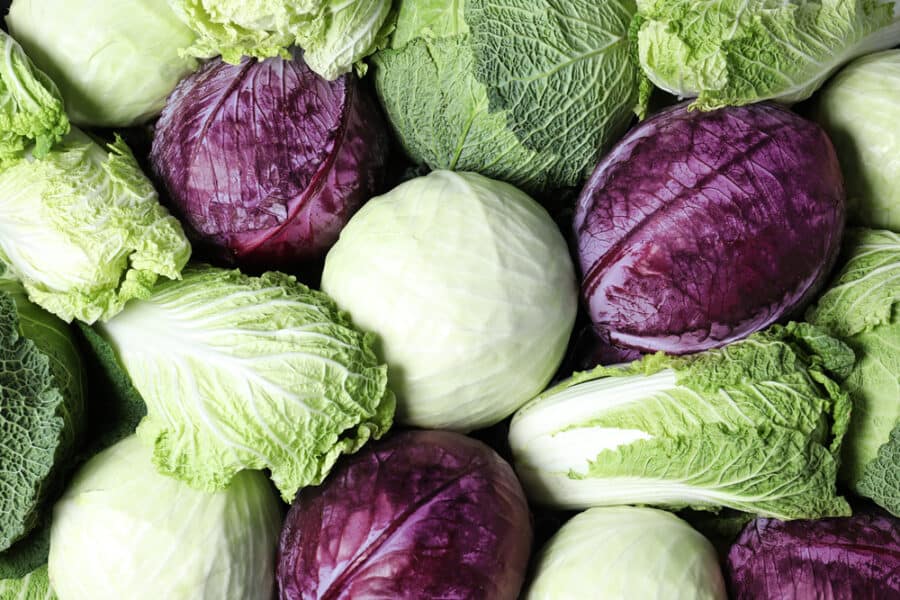 How To Cut Cabbage
Wash the cabbage head and discard any loose outer leaves that are either wilted or dirty.
Whole or Part. Decide if you will be using the whole cabbage or a portion of it. If the latter, you may want to pluck off leaves from the outside of the cabbage to keep from cutting into the cabbage. I must admit I never do this, I just cut off a hunk of it, but YOU could 🙂 Luckily cabbages keep very well, and there are so many easy cabbage recipes to make that you can use this one head of cabbage in a variety of cabbage side dishes.
Remove the core. There's a hard, tough core in the middle of green and red cabbages. And if you're unfamiliar with it, you may wonder how to core cabbage. Cut the cabbage into quarters, and then use your knife to cut out the core, and either compost or discard. These cabbage wedges make easy serving sizes at the dinner table as well.
Chop or shred. You can either chop with your knife, use a mandolin to get thin shreds, use your food processor with the shredder attachment, or use this salad shooter which is my favorite, to get shredded cabbage quickly.
Cook. Now you are ready to cook cabbage in a variety of different ways. Whether you will be cooking the cabbages in bacon grease, braising lightly with vegetable broth or chicken broth, adding a few onions to make simple cabbage and onions, putting into corned beef and cabbage, flavoring with soy sauce, lemon juice, or apple cider vinegar, or just adding butter, salt, and pepper,
How To Cook Cabbage
There are many different ways to cook cabbage even without a recipe. Here are some of the most common ways to make cooked cabbage. Steamed Cabbage: Place shredded or chopped cabbage in a steamer or a perforated silicone basket, and steam for about 5-8 minutes until tender.
Boiled Cabbage
So how long to boil cabbage? It depends on how small you chop the pieces. If you're trying to boil a whole, uncut cabbage—don't. As a result, by the time the inner leaves cook, the outer leaves will be grossly overdone. I suggest this:
Chop the cabbage into 2-inch thick pieces.
Place it into boiling liquid (water or broth)
Boil. The cabbage will tender in 2-3 minutes.
Drain like you would pasta, add a little butter, salt, and pepper.
You will be amazed at how wonderful this simple cabbage side dish can taste.
Braised Cabbage
Here are the keys to making it braised cabbage dishes great:
Use very little liquid.
Choose a pan with a very tight-fitting lid.
A low and steady flame.
This allows the cabbage to release its own juices, and cook gently in a very flavorful, natural broth.
I absolutely LOVE braising cabbage in milk, but most people use water or broth. The milk version is much milder, the milk separates a little, and the resultant dish is pure heaven.
Fried Cabbage
This can be a bit of a misnomer as you're not deep-frying cabbage. If you're asking how to fry cabbage, you're really thinking of how to make sauteed cabbage. These are really more sautéed cabbage recipes rather than fried cabbage per se. I digress. Here's how:
Cut cabbage into thick shreds.
Pan fry in olive oil, butter, or bacon fat.
Saute for 3-5 minutes after coated with the oil, butter, or fat of choice.
Just be sure to use a large skillet for this so you don't end up steaming the cabbage.
Slow Cooker Cabbage
This is a tricky one. On the one hand, you can get amazing tender cabbage in a slow cooker. On the other hand, if you let it overcook, your house will smell of cabbage for days.
I suggest you make slow cooker cabbage if you will be home, and able to turn off the slow cooker within 3-4 hours or right as the cabbage is tender.
Baked Cabbage
To bake cabbage in the oven:
Cut the cabbage into large wedges.
Put the wedges in a tray, pour in oil, salt, and black pepper.
Cook at 350F for 30 minutes.
Turn the wedges halfway through.
You may also choose to broil for the last few minutes if you want caramelized cabbage wedges.
Add a sprinkle of lemon juice at the end and serve.
Grilled Cabbage
You can make cabbage on the grill two ways:
Wrapped In Foil
Cut cabbage into wedges.
Season the wedges.
Wrap in foil.
Place on the grill for 20-30 minutes or until tender.
Directly On The Grill
Cut cabbage into wedges.
Season cabbage and brush with butter or bacon grease.
Grill for 20-30 minutes or until tender.
In my experience, this can yield uneven results, but YMMV.
Is Cabbage Keto Friendly?
Yes it is. A fourth of a medium head of cabbage—which is probably more than you'd eat in one sitting—has about 9 grams of net carbs (16 oz total carbs). With about 5 grams of fiber in that much cabbage, it also tends to be very filling which means it's hard to overeat cabbage.
You can calculate macros for a keto diet here.
FAQs: Questions About How To Cook Cabbage
Will Cabbage cook down?
Yes indeed it will. Expect it to cook down to about half the volume of raw cabbage.
How much is 1 serving of cabbage?
About 1 cup cooked
Can I freeze cabbage?
Cooked cabbage doesn't freeze very well, unless it was already well-braised. But tender crisp cabbage doesn't hold up to freezing.
Can I reheat cooked cabbage?
Yes. However, it will likely overcook a little. I do it all the time, but it's not crisp afterward.
How many cups of cabbage in a 16 oz bag of shredded cabbage?
About 6-7 cups
Is cabbage Keto Friendly?
Yes, ¼ of a head of cabbage has only 9 gms of net carbs—and that's a lot of cabbage.
How to keep cabbage from causing stomach distress?
Add carminative spices such as caraway seeds, Dill seeds, coriander seeds or fennel seed to the cabbage as it is cooking. You can also add dill, sage, marjoram, and basil, or whole cloves. Ginger and garlic are also considered carminative.
Can you make Instant pot Cabbage?
If you're wondering how to cook cabbage in your pressure cooker there are a few tricks to getting instant pot cabbage to be tasty. 1. Do not cook for longer than a minute or two under pressure. 2. Use large pieces of cabbage. 3. Try pot-in-pot cooking.
Why does cabbage smell bad when cooking?

Because it's been overcooked. Seriously that's the only reason why. When cooked properly there should be no lingering cabbage smell in your house. The strong smell many people associate with cabbage is due to hydrogen sulfide. But the good news is that you can only smell that rotten eggs like smell if the cabbage has been overcooked, or allowed to braise for too long. If you want to braise cabbage, I suggest you try an Instant Pot Cabbage recipe instead, to contain the odors in a closed environment.
Best Cabbage Recipes |Easy Cabbage Recipes
Easy Cabbage Side Dish Recipes
Cabbage Soup Recipes
Cabbage Main Dish Recipes
Easy Bok Choy Recipes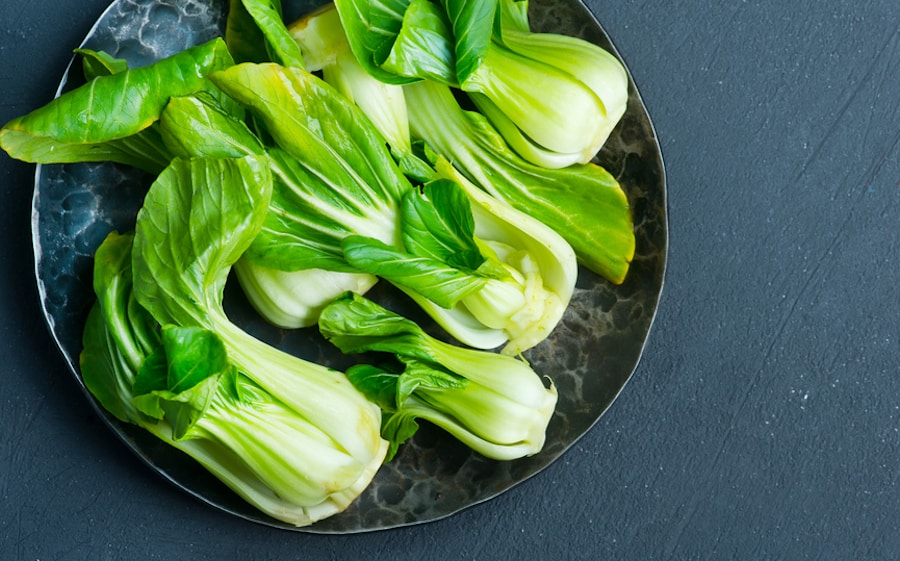 So whether you want to make coleslaw, fried cabbage, braised cabbage, German red cabbage, boiled cabbage, stir fry cabbage, red cabbage or bok choy, southern fried cabbage, or make cabbage in your Instant Pot with corned beef, or make slow cooker cabbage, you now have a variety of recipes, tips, and tricks for how to make cabbage.
Pin this post and share it with your friends, so you can come back to this when you are looking for a reference for how to cook cabbage with ease.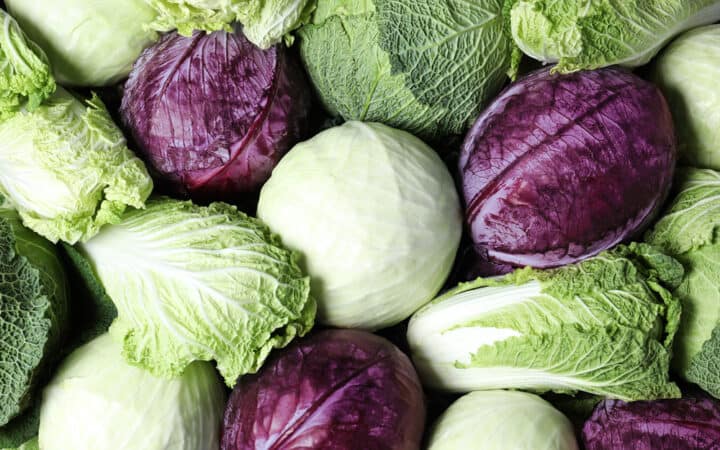 Click on highlighted ingredients or Equipment to see exactly what I use to make this recipe
Instructions
Steamed Cabbage
Place 2 cups of water in a large pot.

Put chopped cabbage in a steamer or a perforaed silicone basket, and place the steamer in the pot.

Cover with a lid and steam for about 5-8 minutes until tender.

Add seasonings and serve.
Boiling Cabbage
Place water in a large saucepan, add salt and bring water to a boil.

Add cabbage and cook for 3 minutes until tender crisp.
Braised Cabbage
Melt butter in a sauce pan.

turn the flame down to simmer.

Place a tight-fitted lid on the pot and braise for 10-15 minutes until the cabbage is cooked through.
Fried Cabbage
Heat a large, havy saucepan. To the hot saucepan, add 1/2 cup of chopped bacon and cook until the bacon is crisp. Remove bacon and set aside.

Add the cabbage, salt, and pepper to the bacon fat, and stir to coat the cabbage with the seasonings.

Cook stirring frequently on a relatively high flame so as to not steam the cabbage, about 4-5 minutes.

Add bacon bits back in and serve.
Slow Cooker Cabbage
Place cabbage, salt, pepper, butter, and 1 cup sliced onions in a slow cooker

Add 1/4 cup bone broth, vegetable broth, or chicken broth to the slow cooker.

Cook on low for 3-4 hours until the cabbage is tender.
Baked Cabbage
Cut the cabbage into large wedges. Put the wedges in a baking tray, pour in 2-3 tablespoons olive oil, salt, and black pepper.

Place the baking tray in the oven and cook for 30 minute. Half way through, flip the wedges over for even cooking.

When the cabbage is tender, remove from the oven, sprinkle 1 tablespoon lemon juice, and serve.
Grilled Cabbage
Turn on your grill to heat.

Cut the cabbage into 4 large wedges. Create four large pieces of aluminum foil, large enough to hold and completely wrap each wedge.

Place a pat of butter, some salt, and pepper on each wedge.

Close up the aluminum packet and place to one side of the grill.

Cook for 20-30 minutes until the wedges are tender.
Get support & connect with our community on Facebook!
Nutrition
Calories:
176
kcal
|
Carbohydrates:
18
g
|
Protein:
4
g
|
Fat:
12
g
|
Fiber:
7
g
|
Sugar:
9
g
Tried this recipe?
Follow @twosleevers and Pin it!