This recipe for Szechuan Pork Soup is a family favorite. In fact, everyone I have ever made it for has loved it. Not only is it tasty, but it is low carb and made quickly in your Instant Pot!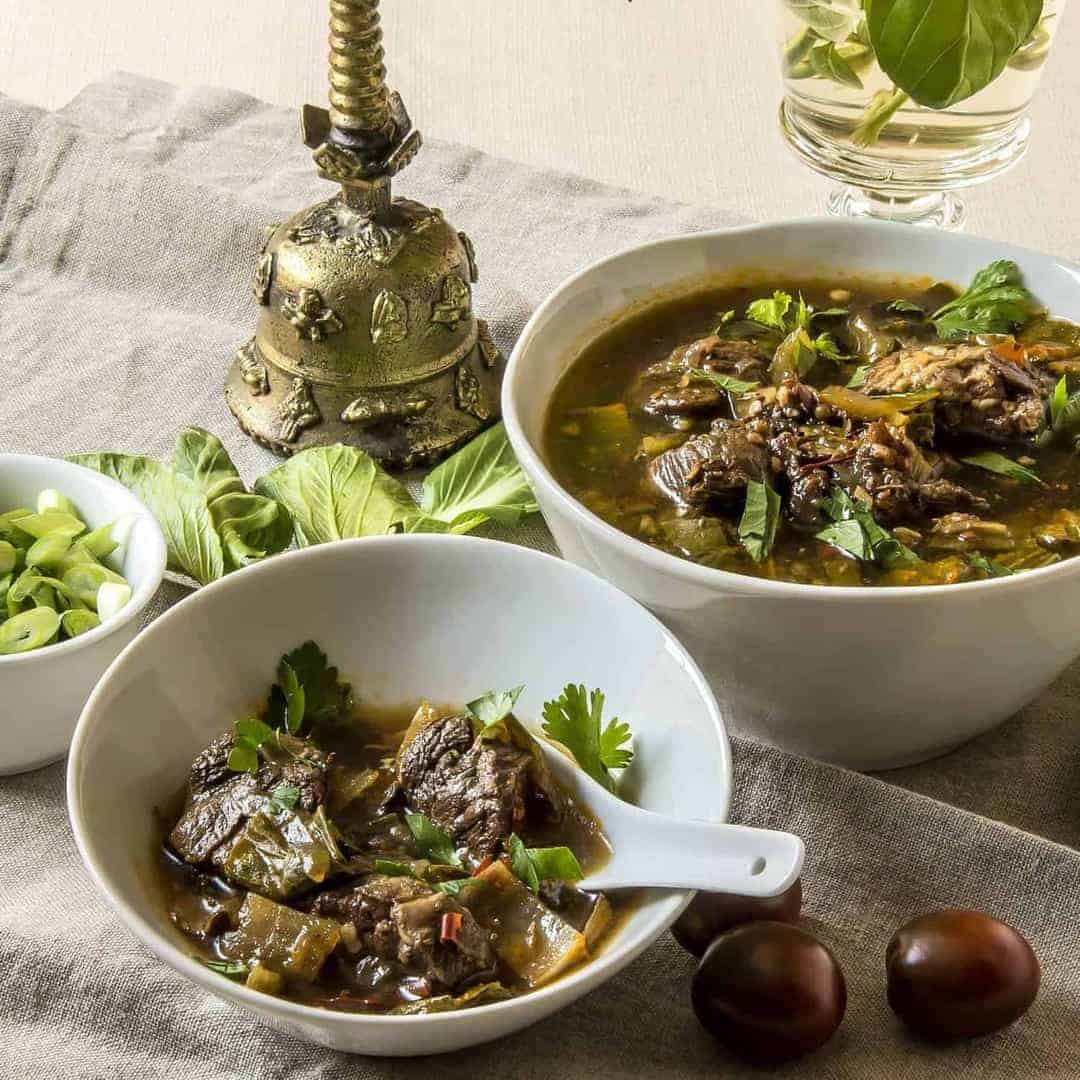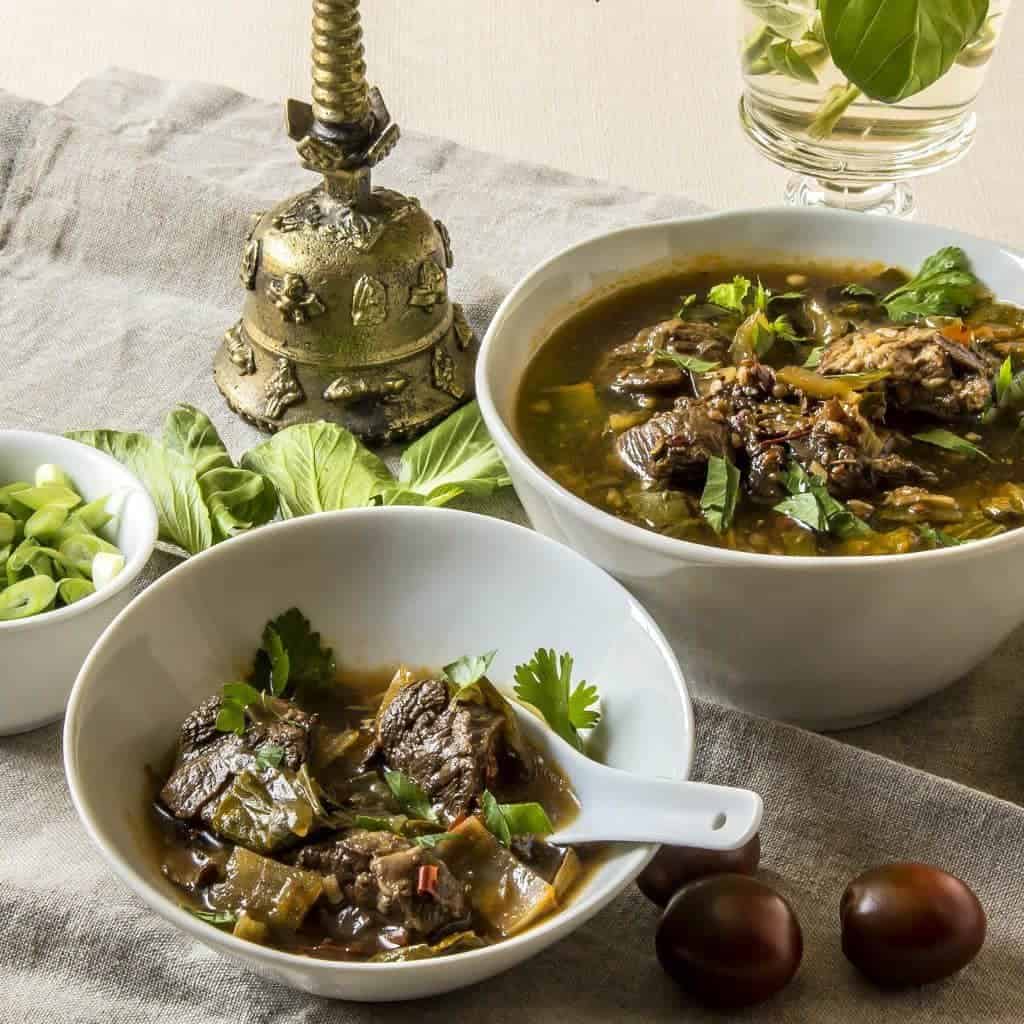 I love Sichuan food, but living where I do, I have to drive for 45 mins each way to get decent Szechuan cuisine so I'm trying to make a few dishes at home instead.
What Makes Chinese Pork Soup So Great?
What Does Szechuan Pork Soup Taste Like?
Szechuan Pork Soup is delightfully spicy and flavorful. It has salty and savory notes from the pork and doubanjiang and an umami kick from the soy sauce. All of those flavors are balanced by the freshness of the steamed bok choy and cilantro.
What Is Szechuan Pork Soup Made Of?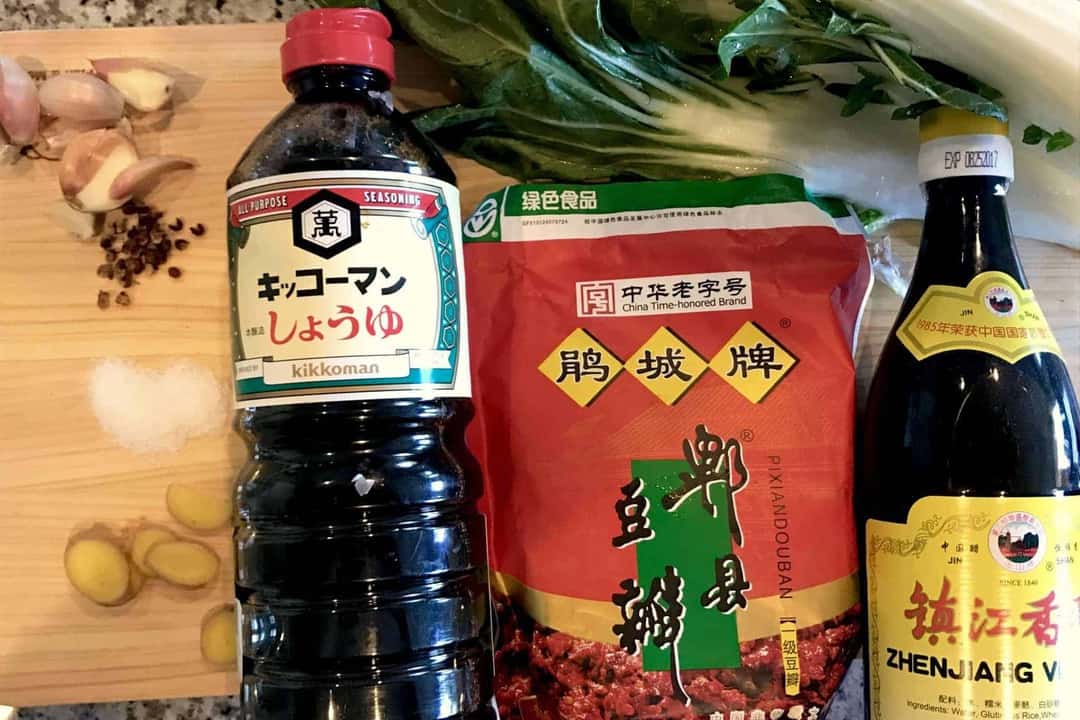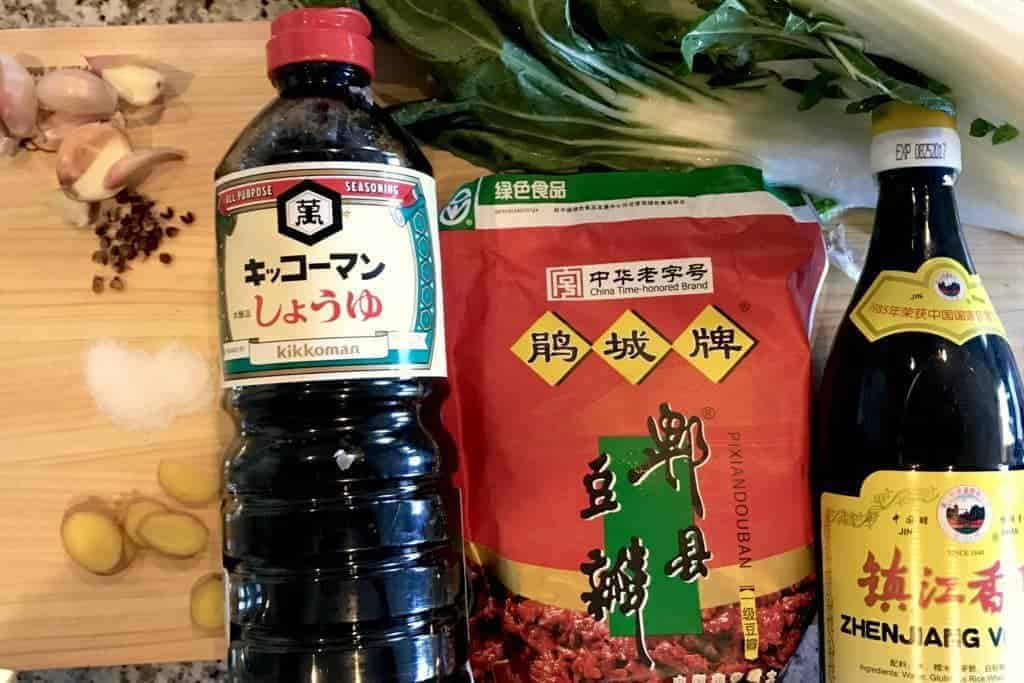 How To Make Szechuan Pork Soup
Traditionally this Szechuan Pork Soup has pork that is slow cooked, and once it is cooked, you add noodles into the rich flavorful broth. But of course, there's no way to do that and stay low-carb.
So I made the meat and the broth and then added bok choy to add substance to it. I also cooked this in an Instant Pot because I really didn't have two hours to spend on making this right.
So, below is the quick adaptation I created:
Pour all ingredients except the bok choy and cilantro into your Instant Pot.
Cook for 20 minutes under high pressure and allow the pressure to release naturally for 10 minutes.
Manually release the remaining pressure and remove the Instant Pot lid. Add in the bok choy and cilantro. Close the lid and let the bok choy steam.
What To Serve With It
With a flavorful broth, protein from the pork shoulder, and loads of vitamins from the bok choy and cilantro, this Chinese Pork Stew is truly a well-rounded meal. If you're wanting a side to serve alongside it, try one of these :
How Long Does It Last?
I love soup recipes because the leftovers always reheat so well. The same goes for this Chinese Pork Soup recipe. The longer the pork sits in the broth, the more flavor it takes on, and the more tender it becomes. For food safety purposes, eat any leftovers you may have within 3-5 days of initially preparing this yummy soup dish.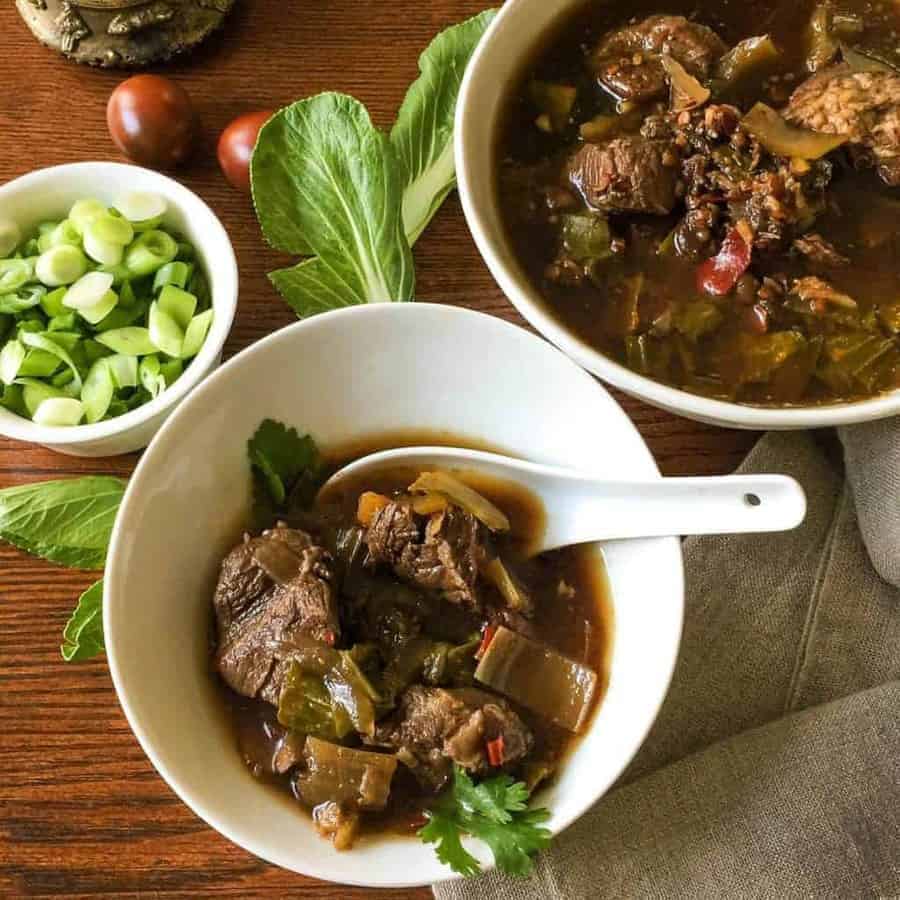 If you love Szechuan Pork Soup as much as we do, make sure you share the recipe on Facebook and Instagram so your friends can try it too! Don't forget to Pin it so you can make it again soon.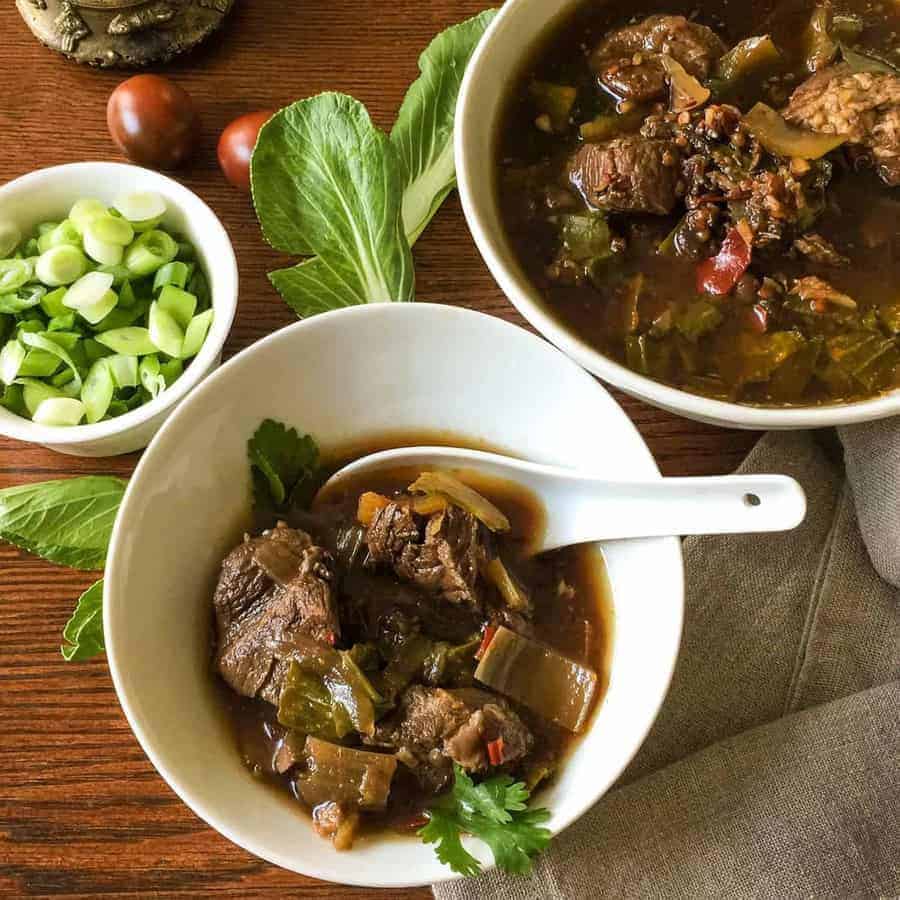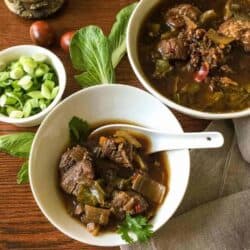 Szechuan Pork Soup
Flavorful, low carb version of Szechuan Pork Soup substitutes bok choy for the noodles, while keeping the traditional flavors of this soup. Pressure cooking makes the meat super tender.
Ingredients
2

tablespoons

Soy Sauce

2

tablespoons

Chinese Black Vinegar

1-2

teaspoons

Sugar Or Other Sweetener Equivalent

2

teaspoons

Szechuan peppers,

roughly crushed

1-2

teaspoons

Kosher Salt

to taste

6

cloves

Garlic

minced

3

inch

Minced Ginger

minced

1/2

Onion

sliced

2

tablespoons

peanut oil,

or other cooking oil

1

pound

Boneless Pork Shoulder

cut into chunks

2

tablespoons

doban jiang paste

(Chinese fermented broad bean paste)

3

cups

Water
To finish
3-4

cup

bok choy,

chopped

1/4

cup

Cilantro
Instructions
Heat oil in Instant Pot and when hot, add ginger and garlic and fry for a couple of minutes.

Add all the other ingredients except bok choy and cilantro in the pressure cooker and stir well.

Set the cooker to high pressure for 20 minutes. Allow it to release pressure naturally for 10 minutes and then release remaining pressure.

Open the pot and add in bok choy Close the lid and let it rest for 10 minutes. The bok choy will cook in residual heat and the cilantro will add flavor but won't be completely smushed.

Garnish with cilantro, serve and enjoy!
Indian Instant Pot, Keto Instant Pot, Instant Pot Fast and Easy, Healthy Instant Pot & Vegetarian Instant Pot.