Want to put a fun twist on dinner tonight? Make these Indian Pulled Pork Tacos! There nothing like you've ever had, and you're going to love the burst of flavor from the Indian spices and the tender pork.
If you like Indian food, and you also like tacos, then this is the perfect combination of ideas and flavors. All the flavor of traditional Indian food, and the convenience of tacos. And, it's dinner made easy because you're using your Instant Pot or electric pressure cooker.
This would be a fun way to take Taco Tuesday to a new and fun place in your house this week! Switch it up and indulge in some delicious Indian Pulled Pork Tacos instead of the traditional Mexican tacos. It will surprise your taste buds and keep tacos from being monotonous or boring!
Pressure Cooker Indian Pulled Pork Tacos
What is this you say? You've never had Indian tacos before?? Hmm, I wonder why not?
Could it be because I was bored one day so I just invented them and there are actually no such things as Indian Tacos?
I think that just might be the case. This is what happens when I have too much time on my hands. We all get to enjoy Indian Tacos. Or East Indian Tacos anyway!
Do I have to make these with Pork?
Nope. If you don't eat pork, or don't have pork on hand, you can also make this recipe using chicken or beef. I used pork because that's what I had at home. You use whatever you want.
The fact that you shred the meat in this recipe makes it easy to use multiple different types of meats. Whatever meat you decide to use, I'm sure it will be delicious!
Other Recipes You Might Like
Changing up traditional recipes, and putting an Indian spin on them is one of my favorite things. This Keto Beef Kheema Meatloaf is another example of that. You just have to try it!
Or if meatloaf isn't your thing, you can try these Bulgogi Burgers. They will definitely take your burger game up a notch!
Getting the best flavor out of your Pressure Cooker Indian Pork Tacos
If you don't want to make them too spicy, you can limit, or omit the cayenne pepper altogether. It won't ruin the flavor of the dish for you to leave out the cayenne, since there are so many other spices in these Indian Pulled Pork Tacos.
I would urge you to make your own garam masala by using my tried and true Garam Masala recipe here. This is absolutely fabulous and the cornerstone of all of my Indian recipes that need garam masala.
It is SO easy to make, as this video will show you to make your own Garam Masala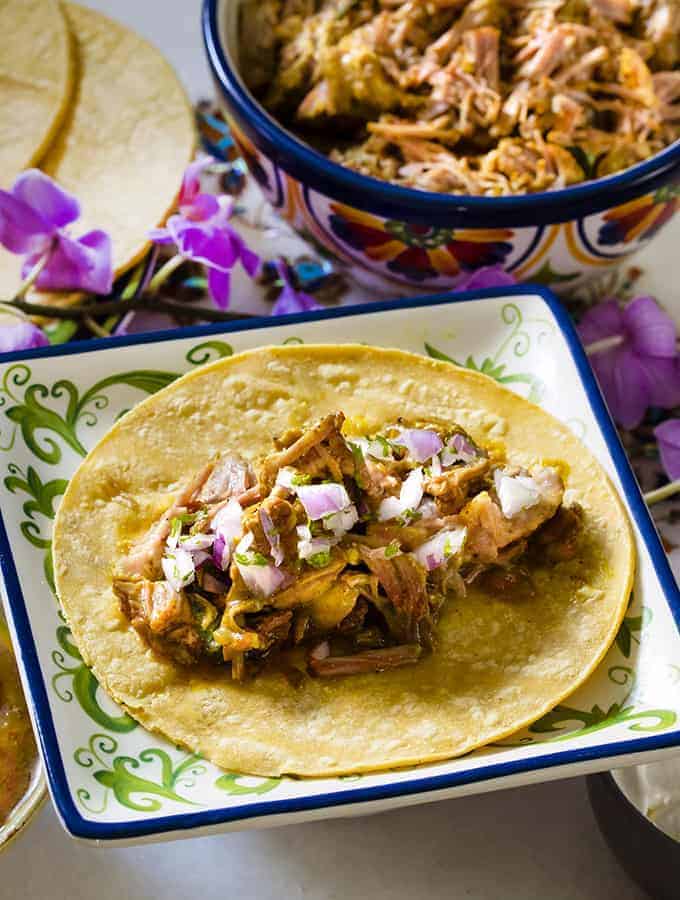 ★ DID YOU MAKE THIS RECIPE? DON'T FORGET TO GIVE IT A STAR RATING BELOW! JUST CLICK ON THE STARS IN THE RECIPE CARD TO RATE.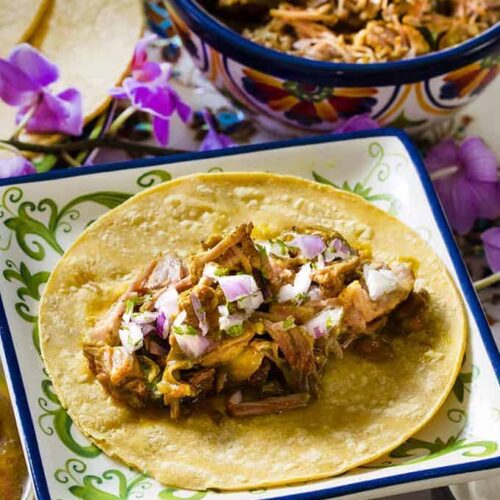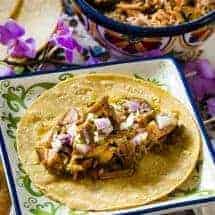 Pressure Cooker Indian Pulled Pork Tacos
Want to put a fun twist on dinner tonight? Make these Indian Pulled Pork Tacos! There nothing like you've ever had, and you're going to love the burst of flavor from the Indian spices and the tender pork.

Keyword:
indian curry recipe, indian instant pot recipe, instant pot pulled pork, pulled pork recipe
Dietary Consideration:
Dairy-Free, Egg-Free, Gluten-Free, Grain-Free, High Fat, High Protein, Keto, Low Carb, Low Sugar, Paleo, Soy-Free
Cooking Style:
Instant Pot/Pressure Cooker
Ease of Cooking:
Pour and Cook, Under 30 Mins
Recipe Type:
Keto Low Carb, Pork
Instructions
Place meat, onions, tomatoes, ginger, garlic, 1 teaspoon of the garam masala, salt, turmeric, and cayenne in the inner liner of your Instant pot or pressure cooker.


Cook for 15 minutes at high pressure. At the end of the cooking time, allow the pot to rest undisturbed for 10 minutes and then release any remaining pressure.


Add the remaining teaspoon of garam masala and stir well. Using two forks, shred the meat and mix well with the sauce.


To serve, place meat on tortillas or naans. Sprinkle cilantro, and onion on the meat. Squeeze the lemon wedge on the meat. Serve with Cucumber raita on the side (see below)


Garnish with cilantro and serve with rice or naan.

For the cucumber Raita
Combine shredded cucumber, yogurt, salt and pepper. Serve.
Recipe Notes
Macros do not include the corn tortillas or naan that are listed as optional
To further reduce carbs, reduce onions and tomatoes which is where most of the carbs in this recipe are coming from
Nutrition facts per serving
180kcal | Fat: 5g | Saturated fat: 1g | Cholesterol: 47mg | Sodium: 1018mg | Potassium: 608mg | Carbohydrates: 14g | Fiber: 3g | Sugar: 7g | Protein: 18g | Vitamin A: 275% | Vitamin C: 16.2% | Calcium: 80% | Iron: 2%
I am not a registered dietician or nutritionist. Nutritional information is provided a courtesy, and can vary depending on the exact ingredients you use.