This recipe gives you all of the taste of a traditional Carne Adovada, but made in a non-traditional way with some surprising ingredients, right in your pressure cooker or instant pot.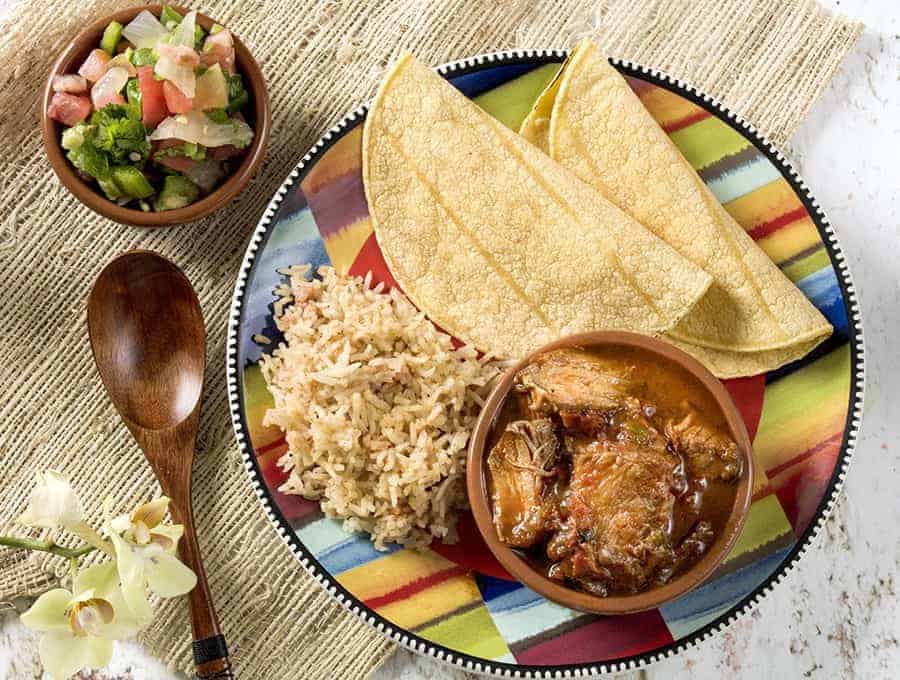 Carne Adovada | Pressure Cooker Mexican Pork
Before we begin, I know you're wondering if I've lost my mind, suggesting raisins and fish sauce in Carne Adovada. I use those ingredients to add sweetness and umami to a dish that traditionally calls for a lot of different steps to achieve that flavor.
Now with that out of the way, let's begin.
I hate doing dishes, and when you cook as much as I have been lately, there are a lot of dishes generated. So I'm always looking for ways to cut down on dish washing.
A lot of this involves single pot cooking, where my Instant pot comes in very handy. But for this dish, I also needed to brown onions and bloom a few spices.
WHAT'S WITH THE MICROWAVE?
I really didn't feel up to dirtying another pan, but I knew skipping out on browning the onions was not a smart idea.
So I used the microwave. I'm here to tell you, you CAN actually brown onions in the microwave. I chopped up the onions and put them in a paper bowl along with the oil and spices and cooked them, and they browned on their own, with no babysitting, while I cut up the pork.
I think I got a wee bit too much water in this dish because I was afraid to not put enough and burn a 2 pounds of pork, but I think you could get by with less, or you could turn it into a bit of a gravy dish and eat it over rice. I ate it plain so it would be low carb, and that worked well too.
Looking for more great Mexican recipes to check out? Give my Arroz Con Pollo a try! This Mexican chicken and rice dish is sure to make the whole family happy!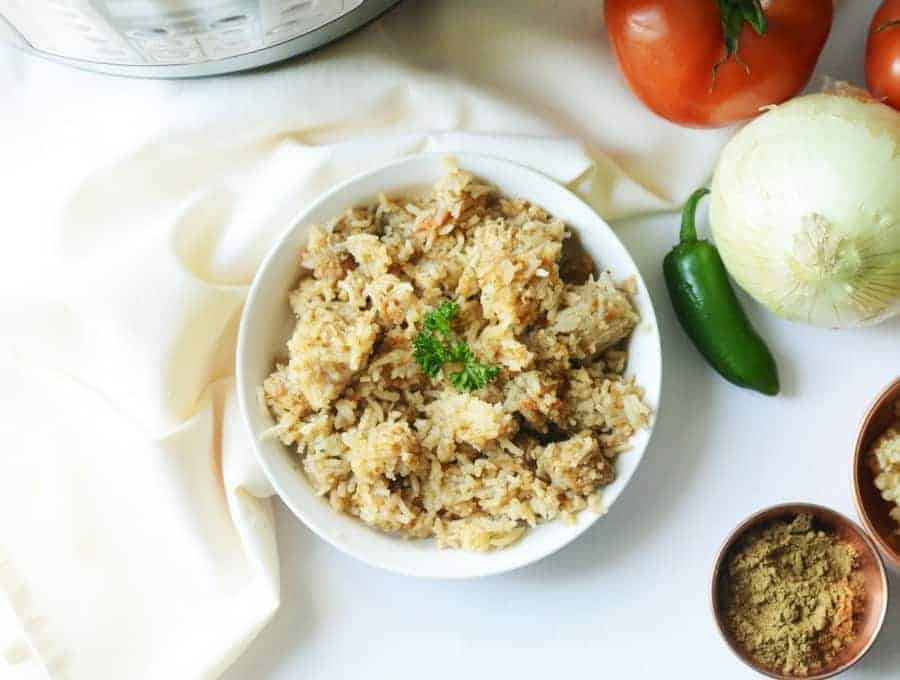 Another great Mexican dish is my Rajas con Crema y Elote. It's a great mix of poblano peppers, onions, and corn, cooked in the Instant Pot that's absolutely delicious!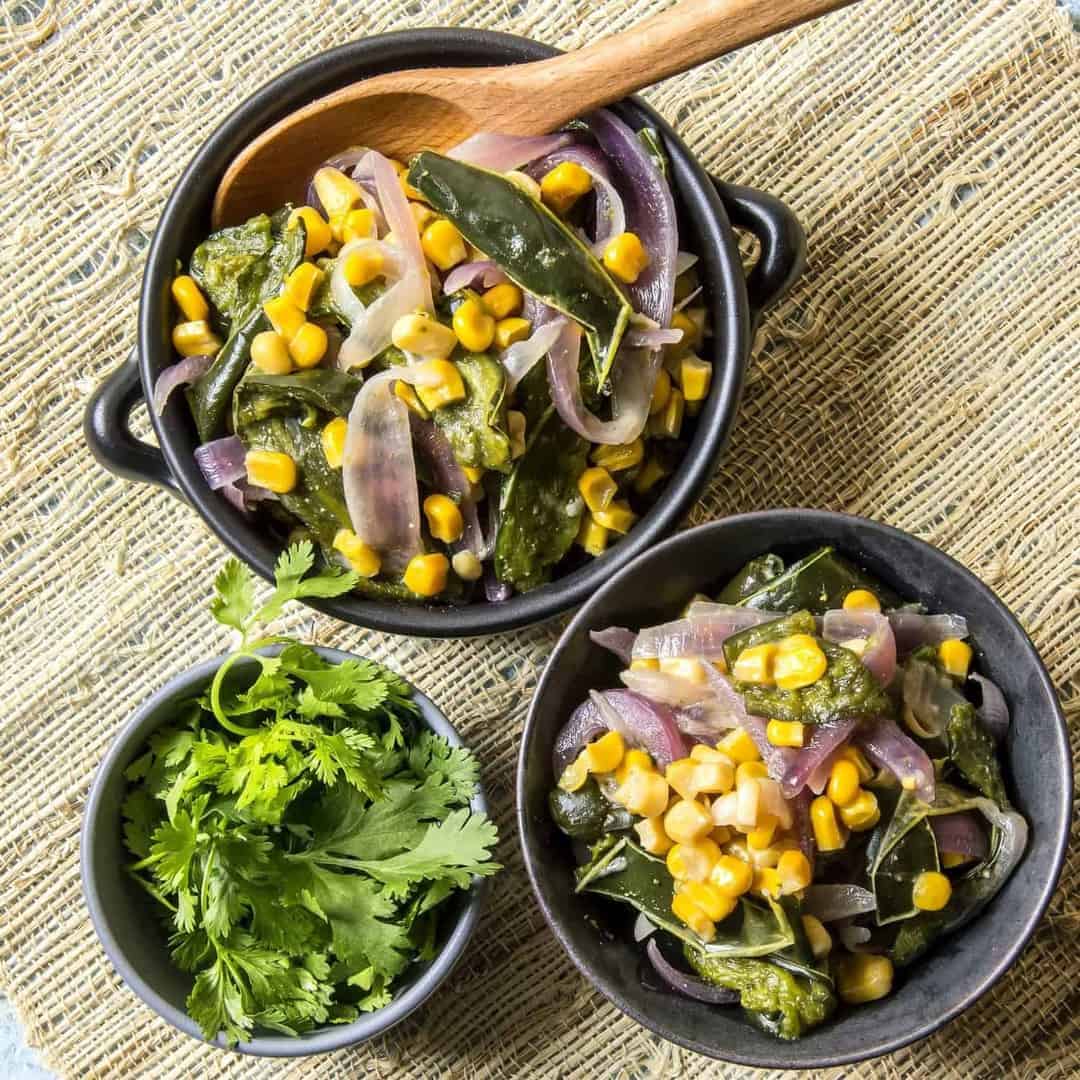 THIS PART IS VERY IMPORTANT TO MAKING A GOOD CARNE ADOVADA
Do not confuse Mexican chile powder with Cayenne pepper. The Mexican version is blended with other spices such as cumin and other things. It's a rich flavor, but it's not pure heat like cayenne pepper will have. Even so, this is a richly-spiced dish, but try not to make it inedible by using the wrong kind of chili powder.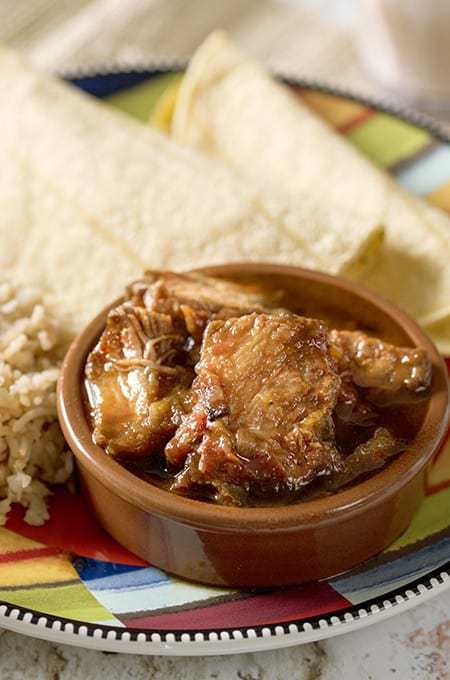 ? Did you make this recipe? Don't forget to give it a star rating below! Just click on the stars in the recipe card to rate.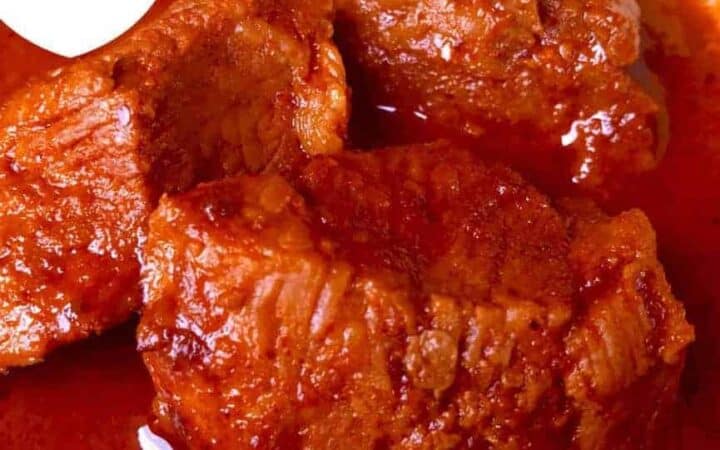 Click on highlighted ingredients or Equipment to see exactly what I use to make this recipe
Instructions
Place raisins into your blender jar, and cover with hot water while you get everything else ready.

Place pork in your Instant Pot.

In a microwave-safe bowl, combine oil, onions, garlic, salt, oregano, both chili powders, and canned chipotle chili, sauce from chili and cook it on high for 5-7 minutes, stirring once or twice.

Pour this along with and cider vinegar and soy sauce or fish sauce into your blender jar with the raisins, and purée until smooth.

Pour this mix onto your pork.

Use the 1/2 cup of water to wash out your blender jar and pour this into the pot as well. Add another 1/4 cup water if you need to.

Set your electric cooker on High Pressure for 20 minutes, and quickly release pressure when done.

If you have too much liquid, either set your pot on sauté for 5-10 minutes to let some of it evaporate, sprinkle with xanthum gum to thicken while sautéeing, or make a slurry by mixing the cornstarch and the water, and pour into the pot. Let it boil and thicken.
Get support & connect with our community on Facebook!
Nutrition
Calories:
132
kcal
|
Carbohydrates:
5
g
|
Protein:
14
g
|
Fat:
5
g
|
Saturated Fat:
1
g
|
Fiber:
1
g
Tried this recipe?
Follow @twosleevers and Pin it!