This Even Easier Pressure Cooker Arroz Con Pollo recipe is a simple chicken and rice dish that is bound to make the whole family happy! It's a delicious Mexican recipe that's bursting with flavor and is crazy addictive, so be prepared to make this dish on a regular basis. Though it is a Mexican recipe, it really is quite mild so there is no need to worry about your kids complaining about its spiciness.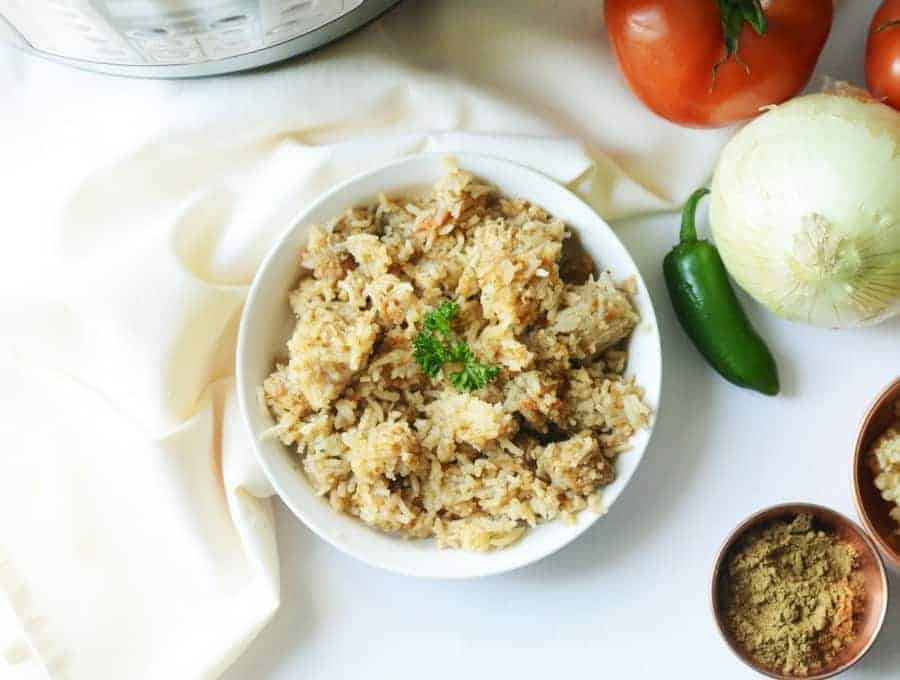 Arroz Con Pollo
Someone made my original arroz con pollo recipe and said hers burned, so although mine had not, I decided to simplify the recipe even more. The new recipe asks to use un-rinsed rice, based on my reading that unrinsed rice is less likely to stick. It also reduces sautéing to a minimum, since if something is going to stick, it's likely to be caused due to burning during this stage. I have re-written the old recipe but am reproducing it here.
Looking for a great appetizer for this dish? Check out my Air Fried Tomatillo Salsa! It taste way better than store bought jarred salsa and it's quite easy to make!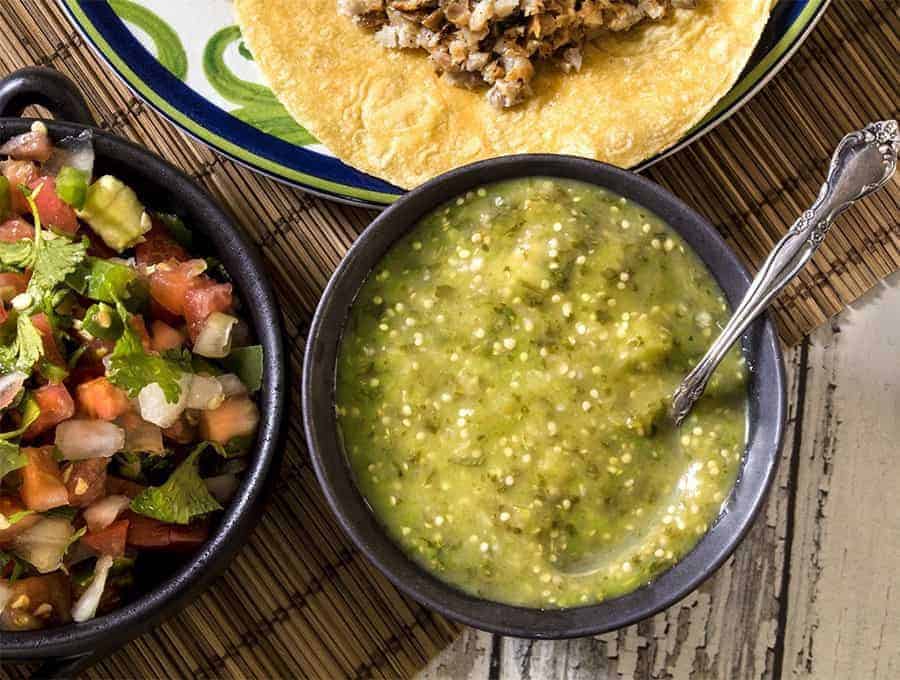 And if you're looking for more great Mexican entrees , check out my Air Fryer Chile Rellenos. It's sure to be one of the chile rellenos recipes you've ever tried and it's easily made in an Air Fryer!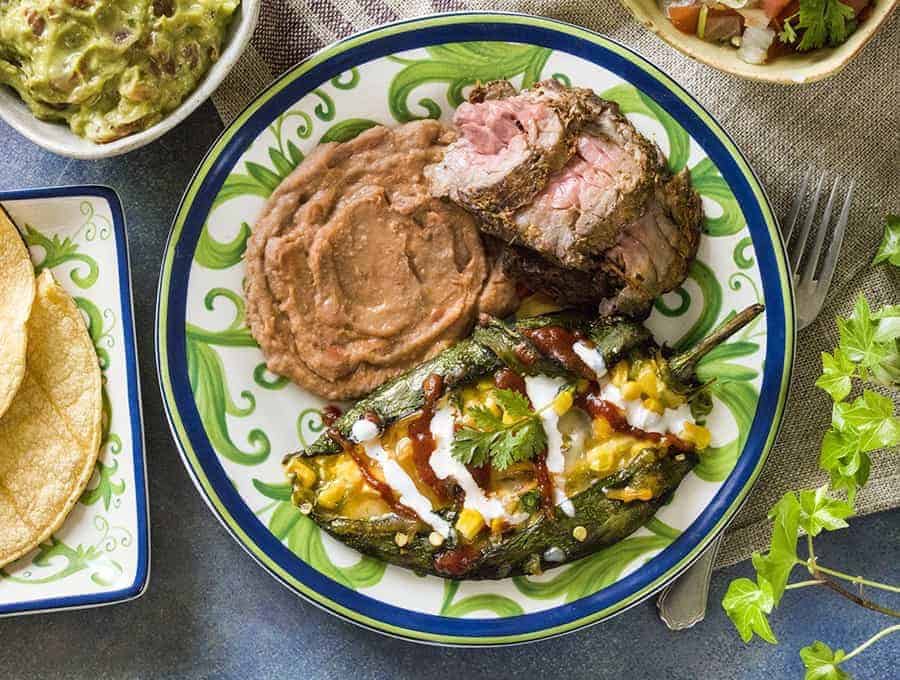 This Arroz Con Pollo recipoe is Mexican cuisine, but is mild enough that even kids would enjoy it. The Instant Pot makes this recipe so easy. Minimal chopping, a few minutes on the saute setting, and then just 6 minutes of cooking at high pressure! Arroz Con Pollo will be a new meal in your weekly rotation!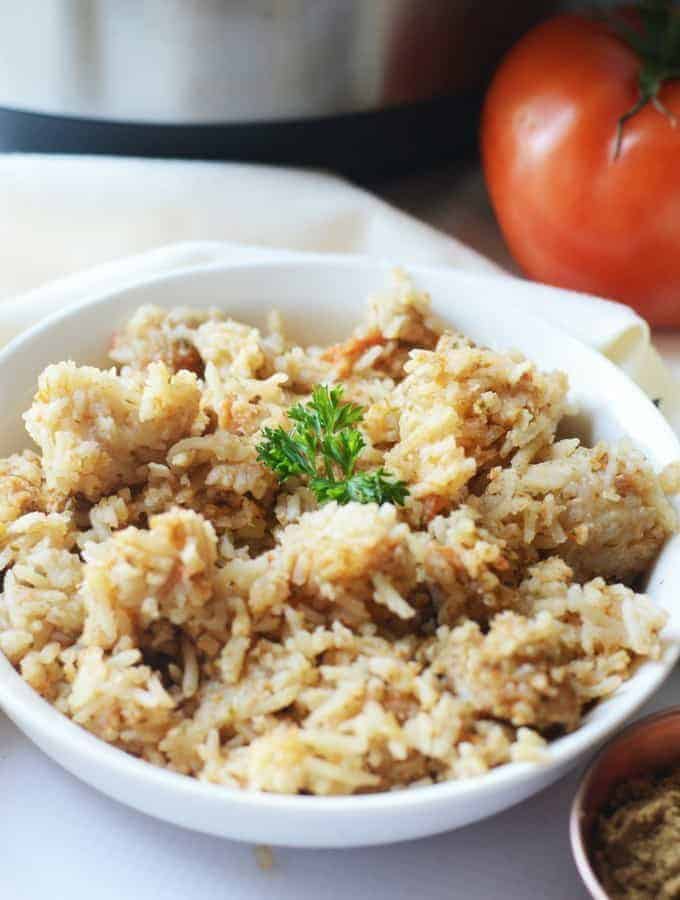 Here is a quick video of what the finished product looks like in your Instant Pot.
As this video shows, my rice didn't stick or burn, so I'm hoping this works for others as well. I'm reposting the recipe below.
★ Did you make this recipe? Don't forget to give it a star rating below! Just click on the stars in the recipe card to rate.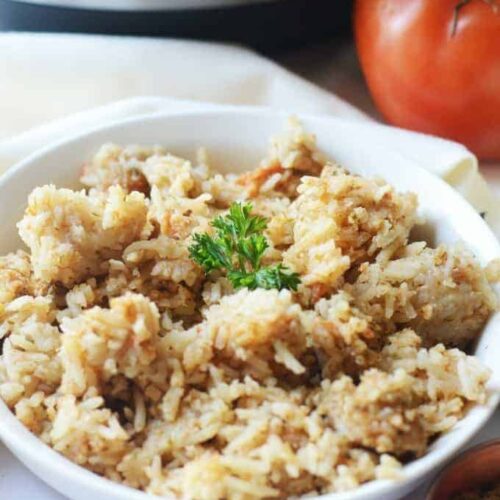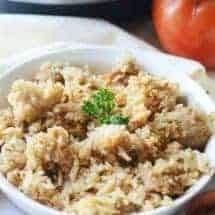 Arroz Con Pollo
This easy Instant Pot Arroz Con Pollo recipe is a simple chicken and rice dish that is bound to make the whole family happy!
Course:
Main Course, Rice
Keyword:
Arroz Con Pollo, Chicken and Rice, Easy Arroz Con Pollo, Instant Pot Mexican, instant pot mexican recipes, Instant Pot Rice, Mexican Chicken and Rice, Mexican Chicken Recipe, Mexican Dinner Recipe, Mexican Food, TwoSleevers
Dietary Consideration:
Gluten-Free
Cooking Style:
Instant Pot/Pressure Cooker
Ease of Cooking:
Pour and Cook, Under 30 Mins
Instructions
In a blender, blend together onions, tomato, garlic, cilantro, and jalapeño.

Meanwhile turn your Instant Pot to Sauté and when it's hot, add in 1 tbs of oil. Add in the rice and sauté until the rice is translucent about 3-4 minutes.

Add the chicken and the cumin, Goya Sazon and salt, and cook for a minute or two to let the spices bloom.

Add the blended vegetables and the water, seal the Instant Pot, set to Manual HP for 6 minutes. Allow it to release pressure naturally for 10 minutes, and then release any remaining pressure.

Serve with a tomatillo salsa for a little piquant flavor.
Nutrition facts per serving
260kcal | Fat: 8g | Saturated fat: 1g | Cholesterol: 71mg | Sodium: 75mg | Potassium: 349mg | Carbohydrates: 27g | Fiber: 1g | Sugar: 1g | Protein: 17g | Vitamin A: 425% | Vitamin C: 8.3% | Calcium: 31% | Iron: 1.4%
I am not a registered dietician or nutritionist. Nutritional information is provided a courtesy, and can vary depending on the exact ingredients you use.
Don't forget to check out my Instant Pot Fast & Easy Cookbook!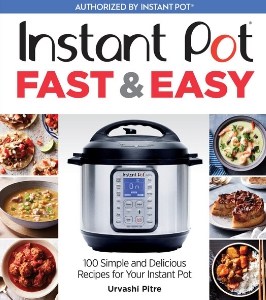 This book is full of all kinds of boldly flavored and internationally-themed recipes—Mexican, Thai, Moroccan, and more—with Instant Pot Fast & Easy, fully authorized by Instant Pot. Just like you have come to expect, my recipes will work perfectly every time, and of course taste great too. And because these are Instant Pot recipes, dishes like Japanese Chicken Curry, Chinese Steamed Ribs, and Mexican Pulled Pork are ready in a fraction of the time they would take using traditional cooking methods. As with all of my recipes, the focus is on whole foods instead of artificial convenience ingredients, so the recipes are delicious, easy, and healthful too.