Kick off Taco Tuesday with this Tomatillo Salsa with Chilis! It has plenty of heat and flavor to go with any meal. Once you try this, I'm quite sure you won't be buying canned salsa anymore. Easy, flavorful, and you know exactly what went into it!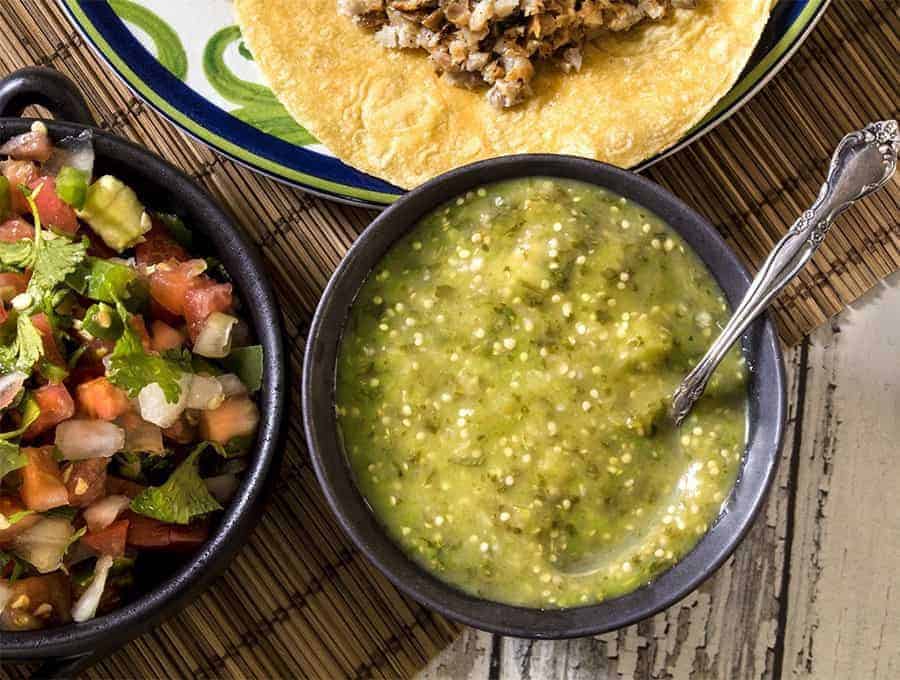 When it comes to salsa, we do NOT buy it in a jar. It's way too easy to make your own and control the flavors and ingredients. I have a lot of salsa recipes, but this Air Fried Tomatillo Salsa may very well be my favorite.
Why You'll Love This Salsa Recipe
Fast. Make homemade tomatillo salsa in under 30 minutes with the help of your air fryer.
Easy. Roast the tomatillos in your air fryer and blend the remaining ingredients for an amazing homemade salsa.
Flavorful. Enjoy the flavors of tomatillos and serrano peppers in a fresh salsa verde.
Can You Make Salsa In An Air Fryer?
Well, yes and no. Unless there's an air fryer that I don't know about that has a food processor built into it, you can't make it ENTIRELY in your air fryer. However, you can use your air fryer to help you enhance the flavor of your salsa.
This Air Fried Tomatillo Salsa recipe involves air frying the tomatillos first, to give them a beautiful roasted flavor before turning them into salsa. This recipe will make sure salsa isn't an after-thought but is definitely a key player in your meal.
After you're done air-frying the tomatillos, just blend the rest of the ingredients together and your salsa is ready to eat.
What Does It Taste Like?
The Green Chili Salsa is bright, earthy, slightly spicy and easily enhances other traditional Mexican foods. Tomatillos are less sweet than other red varieties, which makes salsa verde a great option to eat with savory dishes.
Is Tomatillo Green Chili Salsa Spicy?
Unfortunately, you can't always tell how spicy salsa will be just based on the color. Heat-packed peppers come in all shapes, sizes, and colors.
The best way to identify how spicy your salsa will be is by determining which variety of peppers was used to make it. For this recipe, I used serrano peppers. They range from 6,000 to 23,000 Scoville units. This is about 1/3 of the way up the Scoville chart. So, while it does have some kick, this isn't an overly spicy recipe.
To check out a version of the Scoville Chart for reference, click on the link below:
Ingredients You'll Need
Tomatillos
Serrano peppers
How To Make Tomatillo Green Chili Salsa
Remove the husks from the tomatillos and wash them well.  
Place the whole tomatillos and peppers into a heatproof pan and place it in the air fryer basket.
Air fry them.
Put the tomatilloes, peppers, and juice into a blender and purée.
Add salt and stir.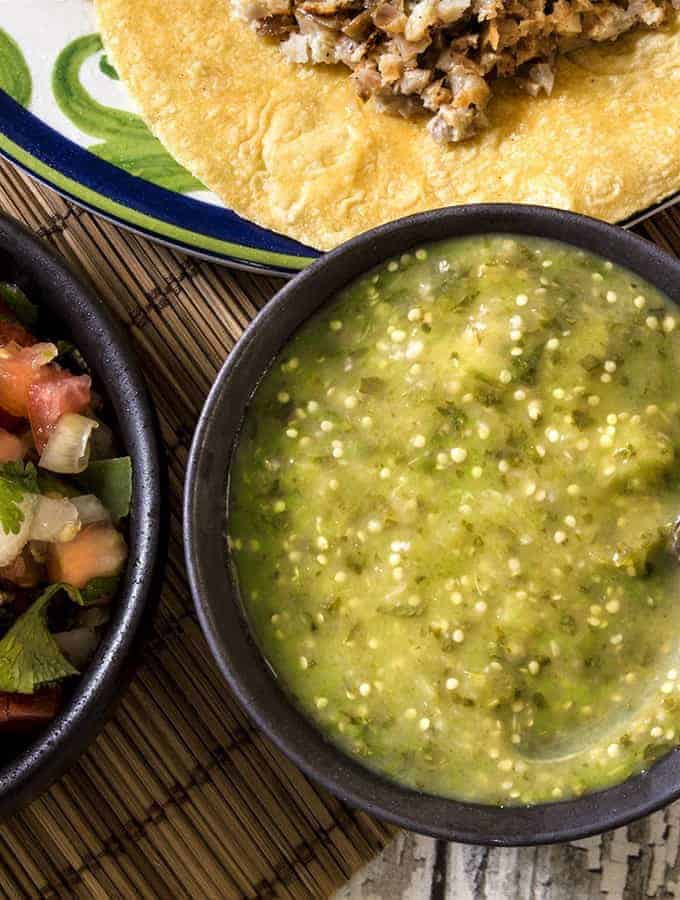 Tips And Tricks
This recipe is incredibly simple, so there aren't a lot of tips and tricks to make it easier, but there are a few things that are worth noting before you get started:
Tomatillos and their husks are sticky. Grab a bowl for scraps before you get started so the husks and your fingers don't get stuck all over your kitchen counters.
Only add salt to the portion of the salsa you're going immediately eat. Omitting the salt will help it keep longer in the refrigerator if you want to save it for your leftover tacos.
Wash your hands with soap after preparing the Serrano peppers. I always appreciate a spicy surprise on my tongue, but never on my face or in my eyes.
What To Serve With Tomatillo Salsa
After serving this with countless of our favorite Mexican dishes, I can tell you that it goes well with just about anything. Here are some of my favorite dishes to serve alongside this Tomatillos Salsa with Green Chilis:
Do You Serve It Hot Or Cold?
This all depends on your personal preference. You can chill it if you prefer your salsa cold, but we like it warm to blend well with the rest of our meal.
How Long Does It Last?
While it may not last as long as jarred salsas that you buy at the supermarket, it is easily made up for by the fact that it is not loaded with preservatives and ingredients you likely can't pronounce.
This sauce will keep in the fridge for 10 days if you don't add salt. 
Want More Mexican Recipes?
Whether you're trying to do low-carb, or just want a flavorful fajita recipe, you need to try this Roasted Vegetable Chicken Fajitas recipe! It's simple and delicious!
Also, check out my Instant Pot Pinto Beans! They're quite possibly the best Mexican-style beans you've ever had.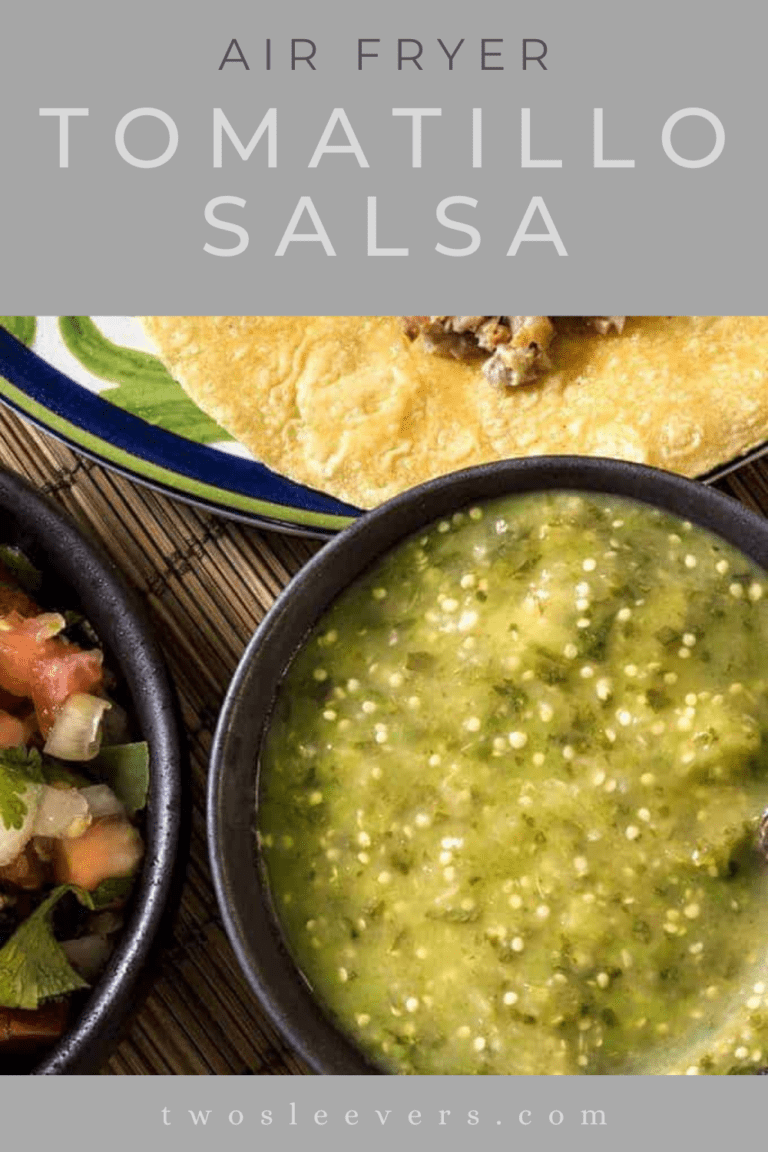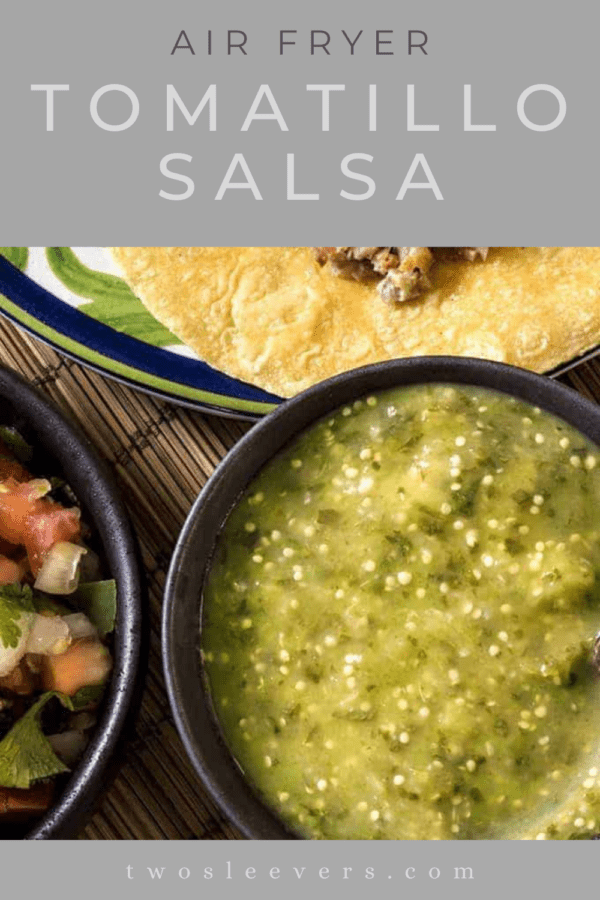 If you love this Tomatillo Salsa with Green Chilis as much as we do, make sure you share it on Facebook and Instagram so your friends can try it too! Don't forget to Pin it so you can make it again soon.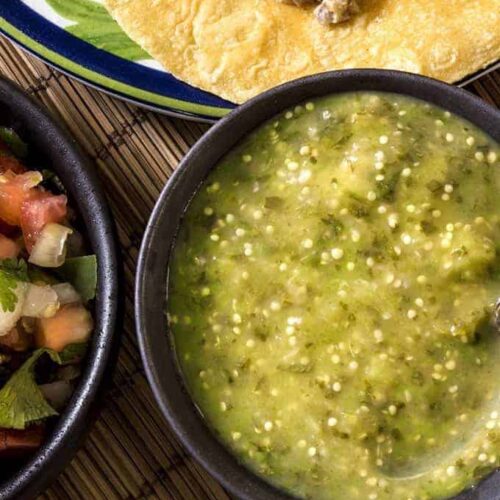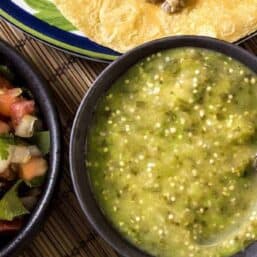 Tomatillo Salsa with Green Chilis
Skip the jarred salsa and make your own! This Air Fried Tomatillo Salsa is delicious and has just the right balance between heal and flavor!
Ingredients
12

Tomatillos

2

Serrano peppers

stems removed

1

tablespoon

Minced Garlic

1

cup

chopped cilantro

1

tablespoon

Oil

1

teaspoon

Kosher Salt
Instructions
Remove husks and wash the tomatillos well.


Place the whole tomatillos and peppers into a heatproof pan and place the pan in the air fryer basket.


Set the airfryer to 350F for 15 minutes.


Put the tomatilloes, peppers and juice into a blender and purée.


If you plan to eat right away, add salt and stir. This sauce will keep in the fridge for 10 days if you don't add salt.

And don't forget to check out my air fryer cookbooks! Every day easy air fryer, and Air Fryer Revolution.