Maybe I should call this not-so-dirty rice since I didn't use chicken livers. But even with ground beef, this Instant Pot Cajun Dirty Rice tastes so good, that it is likely to become a family favorite once you make it.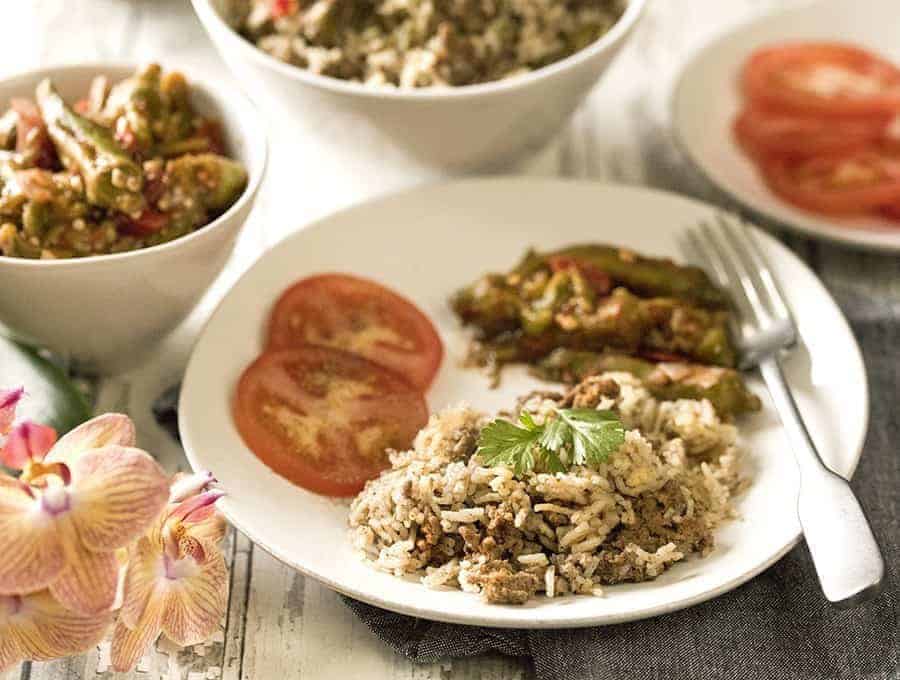 WHAT IS INSTANT POT CAJUN DIRTY RICE?
Traditionally it's rice made with chicken livers and that holy trinity of Cajun cooking, a mirepoix of onions, bell peppers, and celery. I have to say, chicken livers do give it a lovely deep flavor. But I don't usually buy chicken livers.
So when I had the urge to make Dirty Rice in my Instant Pot, I had to reach for what was at hand, which in my case was ground beef. You could use finely chopped chicken livers if you refer to make this Cajun Dirty Rice.
Looking for more delicious Cajun recipes? Check out my Cajun Shrimp and Sausage Boil! This dish is unbelievable and is the best way to make a shrimp boil in your Instant Pot or pressure cooker!
Want to take your Cajun food to the next level? Do so by using my Homemade Cajun Spice Mix in your recipe. It's quite simple to make and it really elevates the flavors of the dish!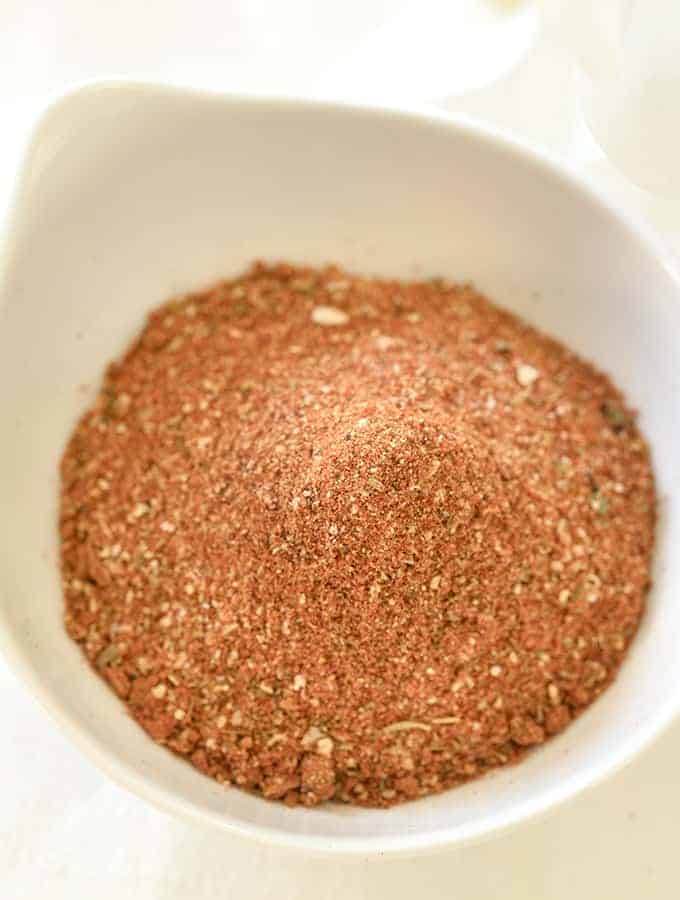 INSTANT POT CAJUN DIRTY RICE
So when you're using your Instant Pot for this dirty rice, you don't really need to brown the ground beef. What you do what to do, however, is break up the ground beef enough so that it doesn't cook in one big clump.
One VERY IMPORTANT THING about this recipe. If you have ANYTHING at all stuck on the bottom of the pan, or even the littlest bit of browning, be absolutely sure to deglaze the bottom of the inner liner of your Instant Pot. If you don't, you might well get the dreaded BURN error.
But if you follow the recipe as written, you shouldn't really have an issue.
If you like ground beef and rice, be sure to check out my other recipes with this combination. Choose from Lebanese Hashweh, Ground beef shawarma, or kheema pulao and enjoy.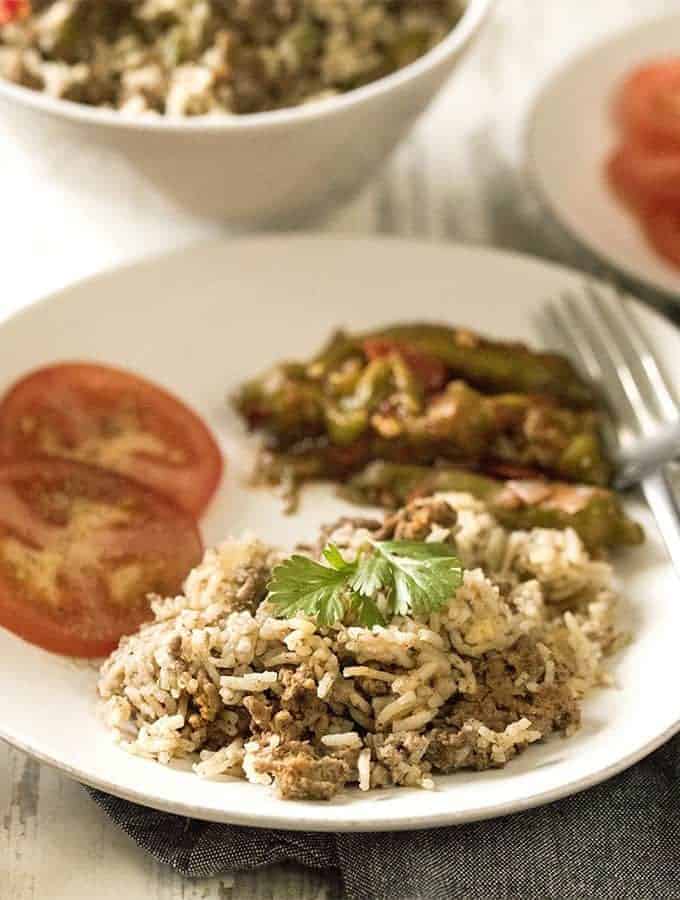 ★ DID YOU MAKE THIS RECIPE? DON'T FORGET TO GIVE IT A STAR RATING BELOW! JUST CLICK ON THE STARS IN THE RECIPE CARD TO RATE.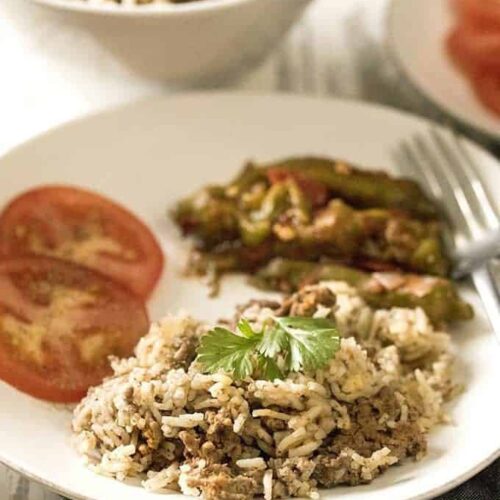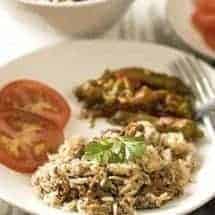 Instant Pot Cajun Dirty Rice
Maybe I should call this not-so-dirty rice since I didn't use chicken livers. But even with ground beef, this Instant Pot Cajun Dirty Rice tastes great!
Keyword:
Best Dirty Rice Recipe, Cajun Dirty Rice, Cajun Food, Cajun Recipes, Easy Cajun Dirty Rice, Instant Pot Cajun Dirty Rice, Instant Pot Recipes, Pressure Cooker Cajun Dirty Rice, Pressure Cooker Recipes, Simple Cajun Dirty Rice, TwoSleevers
Dietary Consideration:
Dairy-Free, Egg-Free, Gluten-Free, Grain-Free, Nut-Free, Paleo, Soy-Free
Cooking Style:
Instant Pot/Pressure Cooker
Ease of Cooking:
Under 30 Mins
Recipe Type:
Beef, Full Liquids/Soft Foods, RIce
Instructions
Turn your Instant Pot on Sauté and when it is hot, add oil.


Add the mirepoix and ground beef and stir, breaking up the ground beef lumps.


Add the bay leaf, Cajun seasoning, hot sauce, salt and rice, and stir to incorporate.


Add broth and immediately close the lid.


Cook at high pressure for 4 minutes. Allow the pot to rest for undisturbed for 10 minutes, and then release all remaining pressure.


Stir gently to fluff up the rice, and serve.

Nutrition facts per serving
461kcal | Fat: 18g | Saturated fat: 5g | Carbohydrates: 44g | Fiber: 3g | Sugar: 3g | Protein: 26g
I am not a registered dietician or nutritionist. Nutritional information is provided a courtesy, and can vary depending on the exact ingredients you use.
Don't forget to check out my Instant Pot Fast & Easy Cookbook!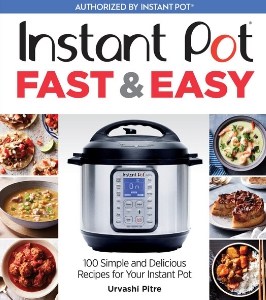 This book is full of all kinds of boldly flavored and internationally-themed recipes—Mexican, Thai, Moroccan, and more—with Instant Pot Fast & Easy, fully authorized by Instant Pot. Just like you have come to expect, my recipes will work perfectly every time, and of course taste great too. And because these are Instant Pot recipes, dishes like Japanese Chicken Curry, Chinese Steamed Ribs, and Mexican Pulled Pork are ready in a fraction of the time they would take using traditional cooking methods. As with all of my recipes, the focus is on whole foods instead of artificial convenience ingredients, so the recipes are delicious, easy, and healthful too.