I was fortunate enough to be asked to do a guest post on www.thisoldgal.com and I choose to make a Pressure Cooker Kheema Pulao that was posted today! NOTE: That recipe is not currently available on the site and many of you have written to ask for it, so I have included it below. Enjoy!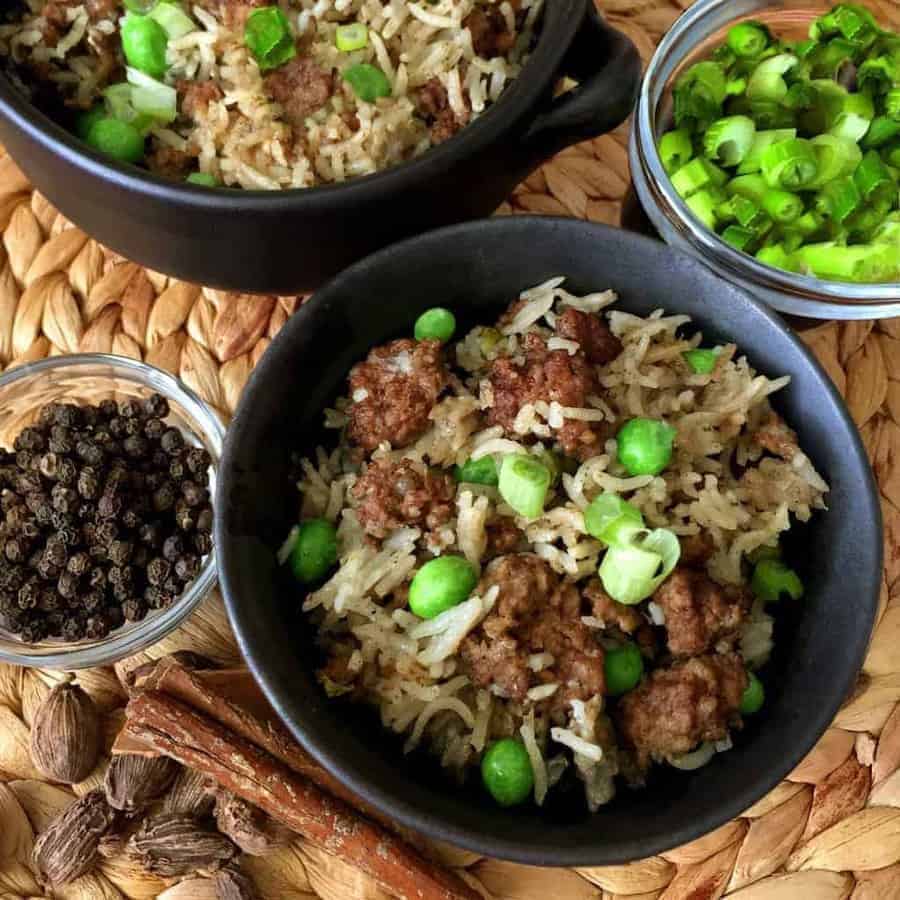 I was so nervous when Jill asked me to create a recipe for her site! I mean, this is Jill we're talking about–This Old Gal–someone who is well-known, and has a huge following, and justifiably so.
People always say they love making her recipes because they know her recipe work and are tested.  I test mine extensively too as you know, so I appreciate others who make the effort to ensure they're putting out a quality product.
I was worried that nothing I could come up with would be good enough to post for her. I kept trying to come with crazy ideas that would be "the thing"—and failing.
It took me weeks to get over my nervousness and just cook. Once I decided to stop worrying and just do what I love, which is to make easy, tasty meals that I think people can proudly feed their families—well this Kheema pulao came together really easily after that.
If you like my Pressure Cooker Ground Beef Shawarma and Rice recipe, you will likely also enjoy this Kheema pulao recipe.
Note that a kheema Pulao is different from a biryani. It's a simpler, but equally flavorful preparation, and the spices, rice, and ground beef all cook together.
Here's a visual glossary of most of the ingredients I used in this recipe.
EQUIPMENT YOU MAY NEED TO MAKE THIS INSTANT POT PRESSURE COOKER KHEEMA PULAO:
★ Did you make this recipe? Don't forget to give it a star rating below! Just click on the stars in the recipe card to rate.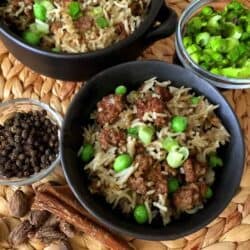 Instant Pot Kheema Pulao
Easy and flavorful Kheema pulao in your pressure cooker or Instant Pot, makes a flavorful one-pot meal.
Course:
Entree, Main Course, Rice
Dietary Consideration:
Dairy-Free, Egg-Free, Gluten-Free, Nut-Free, Soy-Free
Cooking Style:
Instant Pot/Pressure Cooker
Ease of Cooking:
Under 30 Mins
Recipe Type:
Beef, Pressure Cooker, RIce
Instructions
Turn your Instant Pot or Pressure cooker to Sauté

Once it is hot, add in the ghee. Once the ghee is hot, add in the whole spices (if using) and let them sizzle for 30 seconds.

Add in the minced ginger and garlic, and sauté for 30 seconds, being careful not to burn them.

Add in the ground beef, and break up all the clumps. Don't worry about fully cooking it at this stage. You're just trying to break it up so it's not one big piece of meat.

Once its well-broken up add in the onion, rice, salt, and water, and mix well.

If you had any browning and fond on the bottom of the pot, be sure to scrape it all up to get the last bit of flavor in your dish, and also so the Instant Pot seals.

If you're using ground garam masala, add that now.

Mix everything well, and then throw in the frozen peas but don't stir. You want them on top so they don't overcook.

Close your pressure cooker, and cook it on High Pressure for 4 minutes, and allow it to release pressure naturally for 10 minutes,. Do not short cut this time. The rice and meat need this time to cook.

Serve with a raita, for an interesting twist, serve with a little tzatziki on the side.
Nutrition facts per serving
328kcal | Fat: 6g | Saturated fat: 2g | Carbohydrates: 46g | Fiber: 3g | Sugar: 2g | Protein: 21g
I am not a registered dietician or nutritionist. Nutritional information is provided a courtesy, and can vary depending on the exact ingredients you use.
By the way, if you're looking for other Indian recipes, check out my best selling book Indian Instant Pot Cookbook on Amazon or at Barnes & Noble HERE!