Find out how to make cauliflower rice 5 different ways for a healthy low carb alternative to rice. This nutritious vegetable side dish is quick and easy to make whether you grate it, blend it or mash it. Keto-friendly, paleo, gluten and dairy-free.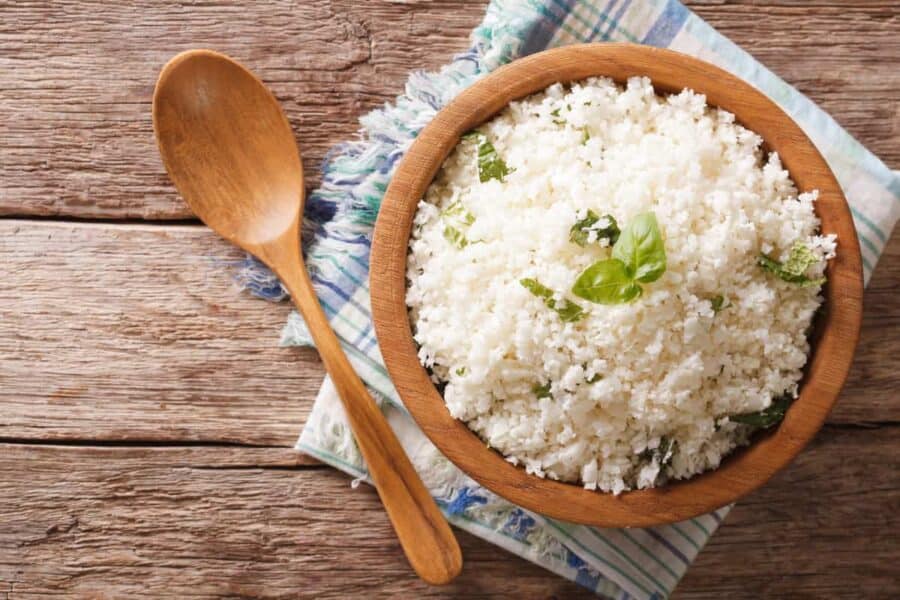 Cauliflower rice is a great alternative if you are struggling to get enough veggies in your diet or simply would like to cut back on carbs. Serve it as a delicious gluten free, keto friendly vegetable side dish. You can make a large batch in no time at all and with just one ingredient and some seasoning if you like.
You can still create all of your favorite meals that have grains and swap them with some of your delicious cauliflower rice. For example, you can make some Jalapeño Bacon Mac & Cheese, a Chaffle or even some Low Carb Keto Biryani with cauliflower rice– the options are truly endless and quite satisfying!
How Healthy Is Cauliflower Rice?
With it being a vegetable, I mean, it's already pretty healthy, right? But let's take a little bit deeper look into what actually makes cauliflower rice, or cauliflower in general for that matter, so healthy.
Similar to all vegetables, it is packed with tons of vitamins, including vitamins C, K, and B6. Cauliflower also happens to be full of fiber, high in folate and an excellent source of potassium! It is, of course, naturally vegan.
With it also being super low in carbs, it makes it low in calories which makes it a phenomenal swap when you are trying to be aware of your food intake and keep your carbs on the lower end of the spectrum.
What Does Cauliflower Rice Taste Like?
While it is extremely easy to add a variety of spices and herbs to cauliflower rice to jazz it up, when you eat it plain it has more of a neutral taste very similar to rice.
Although, I will say that it does contain a very mild nutty taste, so it isn't completely tasteless. The amazing thing about it is that it can be used in so many recipes to create strong, beautiful and bold flavors.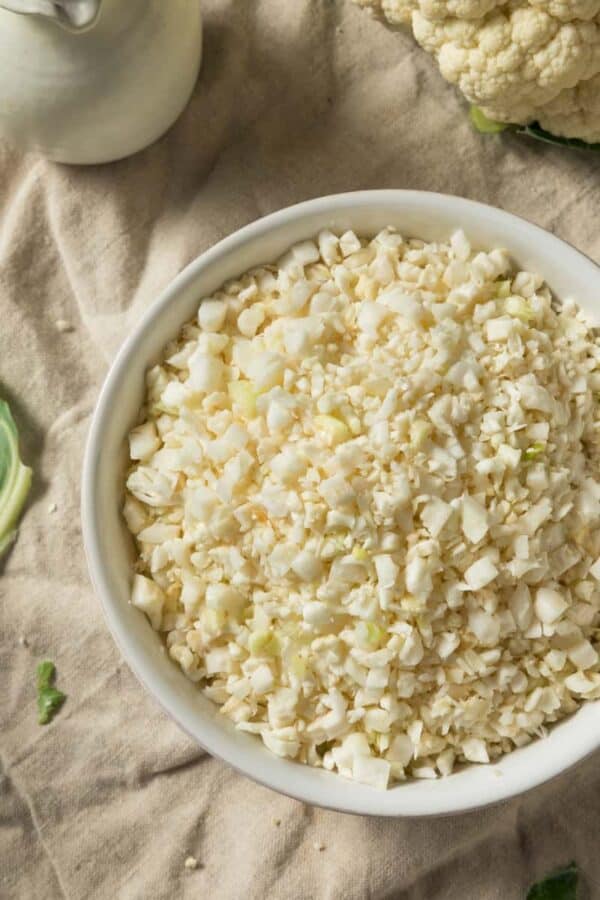 How Do You Make Cauliflower Rice From Scratch? 5 Different Ways
It's so easy to make cauliflower rice, no matter what kind of equipment you have in your kitchen. You can:
Chop with a knife
A box grater
Use a food processor
Use a blender
Steam and mash it
Make Cauliflower Rice With a Knife
It's pretty quick and easy to make cauliflower rice with a good knife.
Grab your knife and remove the florets from the stem
Mince the cauliflower into tiny pieces with the knife until they resemble grains of rice
How To Make Cauliflower Rice With a Box Grater
For this method, you are going to need to have a grater that contains medium-sized holes like this grater. If you go too small, the cauliflower will basically turn into a mushy mess and if the holes are too big it will result in noodle sized cauliflower rice instead of the small grain-like size and shape that we are trying to create.
Remove the florets from the stem
Push the florets across the holes on the grater, just like you would grate cheese
How To Make Cauliflower Rice In a Food Processor
This is where time starts to be on your side! If you are pressed on time, both this method and the next method are going to be the ones to go-to.
Cut the cauliflower off at the stem into bite-sized pieces.
Add the pieces to the food processor and slowly pulse until the desired size is created

You may have to scrape off around the inside in between pulses too, that is normal.

Once you have reached your riced cauliflower consistency, place it into a bowl and restart the process with the florets that haven't been processed yet until you are all finished.
How To Make Cauliflower Rice in a Blender
To make this side dish in a blender, simply add a lot of water to the cauliflower to help it break down.
Same as the food processor method above, you may have to scrape the sides of the blender as well to ensure that all of the cauliflower has been shredded up properly.
Fill a blender jar half full of water.
Cut the cauliflower into florets and add to a blender with the water. Don't skimp on the water, which you need in order to keep the cauliflower moving freely.
Pulse the cauliflower and water and then drain it using a fine mesh sieve.
Steam and Mash The Cauliflower
This method creates a completely different texture that is so delicious and resembles the texture of grits if you've ever had those before!
Remove the florets from the stem.
Steam in a microwave or stove.
Once the cauliflower becomes tender, which usually is, drain it through a colander and mash it until you get the perfect grit like consistency that is not pureed but not defined grain-like pieces either.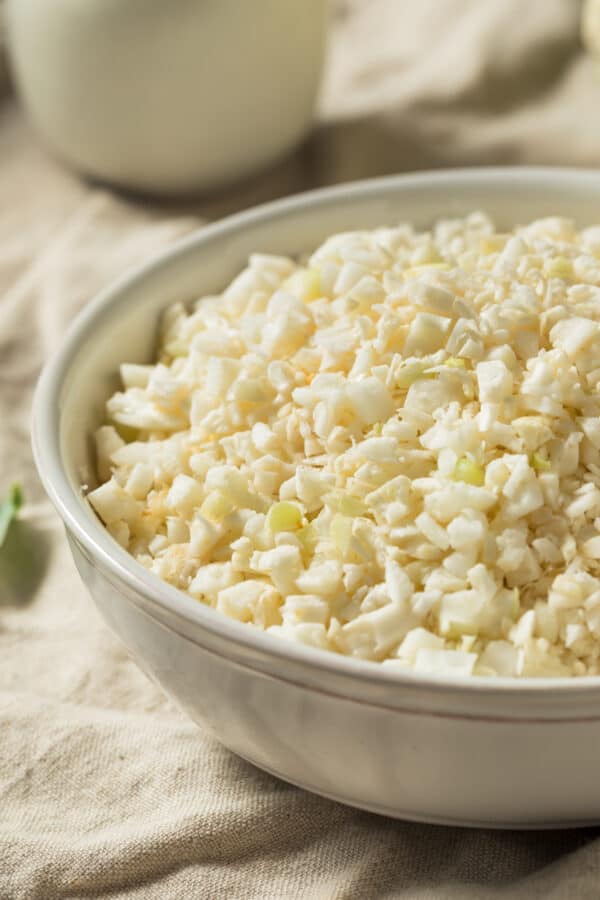 How Do You Cook Cauliflower Rice?
Once you have made your cauliflower rice, you can either enjoy it raw and use it as a base for a salad, or you can cook it and serve it as a hot side in place of rice or couscous. It only takes about 5 minutes to cook.
Heat 1 tablespoon of oil over medium-high heat in a frying pan.
Add the processed cauliflower to the pan and stir to coat.
Add the lid to the pan and cook for 5 to 8 minutes until you have your preferred consistency.
Stir in seasoning if you like and serve.
How long does it last?
Grated uncooked cauliflower will keep in a sealed container in the fridge for 24 hours. After that time it can develop an unpleasant smell. To extend the shelf life, cook the cauliflower and it will keep in the fridge for up to 5 days. Simply reheat on the stovetop to serve.
Can You Freeze Your Own Cauliflower Rice?
Uncooked riced cauliflower is suitable for freezing. Press out all of the moisture using a paper towel. Freeze in an airtight container for up to one month.
Thaw it at room temperature for at least ten minutes before cooking to ensure that it cooks properly and you get the desired result.
Recipe Tips and Notes For Riced Cauliflower
More Keto Side Dishes
Once you learn how to make cauliflower rice and find your favorite method, it makes such a tasty low carb side. It's so versatile. Experiment with different seasonings to really bring your meal to life.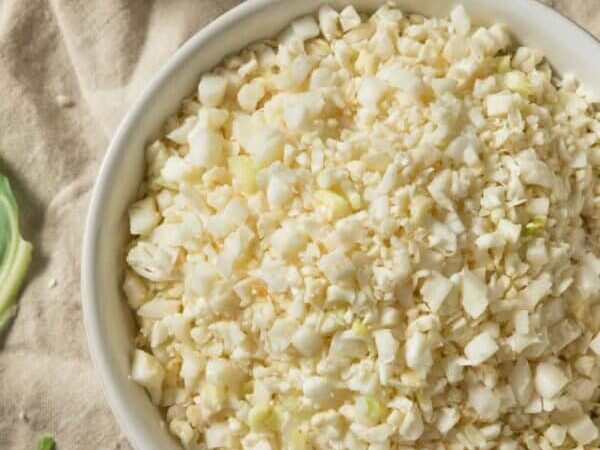 Click on highlighted ingredients or Equipment to see exactly what I use to make this recipe
Ingredients
1

Cauliflower

1

tablespoon

Oil
Instructions
Prepare your cauliflower in your preferred way (grate, chop, process, blend or steam - see details in the post above)

Heat 1 tablespoon of oil over a medium high heat in a frying pan.

Add the processed cauliflower to the pan and stir to coat.

Add the lid to the pan and cook for 5 to 8 minutes until you have your preferred consistency.

Stir in seasoning if you like and serve.
Squeeze out as much excess water as you can before cooking or freezing the cauliflower so that it doesn't become soggy.
Place the lid on the cauliflower when you cook it to help it steam and get nice and fluffy.
Add any seasonings you want to the rice before serving it. Soy sauce, chili flakes or seasoning salt all work well.
Get support & connect with our community on Facebook!
Nutrition
Calories:
67
kcal
|
Carbohydrates:
7
g
|
Protein:
3
g
|
Fat:
4
g
|
Fiber:
3
g
|
Sugar:
3
g
Tried this recipe?
Follow @twosleevers and Pin it!
Originally Published March 26, 2020
Check out my How to start a Keto diet post here for weekly keto meal plan outlines, for information on how to calculate macros, and other great keto tips.
New to Keto?
Read this post on What to Eat On Keto To Get Started if you're brand new to Keto and need to know the basics. It will help you understand Keto and the basics of the diet.
Don't forget to check out my other Keto cookbooks.
Keto Instant Pot, Keto Fat Bombs, Sweets, & Treats, and Easy keto in 30 minutes.