This Keto Stuffing or keto dressing recipe has got to be one of the best low carb holiday recipes I've ever created! Enjoy all that beautiful bready goodness without overindulging in carbs when you make this low-carb stuffing recipe!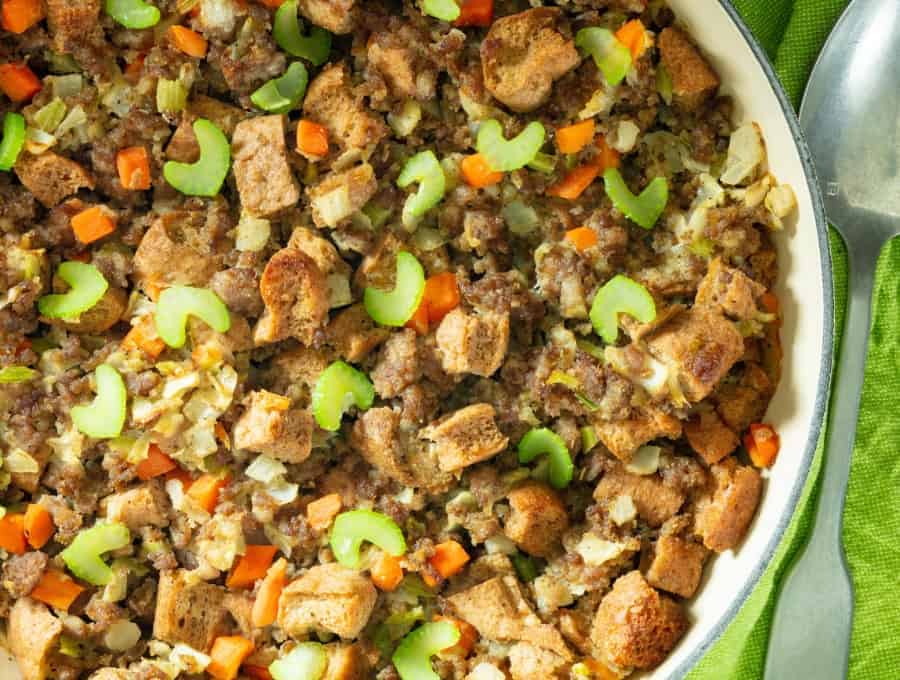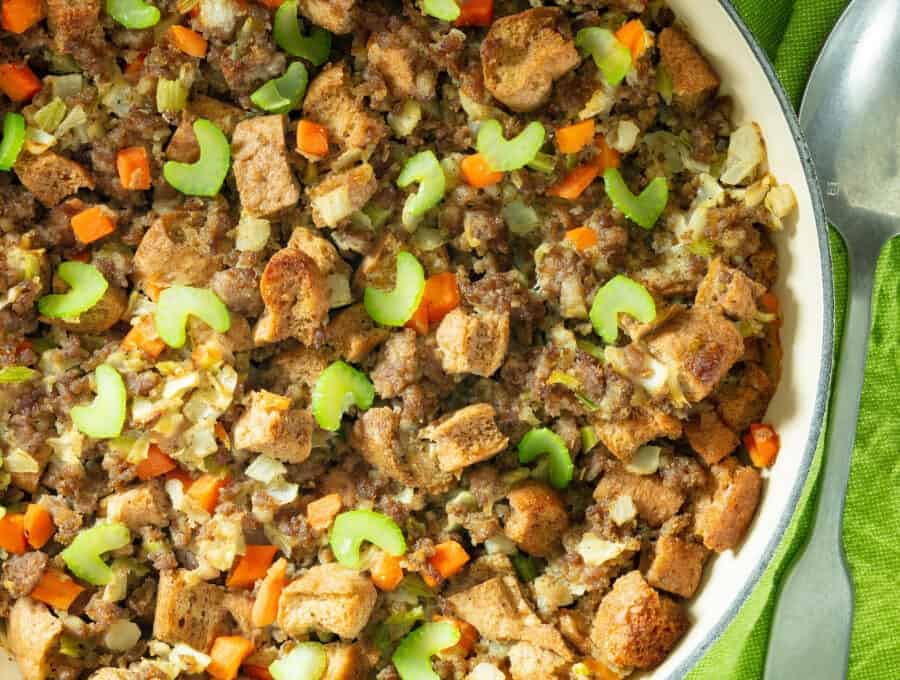 Jump to:
What Makes This Keto Stuffing So Good
I've never really met a stuffing I didn't like. I've found that if I let myself get off-track too much during the holidays, that my body doesn't appreciate it. This year I decided to create a Keto Stuffing recipe, and WOW am I glad I did!
This stuffing could be a meal all on its own. It's full of vegetables, bread, sausage, and all the wonderful spices you expect from a delicious stuffing recipe.
What Is A Good Substitute For Stuffing?
I know you might be thinking "But stuffing is made out of bread! I can't have that on a low-carb diet!"
Well, that's only partially true. You can, in fact, have bread when you're living a low-carb lifestyle. You just have to make sure you're buying or making the right kind of bread.
So, instead of worrying about finding a good substitute for stuffing, all you really need to do is find the right low-carb bread to make one of your favorite comfort food classics.
Does this Keto Stuffing taste exactly like high-carb stuffing?
So that's an interesting question. What I found is that the taste is very close. The croutons do have a slightly spongy texture that is different from regular bread croutons. But as to the flavor, yes, the flavor is the same as the regular stuffing.
What bread did you use to make this low carb stuffing?
If you're looking for some good keto croutons to use for this recipe, I highly recommend the ones HERE. Also, you can use the coupon code "TWOSLEEVERS" to get 15% off your entire order at Fox Hill Kitchens right now!
Can I use a different type of low-carb bread for this stuffing?
If you're looking for something you can run to the nearest grocery store and grab, I would highly suggest Sola Bread, Box'd Kitchen Bread, or even the L'oven Fresh "keto bread" at Aldi!
You could try my Keto bread recipe. If you did that, I would toast the bread until it crisps up and then try this same stuffing recipe. I should mention that I haven't tried this, so you'd be a little bit on your own. But if you do this and it works, would you mind leaving me a comment here, or letting me know in my Facebook group so we know this works?
Can I stuff this into the turkey?
I don't see why not. It should work the same way as regular stuffing. It will also soak up a lot of the great flavors from the juice of the turkey if cooked that way as well.
If you try this, make sure to tell me about it in the comments!
Ingredients You'll Need
Hot or mild Italian sausage- will add a tremendous amount of flavor to your keto stuffing.
Mirepoix- this is a combination of chopped onions, carrots, and celery.
Keto Croutons- you can grab these online or make your own by baking some day old keto bread.
Chicken Broth- helps to keep your dressing deliciously moist.
Eggs- will be the glue that loosely holds your stuffing together.
How To Make Keto Stuffing
Preheat the oven. Spray a baking pan and set aside.
In a skillet, brown the sausage, and when it's almost done add mirepoix and cook until it is slightly softened.
Pour in broth, salt, pepper, and poultry seasoning.
Add the croutons and stir. Then, turn off the heat and cover the skillet. Allow the croutons to soften and absorb most of the water.
Beat the egg. Once the croutons have softened, stir the egg into the mixture.
Pour the stuffing into the prepared baking pan.
Bake until the stuffing has set and the top is a golden brown.
How Long Does It Last?
This recipe doesn't make a huge quantity of stuffing, so worrying about leftovers isn't usually a problem. However, if you're cooking for a smaller family, or like to cook some of the sides for your holiday meal ahead of time, I would try to eat it within 3 days of cooking.
How Do You Do Thanksgiving Keto?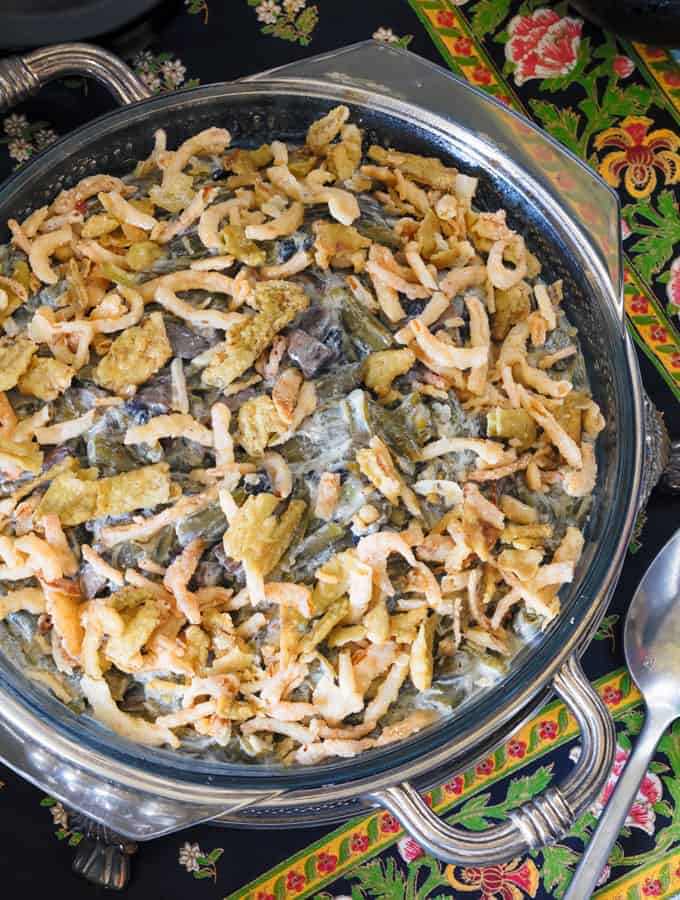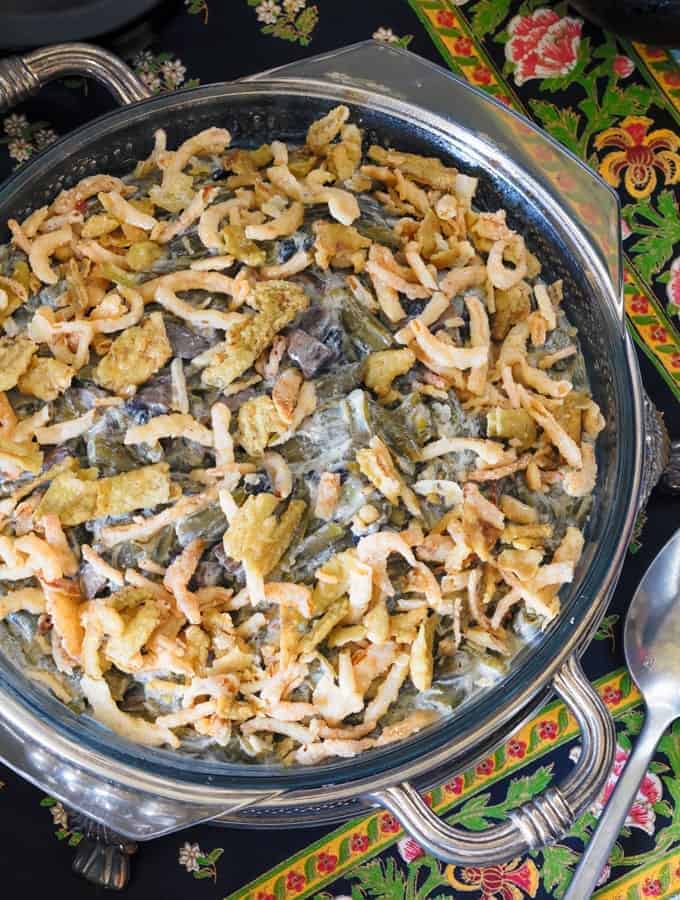 This Keto Green Bean Casserole is an absolute must for your family get-togethers this holiday season! Enjoy this holiday time favorite guilt-free!
This Low-Carb Pumpkin Pie is the ultimate answer to your keto Thanksgiving woes. It is, without a doubt, the perfect pumpkin pie for the holidays and you won't even know its low carb.
Add some variety, sweetness (and some spice) to your dinner table this holiday season with these Cranberry Brussels Sprouts! These are brussels sprouts like you've never had them before.
Looking for more low carb holiday recipes? Check out my post on the Best Keto Holiday Recipes!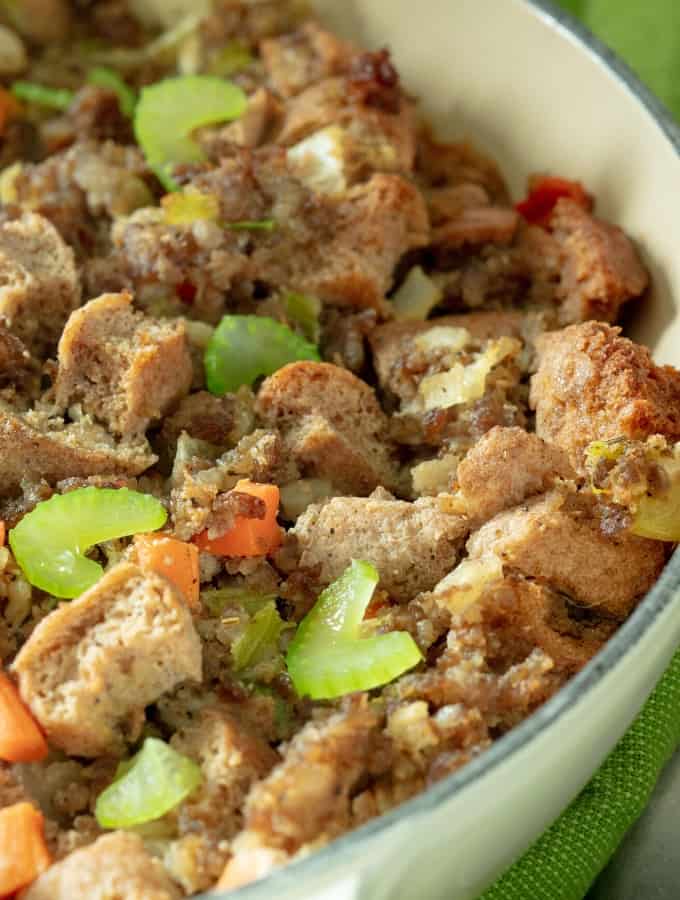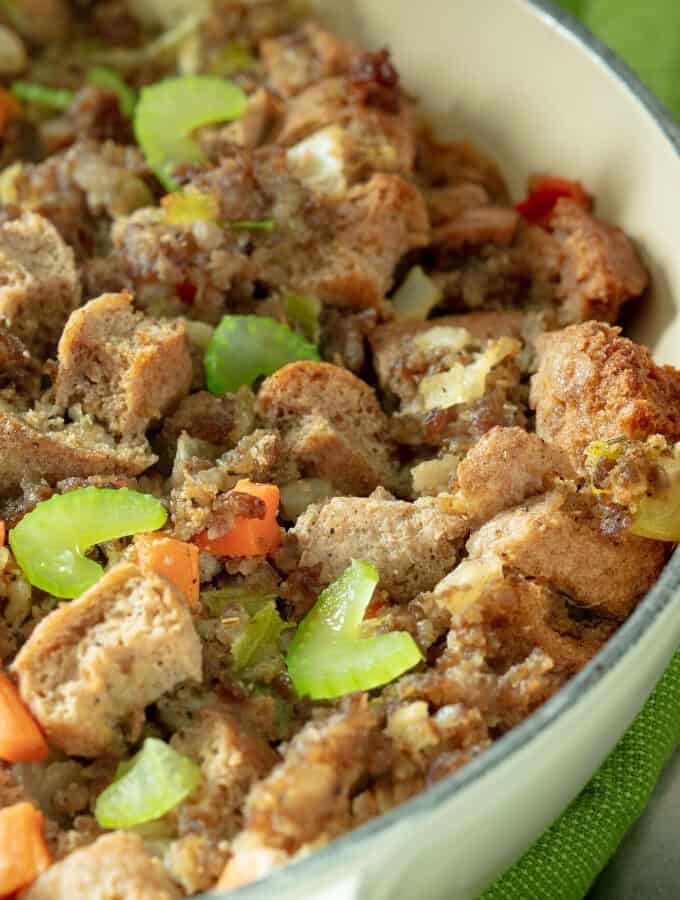 However you decide to serve this Keto Stuffing this year, I know you and your guests are going to love it! It's a beautiful dish that tastes incredible and I can't wait for you to try it!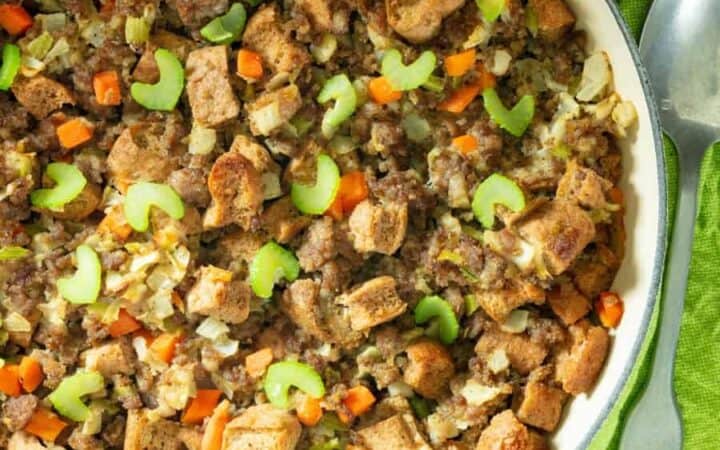 Click on highlighted ingredients or Equipment to see exactly what I use to make this recipe
Instructions
Preheat oven to 350f. Spray a baking pan and set aside.

In a 12-inch skillet, brown the sausage, and when it's almost done add mirepoix and cook for 2 minutes.

Pour in broth, salt, pepper, and poultry seasoning.

Meanwhile, beat the egg. Once the croutons have softened, stir in the egg.

Tip out the stuffing into the prepared baking pan.

Bake for 20-30 minutes until the stuffing has set and the top is browned.
If you choose to use a different kind of low-carb (like Sola bread, Box'd Kitchen Bread, or L'oven Fresh) bread to make this, I suggest toasting it first to make sure it's crispy.
You can use this to stuff a turkey like you can any regular stuffing recipe.
Get support & connect with our community on Facebook!
Nutrition
Calories:
258.38
kcal
|
Carbohydrates:
4.02
g
|
Protein:
12.6
g
|
Fat:
20.9
g
|
Fiber:
1.21
g
|
Sugar:
1.62
g
Tried this recipe?
Follow @twosleevers and Pin it!
Originally Published October 31, 2019
Don't forget to check out my other Keto cookbooks.
Keto Instant Pot, Keto Fat Bombs, Sweets, & Treats, and Easy keto in 30 minutes.