Love mac and cheese but trying to avoid the carbs? My Low Carb Cauliflower Mac and Cheese with Bacon and Jalapenos will satisfy your cravings without knocking you out of ketosis--and with no pasta for a lovely, gluten-free keto side dish.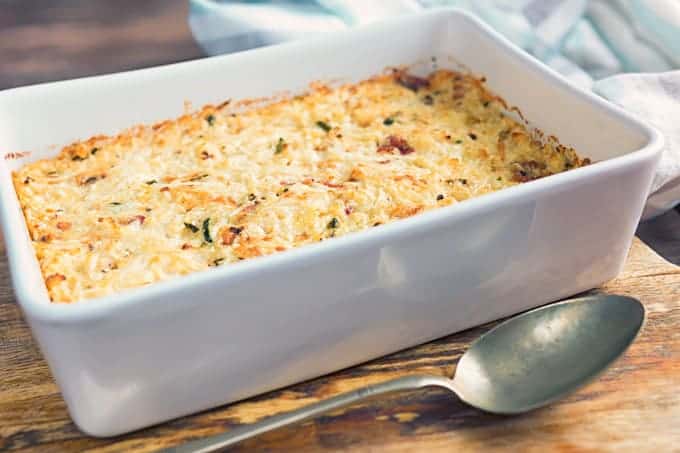 Why This Is The BEST Keto Cauliflower Mac and Cheese Recipe
I know there are a lot of Low Carb Cauliflower Mac and Cheese recipes out there. So what makes mine one of the best keto recipes?
Well, let's see.
And that, my friends, is why this is the best Keto Mac and Cheese recipe out there.
Can You Eat Mac And Cheese On A Keto Diet?
Well, yes and no. As you know, pasta is generally too high in carbs to eat in a low carb lifestyle. So, finding a delicious, low-carb alternative to pasta that has the same flavor profile as mac and cheese makes eating one of your favorite comfort foods possible.
Skip the pasta and add in cauliflower. Sure, it's not traditional, but I assure you that it's incredibly delicious and a great alternative.
How Do I Substitute Cauliflower For Pasta?
I promise you, replacing pasta with cauliflower in this Keto Mac and Cheese recipe is SO SIMPLE. It's actually even easier to use cauliflower than pasta.
If you are making traditional mac and cheese (you know, the carb-loaded kind with pasta) you would have to cook your noodles first and then add all of the other ingredients. With this Cauliflower Mac and Cheese recipe, there's no need to cook the cauliflower first. Just put it in the pan with a lid and let the steam cook the cauliflower while it melts the cheese to perfection.
How to Make Loaded Keto Cauliflower Mac and Cheese
I am just waiting for the day when people turn cauliflower into keto wine. Or a cake that actually tastes like cake.
But until then, I have found other creative, low carb cauliflower recipes to make.
Using a 10 or 12 inch saucepan with a lid, start browning the bacon. While it browns, you can get your other ingredients together. NOTE: You can also cook the bacon in the air fryer for this step.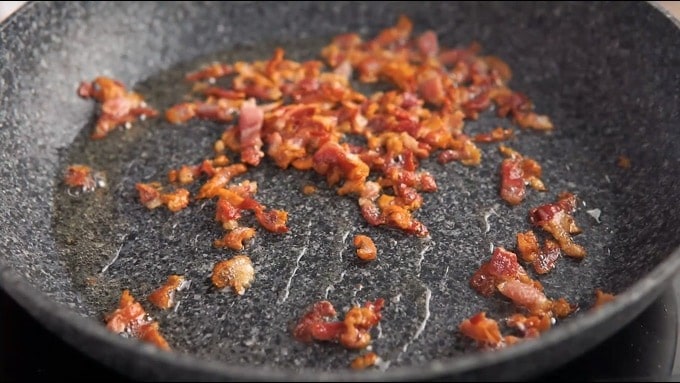 2. Add in the Jalapenos and cook for a little while.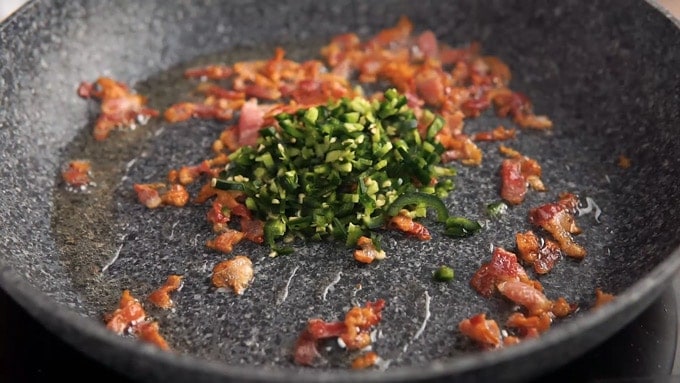 3. Mix the cauliflower, cheese, half and half and seasonings. Don't worry about everything mixing well. Once the cheese heats, it will mix in just fine.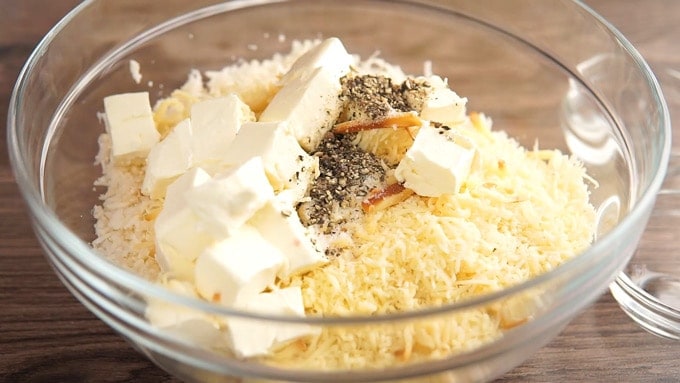 4. Pour the mixture into the pan to cook. Cover with a lid.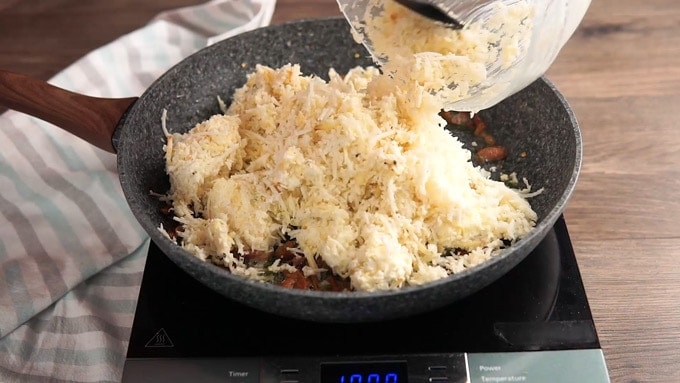 5. And there you are. You can sprinkle a little extra cheese on top and broil if you prefer.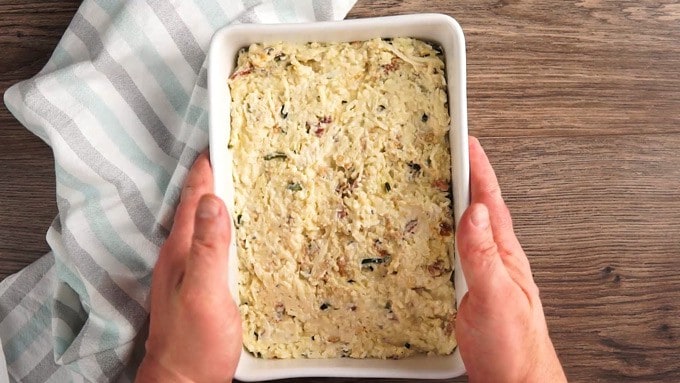 I hope the pictures above help you see how easy it is to make this great keto side dish. As I said earlier, the whole recipe cooks in less than 30 minutes and it's definitely something everyone will enjoy
Keto Comfort Foods
I asked people in my TwoSleevers Facebook group what foods they considered comfort foods when they're brainstorming Keto dinner ideas. Ooey, gooey, cheesy casseroles seemed to be at the top of the list for most folks.
Paradoxically, those are also the things that people struggle to make into keto side dishes.
If you can't use cream of something soup, and you can't use flour, how is one supposed to make a keto casserole?
I'll tell you how.
With lots of yummy cheese, heavy whipping cream, and other keto-friendly goodies.
Not only do they taste good, but they are keto, and because of all the fat in them, they tend to be very satisfying.
But in this case, I wanted something with even more flavor. And I wanted it fast. Enter bacon and jalapeno.
How Spicy Is This Cauliflower Mac and Cheese Keto Dish?
Well, you know, it's all about the jalapenos. They can be deceptive. They all look the same, but some of them definitely pack a bigger punch than others.
I have a ridiculous but failproof way to tell which ones are too spicy and which ones aren't spicy enough.
Eat a little bit of each of them when raw.
I know, I know, it sounds crazy. But if you want your keto mac and cheese to taste well-flavored but not crazy spicy, it's worth the nibble or two to be sure you won't be burning the roof off someone's mouth.
When I made this, with the proportions specified below, I could taste the jalapeno, but the dish was not spicy.
I think all that cream and cheese offset some of the heat. Remember that a lot of the heat comes from the seeds, so if you want to keep the spice to a minimum, remove the seeds before adding the peppers.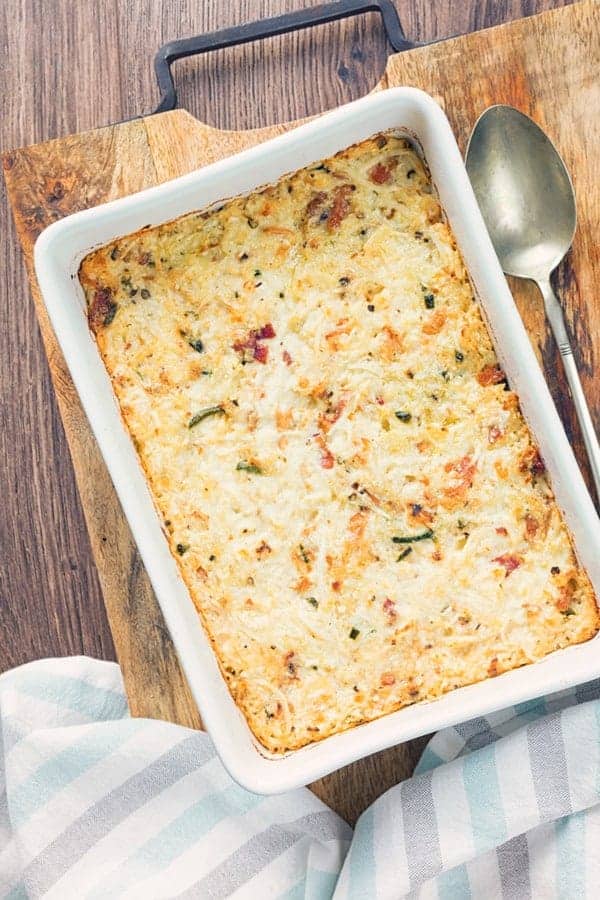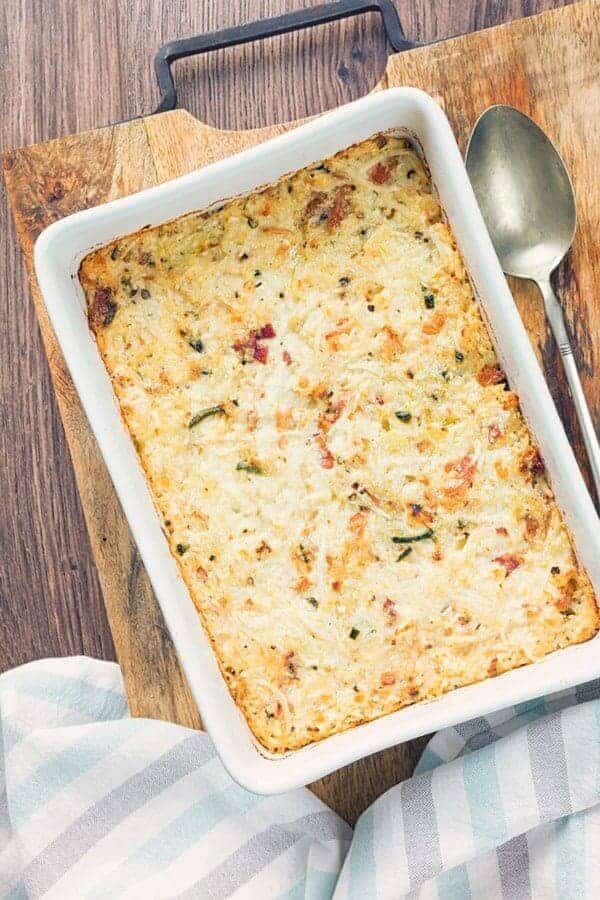 What Sides Can You Eat On Keto?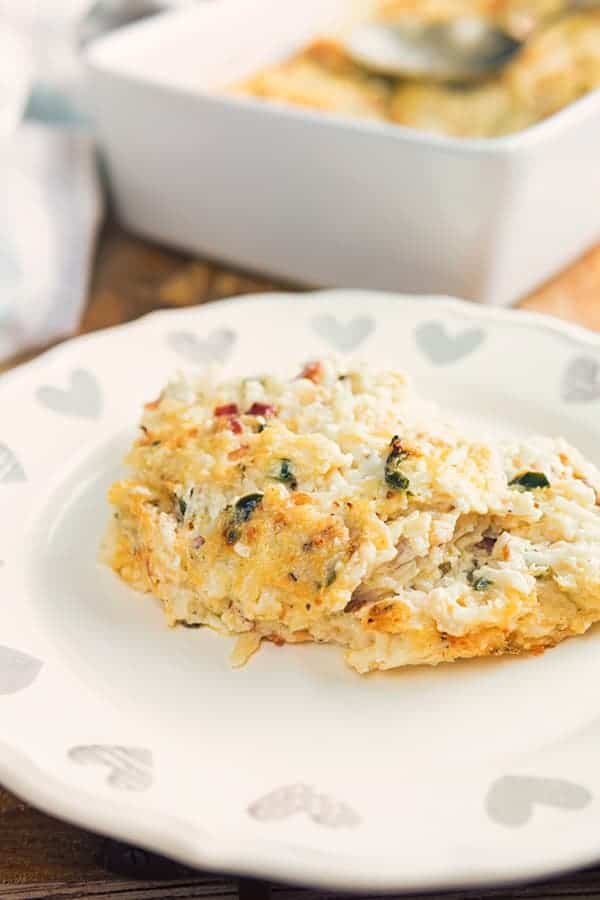 I am pleased to tell you that this Cauliflower Mac and Cheese recipe with bacon and jalapenos absolutely hit the spot and gave me all the flavor I was hoping for!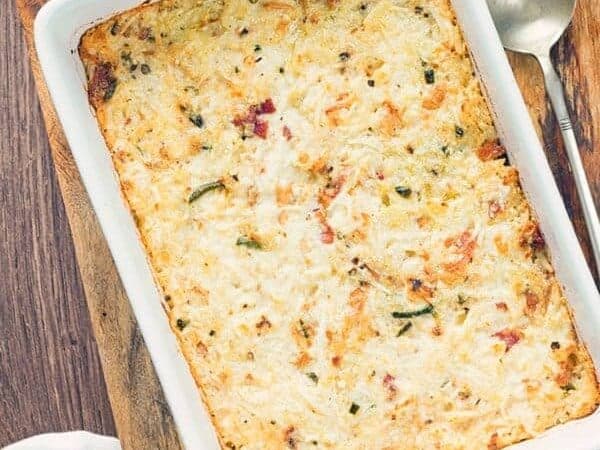 Click on highlighted ingredients or Equipment to see exactly what I use to make this recipe
Instructions
In a 12-inch sauté pan over high heat, start cooking the bacon. While the bacon cooks, in a large bowl mix together cauliflower, cream cheese, whipping cream, shredded cheese, salt, pepper. You do not need to get a homogenous mixture just mix it up as well as you can. Once the cheeses melt, it will be a lot easier to get an even mixture.


When the bacon is cooked, about 8-10 minutes, put in the jalapeños and sauté for one minute.


Add the cauliflower mixture stir well, place a lid. Lower the heat to medium-low. Cook for 8 minutes or until the cheese has melted. Stir once again.

You could also choose to microwave the bacon, put everything into a sprayed 8 x 8 baking dish, and bake at 3:50 for 15 to 20 minutes.

EVEN FASTER TIP:
Use ready-made riced frozen cauliflower. Set it out as you begin to gather ingredients. Don't worry if it isn't fully thawed. You will just have to cook a little longer at step 3.
Double the recipe. Cook one batch now, and freeze the other. Thaw and bake as specified.
You can freeze this recipe easily.
If you're avoiding pork and bacon, use turkey bacon.
Get support & connect with our community on Facebook!
Nutrition
Calories:
347
kcal
|
Carbohydrates:
6
g
|
Protein:
12
g
|
Fat:
30
g
|
Fiber:
1
g
|
Sugar:
2
g
Tried this recipe?
Follow @twosleevers and Pin it!
Originally Published May 15, 2018
Don't forget to check out my other Keto cookbooks.
Keto Instant Pot, Keto Fat Bombs, Sweets, & Treats, and Easy keto in 30 minutes.