This Beet Salad combines beets, carrots, and cabbage to make a quick and delicious Indian dish that is as beautiful as it is nutritious! Add your favorite raw vegetables to this vegan salad and make a great side dish for your meals.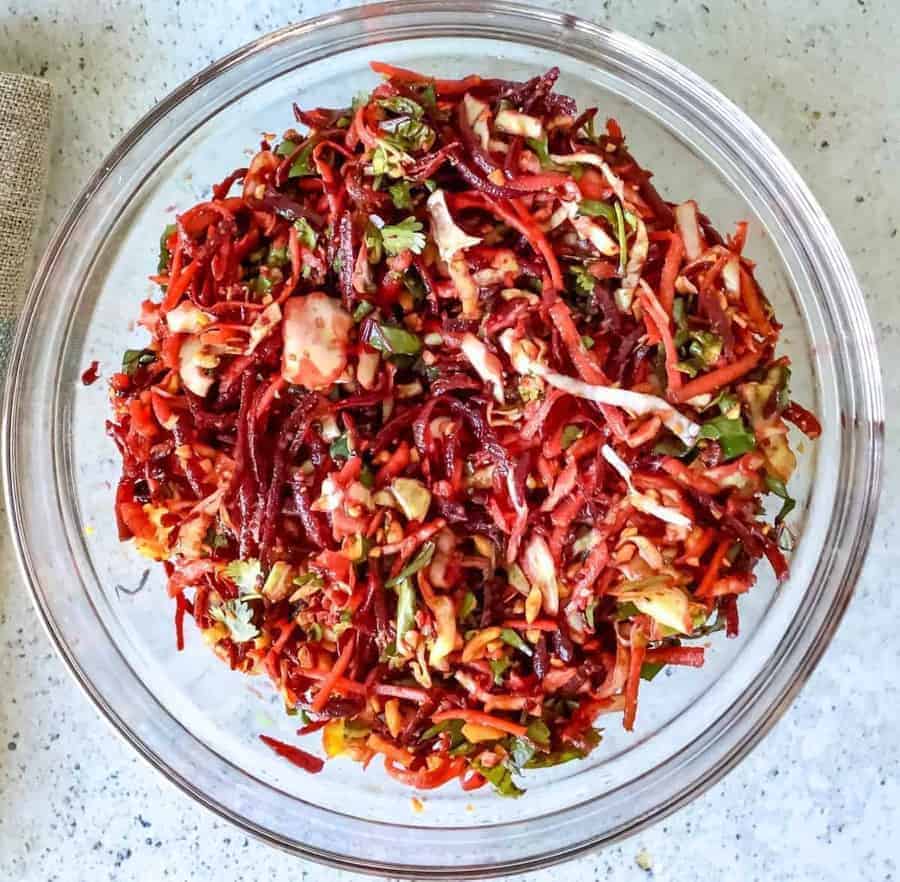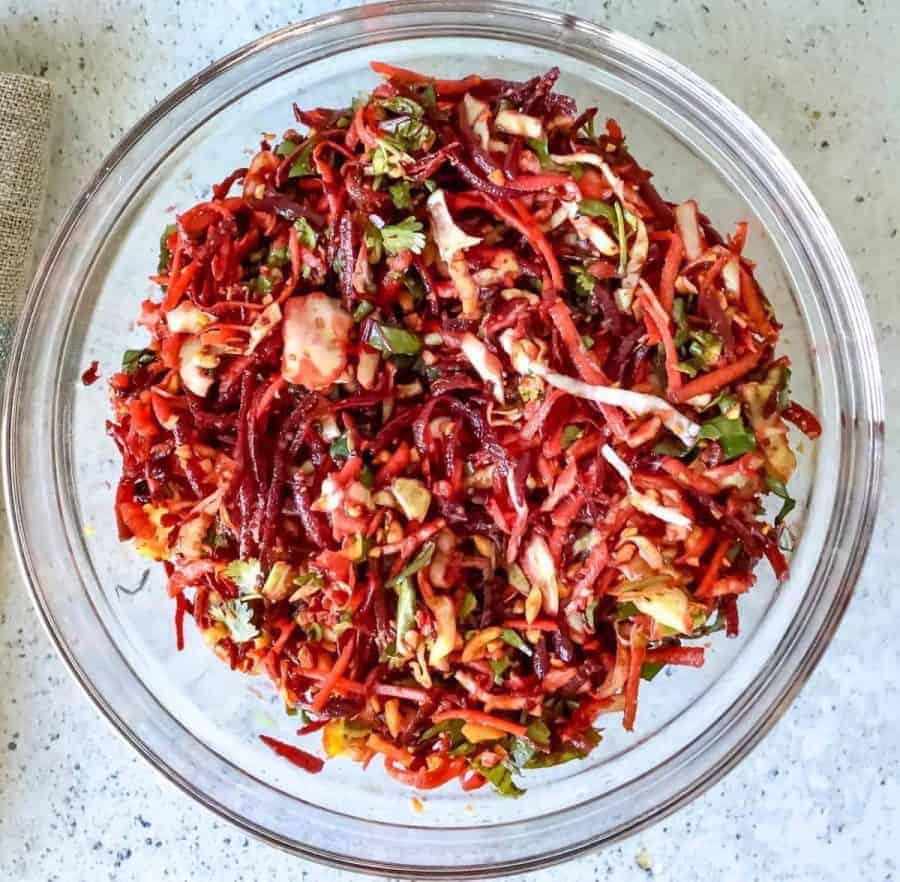 Beet Salad
So, the other day I make an Authentic Russian Borsch in my Instant Pot. But it was my first time making it, and I really had no idea of proportions, like how much I'd need of this or that. So, I had some shredded vegetables left. Like probably FOUR or FIVE WHOLE CUPS of shredded vegetables left!
I will also admit I might have gone a little shred-happy with my much-loved salad shooter. Once you start shredding with that thing, you pretty much don't want to stop!
So, I decided to take the leftover beets, carrots, and cabbage and use it to make a Beet Salad. This style of making salads is quite common in much of India. Some of the ingredients can vary a bit, sometimes you might add yogurt, other times you might add shredded coconut.
But, mixing up raw veggies, adding either lime or lemon juice, or yogurt or tomatoes to tenderize the vegetables and then pouring over a hot flavored oil is an easy, fast, and delicious addition to your meals.
Also, if you're living a vegan lifestyle, you're in luck! This recipe doesn't use goat cheese or any other animal products, so you can enjoy this salad without having to make any alterations to the ingredients.
What Vegetables are Used in a Raw Vegetable Salad?
Many various vegetables can be used in this type of salad. Honestly, it comes down to your favorite crispy, crunchy types of vegetables. I used cabbage, carrots, and beets. However, if you have other vegetables you prefer instead, that's perfectly fine. You can find a list below of other vegetable options if you're struggling to think of other ideas.
Benefits of Eating Raw Vegetable Salad?
In many cases, raw vegetables are much better for you than cooked vegetables because the nutrients haven't been cooked out of them. But that isn't always the case, it just depends on the vegetable.
Sometimes, cooking vegetables can release some of their better and more beneficial nutrients.
Beets happen to contain more vitamins, minerals and antioxidants in raw form than when it is cooked, making this recipe a great source of nutrients!
The benefits reported by eating raw vegetables such as this raw vegetable salad are numerous. Better skin, higher energy, better digestion, and even better heart health.
Of course, this is linked to eating fresher and less processed foods in general.
The fact is, I don't know of double-blind controlled studies that address the benefits of raw vs. cooked foods overall. But I think moderation is a great idea, so I eat some veggies raw, and some cooked and hope for the best!
Besides, they all taste good so that's always a good thing.
Vegetable Substitutes
I have a habit of mixing up the vegetables I use in this raw Indian vegetable salad. You can sub most any crunchy veggies in this salad and still have it turn out incredible.
Macerated kale works great in this salad as well. Massage is really well with oil and salt to get it to break down, and then add it to your salad.
Other vegetables that may work well in this salad, but may not be traditional also include:
cucumbers
jicama
green beans
macerated kale
ribbons of Swiss chard
sliced red onions
Tips and Tricks for This Recipe
If you're using macerated kale, be sure to massage the crap out of it. I mentioned massaging it above, but I want to reiterate that you really want to do a thorough job of it before adding it to the salad.
You can refrigerate this salad in an airtight container for 2-3 days.
If you add green beans in this salad, make sure to thinly slice them for it to blend in well.
Looking For Other Great Salad Recipes?
Looking for more great beet recipes? This Chermoula Roasted Beets recipe is a fantastically flavorful vegetable side dish! It's vegan friendly and quick & easy to make in your air fryer!
This Beet Salad makes a fantastic starter course for the nights you make Indian food for dinner or as a nice, light and vegan lunch option. Make sure to let me know if you enjoyed it in the comments!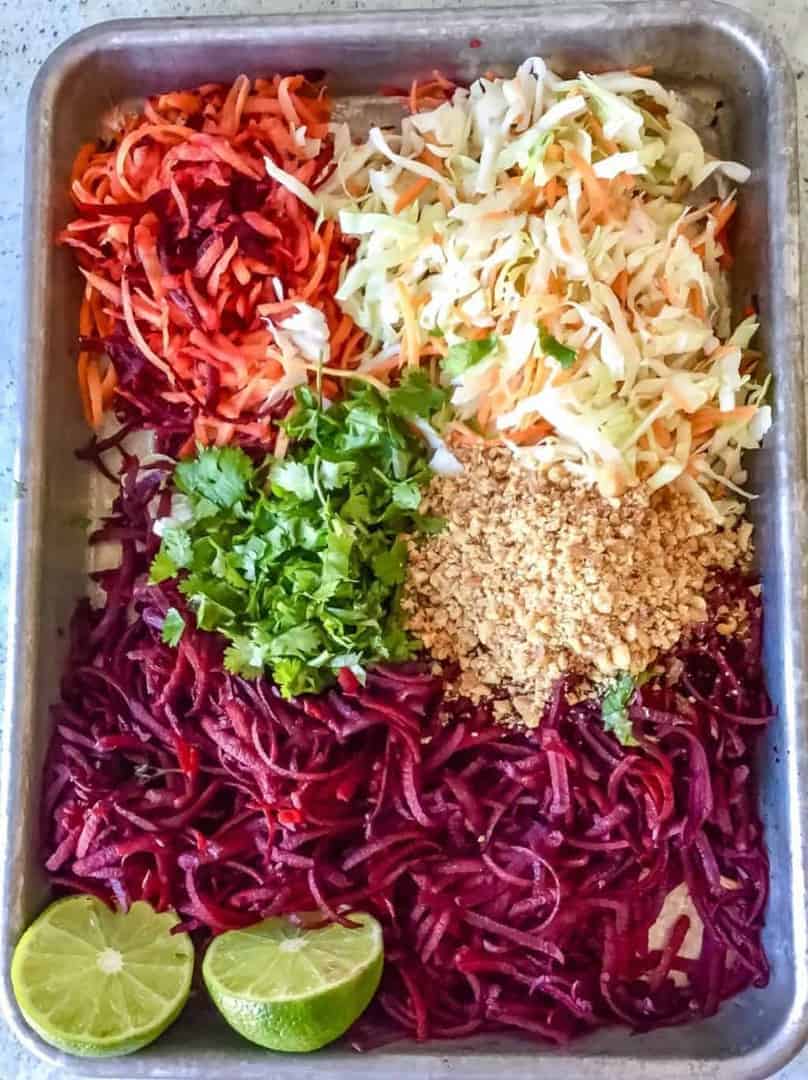 ★ Did you make this recipe? Don't forget to give it a star rating below! Just click on the stars in the recipe card to rate. Tag me with #TrustUrvashi if you post and I will share your post.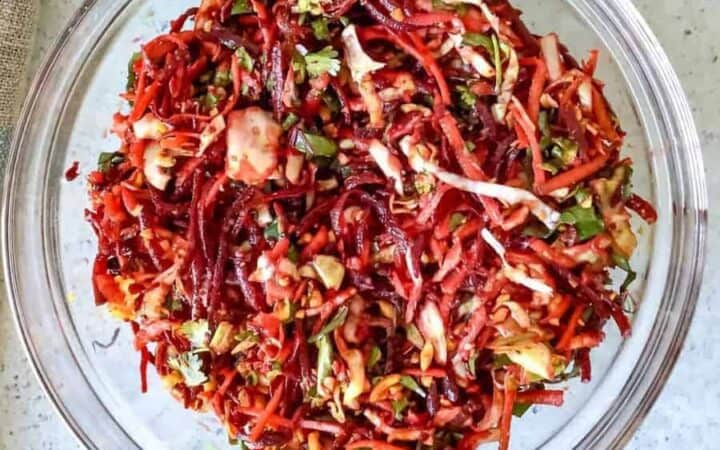 Ingredients
For Tempering (Making flavored oil)
Instructions
In a large bowl, combine all the shredded vegetables, peanuts, salt, Splenda/sugar and cilantro and set aside.

Heat your small tadka bowl or a small saucepan over high heat. Once the pan is hot, add oil and let it heat.

Place the mustard and/or cumin seeds and allow them to sputter like popcorn about 30 seconds.

Add the turmeric and stir quickly.

Pour this hot, flavored oil over the cabbage mixture and mix well.

Mix once again and set aside for 15-20 minutes and then serve.
Notes
If you're using macerated kale, be sure to massage the crap out of it. I mentioned massaging it above but, I want to reiterate that you really want to do a thorough job of it before adding it to the salad.
You can refrigerate this salad in an airtight container for 2-3 days. 
If you add green beans in this salad, make sure to thinly slice them for it to blend in well. 
Nutrition
Calories:
196
kcal
|
Carbohydrates:
13
g
|
Protein:
4
g
|
Fat:
15
g
|
Saturated Fat:
9
g
|
Fiber:
4
g
|
Sugar:
5
g