Love to eat quinoa but hate how long it takes to cook on the stovetop? Here are some of the best Instant Pot quinoa recipes to get one of your favorites on the table faster! Learn how to cook quinoa in the Instant Pot for quick, easy and healthy meals.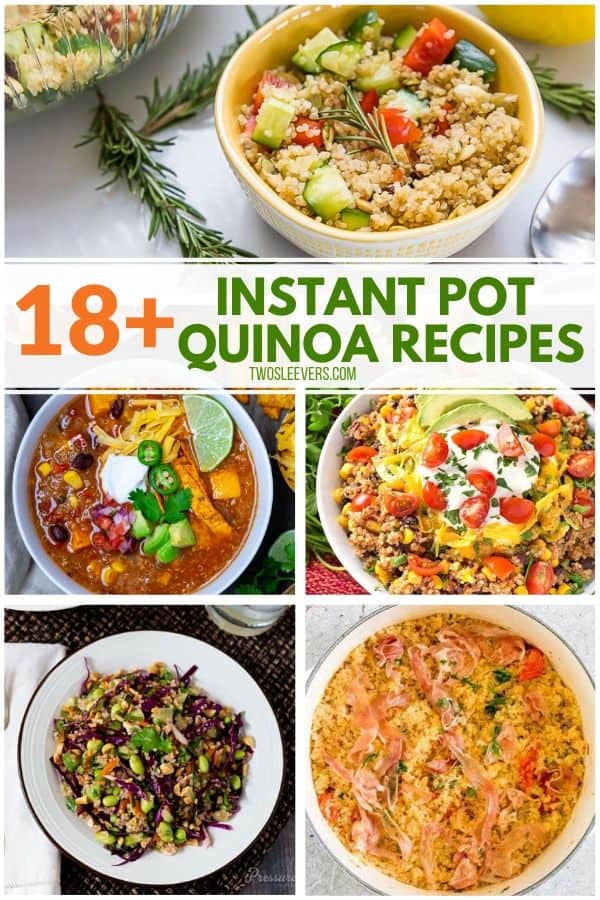 Can You Cook Quinoa In An Instant Pot?
Not only can you cook quinoa in an Instant Pot, but you also should. It is incredibly fast and easy. No need to babysit it on the stovetop or worry about over agitating it while it cooks.
How Do You Cook Quinoa So It's Not Bitter?
Even if your quinoa says that it is pre-rinsed on the box, always take time to thoroughly rinse it. Quinoa has a natural coating called saponin. This helps keeps bugs away from the plant. If you rinse it, it removes this natural coating and helps to remove any bitter taste.
What Can I Add To Quinoa For Flavor?
While I happen to love quinoa with just as few simple spices added in, I have several tips and tricks for making Instant Pot quinoa taste even better.
Rinse- Always rinse your quinoa. This will help make it less bitter by removing the saponin (it's natural coating).
Spice it up- Add some fresh herbs spices to make it exciting.
Make it sweet- Quinoa is delicious as a sweet dish too. Make it as a pudding or oatmeal.
Cook in broth- add depth to the flavor by cooking in broth instead of water.
Why Does My Qunioa Come Out Mushy?
There are a few reasons your quinoa can come out mushy after you cook it. Those reasons are:
Overcooking
Over stirring
Too much water
All three of these things can leave you with less than perfectly cooked quinoa. The simple solution for this? Use your Instant Pot and one of these amazing recipes included in this post. It will guarantee perfectly cooked quinoa your whole family will love.
How Long Does Cooked Quinoa Last?
Quinoa is quite resilient after it is cooked. It must be refrigerated but once you do so, it will last up to a week. If you choose to freeze it instead, it can last anywhere from 8 to 12 months.
Whether you choose to make your Instant Pot quinoa sweet, savory, a full meal, or a dessert, you're guaranteed to love how quickly it's finished. If you love these recipes, make sure to share this post with your friends on Facebook and Pinterest to make them again later.
Indian Instant Pot, Keto Instant Pot, Instant Pot Fast and Easy, Healthy Instant Pot & Vegetarian Instant Pot.