A delicious collection of easy pork belly recipes! Discover recipes from China, Japan, Greece, Vietnam, and Korea, as well as low carb and keto recipes. Roasted, grilled, braised and smoked, you'll find an uncured bacon recipe that you love here!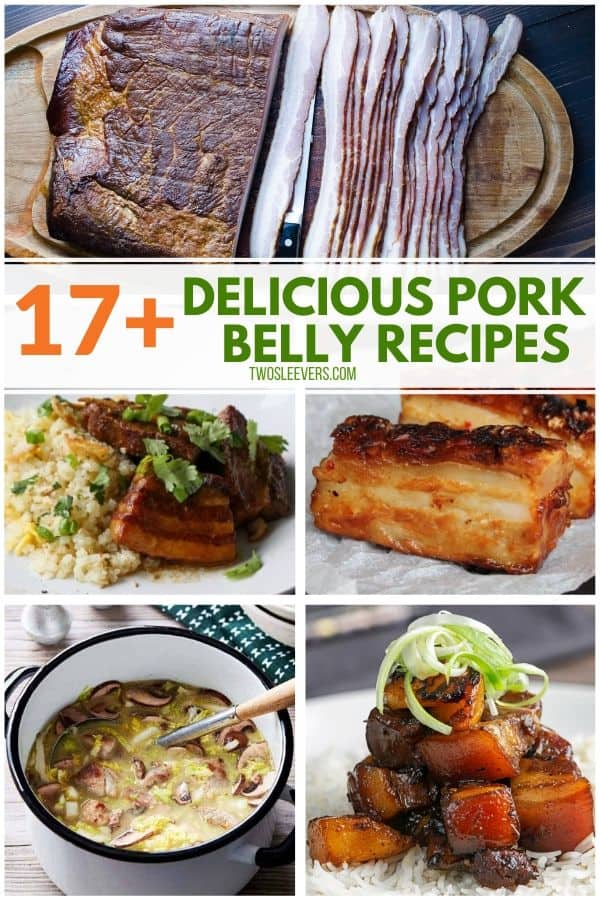 Pork belly is such an amazing cut of meat, if you haven't tried it before I've got so many great recipes here for you! It's layers of fat make this meat so succulent and juicy and the skin crisps up wonderfully for crackling.
These pork recipes are perfect for main courses and appetizers, and a lot fit into low carb and keto diets.
What Is Pork Belly?
Pork belly comes from the underside of the pig and is a boneless and fatty cut of meat. It can be slow braised, grilled and roasted, and when thinly sliced and smoked it becomes bacon or pancetta. It is generally a relatively cheap cut of meat.
Is Pork Belly the same as Bacon?
Yes and no. It's the same cut of meat, but pork belly is raw, and unprocessed. In contrast, Bacon has been cured, usually with salt or brine, and then smoked.
So put simply, pork belly is raw bacon. To become bacon, pork belly is cured in some fashion.
But they aren't exactly interchangeable in cooking. Uncooked Pork Belly is more versatile since it functions like fatty flavoring but also meat. In contrast, Bacon lends a distinctive salty, smoky flavor to the food.
What does pork belly taste like?
A lot of the flavor of the pork belly comes from the layers of fat. It tastes similar to a pork chop, with a little sweetness, but it is slightly richer.
What cuisines is it found in?
Pork belly is a particularly popular ingredient in Asian recipes, especially Chinese, Korean, and Filipino. You can also find it in Hispanic cuisine. It has more recently become popular in Western cuisine and often used in BBQ or roasted.
How do you know when the pork is cooked?
Pork belly generally requires a long slow cook so that the fat and meats break down to make it wonderfully tender. The best way to know when it is done is to use a meat thermometer, it should register at 165F. The juices should run clear if it is pierced with a fork.
The Best Pork Belly Recipes
More Pork Recipes
Indian Instant Pot, Keto Instant Pot, Instant Pot Fast and Easy, Healthy Instant Pot & Vegetarian Instant Pot.