Make cooking Instant Pot chicken fast and easy with some of my helpful tips and tricks. You may never cook it another way again.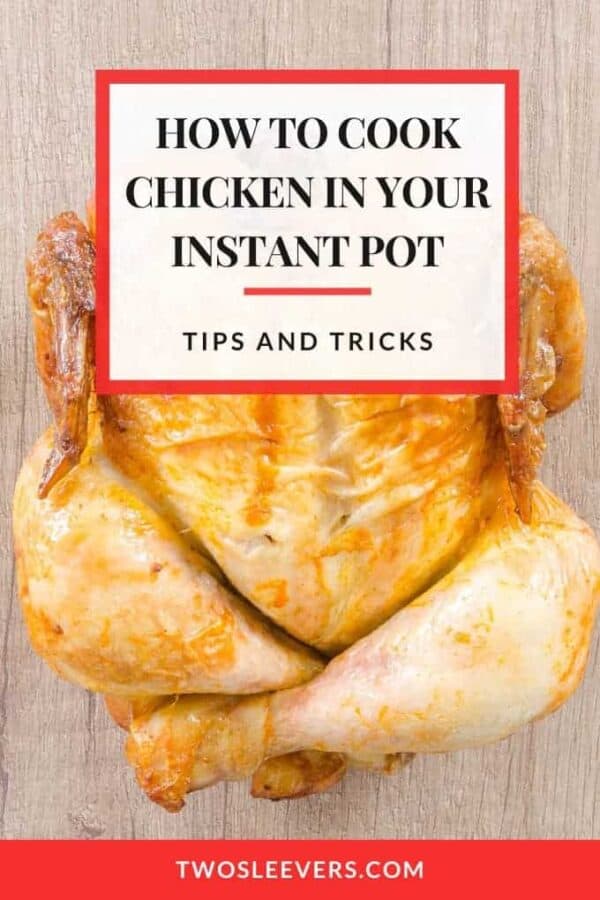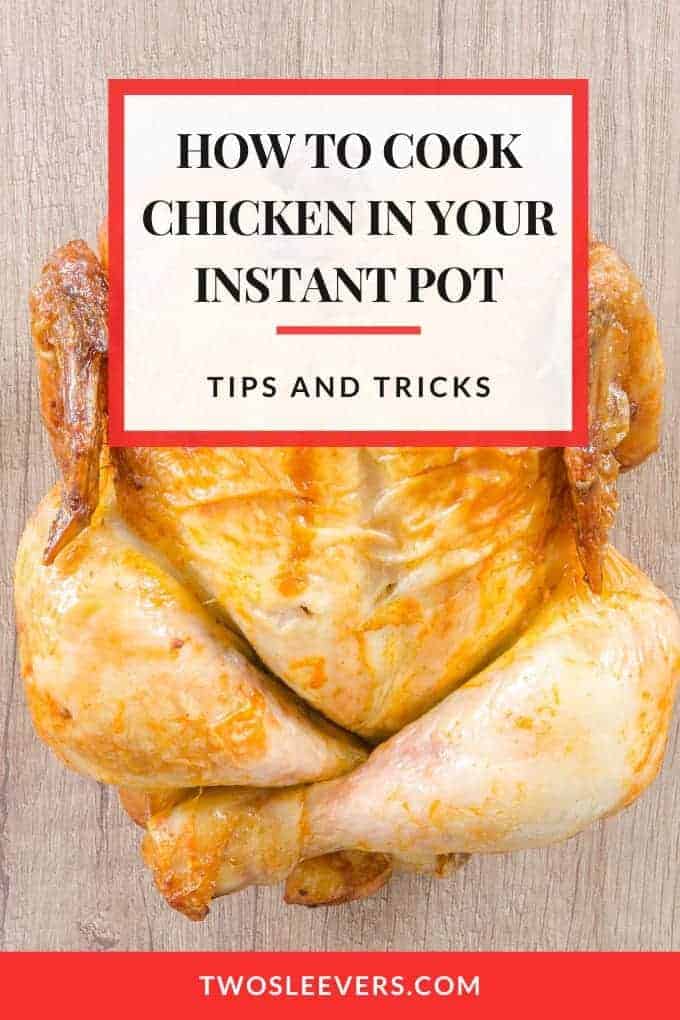 Chicken In The Instant Pot | How to Cook Chicken In the Instant Pot
Chicken is the most popular meat cooked in the Instant Pot and for good reason. There are literally thousands of recipes for chicken in the Instant Pot.
From comfort dishes like Chicken Taco Soup and Creamy Chicken Soup to healthy meals like Low Carb Sesame Ginger Chicken. Even international flavors can be enhanced with recipes like Thai Curry Soup and Chicken Korma.
Below I will outline the fundamental rules and tips for cooking the different types of chicken in the Instant Pot. For specific recipes, you can find a ton of great ones on my blog 37 Best Instant Pot Chicken Recipes.
Get a free printable Instant Pot Chicken Cheat Sheet HERE!
How long does it take to cook chicken breast in the Instant Pot?
If you've ever tried to cook chicken breast in a slow cooker, or even on the stove, you know how easy it is for it to turn out too dry. Not so in the Instapot.
Chicken breast cooks up perfectly in the Instant Pot. You can even precook plain and juicy chicken breast in the Instant Pot for salads, bowls or any recipes that call for cooked chicken.
For perfectly juicy chicken breast, the general rule is to cook the chicken on HIGH pressure for 6 minutes per pound, and then natural release for 10 minutes.
You can even cook frozen chicken breasts. It will take a little bit longer for the pressure cooker to come to pressure and start counting down, but the time under pressure is usually still 6 minutes per pound.
When the cook time is up, allow the pot to release pressure naturally for 10 minutes and then release all remaining pressure.
If you're planning to shred the chicken breast for a recipe like Chicken Tinga, keep the pressure on a little longer by using natural release for 5 minutes after a 15-minute cook time
Should I cook my chicken in broth or on the trivet?
I've seen recipes where people put chicken breasts on a trivet or in a steam basket in the Instant Pot, but I like for it to be down in the water in order to keep it as moist as possible.
I have tried it both ways and find the chicken that cooks in broth or water is essentially braised and tends to be juicier and moister.
So what I do is put in a cup of broth or water, and I throw chicken breasts in the Instant Pot.
Sometimes I'll throw in a little onion, celery, and carrots so that I get a flavorful broth while cooking the chicken, because #ruthlessefficiency!
This way, if I plan to shred and/or reheat the chicken, I can always keep it moist with the broth and use it while reheating.
And one of the most important rules of cooking chicken in the Instant Pot is don't toss the broth!
Whatever you do, don't dump the broth (or water) you used for steaming—it didn't lose any flavor, in fact, it gained some, and you can use it to turn your chicken into soup, for ramen, etc.
Get a free printable Instant Pot Chicken Cheat Sheet HERE!
How long does it take to cook chicken thighs?
Many people find chicken thighs to be more flavorful and juicier than chicken breasts, and they are perfect to cook in the Instant Pot as well.
They can be cooked with or without the bone, with or without the skin, and fresh or frozen.
For bone-in skin-on chicken thighs, you should set the Instant Pot to HIGH pressure for 10 minutes.
Note that you should remove the skin before serving since it doesn't look pretty, or you can broil it with a Mealthy Crisplid.
Bone-in skinless thighs should also be cooked on HIGH for 10 minutes.
Boneless skinless thighs only need 8 minutes on HIGH FOR 8-10 thighs. If you plan to shred them or cut them into smaller pieces however, I like to do HIGH for 10 minutes with a 10 min NPR.
For frozen chicken thighs, you should freeze them individually and not in a big clump. You can increase the time to 12 minutes for frozen thighs on high pressure if they're somewhat stuck together, but typically 10 minutes will do the trick.
Is making a whole chicken in my pressure cooker easy?
What could possibly be easier than putting a whole chicken into the Instant Pot and having a beautiful rotisserie chicken in less than an hour?
I'll even tell you how to cook a whole frozen chicken in the Instant Pot in case you forgot to take it out of the freezer.
Making a whole chicken in the Instant Pot results in the most flavorful, tender, juicy chicken you will ever have. The meat falls off the bone and every bite is just filled with juiciness.
With a full chicken, I like to use a short trivet to get it off the bottom of the pot.
Pour in a cup of cold water and make sure you've removed all the insides of the chicken.
For added flavor, you can stuff the chicken with lemon and onion.
The length of cooking time for whole chickens will vary based on the size of your chicken. A safe rule of thumb is to cook your chicken for 6 minutes per pound and let it naturally release for at least 20 minutes for perfectly cooked chicken.
3-pound chicken: 18 minutes on high pressure
4-pound chicken: 24 minutes on high pressure
5-pound chicken: 30 minutes on high pressure
For every pound add 6 minutes and for every half a pound add 3 minutes to total cooking time.
Get a free printable Instant Pot Chicken Cheat Sheet HERE!
Rotisserie Chicken in the Instant Pot? Really?
Ok, let's address this head-on. Your Instant Pot whole chicken will not be like a roasted rotisserie chicken.
The meat will be juicier and moister. The chicken will fall apart a lot easier than when you get a rotisserie chicken.
But the skin? Yeah, the skin won't be crisp at all.
You can definitely put the cooked chicken under a broiler. The Mealthy Crisp Lid is a good option for this, as is the Foodi.
Just remember it will take longer for that moist skin to crisp up, which could result in your overcooking that already well-cooked chicken. It could even dry out the breast meat a little with the direct heat on it.
The other downside is that, despite all the recipes you see on the internet which use spices on the outside of the chicken, you are better off using spices on the inside of the chicken to flavor it.
The spices on the outside of the chicken largely wash off with the steam from the pressure cooker.
In contrast, the spices or aromatics on the inside steam and release flavor molecules and aroma molecules inside the chicken cavity.
I rarely get fancy here: an onion or a cut-up lemon and I'm done.
You're better off making one of my fancy sauces like the one in my Chicken Vindaloo recipe or one of what is arguably everybody's favorite, the sauce from my Instant Pot Butter Chicken recipe. They will be great for flavoring your chicken instead.
Can I cook frozen chicken in the Instant Pot?
So the answer to this question is yes, but only if you were smart when you froze it.
If you froze it in one big clump, you will have trouble getting the chicken to cook evenly. The outside pieces on the lump will cook well, while the inside still stays frozen.
My advice is that if you plan to cook frozen chicken, or would simply like to have that option, you need to think about this when you first bring home the chicken from the grocery store.
You have two options:
You can either lay the chicken on a cookie sheet and freeze each piece individually and then bag the pieces.
Or you can put the chicken in a gallon Ziploc bag and freeze the pieces of chicken in a single layer--not in a clump.
I like to use the Food Saver or a similar machine to keep that chicken fresh. The advantage of doing this is that I can also sous vide that chicken from frozen if I choose to do that later.
I use my Instant Pot Ultra 6 Quart for sous vide. I also have the Anova Culinary Sous Vide and I find that's a good option as well.
Now once the chicken is frozen in this fashion, then it's a piece of cake to cook from frozen.
Get a free printable Instant Pot Chicken Cheat Sheet HERE!
Do I need to increase cooking time if cooking frozen chicken in the Instant Pot?
You do not. It will take longer for the pot to come to pressure since it has to heat to 240F, but it's starting out with colder chicken.
Think of this as making 4 cups of tea vs. 2 gallons of tea.
It takes longer to heat up the water for a gallon of tea than it would for four cups of tea.
But the tea bags steep for the same amount of time, right? Whether it's four cups or a gallon, you still steep your tea bags for 5 minutes. (Or you can make my Instant Pot Iced Tea, and never go back to worrying about any of this!)
So cooking from frozen is the same. It takes longer for the pot to come to pressure but time under pressure is the same.
If the piece of meat is particularly thick, sometimes I will give it an extra minute or two under pressure, but I usually start by keeping the time the same. You can always re-cook for a few minutes if needed.
I also tend to use a fuller NPR if I am cooking from frozen. I feel this allows the meat or other ingredients in the pot to cook in the residual heat from the liquid and it keeps the meat from overcooking.
Now you know all the tips and tricks to make Instant Pot Chicken quickly and easily. Make sure to share this with your friends on Pinterest and Facebook so they can know as well!
Looking for more trusted recipes to cook in your Instant Pot?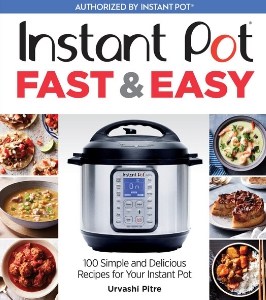 This book is full of all kinds of boldly flavored and internationally-themed recipes—Mexican, Thai, Moroccan, and more—with Instant Pot Fast & Easy, fully authorized by Instant Pot. Just like you have come to expect, my recipes will work perfectly every time, and of course, taste great too.
Be sure to comment below with some of your favorite Instant Pot chicken recipes on my blog! I would love to hear your feedback. Remember to share on Facebook and Instagram if you found this helpful!
How to Cook Chicken in the Instant Pot
Can I cook a chicken from Frozen in the Instant Pot?
Yes as long as you didn't freeze it in one big lump. Freeze it flat st results.
How Do I get Moist Chicken Breasts in the Instant Pot?
Braise them in broth or water and do not overcook. Cut the breasts in half at the thickest point, and then cook 6 mins per pound.
Can I really make a rotisserie chicken in the Instant pot?
I mean, yes and no. You can make a fantastic whole chicken in the Instant pot, but it doesn't taste exactly like it was roasted. IT just tastes great though so try it.