Here's a wonderful selection of the best Instant Pot chicken recipes ever! Many are low carb, many are keto or low carb, many are pour and cook--and all are delicious. So if you're tired of your usual chicken recipes, this list is sure to give some new and exciting recipes that you're sure to love!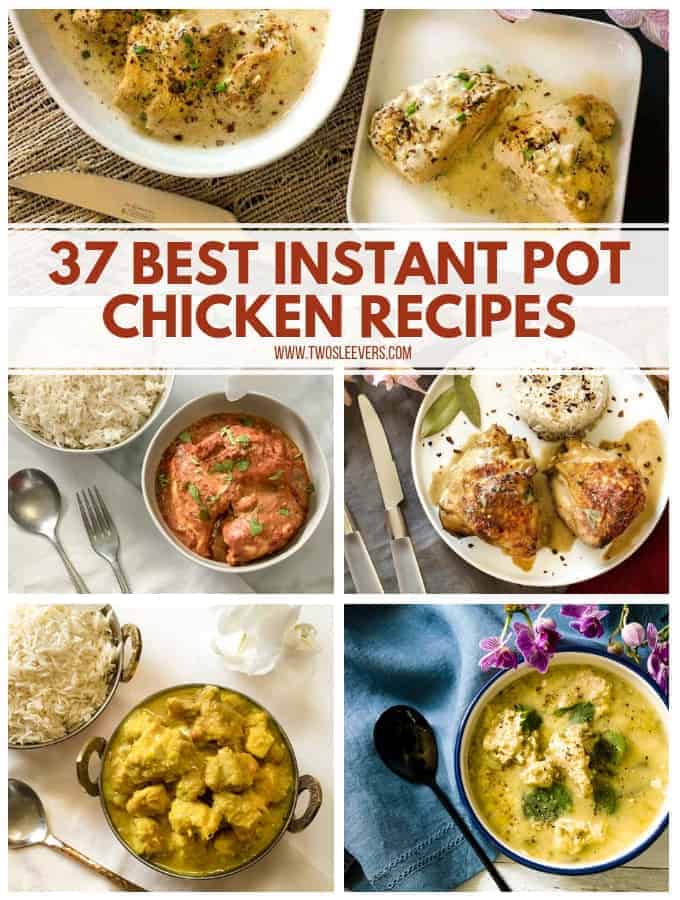 37 Best Instant Pot Chicken Recipes
I want to take you around the world with this roundup. Chicken with American flavors, Indian Chicken Curries (northern, southern, and others just invented by Urvashi), Jamaican chicken, Mexican, Tex-Mex, Filipino, Japanese, Lebanese, Pakistani, French, Afghani, Taiwanese, Indian-Chinese, Chinese, Hainanese, West African, and Thai style Instant Pot chicken recipes--you will see how easy it is to enjoy a variety of flavors from within the four walls of your own kitchen.
I think this is such a great way to introduce your family and loved ones to a variety of flavors and cuisines. Food is such a great, wonderful and easy gateway to different cultures and these recipes make it easy and delicious.
This also goes to show that chicken doesn't need to be such a "one trick pony" ingredient. There are SO many delicious and unique chicken recipes you can cook in your Instant Pot, each tasting vastly different from the other.
A collection of the best Instant Pot Chicken recipes! Many of these are low carb, many of them are simply pour and cook--but I assure you all these recipes are delicious and well-tested.
So if you think my only good Instant pot recipe is the Instant Pot Butter chicken, this list should put that thought to rest. I hope you will try some of these and realize that there are so many other recipes you could be trying--and enjoying--with very little effort, skill, or fuss.
Maybe someday I'll just be known as the Instant Pot Chicken Lady 🙂 But until then, there's this selection of recipes for you to enjoy.
Be sure to share these recipes and don't forget to pin the post so that you can find it again!
Indian Instant Pot, Keto Instant Pot, Instant Pot Fast and Easy, Healthy Instant Pot & Vegetarian Instant Pot.