Some days I just get an itch for something really rich and sweet to add to my already sweet dessert. Also, I think frostings and icings are just festive--and show that you cared enough to go that little extra bit.
That's why I love making this Keto Maple Pecan Frosting to go on top of a muffin, cookies, or cakes. I have a few keto-friendly desserts that I like to make and being able to add a little bit of this frosting for those harder craving days is a plus.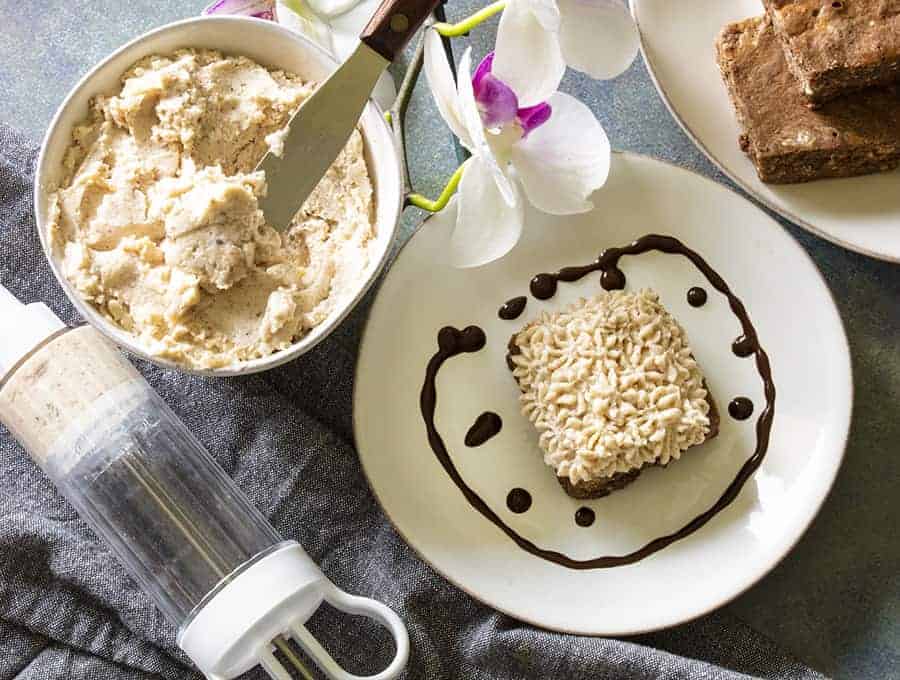 Keto Maple Pecan Frosting is a type of cream cheese frosting which is, personally, my favorite type of frosting. It's got such a rich and creamy flavor with a thick texture that makes it perfect for topping anything you like. I'm not going to lie, I've thought about trying it on pancakes before because I have no doubt it would make for some delicious pancakes.
Keto Maple Pecan Frosting | Maple Pecan Buttercream Frosting
If you're like me, you have those days where you feel like you have everything under control and you're the queen of the kitchen.
However, you have other days where absolutely nothing is together and you're just the jester of the kitchen.
On those days, I make Keto Maple Pecan Frosting because it takes only a few minutes to make.
Although it's never necessarily good to eat your stress, it's nice to have that bit of sweet tooth curbed during stressful days with something that's healthy and still in line with your way of eating.
Keto Maple Pecan Cream Cheese Fat Bomb
Keto Frostings are also a great two-for-one. Not only do they taste good but they also end up being fantastic little fat bombs.
Which means that there's nothing preventing you from eating this frosting straight off a spoon.
You're welcome.
Six Ingredient Keto Frosting | Keto Cream Cheese Frosting
This Keto Maple Pecan Frosting takes only six ingredients. If you're not a huge fan of the maple flavor, there are a couple of other variations I've included below, for this frosting.
These variations include cinnamon pecan and coconut pecan frosting.
Let me tell you, all three are absolutely delicious and hit the spot no matter which one you choose.
What to Serve with this Keto Maple Pecan Frosting
A spoon.
Just kidding! Only only partially kidding.
If you're looking for a delicious cake to put this frosting on, check out my Keto Chocolate Cake recipe! It's soft, moist, delicious and low carb.
Another great recipe that pairs well with this frosting is my Low Carb Nut and Seed Bread. It's keto, gluten free, yeast free and very yummy!
If you're staying keto and you don't have a keto-friendly recipe to pair this Keto Maple Pecan Frosting with, check out the dozens of Keto desserts I have listed on my site, if you don't like the ones suggested above.
Looking for more great frosting recipes? My Keto Chocolate Frosting Recipe is as delicious as it is easy to make!
More Keto Frosting Recipes You'll Love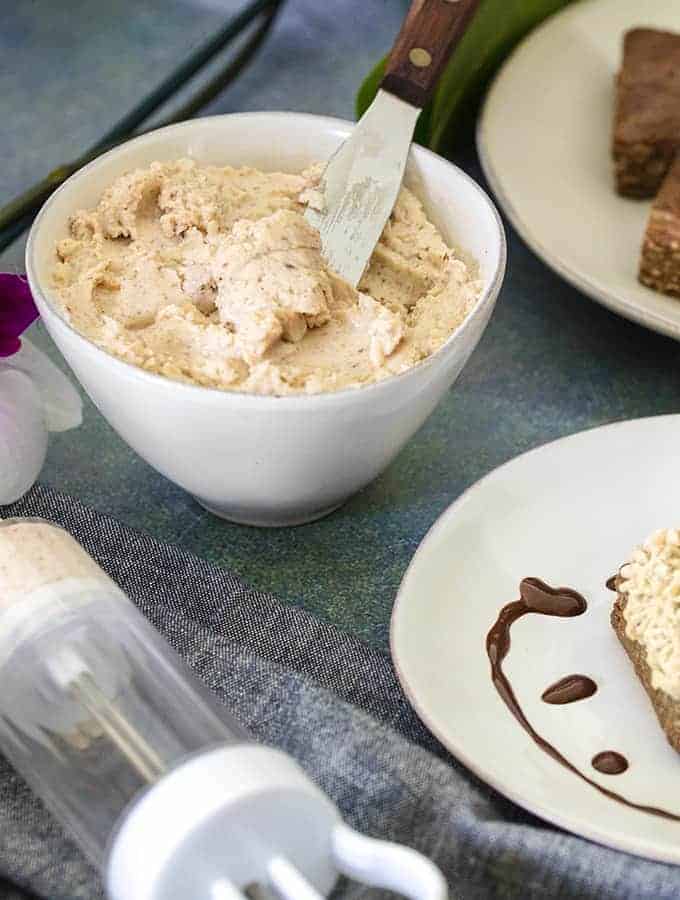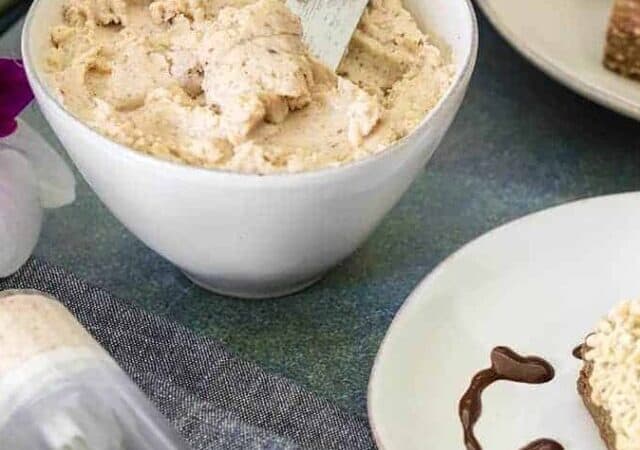 Click on highlighted ingredients or Equipment to see exactly what I use to make this recipe
Instructions
Place all ingredients in the bowl of a food processor and process until smooth and fluffy. You may need to add a little more cream or almond milk to get the right consistency.


Use as a frosting or as a spread on the Nut and Seed bread.

I used 10 servings to calculate macros
Variations
Cinnamon Pecan Frosting:
Omit maple extract. Add 1/2 teaspoon ground cinnamon and 1 teaspoon vanilla extract
Coconut Pecan Frosting:
Omit maple extract. Add 1/2 cup dried, unsweetened coconut. Add 2 tablespoons heavy whipping cream or almond milk.
Get support & connect with our community on Facebook!
Nutrition
Calories:
178
kcal
|
Carbohydrates:
1
g
|
Protein:
1
g
|
Fat:
19
g
Tried this recipe?
Follow @twosleevers and Pin it!
Don't forget to check out my other Keto cookbooks.
Keto Instant Pot, Keto Fat Bombs, Sweets, & Treats, and Easy keto in 30 minutes.