One step, one Pot, less than 5 ingredients, and you've got an authentic tasting Hainanese Chicken Rice Instant Pot recipe that your whole family will love.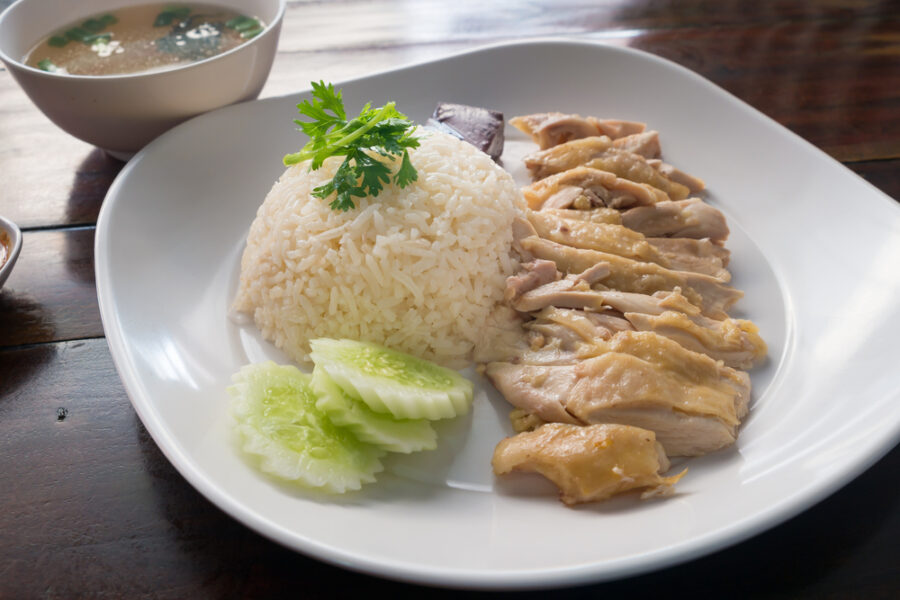 What Makes This Hainan Chicken So Good?
What Is Hainanese Chicken Rice?
Hainanese Chicken Rice is a rice and chicken dish that is very popular in Singapore, Malaysia, and Thailand. It is called Khao Man Gai in Thailand. It is based on Wenchang Chicken, a popular Chinese dish that has been adopted in various regions of Asia.
How Do You Make Traditional Hainanese Chicken?
I just want to say, I do know how to make this dish properly I just don't want to spend hours making it. I wanted it for dinner and if you want proper Hainanese chicken for dinner you better start early.
Boil the chicken. People traditionally use chicken breast but you can also use chicken thighs.
Submerge the chicken in cold water to get a smooth texture.
Make rice with rendered chicken fat.
Make a killer sauce to serve with it.
Of course, that's not how I did it. But I promise you'll be just as satisfied with this version.
How To Make Instant Pot Hainan Chicken Rice
Pour. Put rice and water in the Instant Pot
Add. Place chicken breast or thighs cut into small pieces on top of the rice.
Dump. Pour in the paste
Cook. Set your Instant Pot to high pressure for 6 minutes, 10 Mins NPR
So, of course, I cooked the chicken and the rice in one pot and I used a mix that contains ginger and fat. No really, I use a mix for this. You guys know I never use pre-made mixes, but I do use this Asian Gourmet Hainanese Chicken Rice Mix because it is AWESOME and effortless.
This is a super family-friendly dish that's hard to get wrong if you make it my "lazy person" way.
What Kind Of Chicken Should You Use?
I typically use skinless chicken breast, but if you use chicken with the skin still on it, it renders more fat. More fat equals more flavor for the rice.
If you prefer to use chicken thighs, I've tried it this way too. It's just as delicious.
Where's The Dipping Sauce?
Traditionally this Hainan Chicken recipe is served with a super flavorful and delicious dipping sauce. But I was in a hurry when I created this recipe and it was good without it. If you have a few extra minutes and want to take the dish up a notch, try making this dipping sauce. You'll need:
Minced Ginger
Minced Garlic
Sugar
Lime Juice
Water
You'll want to mix this together and serve on the side to drizzle over the Hainan Chicken.
Want More One Pot Instant Pot Recipes?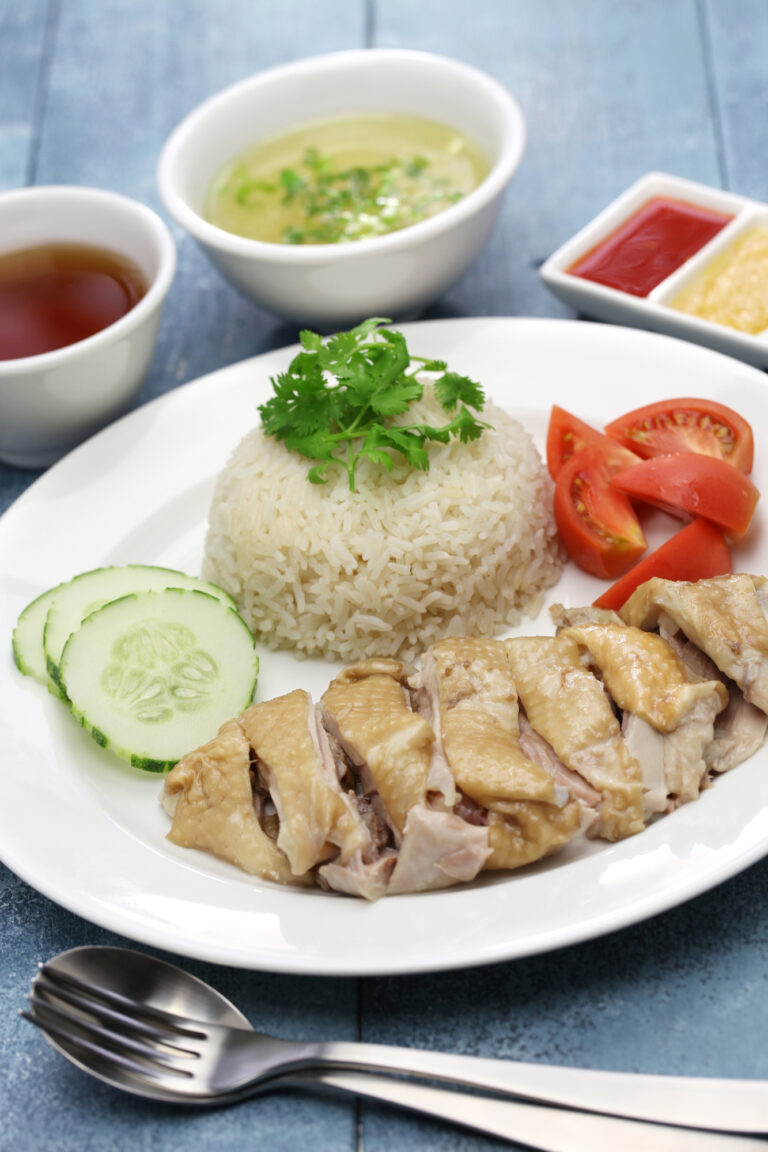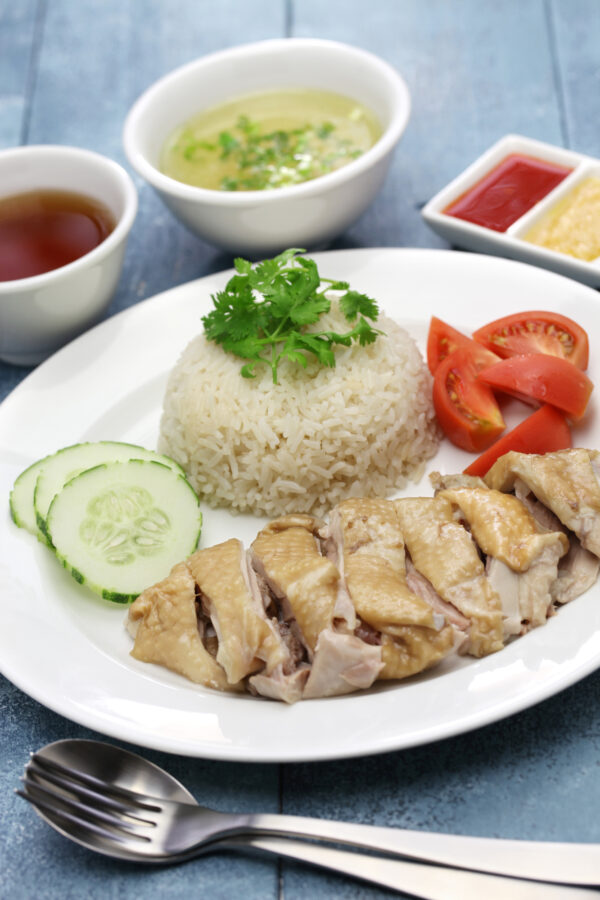 If your family loves this recipe for Hainanese Chicken Rice as much as my family does, make sure you share it with your friends on Facebook and Pinterest so you can make it again soon.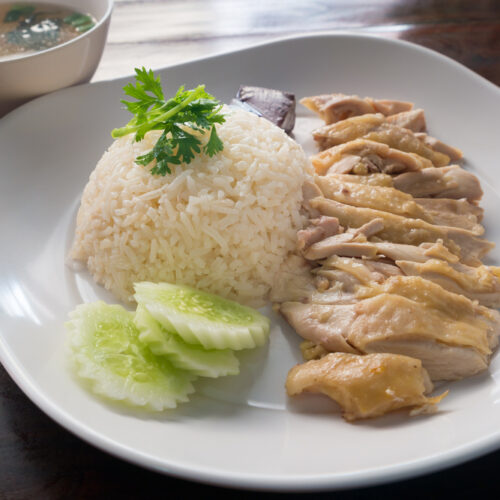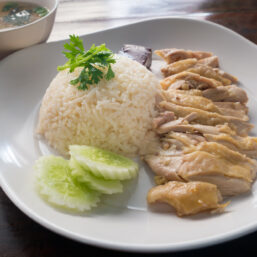 Instant Pot One Step Hainanese Chicken Rice
Unlike my other recipes, this one relies on a pre-made spice pack, but it is totally worth it for the ease and the taste it produces.
Ingredients
1

cup

Basmati Rice

rinsed and drained

1

cup

Water

1

pound

Boneless Skinless Chicken Thighs (or chicken breasts)

boneless

1

pack

Asian Gourmet Hainanese Chicken Rice Mix
Hainan Chicken Red Dipping Sauce
1

tbsp

Sriracha Sauce

1

tsp

Minced Ginger

1

tsp

Minced Garlic

1/2

tsp

Sesame Oil

1/2

tsp

Sugar Or Other Sweetener Equivalent

1

fresh lime juice

2-3

tbsp

Water
Instructions
I don't even know why I'm bothering to write a proper recipe for this because basically you put everything in your Instant pot or pressure cooker.

Mix together water and rice.

Cut chicken breast into 3 pieces and lay on top of rice.

Set your cooker on high pressure for 6 minutes, and allow pressure to release naturally for 10 minutes, and then release all remaining pressure.
Notes
Nutritional info doesn't include the Asian Gourmet Package mix or the dipping sauce.
Originally published July 7, 2017
Indian Instant Pot, Keto Instant Pot, Instant Pot Fast and Easy, Healthy Instant Pot & Vegetarian Instant Pot.