Make this amazing Cantonese Char Siu Pork recipe in your oven or air fryer! It's a traditional recipe made with my delicious homemade Char Siu sauce or an amazing ready-made sauce.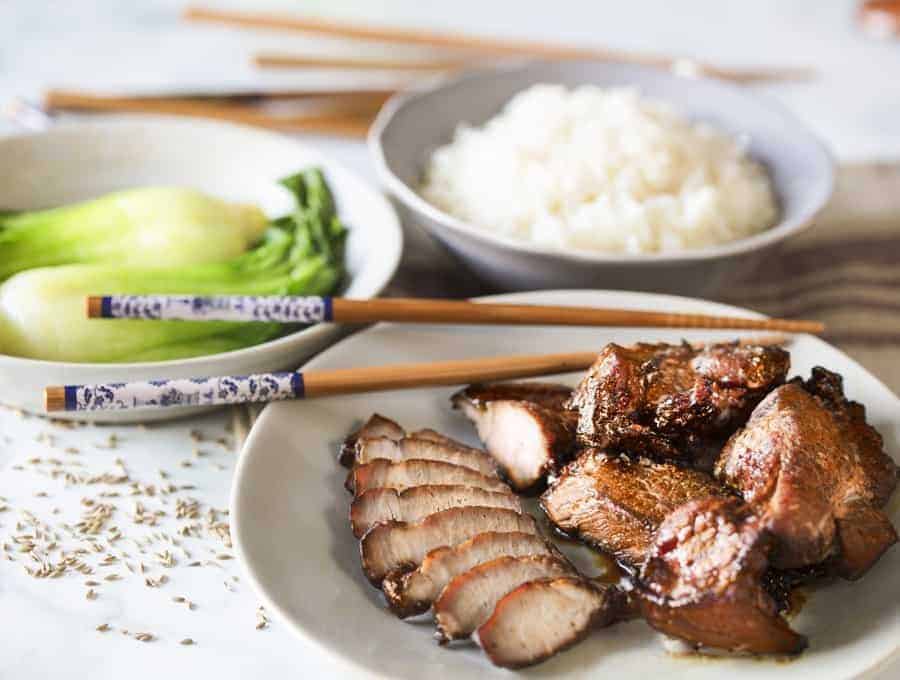 Jump to:
For this Char Siu pork shoulder recipe, I ask you to make twice the sauce as you will need to marinate the pork. I like my Char Siu saucy–just like me–so I will show you how to cook the extra sauce to get a lovely glaze or dip you can use with the cooked char siu.
What Is Char Siu Pork?
If you've been to any kind of American Chinese buffet, you've probably had Char Siu Pork. It's a Cantonese barbecue pork recipe that's typically sweet and spicy and great with some rice or grilled vegetables.
Char Siu is a combination of sweet and spicy flavors. With the slight charred after bite, it will remind you of your favorite Chinese BBQ. The marinade resonates with each bite, so it's absolutely worth the wait.
Why Is Chinese Pork Red?
In Chinese culture, many foods include red food coloring. This is because red is a sign of success or a favorable color.
Without the red food coloring, the dish isn't naturally red. So, don't be surprised if the homemade sauce that you make isn't bright red like some of the Char Siu you've seen in the past.
What Kind Of Pork Should I Use?
There are a ton of different cuts of pork. It can be hard to know which kind to choose for the recipe you're cooking. For this Char Siu Pork recipe, you'll want to use pork shoulder. It has a higher fat content, which makes it extra flavorful and perfect for the air fryer.
Air Fried Char Siu Pork
I find the air fryer to be just about perfect for fattier cuts of meat. The air fryer both renders and crisps up fat. It's kind of a paradox because on the one hand it gets rid of some of the fat--but oh the fat it leaves behind! A juicy pork shoulder air fryer recipe that's to die for.
How To Make Air Fried Pork Char Siu
How To Make Char Siu Sauce
If you're short on time or ingredients to make your own sauce, feel free to use this Lee Kum Kee Char Siu Sauce. It is higher in sugar than my own blend --but OH, SO DELICIOUS-- so if you're watching your carbs, try the recipe below.
For this sauce, you will place sauce ingredients in the microwave and cook on high for 45-60 seconds, stirring every 15 seconds. You are doing this to thicken the sauce a little. Since it has honey in it, be careful to not overcook otherwise you will have Char Siu toffee (ask me how I know).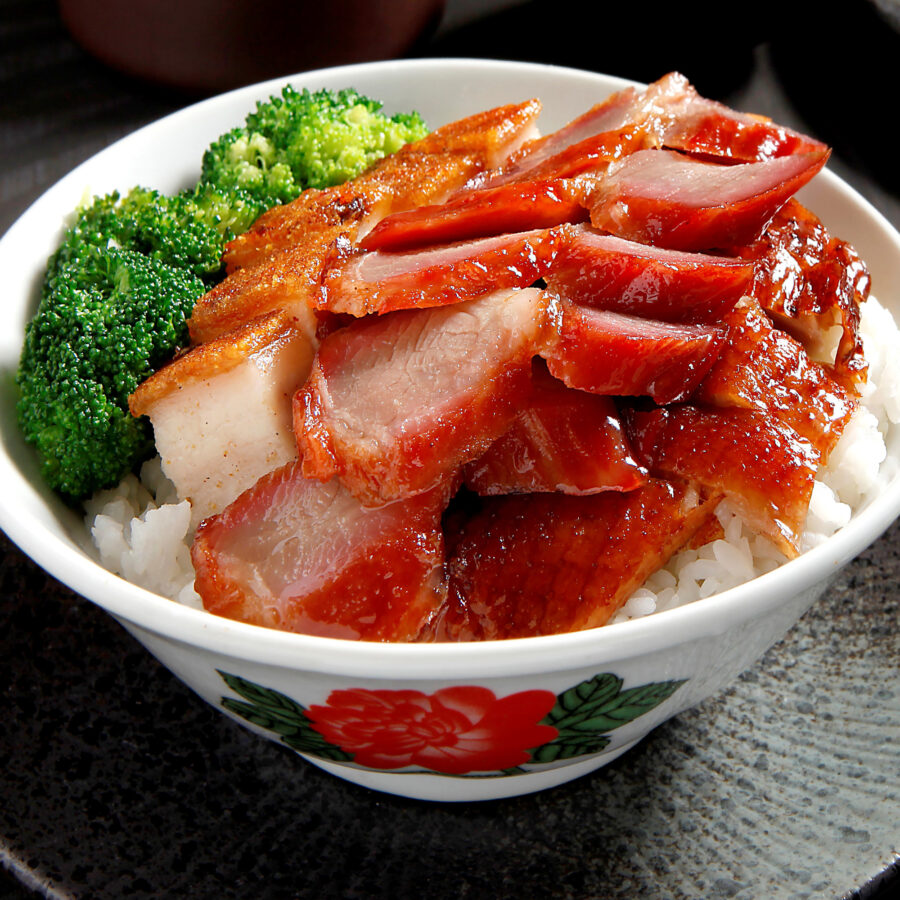 How To Make Char Siu Roast Pork In The Oven
I get it, not everyone has an air fryer. Or maybe your air fryer is occupied making a side dish to serve with this yummy Char-siu pork. No matter the reason, this recipe will still turn out amazing in the oven. Here's how to do it:
How To Serve Char-Siu
Traditionally, this Char Siu Pork is served with sticky jasmine rice and steamed broccoli. However, you can also serve it with ramen, in soup, or inside of wontons for a surprisingly delicious appetizer.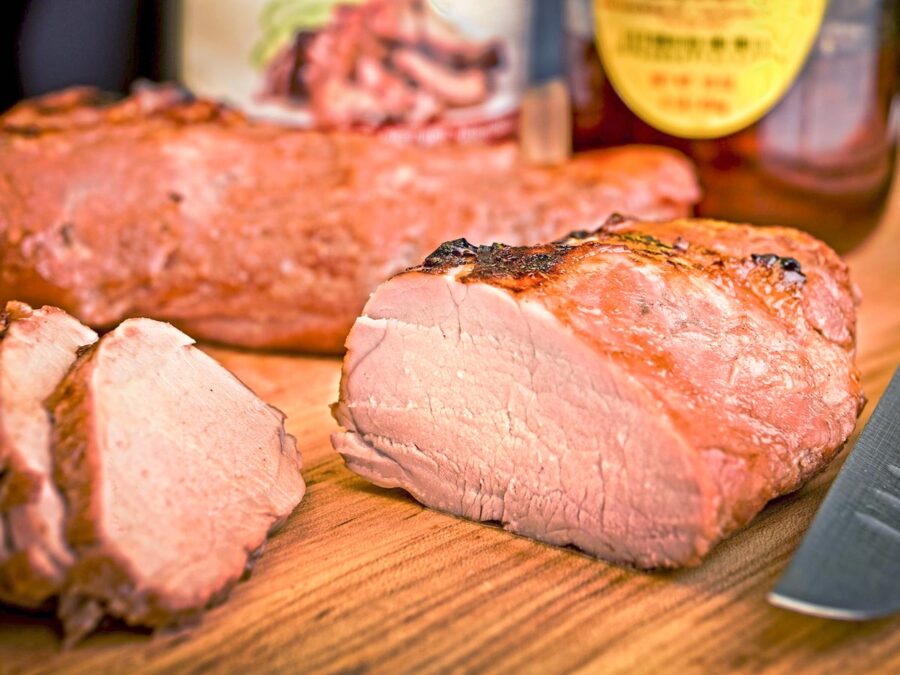 No matter how you prepare this Char Siu Pork, I promise you're going to love it. It's simple, family-friendly, and totally delicious. If you love this recipe as much as I do, make sure you share it with your friends on Facebook and Pinterest to make again soon.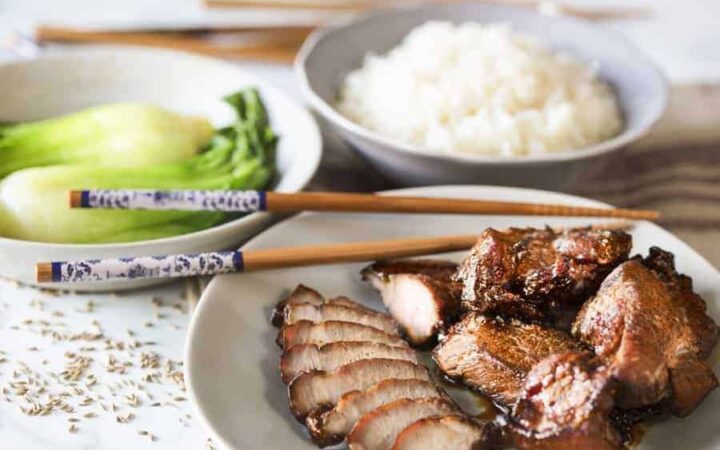 Click on highlighted ingredients or Equipment to see exactly what I use to make this recipe
Instructions
Air Fryer Instructions
Using a fork, pierce the slices of pork well.

Make the Sauce: Mix all ingredients for the sauce (except the pork shoulder) together in a small microwave-safe bowl.

Place the pork slices in a ziplock bag or bowl, and pour in half the sauce. Mix well and let the pork marinate for at least 30 minutes, and up to 24 hours in the refrigerator.

Remove pork from the marinade and place in a single layer in your air fryer basket.


Set the air fryer to 390F for 15 minutes, flipping and basting the pork half way through.

While the Char siu is cooking, place the reserved half of the sauce in the microwave and cook on high for 45-60 seconds stirring every 15 seconds. You are doing this to thicken the sauce a little. Since it has honey in it, be careful to not overcook otherwise you will have char siu toffee (ask me how I know).

Using a meat thermometer, ensure your pork has reached an internal temperature of 145F.

Remove the pork to a cutting board and let it rest for 10 minutes.


Brush with the thickened, cooked sauce and serve.

Oven Instructions
Cut the pork tenderloin into 4-5 evenly sized pieces and place in gallon ziplock bag

Pour in half of the char siu sauce and zip up the back securely

Knead the sauce into the tenderloin and put in the fridge for at least 4 hours and up to 24 hours

Line a baking sheet with foil and place a rack on top of it

Place the tenderloin pieces on top of the foil and dab on the remaining sauce on each side of the meat

Bake for 25 minutes on one side

Cook for another 15-20 minutes, or until a thermometer reads 145 degrees

Dab on to the meat and flip it over, dab on this side as well. Don't try to spread it, just dab it so it goes on thicker

Put the meat back in and cook for another 20-25 minutes, or until a thermometer reads 165 degrees
Get support & connect with our community on Facebook!
Nutrition
Calories:
229
kcal
|
Carbohydrates:
20
g
|
Protein:
26
g
|
Fat:
4
g
|
Sugar:
18
g
Tried this recipe?
Follow @twosleevers and Pin it!
Originally published February 22, 2018