As an Amazon Associate, I earn from qualifying purchases. We may also earn money from the companies mentioned in this post.
I'm sure that as soon as you read that word "bacon" in this Air Fryer Green Beans recipe, you got just as excited as I did.
Bacon is such a tasty ingredient to add to many recipes like these Air Fryer Green Beans with Bacon.
Bacon is of course, super keto-friendly, so it's a safe and perfect ingredient to add to your veggies for a burst of flavor.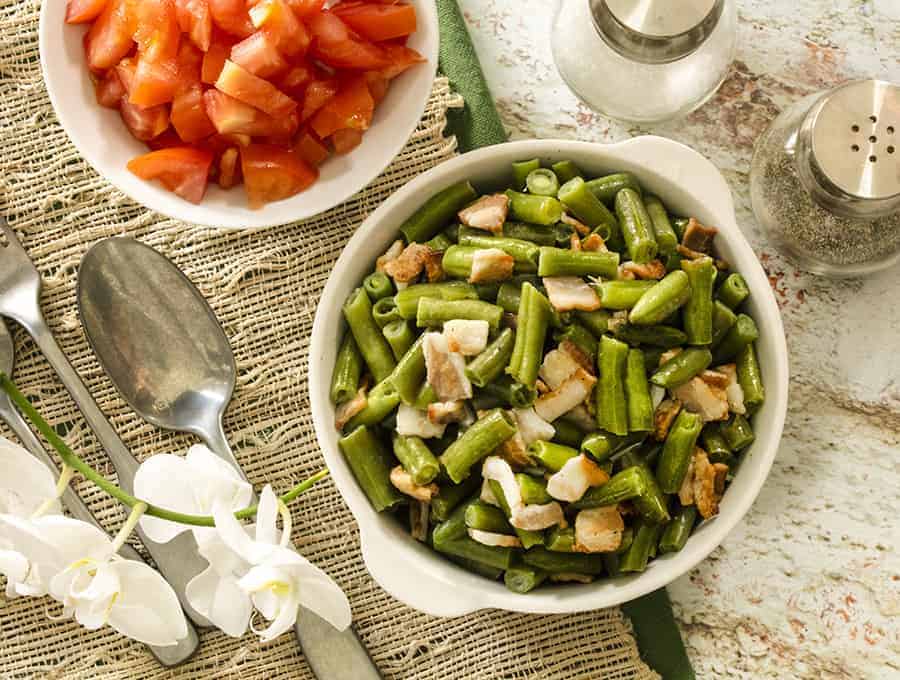 I love my veggies however, it's nice to mix things up and add new flavors.
These Air Fryer Green Beans with Bacon are still a healthier dish without having to go all out with a ton of extra ingredients.
Air Fryer Green Beans with Bacon | Air Fryer Recipe
You may have seen my recipe for the Instant Pot version of this dish. I'm a gadget geek, so I like to figure out recipes using other gadgets to make my favorite recipes, so if one appliance is being used I can always use another one.
I can't decide which version of these Green Beans with Bacon I like better!
I think I enjoy my side dishes more than I do my main dishes, most of the time.
They can be so tasty and addicting. These Air Fried Green Beans with Bacon are at the top of my list because they're so easy and quick to make.
Did you say FROZEN green beans?
Yes, in fact, I did say frozen green beans in this recipe. I like recipes that require almost no planning.
Frozen green beans and bacon–zero planning but great taste.
I find the air fryer does a great job of defrosting the beans as you go, and I do think they actually taste better, and moister than do fresh green beans in an air fryer.
The fresh ones can sometimes taste a little dry to me after they've been air fried. But the moisture content in frozen ones seems to do a wonderful, steaming/cooking job that I just love.
Are you a big fan of green beans? Check out my Air Fried Shawarma Green Beans. They're a light and flavorful dish that is done in just 15 minutes!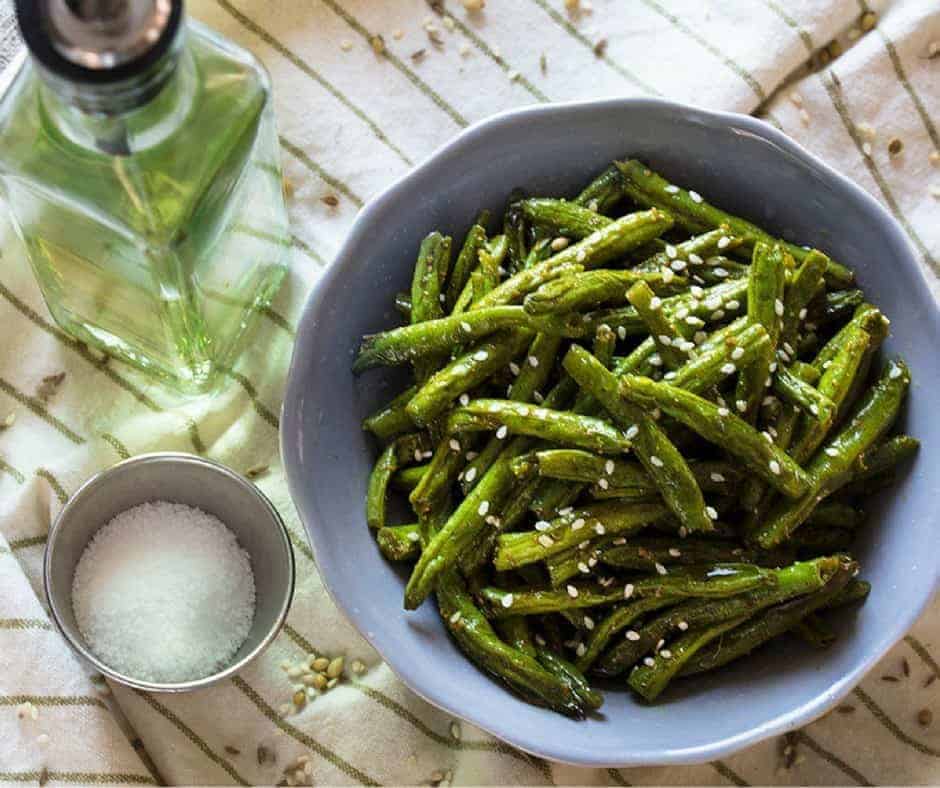 Another fantastic bean dish is my Southern Style Beans and Greens. This classic dish uses an Instant Pot and is done in just 20 minutes as opposed to taking all day on the stove!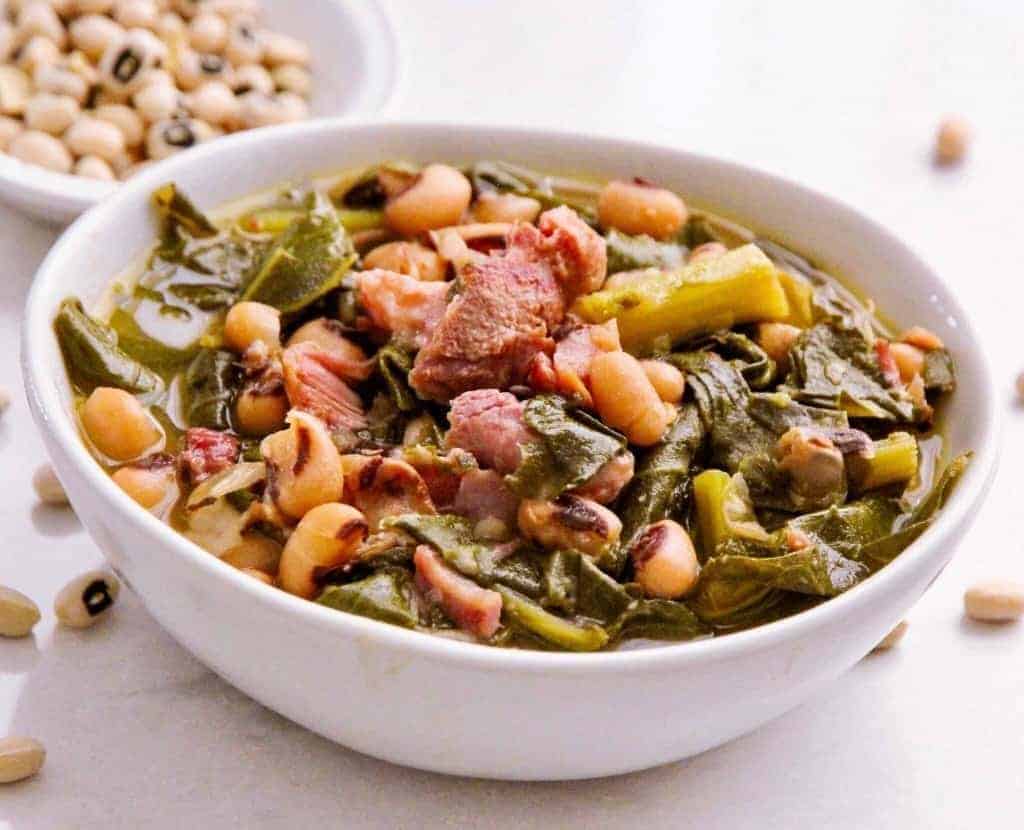 I enjoy using the fattier pieces of the bacon for this Air Fryer Green Beans with Bacon dish.
The fattier pieces have more flavor, especially when made in the Air Fryer.
All that flavor seeps out and soaks into the green beans making the entire dish full of the perfect flavor. All this talk of delicious side dishes makes me want to go make it right now.
I have no doubt you'll enjoy this keto air fryer recipe as much as I have.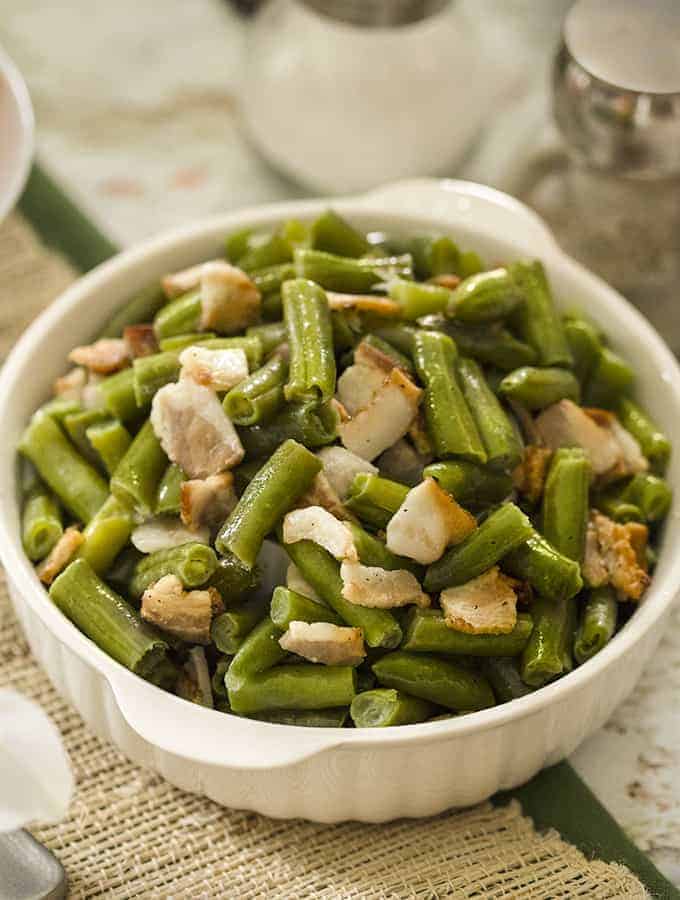 ★ DID YOU MAKE THIS RECIPE? DON'T FORGET TO GIVE IT A STAR RATING BELOW! JUST CLICK ON THE STARS IN THE RECIPE CARD TO RATE.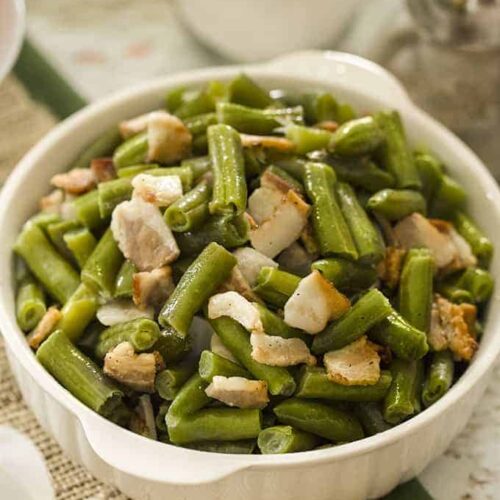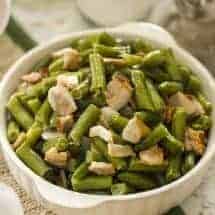 Air Fryer Green Beans with Bacon
These Air Fryer Green Beans with Bacon are a delicious keto side dish that is done in just 25 minutes with the help of your air fryer!
Keyword:
Air Fried Green Beans, Air Fried Green Beans with Bacon, Air Fryer Green Beans with Bacon, Air Fryer Recipes, Air Fryer Side Dishes, Dairy Free Side Dishes, Gluten Free Side Dishes, Green Bean Recipes, Green Beans and Bacon, Green Beans with Bacon, Keto Side Dishes, Low Carb Side Dishes, TwoSleevers
Dietary Consideration:
Dairy-Free, Egg-Free, Gluten-Free, Grain-Free, Keto, Low Carb, Nut-Free
Ease of Cooking:
Under 30 Mins
Recipe Type:
Air Fryer, Keto Low Carb
Instructions
Place the frozen green beans, onion, bacon, and water in a 6 x 3 inch heatproof pan.

Place the pan in the air fryer basket. Set air fryer to 375°F for 15 minutes.


Raise the air fryer temperature to 400°F for 5 minutes. Add salt and pepper to taste and toss well.


Remove from the air fryer and cover the pan. Let it rest for 5 minutes and serve.

Nutrition facts per serving
95kcal | Fat: 6g | Saturated fat: 2g | Carbohydrates: 6g | Fiber: 2g | Sugar: 2g | Protein: 3g
I am not a registered dietician or nutritionist. Nutritional information is provided a courtesy, and can vary depending on the exact ingredients you use.
Don't forget to check out my Air Fryer Cookbook!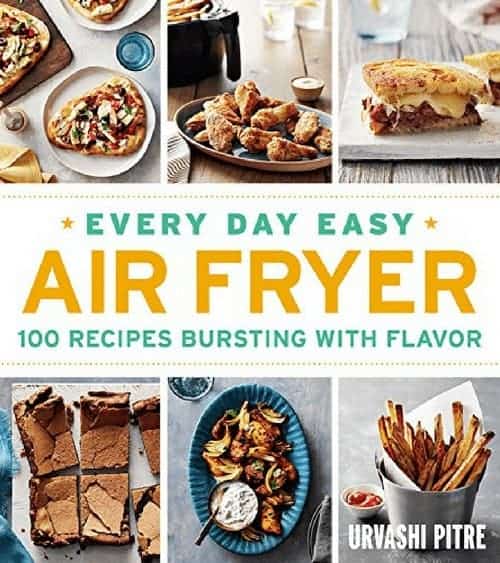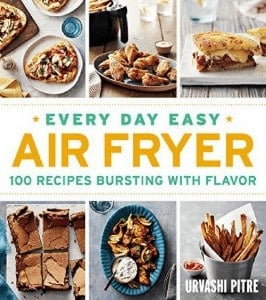 Every one of the recipes in this book can be made in an hour or less, and many are on the table in as little as 30 minutes. You won't find "cream of anything" cans in the ingredient list: instead, you'll start with fresh ingredients–healthful meats and vegetables–and let the air fryer do the hard work. Unleash the full potential of your Air Fryer and eat healthfully every night.