These naturally low carb, gluten-free Air Fryer Meatballs are absolutely bursting with taco flavor. They're quick and easy to make since they're cooked in the air fryer. Easy, family-friendly, and cheap. Winning combination!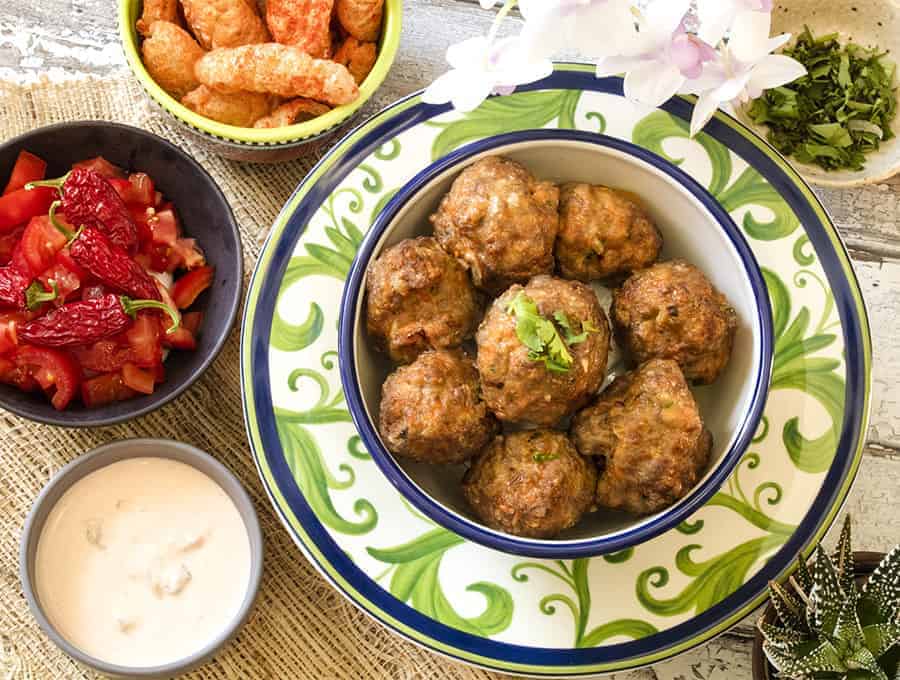 Jump to:
Easy Taco Meatballs
When you think of an appetizer, or at least when I think of them, one of the first recipes that pops into my head is a recipe for meatballs.
I love making a juicy, flavorful, and delicious meatball recipe like these Taco Meatballs. They're easily the best meatball recipe I've made thus far.
It can be difficult to keep meatballs from drying out in the cooking process. It's important they're cooked all the way through.
But the beauty of meatballs is that you can make so many different ones, that it keeps things interesting--plus course, it's easy to make keto meatballs.
Follow my instructions as closely as possible so you can end up with the juiciest meatballs ever.
Why You're Going To Love These Air Fryer Meatballs
There are two things about these Taco meatballs that make them even better.
Keto-friendly which means those of us who want to cut carbs can have them with no ill effects. Low carb meatballs? Yes, you heard correctly. It's all about what you DON'T put
Air Fryer meatballs. The Air Fryer uses little oil to cook your foods. So, you get that delicious fried flavoring and texture without them being overly greasy.
Fast. These are done in about 20 minutes start to finish. Can't even order pizza in that little time!
Family-friendly. Meatballs are easy for kids to hold and eat, and the taco flavor makes them a familiar one for lots of kids.
Versatile. Yes, this is a great recipe for air fryer meatballs but remember you can also just cook them on the stovetop.
Base Recipe. It's a great base recipe for air fryer meatballs. You can add shawarma spice to it. Or you can fashion these out of my recipe for Kheema Meatloaf and make it into kheema meatballs for a faster dinner.
Can You Fry Meat In An Air Fryer?
Yes! You absolutely can. Meats turn out beautifully when made in the air fryer. I love to cook steaks, meatballs, bacon, and even burgers in my air fryer.
What You'll Need To Make These Taco Balls
The best thing about these Keto Meatballs is how few ingredients you need to make them. And to top that off, the ingredients you need are kitchen staples. So, the chance of you needing to make a special trip to the grocery store to make them is pretty slim.
Even if you do need to make an extra trip, I promise you, they're worth every bit of effort.
How To Make Air Fryer Meatballs
Place all ingredients in a stand mixer bowl. Using the paddle attachment, beat the mix together until it forms a sticky paste, about 2-3 minutes.   
Form into 12 meatballs. Place meatballs in the air fryer basket. Set the airfryer to 400F for 10 minutes.   
Meanwhile, mix together the sauce to serve with the meatballs. 
What To Serve With Them
I love how versatile meatballs can be. They can go on top of pasta, be eaten by themselves for easy Keto meals, be served as an appetizer, or even be eaten as a snack.
Of course, if you're doing keto, I would skip the pasta as it will drop you out of ketosis. No worries though, these meatballs are great for many other options and won't disappoint.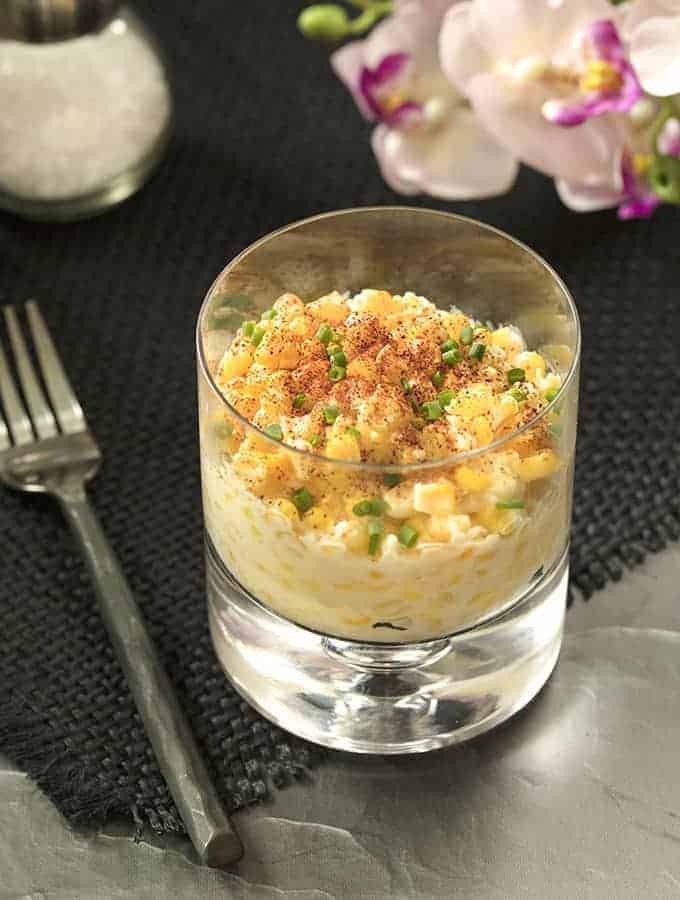 If you're looking for a great side option for this dish, check out my Mexican Corn Eloté. It's sweet, savory, and thanks to your air fryer it's super easy to make!
Another great side dish option is my Pressure Cooker Refried Beans. This recipe is delicious and so simple, you'll never want to buy canned refried beans again!
How Long Do They Last?
These air fryer meatballs are great for meal prep. Not only are they easy to make and super family-friendly, but they also last up to 5 days in an air-tight container in the refrigerator.
What Are The Best Things To Put In An Air Fryer?
Almost anything you would normally deep fry or cook in the oven is equally delicious made in the air fryer.
From my experience, anything that is naturally rich in fats (such as chicken wings, meatballs, or hamburgers) are some of the best things to make in your air fryer because they stay moist on the inside but are extra crispy on the outside.
If you're wanting to cook something that isn't naturally high in fats, consider spraying a small amount of oil over the top for the perfect texture.
Want More Meatball Recipes?
I know I can't be the only one who absolutely loves meatballs. Meatballs are delicious if they're made properly and don't make me feel like I'm swallowing a cotton ball.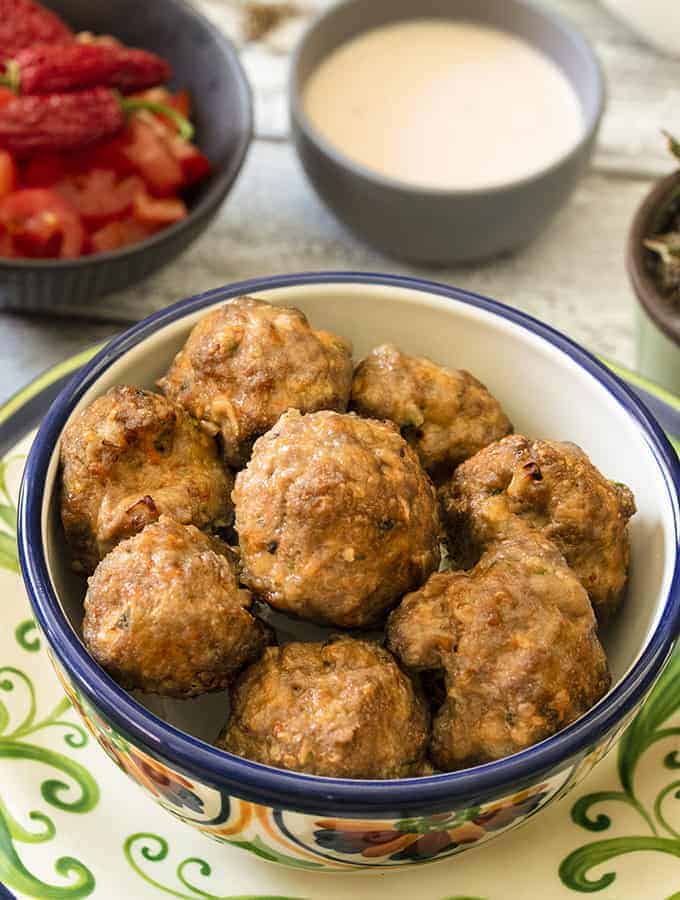 Use my recipe to make these Air Fryer Meatballs. They are the perfect dish for dinner, an appetizer, or even a snack. If you love them as much as we do, make sure you share this recipe with your friends on Facebook and Pinterest!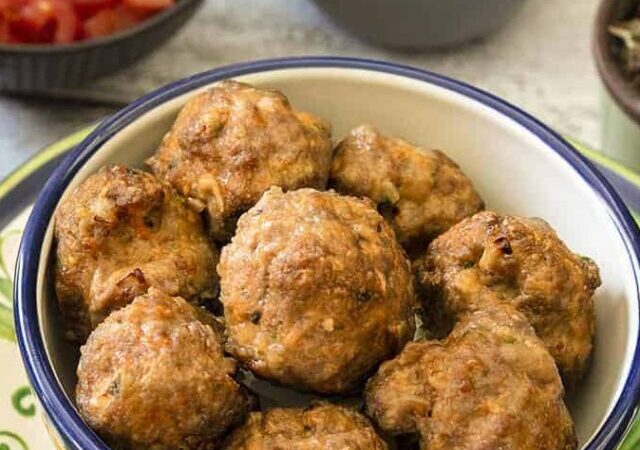 Click on highlighted ingredients or Equipment to see exactly what I use to make this recipe
Instructions
Place all ingredients in a stand mixer bowl. Using the paddle attachment, beat the mix together until it forms a sticky paste, about 2-3 minutes.


Form into 12 meatballs. Place meatballs in the air fryer basket. Set the airfryer to 400F for 10 minutes.


Meanwhile mix together the sauce: in a small bowl, mix together the sour cream, salsa, and hot sauce. Serve with the meatballs.

Get support & connect with our community on Facebook!
Nutrition
Calories:
323
kcal
|
Carbohydrates:
5
g
|
Protein:
33
g
|
Fat:
18
g
|
Sugar:
2
g
Tried this recipe?
Follow @twosleevers and Pin it!
And don't forget to check out my air fryer cookbooks! Every day easy air fryer, and Air Fryer Revolution.