These delicious Air Fryer Low Carb Chicken Meatballs are simple and will melt in your mouth! These keto coconut flour meatballs use coconut flour to hold the meatballs together while also adding a ton of flavor.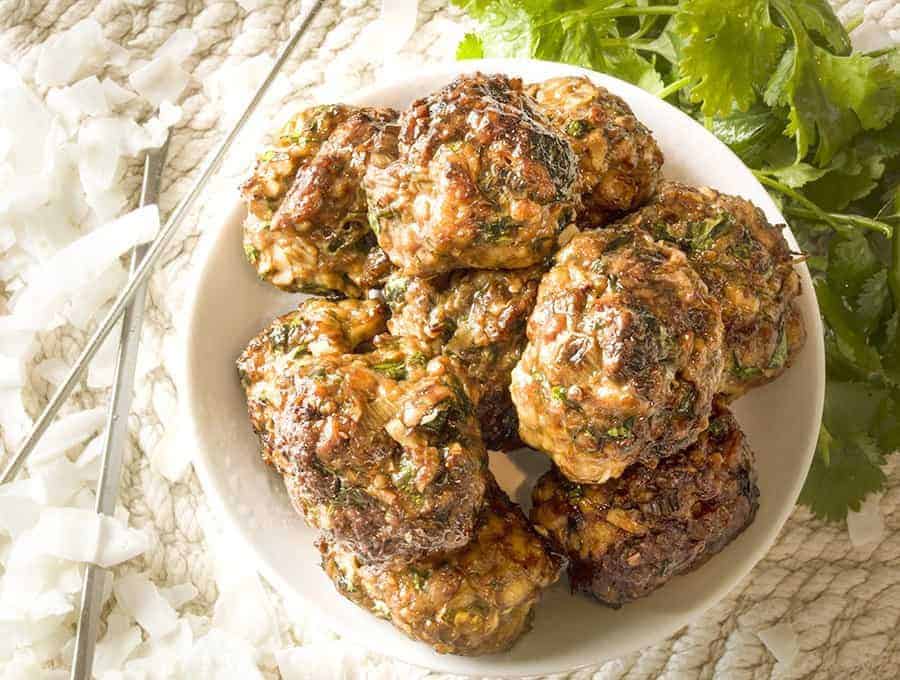 Low Carb Chicken Meatballs
I've been debating what to do with this ground chicken I had sitting around. The last time I made I very yummy chicken and rice recipe it used a hundred different pots so I was not going to try to recreate that.
I decided to try some Asian-style Low Carb Chicken Meatballs instead and I'm glad I did. Not only were they super easy, they're also tasty, and low-carb, and the best meatball recipe I've tried in a long time.
Do These Taste Like Coconut?
The coconut makes it taste good, but I don't think it's essential.
I'm sure you could make these without the unsweetened coconut if you wanted, but the mixture was sticky so I wanted to add a little something to stiffen it.
But once I decided to use a scoop, then the consistency didn't really matter.
If you aren't trying to keep carbs low, you might want a little flour mixed in or even better, a little cornstarch which crisps nicely in the air fryer.
How Do You Know When Chicken Meatballs Are Done?
It's stupid simple. Use a meat thermometer to test the internal temperature. Insert your thermometer to the thickest point in the meatball and they are cooked when they reach 165 degrees Fahrenheit.
Why Are My Meatballs Tough?
Meatballs can become tough if they don't have enough moisture. Most meatballs use egg to help combat this issue and add moisture. My recipe doesn't. Make sure you don't skip the Soy Sauce, Hoisin Sauce, Sriracha Sauce, or Sesame Oil if you don't want yours to end up tough.
Are Breadcrumbs Necessary In Meatballs?
Absolutely not! Especially if you're wanting to make them low carb. This recipe uses unsweetened coconut to help bind these low carb meatballs together.
Is It Better To Bake Or Fry Meatballs?
Is neither an option? Only partly kidding. I'm kitchen gadget obsessed. So if I get a chance to use one of my gadgets to make a recipe faster and healthier, I'll always choose that option. While you can use either method and the meatballs will turn out equally delicious, I chose to use my air fryer for this recipe.
Other Meatball Recipes
EQUIPMENT FOR LOW CARB CHICKEN MEATBALLS: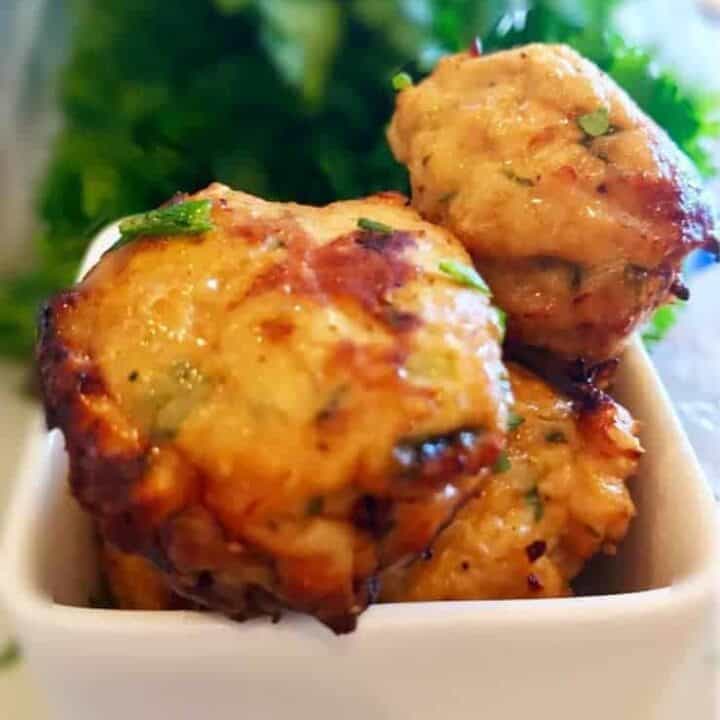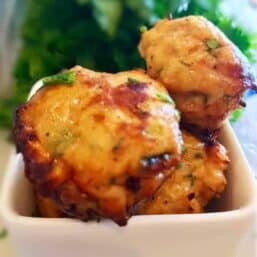 Chicken Coconut Meatballs
Just because you're on a diet, doesn't mean you need to miss out on meatballs! These delicious Air Fryer Low Carb Chicken Meatballs are simple and will melt in your mouth! These use coconut to hold the meatballs together while also adding a ton of flavor.
Ingredients
1

pound

Ground Chicken

2

Chopped Green Scallions

finely chopped

1/2

cup

Cilantro

chopped

1

tablespoon

Hoisin Sauce

1

tablespoon

Soy Sauce

1

teaspoon

Sriracha Sauce

1

teaspoon

Sesame Oil

1/4

cup

Unsweetened Shredded Coconut

Kosher Salt

to taste

Ground Black Pepper

to taste
Instructions
Mix all ingredients together gently. It makes a wet and sticky mixture.

Line a cookie sheet with foil . Using a small scoop or a teaspoon, drop rounds of the mixture onto the foil-lined cookie sheet.

Bake until they reach an internal temperature of 150-160F, about 15-20 minutes.

Move sheet close to broiler and broil for a few minutes to brown the tops if you like.
Airfryer instructions
These turned out really nice in an airfryer, the only problem is i could only fit 6-8 at a time and you'd have to do it in batches.

Cook at 350F for 10 minutes, flipping once, until they reach an internal temperature of 150-165F.

Brown at 400 for 2-3 minutes.
And don't forget to check out my air fryer cookbooks! Every day easy air fryer, and Air Fryer Revolution.